Conquest is a feature in Assassin's Creed Odyssey that lets you participate in battles between Athenian and Spartan soldiers.
You can choose only one side at a time. There are different difficulties as well and it will be stated when you hover over Athenian or Spartan symbols on the map.
It's like fighting in a battlefield and you have a timer to show which side is winning.
Here's a brief guide on conquest and how to unlock conquest battles in Assassin's Creed Odyssey.
Pardon some of the unclear images as they were taken when playing the PS 4 version on PC via wifi.
How to unlock conquest battles
To get the conquest battle to be available to you, you need to choose one side to weaken, i.e. either Athens or Sparta.
You should have heard of the term Nation Power. To initiate conquest, you need to first reduce the Nation Power of either Athens or Sparta.
You can do so by killing the soldiers of one side and even better if you get rid of the captain or some high ranking officer.
Burning war supplies and looting the Nation's Treasure are also great ways to reduce the Nation Power.
If you notice the purple bar on the bottom right of the screen, that shows how much Nation Power a particular side has.
Get it down to only one bar as in the screenshot below and Conquest Battle becomes available.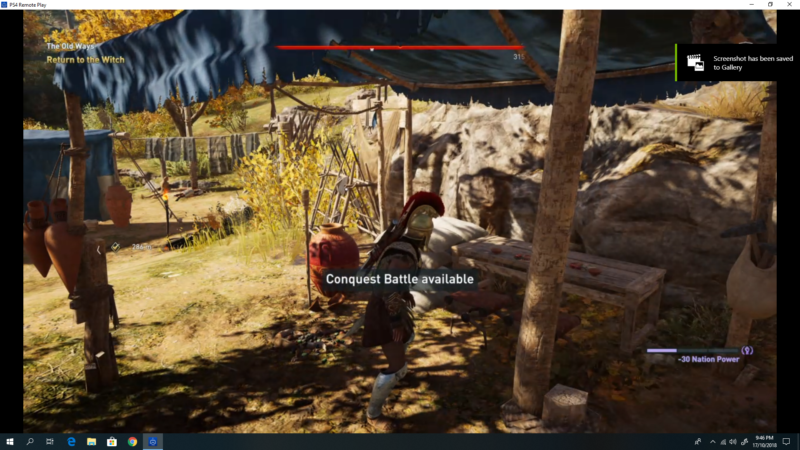 That is how you can unlock conquest battles.
When that happens, you will notice the symbols of Athens and Sparta on the map.
You can see the difficulty and rewards of either side when you hover your cursor over it.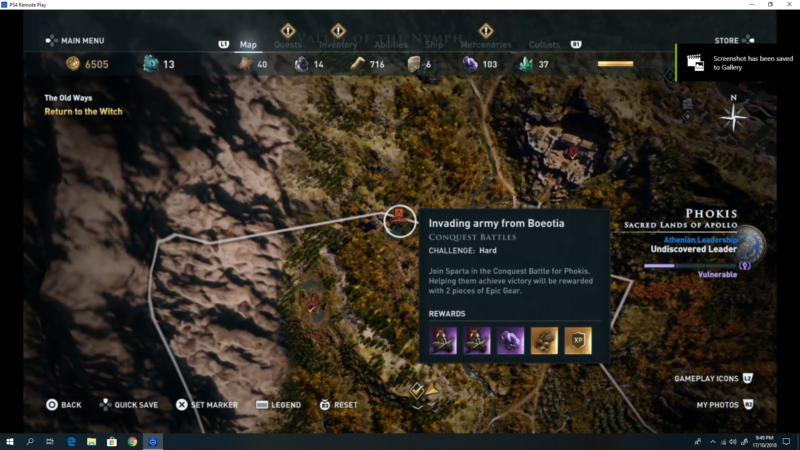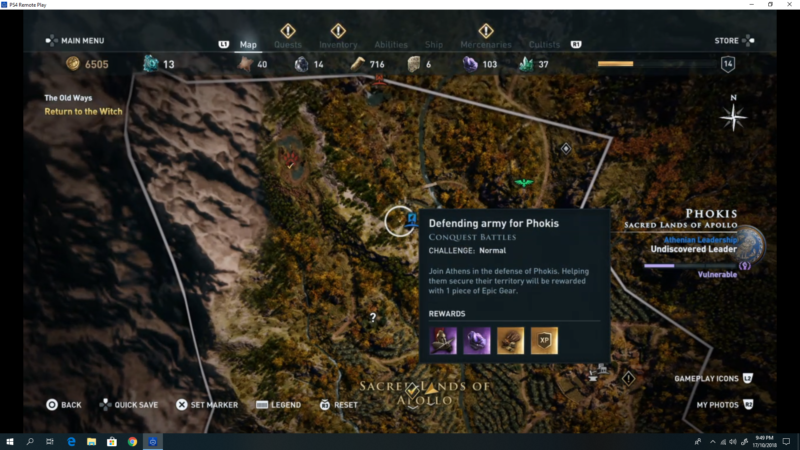 Choose one side to fight with and find the officer to talk to.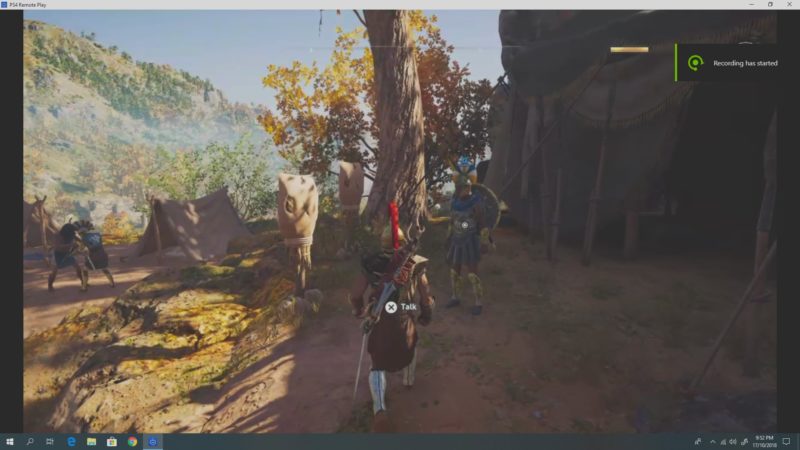 Just initiate the conversation and join the fight.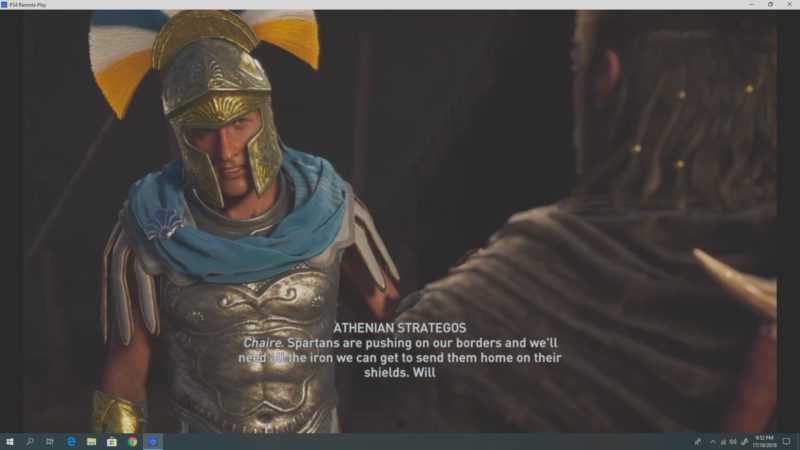 How to win in a conquest battle
Now that you've joined a conquest battle, it's pretty easy to win on a low difficulty.
Your role is to kill the captains of the opposite side and they will have a crown symbol on their heads.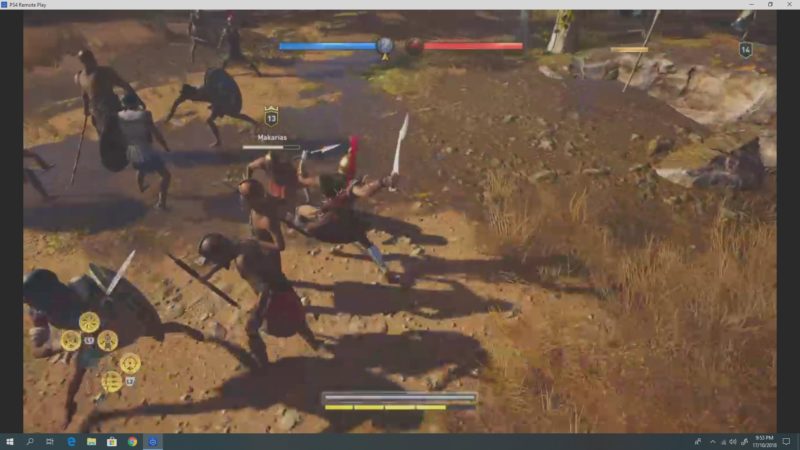 You can only kill one captain at a time and of course regular soldiers will attack you at the same time. It will take a few seconds before the next captain is revealed.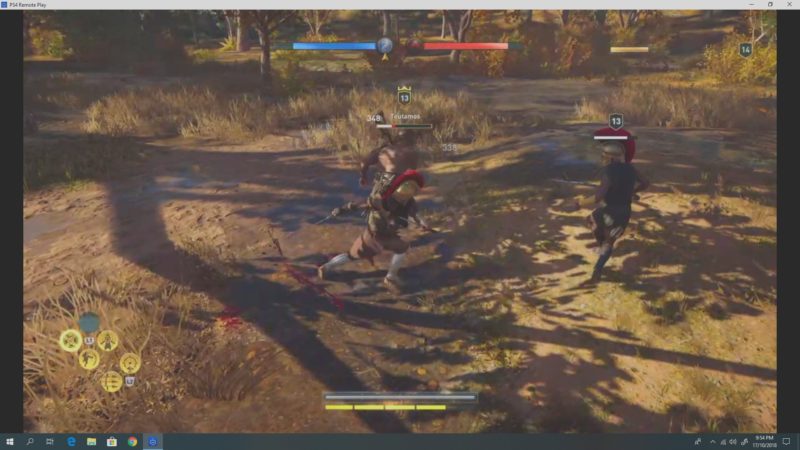 After killing about five or six captains, you should win the conquest battle. Monitor the bar above to make sure you don't lose the battle.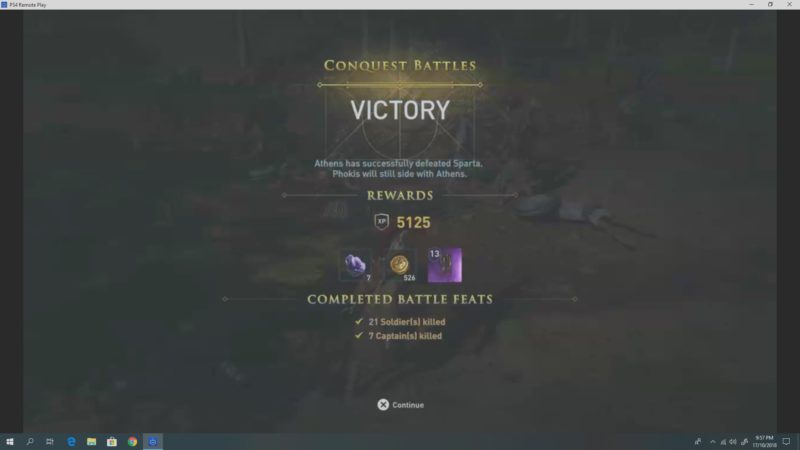 And that's it. Conquest battles give rather good rewards and experience points.
In a nutshell
Conquest battles is a great way to farm some experience points and good equipment. That being said, it takes time to weaken a Nation's Power.
Hopefully this guide has been helpful for you.
---
Related articles:
Assassin's Creed Odyssey: Helping A Healer
Assassin's Creed Odyssey: How To Get Iron Metal
Photios' Pre-Tirement Walkthrough (Desphina Fort)
Assassin's Creed Odyssey: Memories Awoken Quest Walkthrough
The Daughters Of Artemis (Kalydonian Boar)
Assassin's Creed Odyssey: The Serpent's Lair Walkthrough
Assassin's Creed Odyssey: Snake In The Grass Walkthrough
Location Of Orichalcum In AC Odyssey