The Last Fight of Aristaios is one of the main quests in Assassin's Creed Odyssey.
Your role is to look for Aristaios and assassinate him as he's one of Boeotia's champions.
Here's a walkthrough of The Last Fight of Aristaios in AC Odyssey.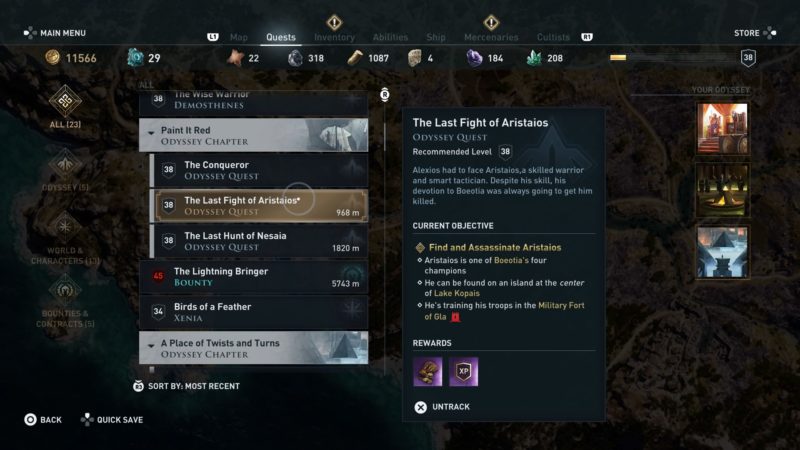 This quest is recommended for level 38 and above, but it differs according to your character's level.
Find and assassinate Aristaios
Your task is simple. Look for Aristaios who is somewhere near the Military Fort of Gla. He's on the island in the middle of Lake Kopais.
His exact location is shown in the map below, marked as the quest symbol.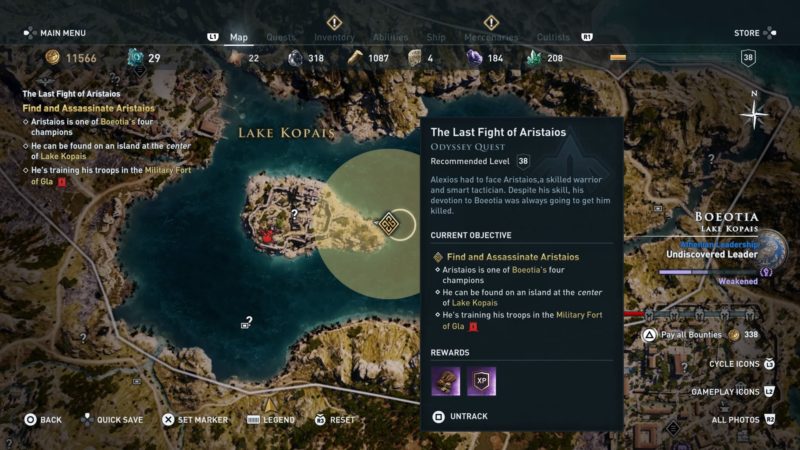 You can take a canoe near the lake and row all the way to the island.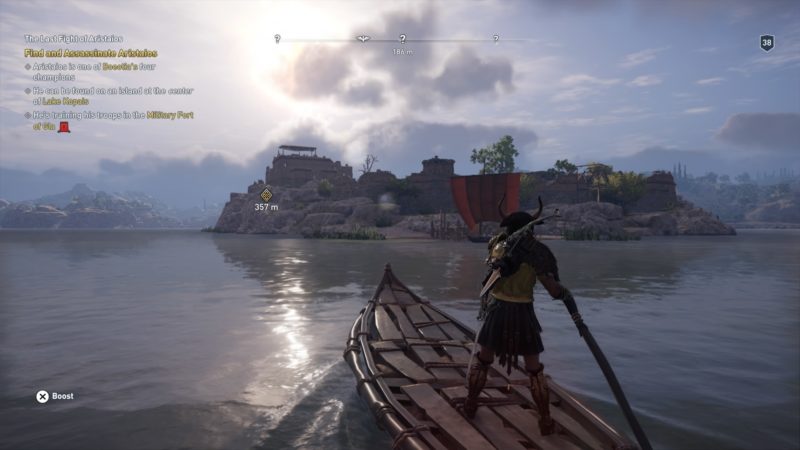 Remember to synchronize location as there's a fast travel spot there. When you arrive, you should see Aristaios fighting with someone else.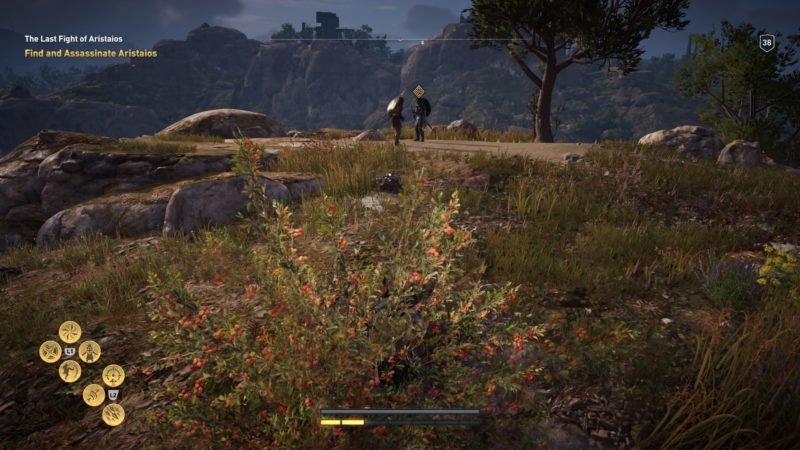 As you get close, a cutscene will load and you'll see Aristaios getting killed by a spear. It's none other than Nikolaos who kills him.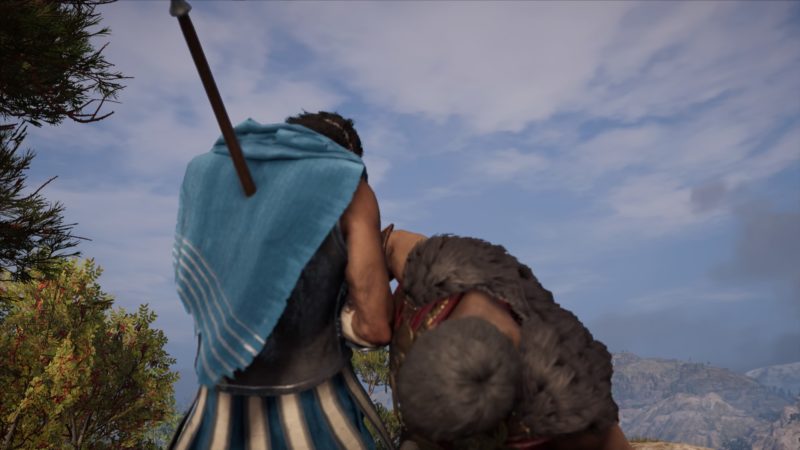 The quest completes here and you don't need to fight at all. You will obtain Aristaios' Breastplate and some items as quest rewards.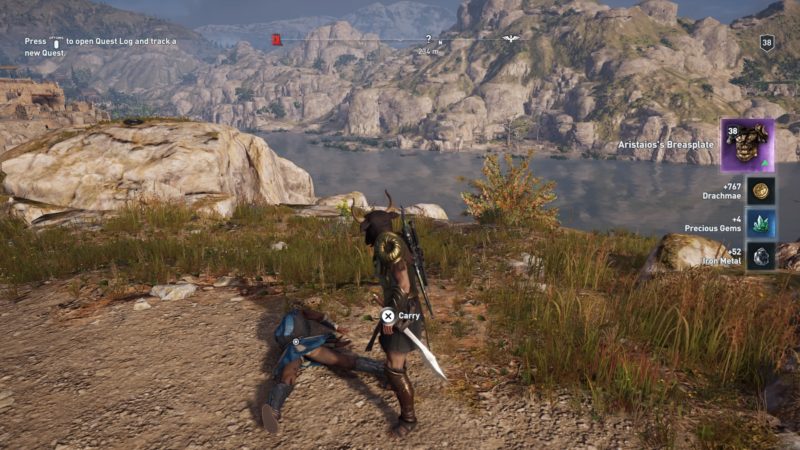 That's it for this particular quest.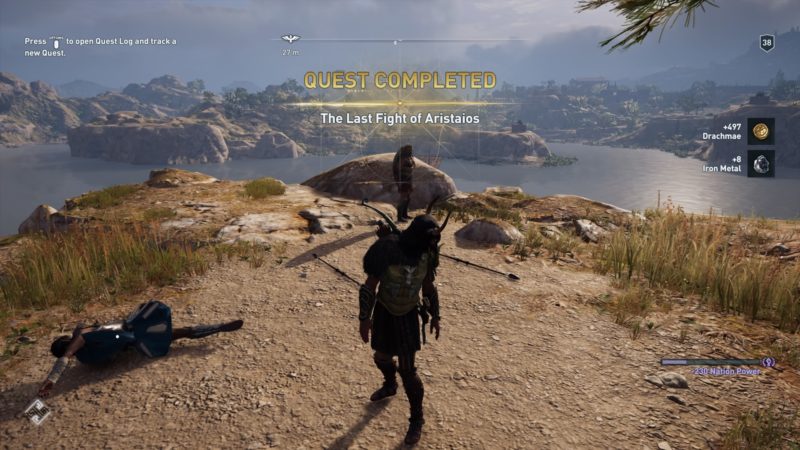 Including this quest, there are four Boeotian champions to kill.
---
Related articles:
Assassin's Creed Odyssey: A Bloody Feast (Archidamos Or Pausanias)
Assassin's Creed Odyssey: The Conqueror (Walkthrough)
AC Odyssey: The Last Hunt Of Nesaia
Assassin's Creed Odyssey: Lore Of The Sphinx (Walkthrough)
Assassin's Creed Odyssey: A Mother's Prayers (Walkthrough)
AC Odyssey: Fourth-Degree Burns (Walkthrough)
Assassin's Creed Odyssey: Free Speech (Walkthrough)
Assassin's Creed Odyssey: The Long Game (Walkthrough)