The Battle of Pylos is a main quest in Assassin's Creed Odyssey involving Deimos.
Your task is to help Sparta secure a victory and defeat Deimos who is on the Athenian side.
Here's a walkthrough of The Battle of Pylos in AC Odyssey.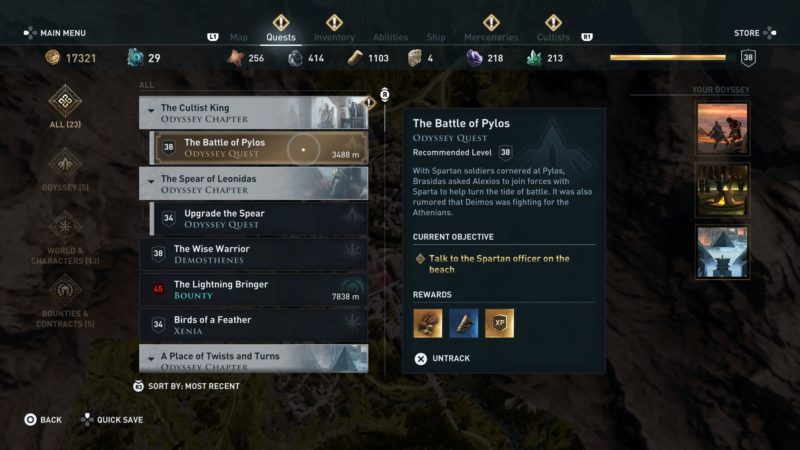 This quest is recommended for level 38 and above, but it may differ according to your character's level.
Talk to the Spartan officer
To begin the quest, talk to the Spartan officer who is on the beach. His exact location is shown in the map below.
He is just west or southwest of Messenia.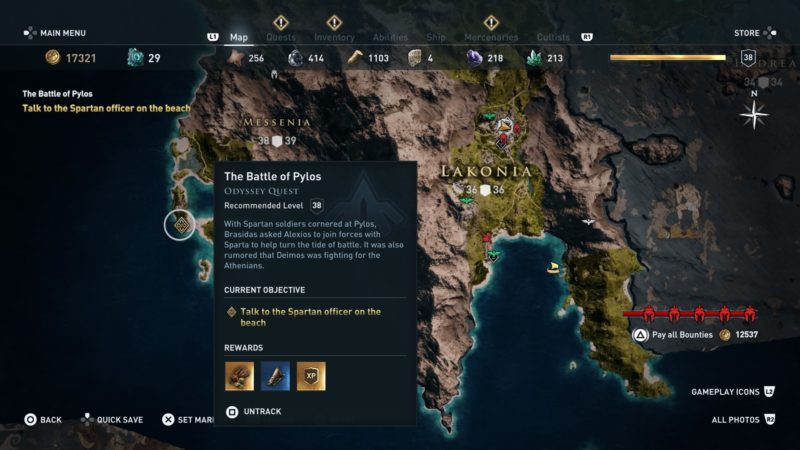 Grab a ship there if you must.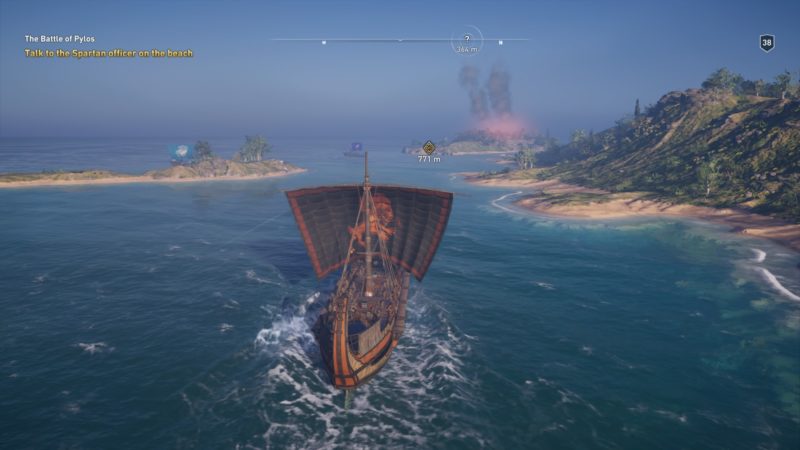 As you arrive, you'll realize that Brasidas is not around. The Spartan officer will ask for your identity and after the cutscene, the battle starts.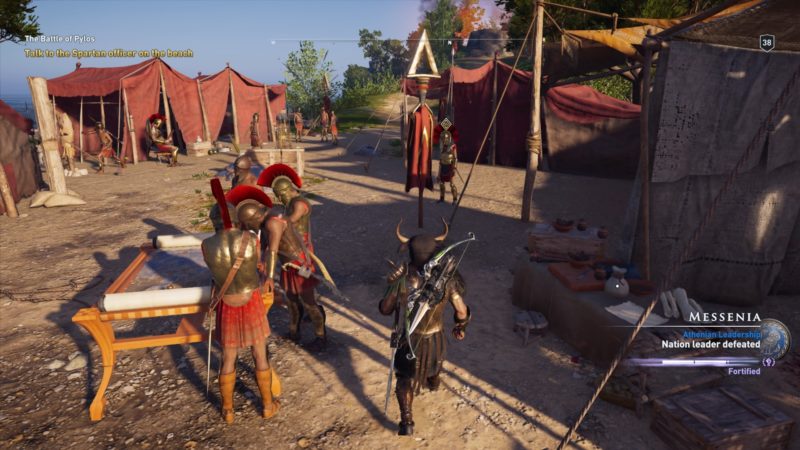 Defeat the Athenians and Deimos
Deimos is your sister Kassandra if you're playing as Alexios, and vice versa. The battle is like any other conquest battle where you have to defeat the enemy's captains and soldiers.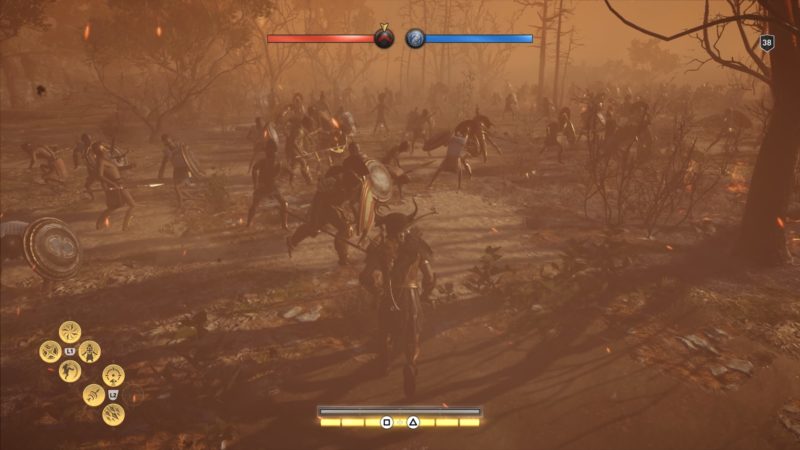 Keep fighting the enemy captains until the health bar reaches a certain point which will trigger a cutscene.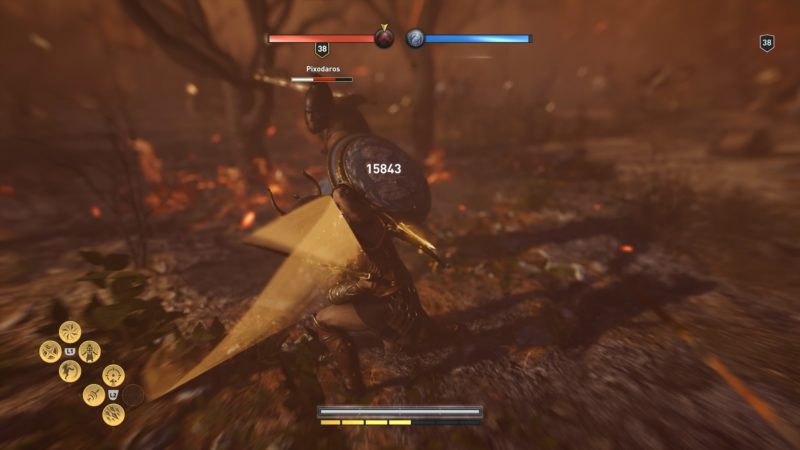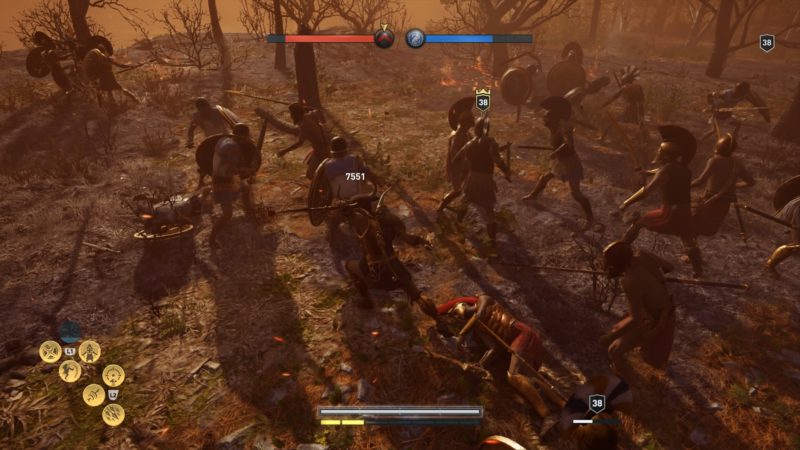 After awhile, there'll be a cutscene where Deimos easily defeats the Spartans.
Brasidas will make an attack but gets defeated easily (not sure if he's still alive).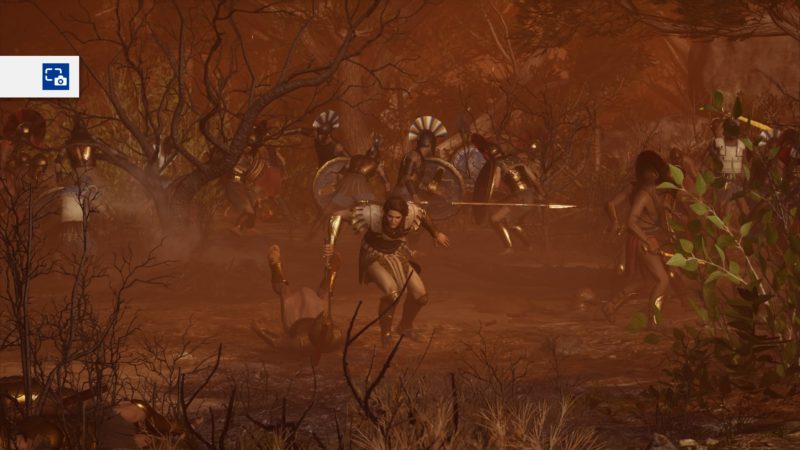 You will now begin the fight with Deimos.
Battle against Deimos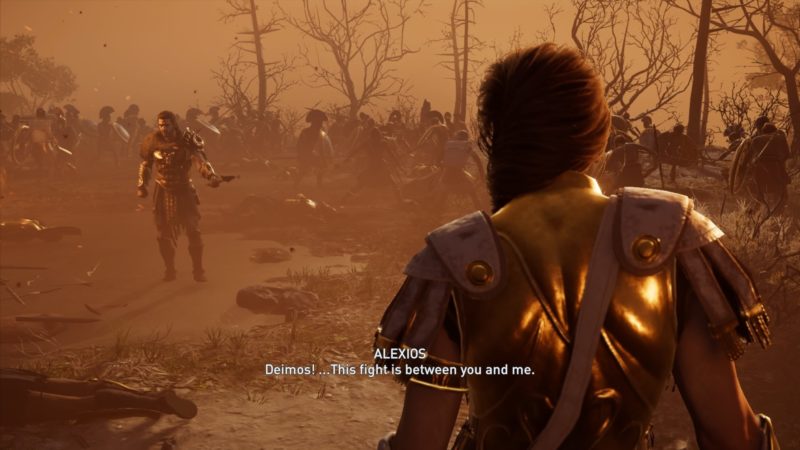 She is like no other enemy you have faced so far. Deimos has many different skills, including some AoE attacks.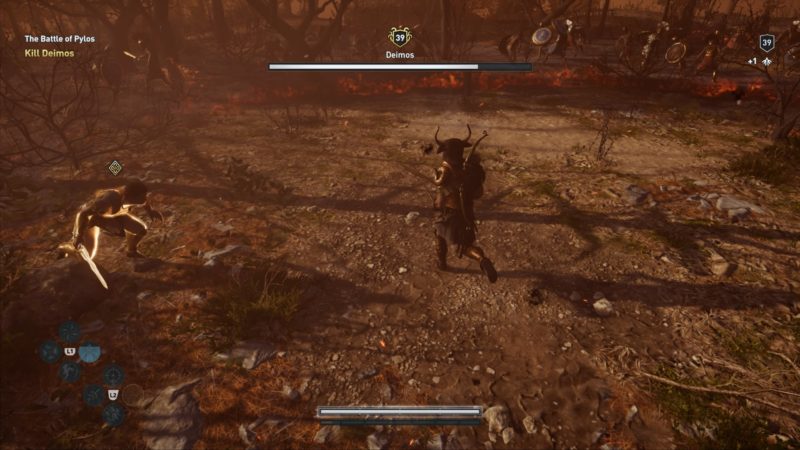 She also has the ability to make herself invulnerable for awhile, meaning your attacks will probably do no damage.
I'm not sure if using special skills can harm her while she's in that state.
I did injure her using a special skill, but I'm not sure if the invulnerability ended that moment or it actually had an effect.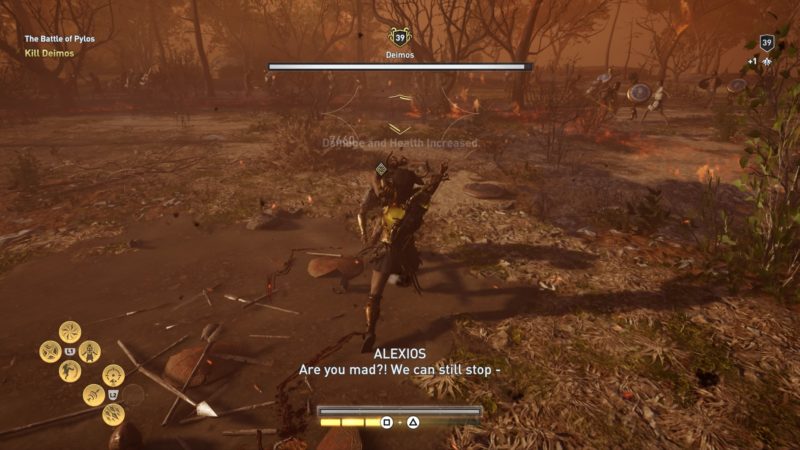 Also, remember to avoid her attacks especially when the ground lights up in red. It's one of her AoE attacks.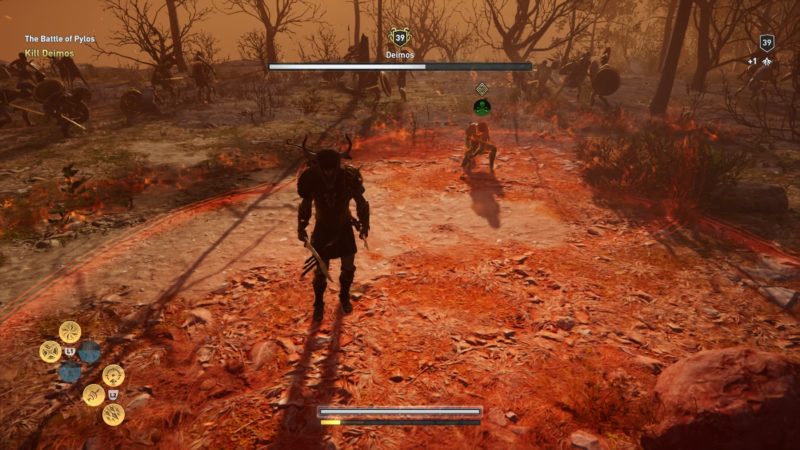 During the battle, she will be weakened several times, where she drops to the floor. This is the best time to land some hits, especially the "overpower" skill for maximum damage.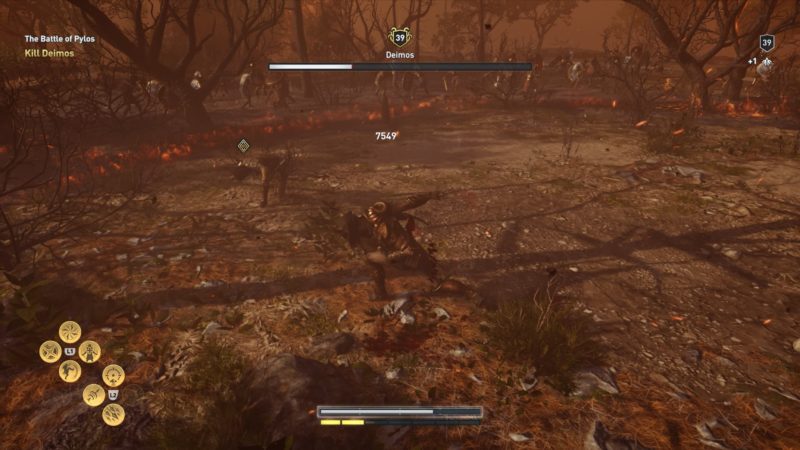 When you get her health to zero, a cutscene will load.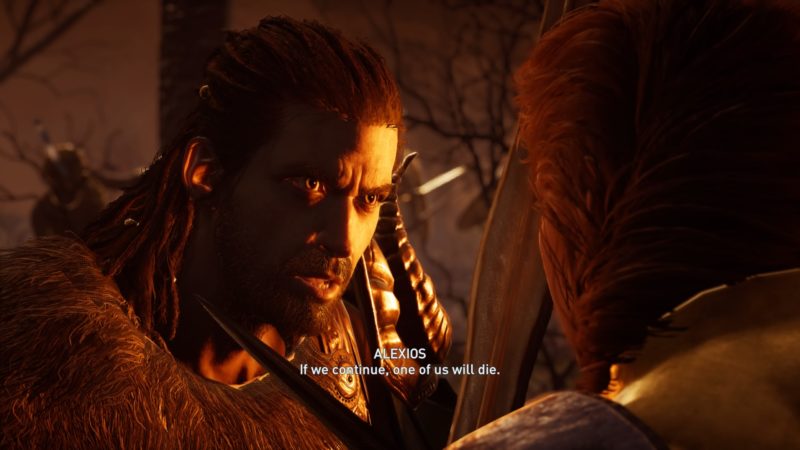 A tree will fall on her and she's pinned down. You have the option of choosing "You made your choice" or "Hold on!".
Personally, I chose "Hold on!" and a tree will fall on you too. I'm not sure what would have happened if you chose the other option.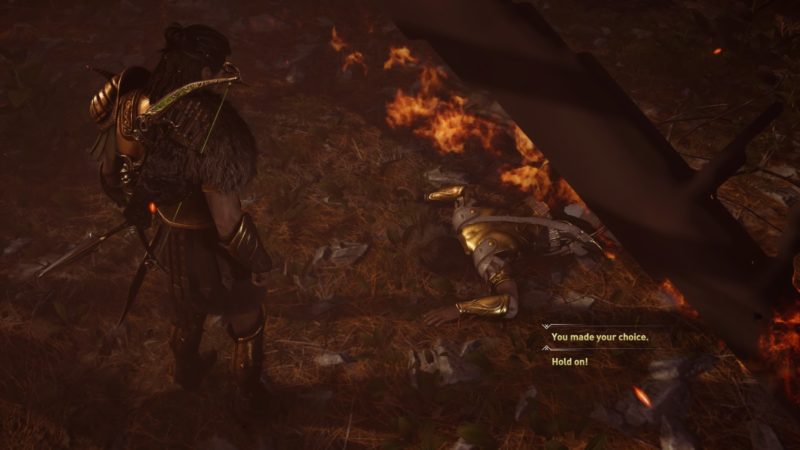 You should wake up in a cell, while Deimos is standing outside. This part is mainly conversational.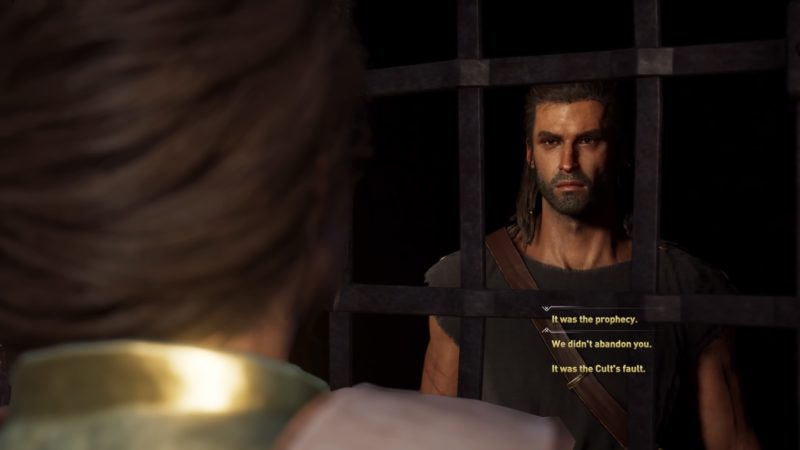 During the cutscene, Kleon appears as he's one of the cult members.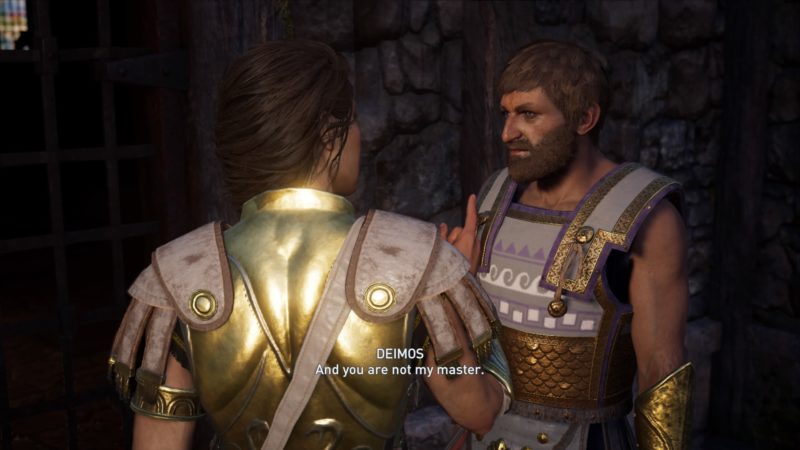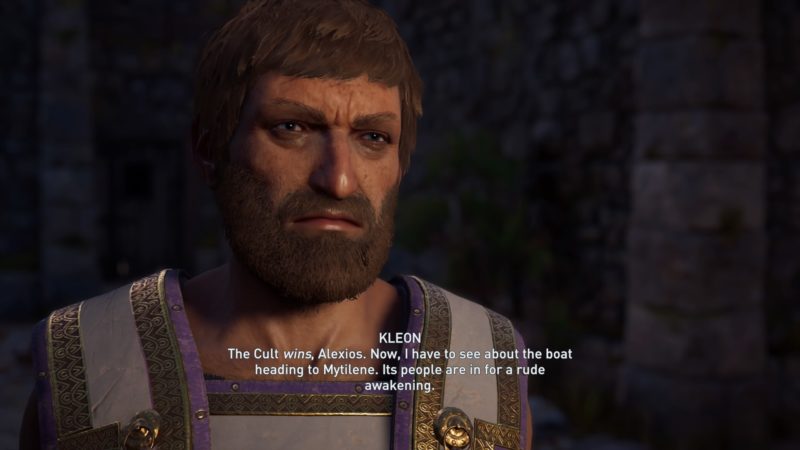 He then asks two of his guards to finish you. The quest completes instantly and you will get Pylos Armguards plus some drachmae.
Another quest instantly loads where the only objective is to defeat these two guards using your bare fists.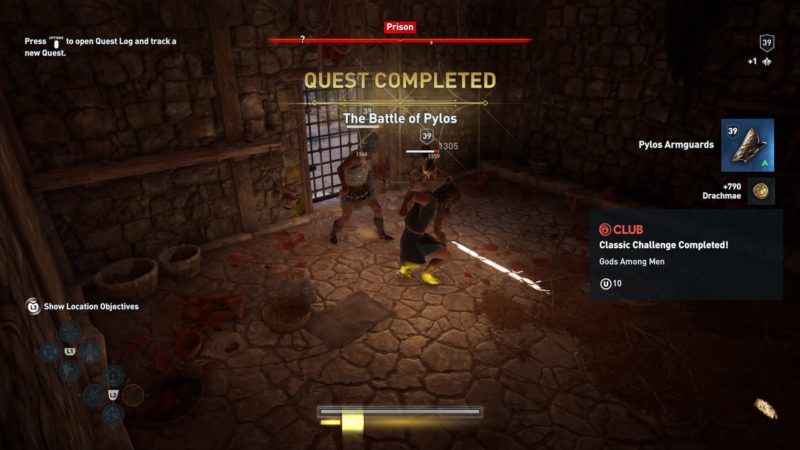 ---
Related articles:
Assassin's Creed Odyssey: A-Musing Tale (Walkthrough)
AC Odyssey: An Actor's Life For Me (Walkthrough)
Assassin's Creed Odyssey: A Bloody Feast (Archidamos Or Pausanias)
Assassin's Creed Odyssey: The Conqueror (Walkthrough)
AC Odyssey: The Last Hunt Of Nesaia
Assassin's Creed Odyssey: The Last Fight Of Aristaios