Mysterious Malady is a quest in Assassin's Creed Odyssey under the DLC "Legacy of the First Blade".
Your task is to find out who caused the illness among the villagers and find a cure.
Here's a walkthrough of Mysterious Malady in AC Odyssey.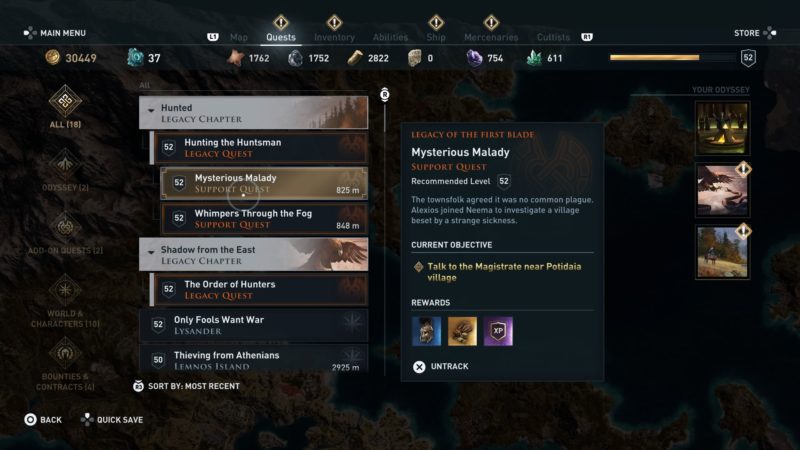 This quest is recommended for those level 52 and above, but it differs according to your own level.
Talk to the magistrate
To begin the quest, talk to the magistrate who is in Potidaia.
His exact location is shown in the map below, marked as the quest symbol.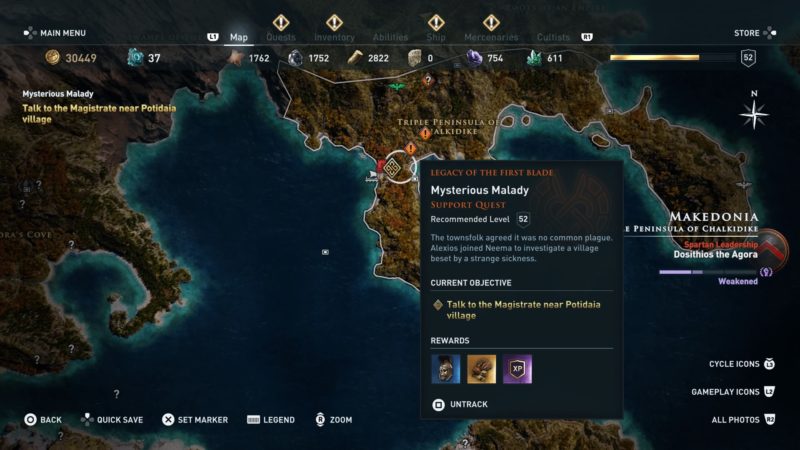 You should see him standing on the cliff. Talk to him.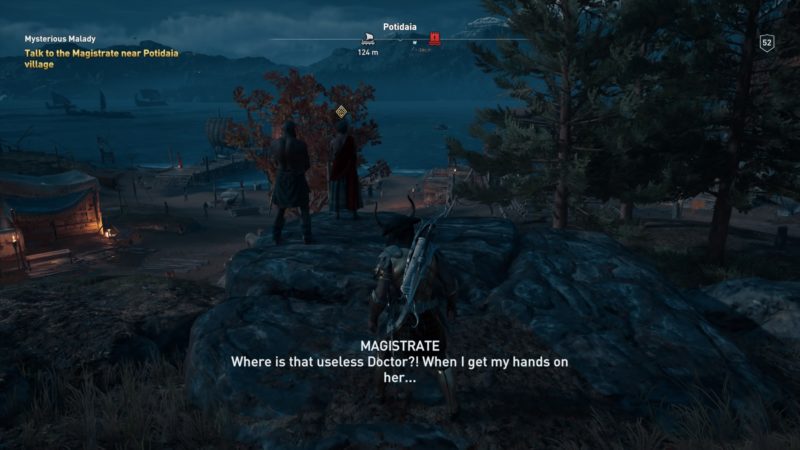 During the cutscene, he will mention that the doctor is missing. Her name is Timosa.
Find and talk to the doctor
You should be able to find the doctor at the location shown in the map below.
As you get closer, use Ikaros to pinpoint the destination.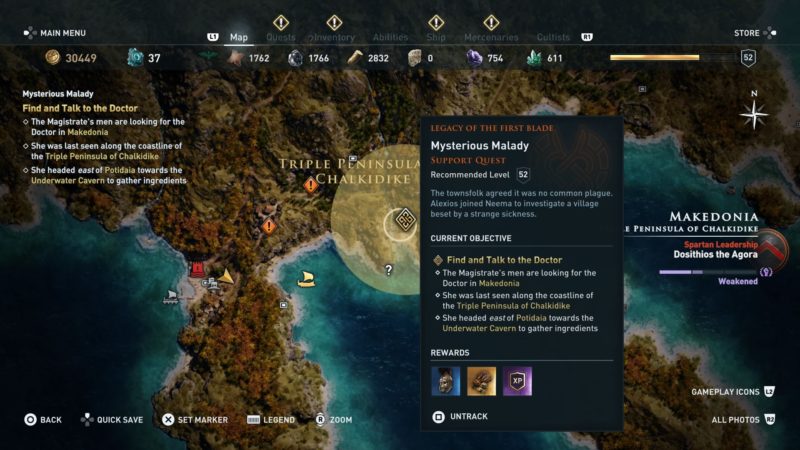 You will find her surrounded by three guards. She's the one lying down on the ground.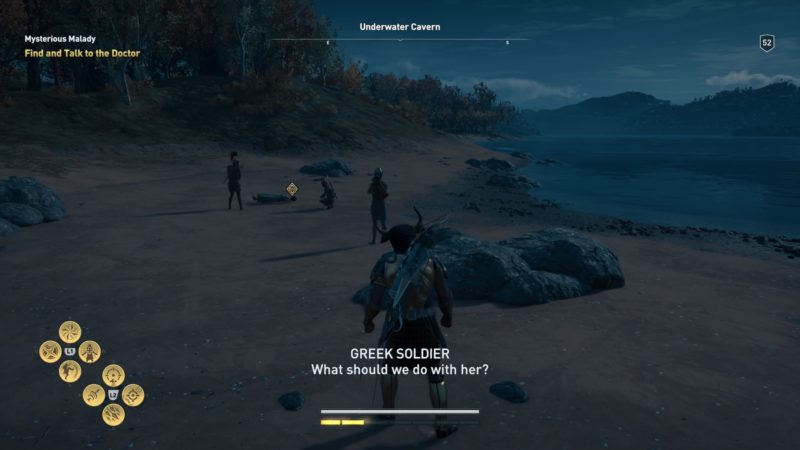 Kill the guards
Defeat all of the guards. Talk to her to proceed.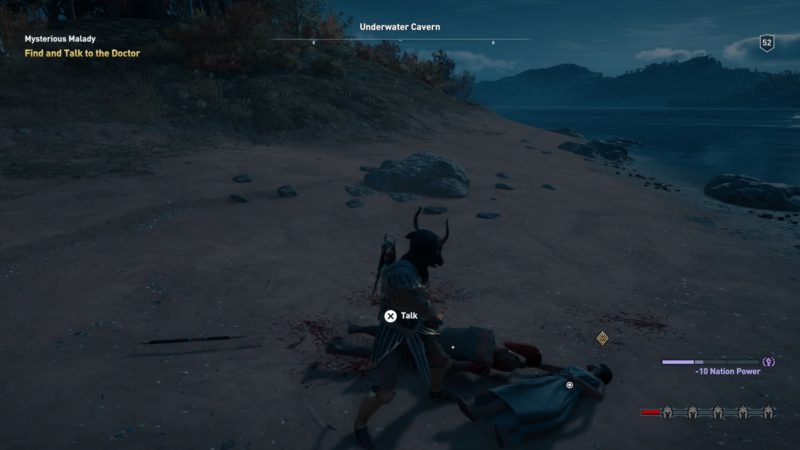 She will then say that the magistrate sent the guards for her. Apparently the medicine has been taken by the bandit ships.
Reach your ship
Get to your ship, wherever it is.
You need to use your ship to defeat the two bandit ships via a naval battle. The ships are located just south of the port at Makedonia.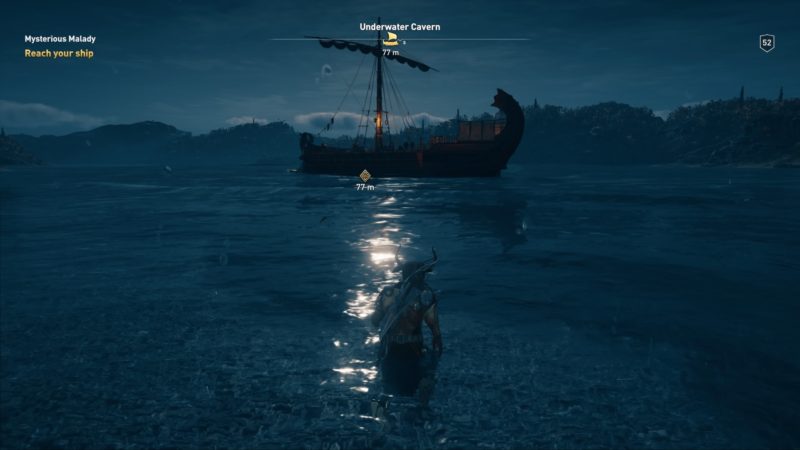 Destroy the bandit ships
You can destroy the bandit ships using the same way you normally do with other ships.
Keep lowering the health, and board the ship.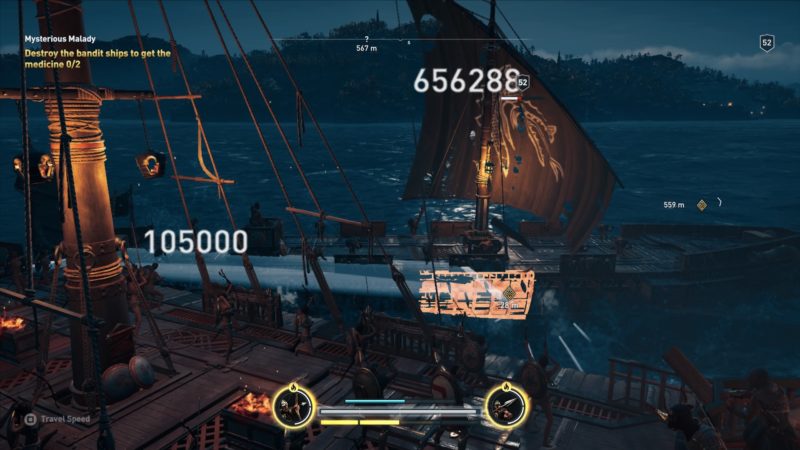 For one of the ships, you can just ram it until it sinks.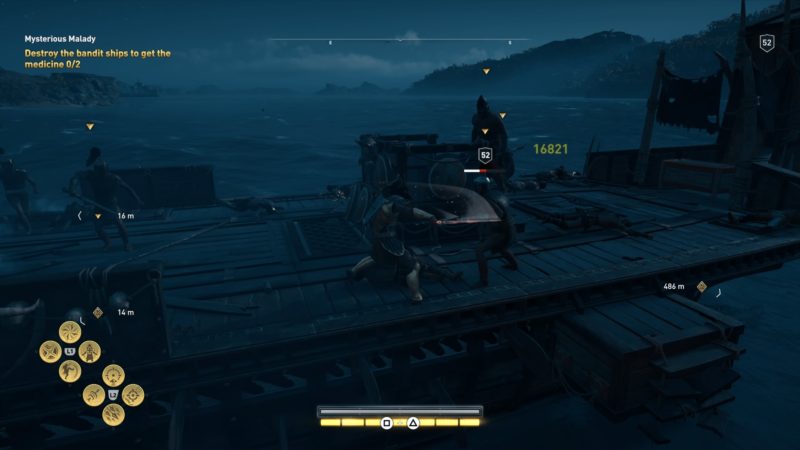 After destroying each ship, you should get the medicine.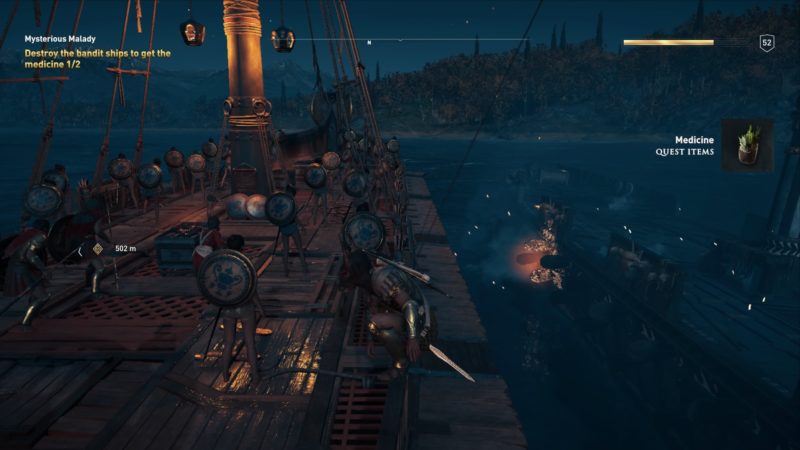 There's also a letter on one of the ships. Apparently they have been hired by a woman to kill the Eagle Bearer. I should have read it properly.
It affects the outcome later.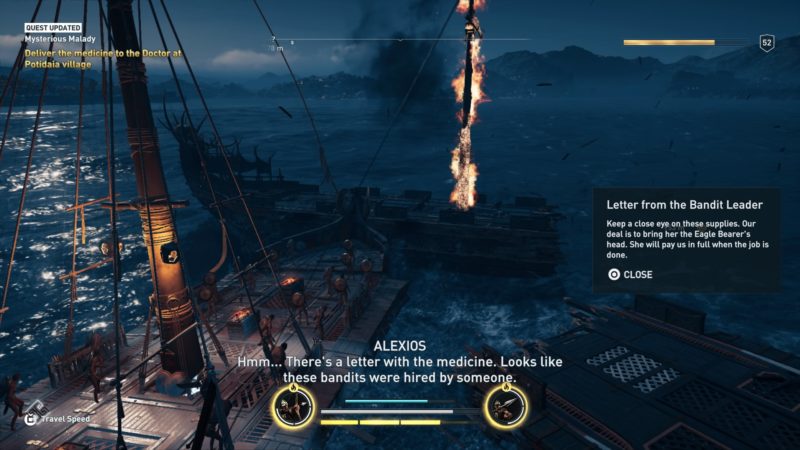 Deliver the medicine to the doctor
Get back to the doctor in Potidaia. The exact location is shown in the map below.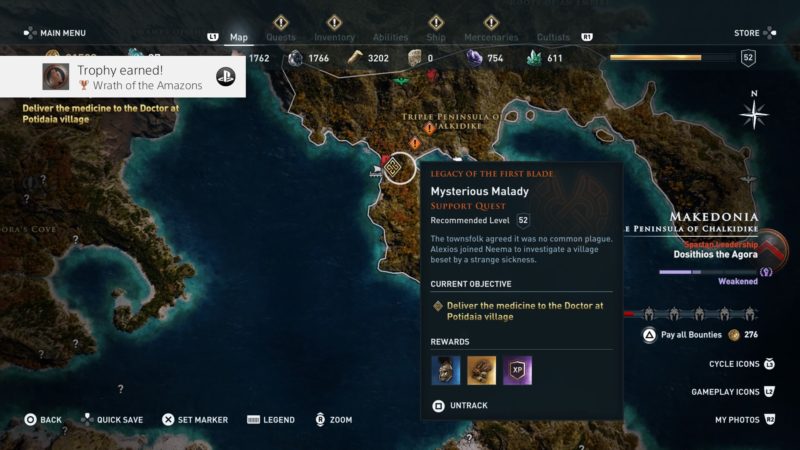 Talk to the magistrate.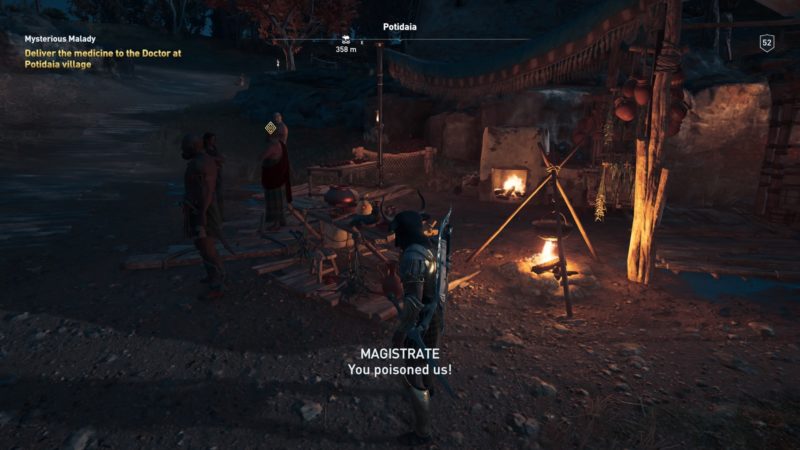 During the conversation, you have the choice to choose either the magistrate or the doctor as the one who caused the illness.
I chose the magistrate, which was the wrong option. The doctor (Timosa) is the real culprit. She's also one of the members of the Order, which you will learn later.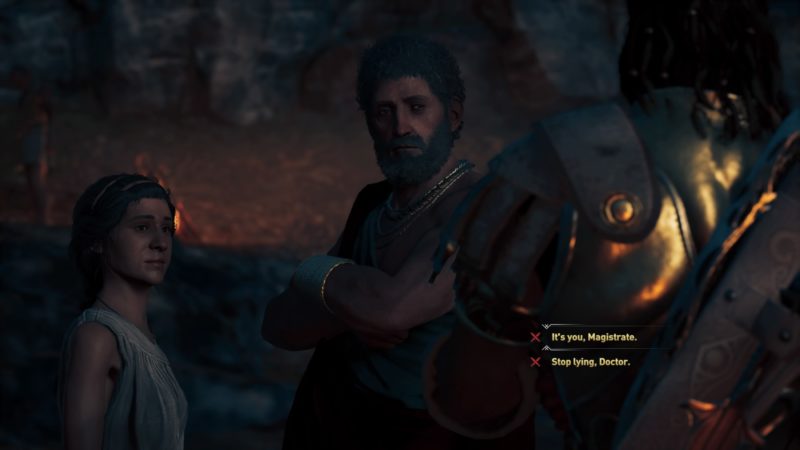 Kill the magistrate
In any case, if you had chosen wrongly, you need to kill the magistrate and his men.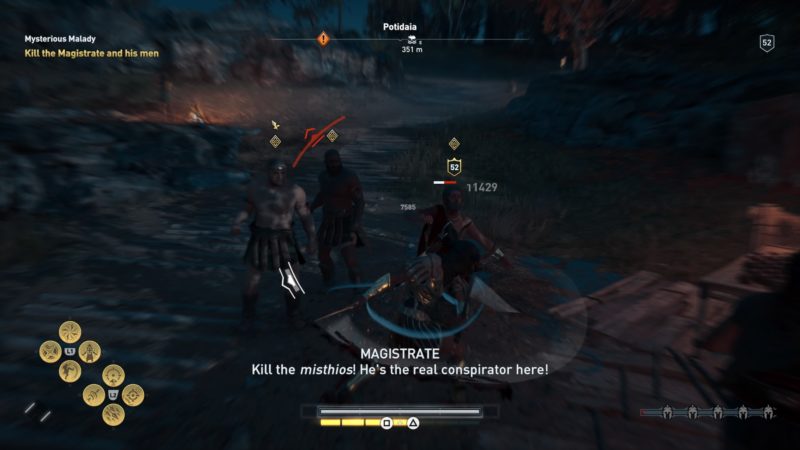 Talk to Neema
Once they're dead, talk to Neema about the situation.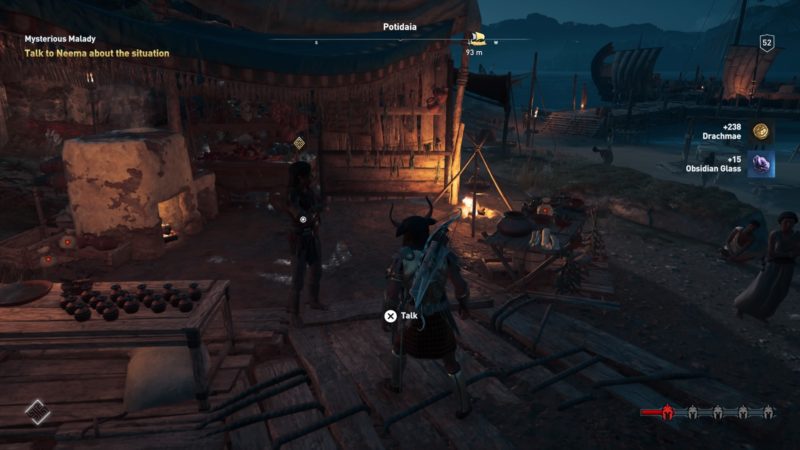 The quest completes here and you should get two ancient clues with some drachmae.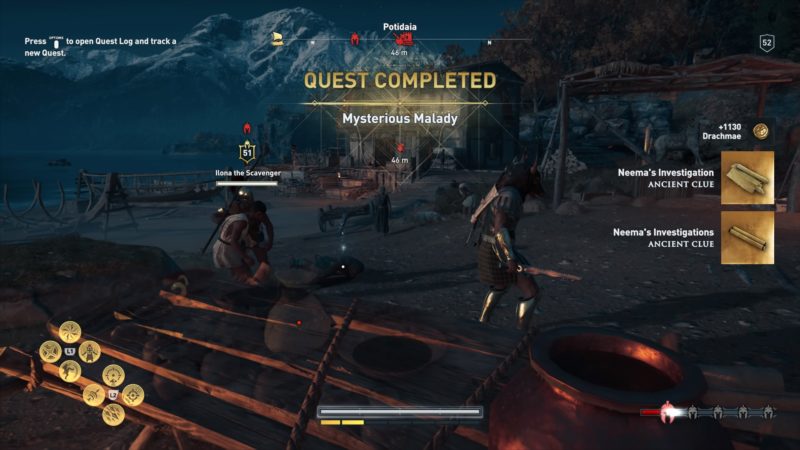 ---
Related articles:
Assassin's Creed Odyssey: Thank You, Malaka! (Walkthrough)
AC Odyssey: Whimpers Through The Fog (Walkthrough)
Assassin's Creed Odyssey: Revealing The Recruiter (Walkthrough)
Assassin's Creed Odyssey: Shadow Of A Legend (Walkthrough)
AC Odyssey: The Horsemen Cometh (Walkthrough)
Assassin's Creed Odyssey: Blood And Water (Walkthrough)