More Questions Than Answers is a quest in Assassin's Creed Odyssey from the latest DLC.
Your task is to talk to Neema to know more about her new acquaintances.
Here's a walkthrough of More Questions Than Answers in AC Odyssey.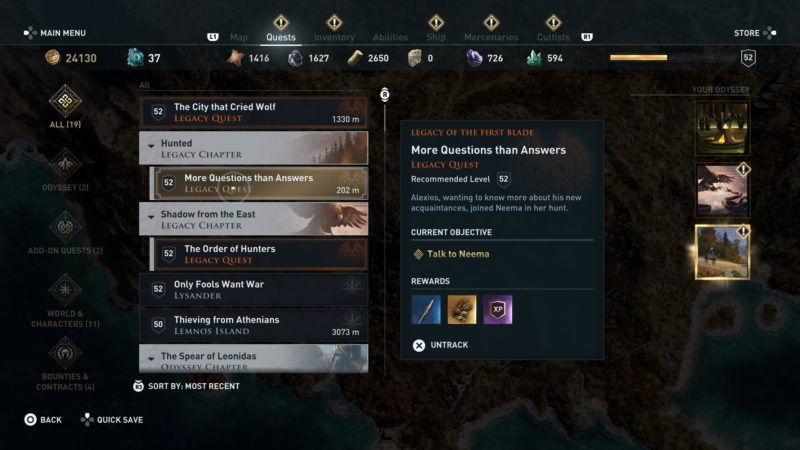 This quest is recommended for those level 52 and above, but it differs according to your own level.
Talk to Neema
To start the quest, talk to Neema. Her exact location is shown in the map below, marked as the quest symbol.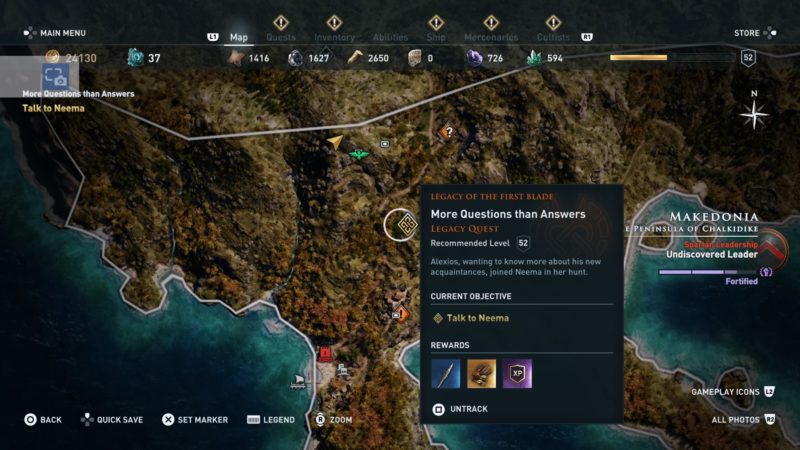 You will see her standing here, looking at the scenery.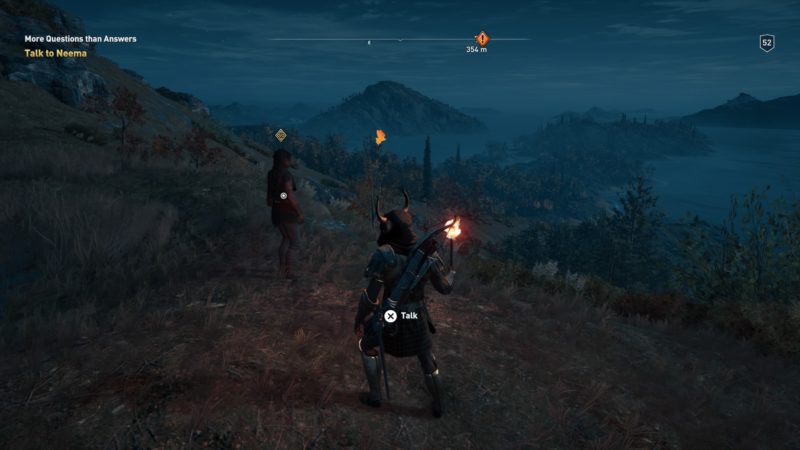 Hunt some deer
She will then ask you to hunt some deer in Makedonia. Just nearby, you should find plenty of deer.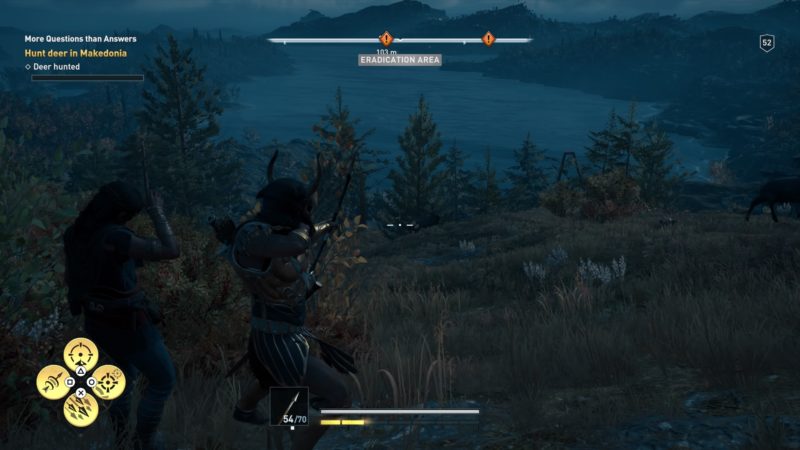 Kill about four or five and it should fill the bar on the upper left hand corner of the screen.
Follow Neema
Once you're done, follow Neema. She heard a sound and is tracking an animal.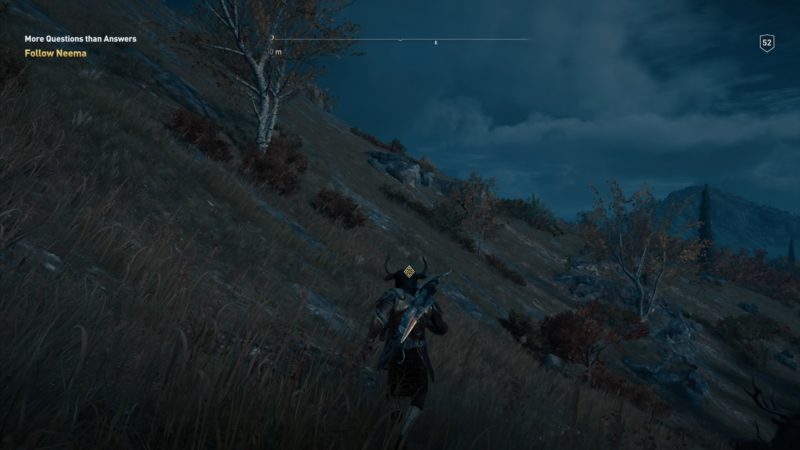 Hunt the boar
After following her for awhile, you will see a white boar.
Kill the boar. You can use arrows or just go down and melee the boar. It won't run away.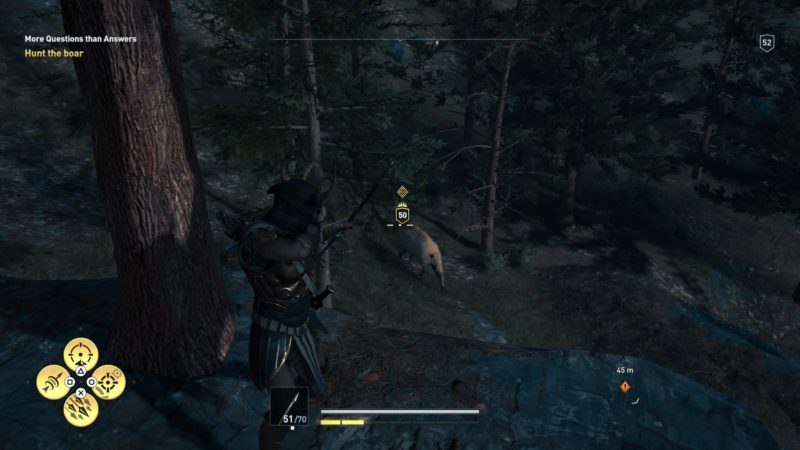 Once it's dead, loot the boar's meat.
Then, there'll be a couple of scenes, including one where Alexios is eating boar meat with Neema.
The next scene is Alexios talking to Barnabas and telling the story Darius told him.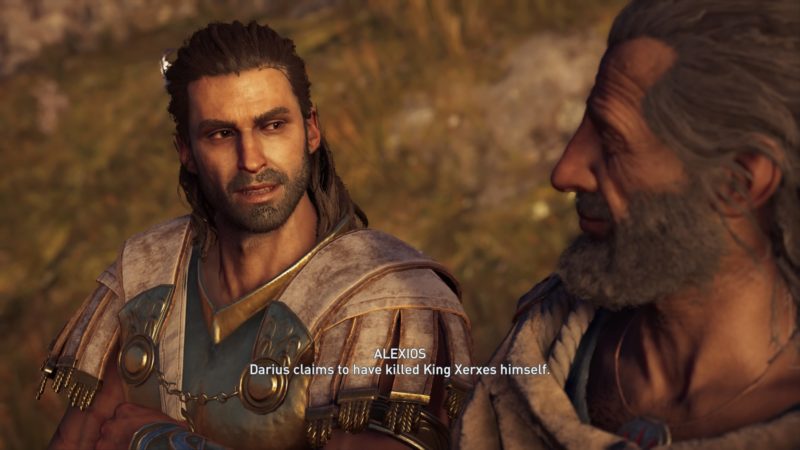 The quest completes here, and you should get a Boar Piercer, some drachmae and other stuff.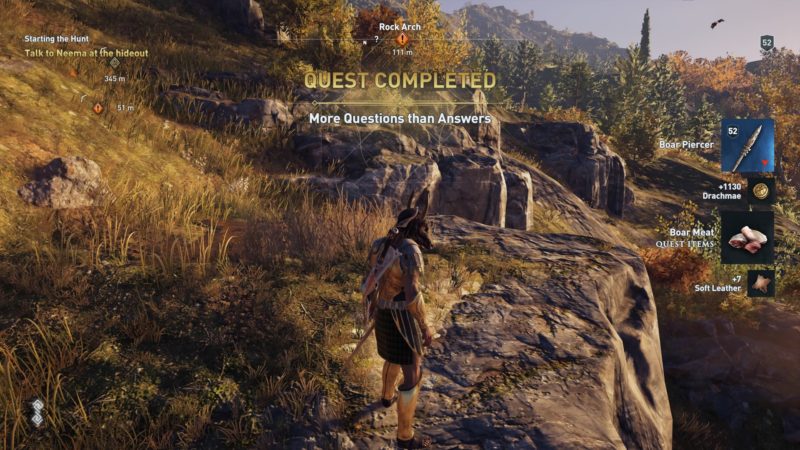 ---
Related articles:
Assassin's Creed Odyssey: Praxilla's Admirer (Walkthrough)
AC Odyssey: Into The Storm (Walkthrough)
Assassin's Creed Odyssey: Shadow Of A Legend (Walkthrough)
Assassin's Creed Odyssey: The Horsemen Cometh (Walkthrough)
How To Start Playing Legacy Of The First Blade (AC Odyssey)
AC Odyssey: How To Find Hephaistos' Workshop (Location)