By The Fates is a quest in Assassin's Creed Odyssey that leads to a cultist of Kosmos.
Your task is to meet Diona over information on who could be the cultist member.
Here's a walkthrough of By The Fates in AC Odyssey.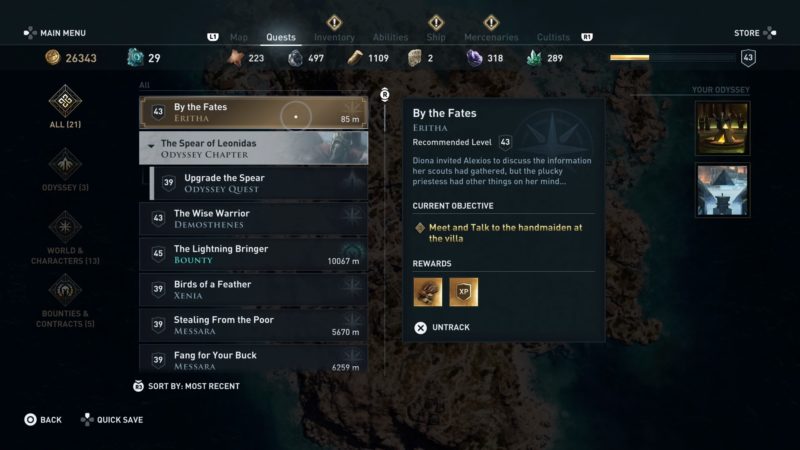 This quest is recommended for those level 43 and above but it may differ according to your own level.
Meet and talk to the handmaiden
Your first objective is to get to the villa as Diona apparently waits for you there. The exact location of the villa is shown in the map below, marked as the quest symbol.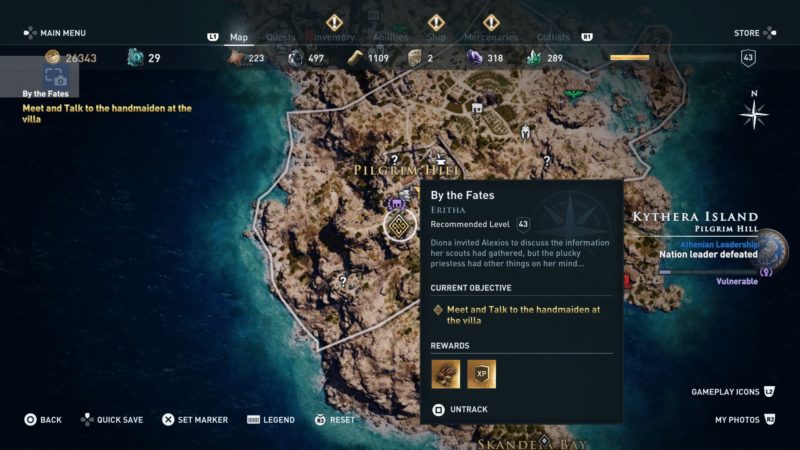 As you arrive, talk to the handmaiden who is waiting at the entrance of the villa.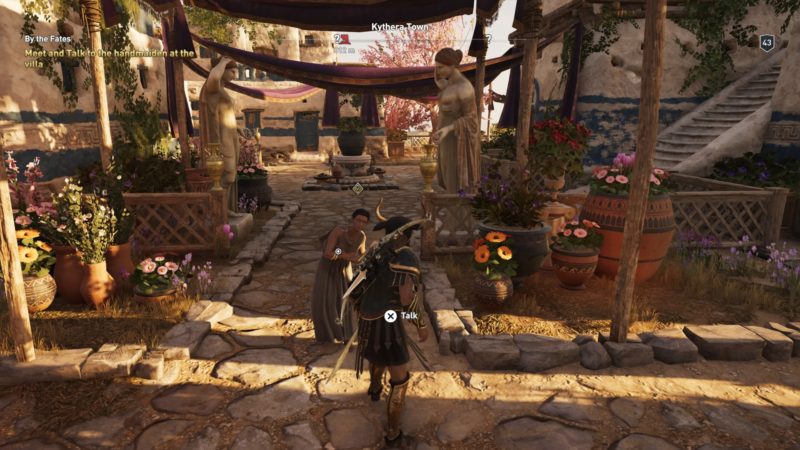 Follow her until she stops. During the cutscene, you'll meet Diona and there'll be a romance option in it.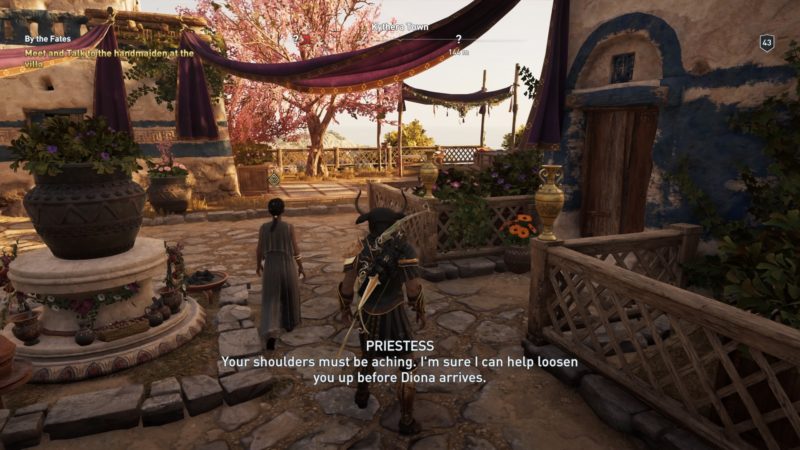 After the cutscene, you'll discover that Diona has betrayed you and she's one of the cult members. She will ask her guards to kill you.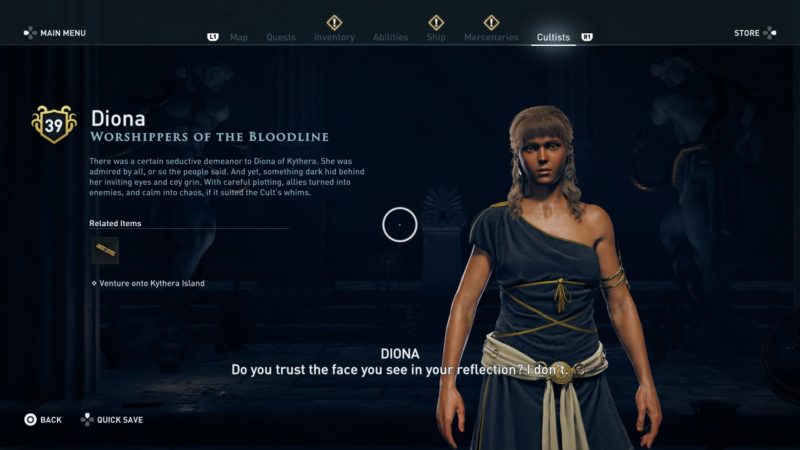 Kill the guards
There are three guards, all looking quite buff. Kill all of them.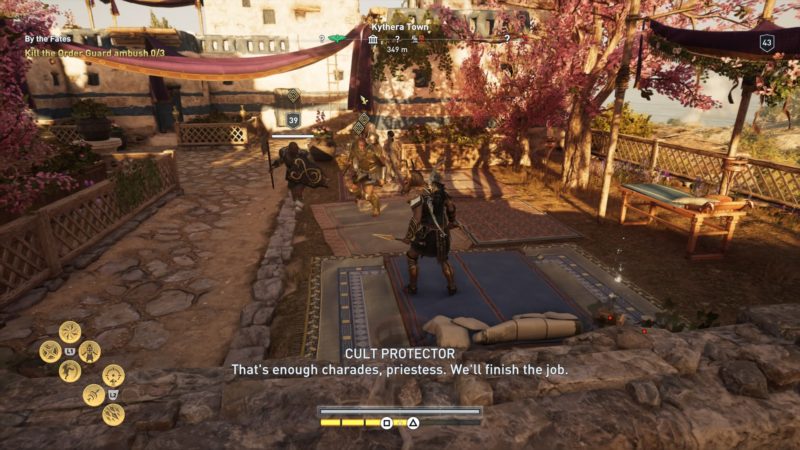 Once you've gotten rid of the guards during the ambush, find the handmaiden who is hiding upstairs in the villa.
Talk to her to find out what's going on.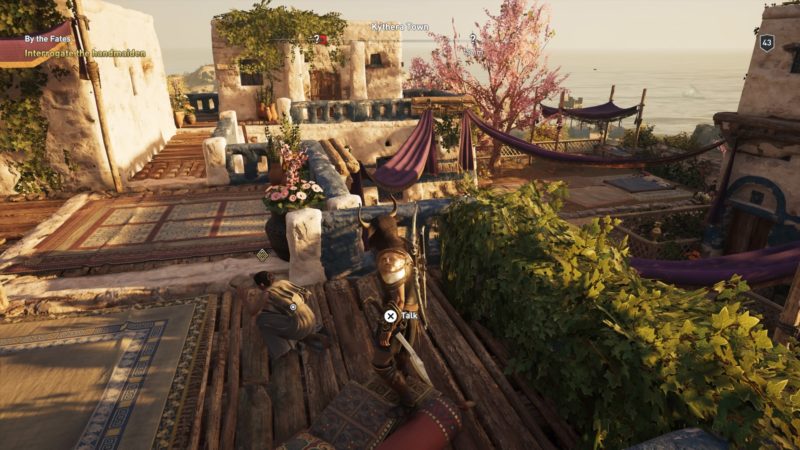 Reach the altar and deal with Diona
Next, get to the altar north of Kythera Island. It's in Aphrodite's Watch. The exact location is shown in the map below.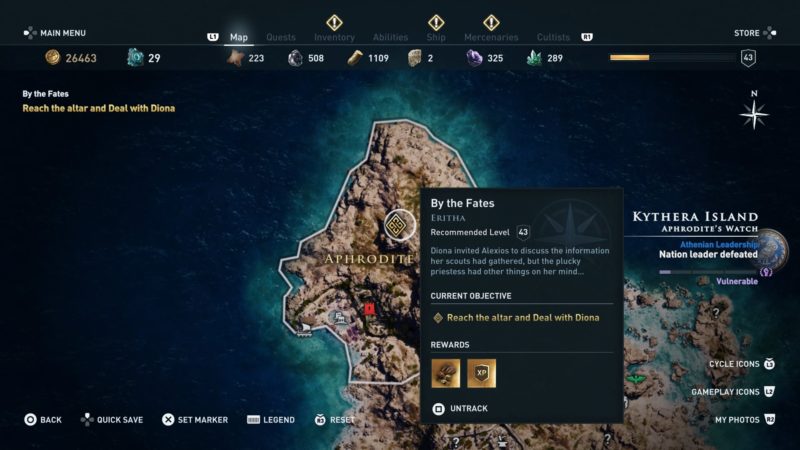 You will see Diona and Eritha. It turns out that they are identical twins and you have to find out who the real Diona is.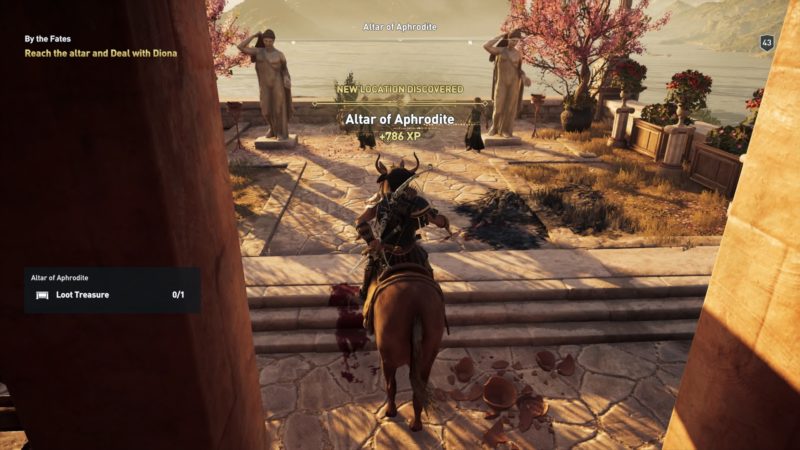 During the conversation, you will get subtle hints on who Diona may be. Do observe the way they talk and what they say.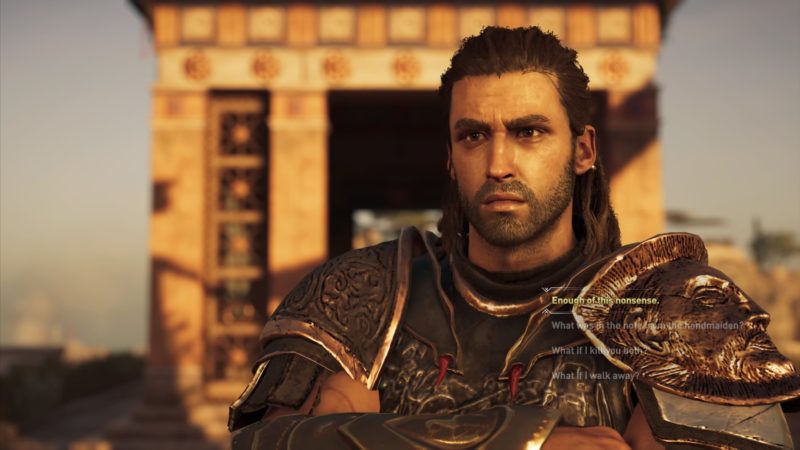 Which one is Diona?
I actually wasn't sure, but I picked the one on the right based on a hunch and the way she spoke.
It turned out to be the right option.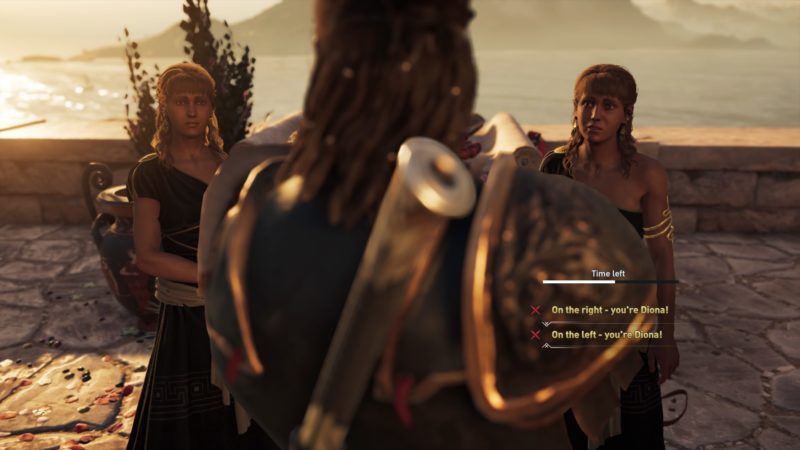 Fight with Diona and kill her. Once she's down, confirm kill to loot the items.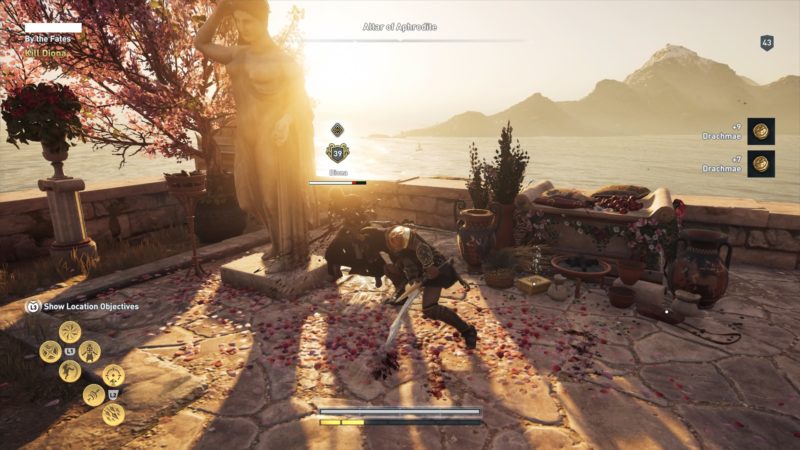 You should get an Armor of the Immortal and some other quest items upon looting her body.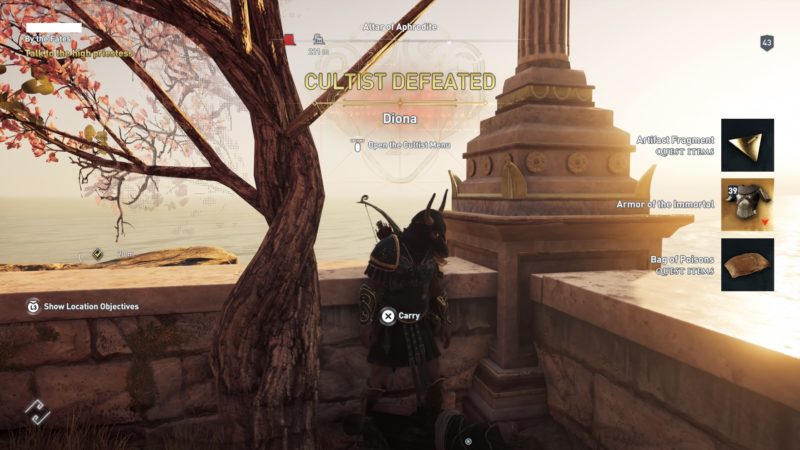 Talk to Eritha
After killing Diona, talk to her sister Eritha.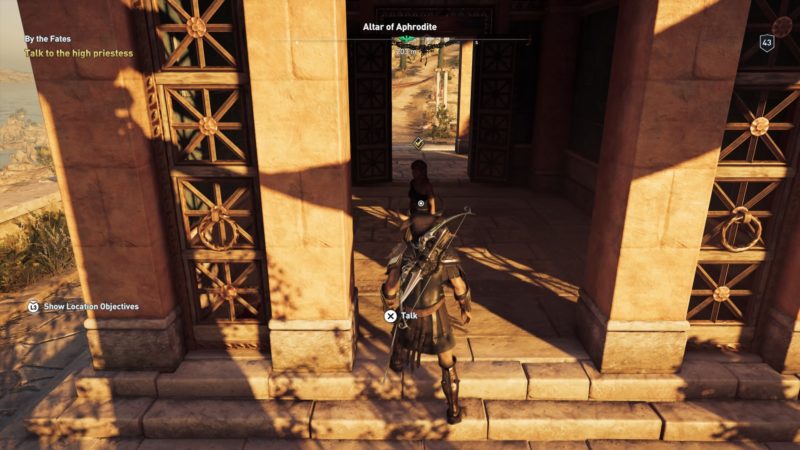 The quest ends here after the conversation and you will get some drachmae for your troubles.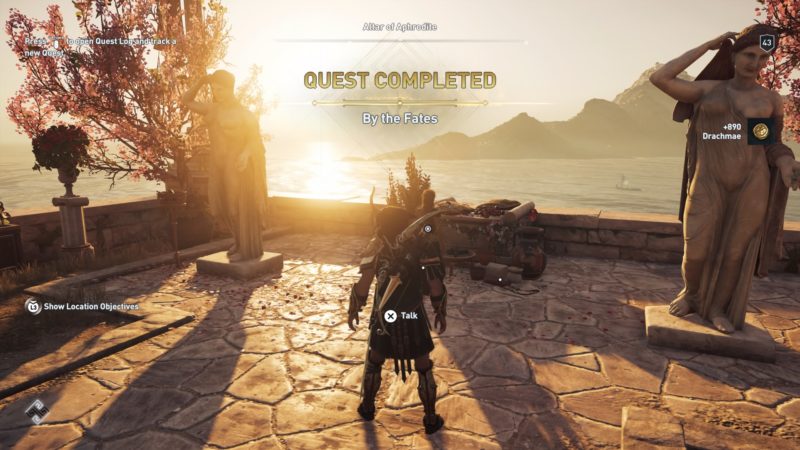 ---
Related articles:
Assassin's Creed Odyssey: Confiscated (Quest Walkthrough)
Assassin's Creed Odyssey: Family Values (Walkthrough)
AC Odyssey: Bravely Ran Away (Walkthrough)
Assassin's Creed Odyssey: Kallisto The Bear (Walkthrough)
Assassin's Creed Odyssey: The Handmaiden's Story (Walkthrough)
AC Odyssey: Pick Your Poison (Walkthrough)
Assassin's Creed Odyssey: Atoll Order (Quest Walkthrough)
Assassin's Creed Odyssey: All Bonds Will Break (Walkthrough)