Agamemnon's Symbol is a support quest in The Fate of Atlantis in Assassin's Creed Odyssey.
Your task is to get to Agamemnon's Tomb in Argolis and find the symbol.
Here's a walkthrough of Agamemnon's Symbol in AC Odyssey.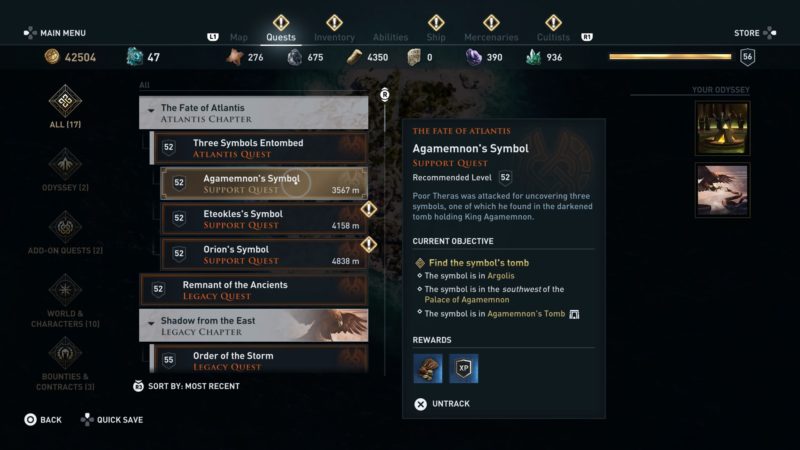 This quest is recommended for those level 52 and above, but it differs depending on your own level.
Find the tomb
Your first task is to find Agamemnon's Tomb. Get to Argolis at the exact location shown in the map below.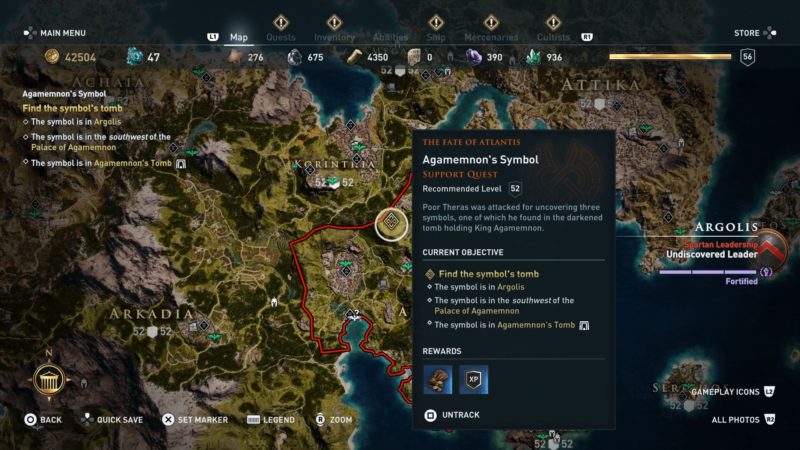 As you get closer, use Ikaros to pinpoint the exact location of the tomb.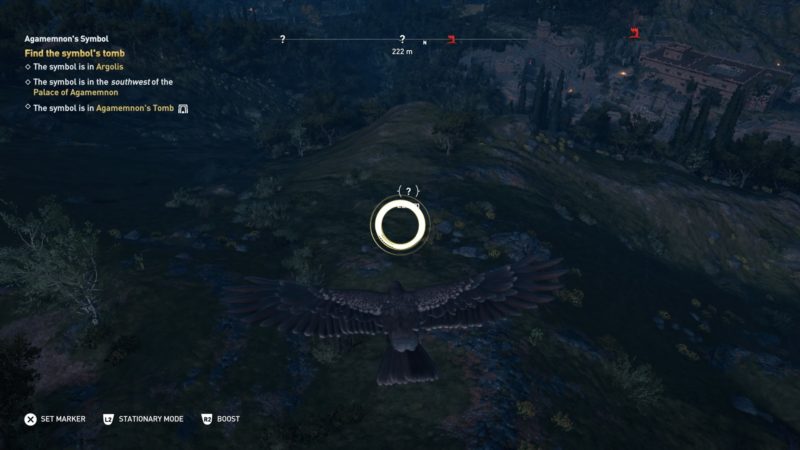 You should see this entrance (image below). The image is quite dark, but you shouldn't miss the entrance.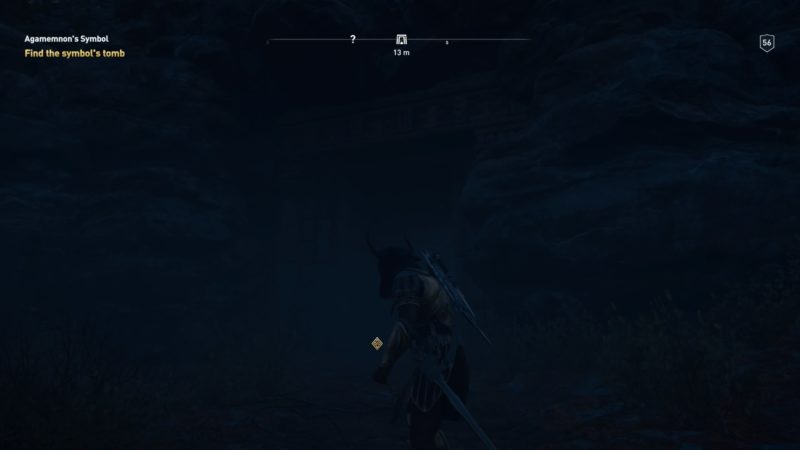 Talk to Aletheia
Enter the tomb and you'll immediately see Aletheia. Talk to her.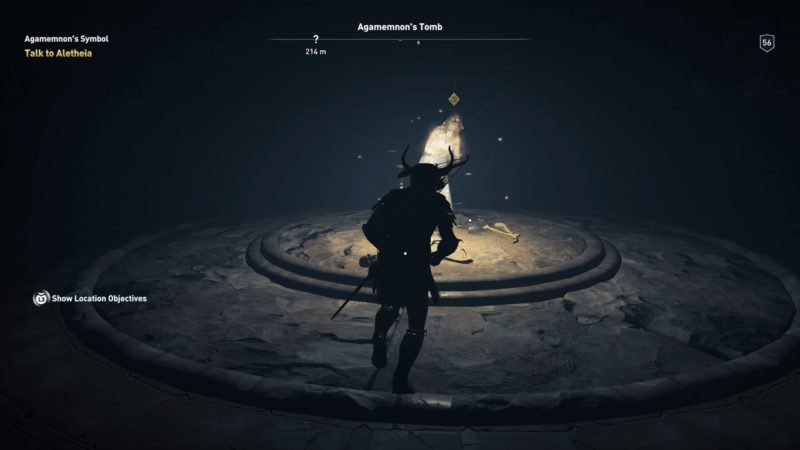 During the conversation, I chose the first option.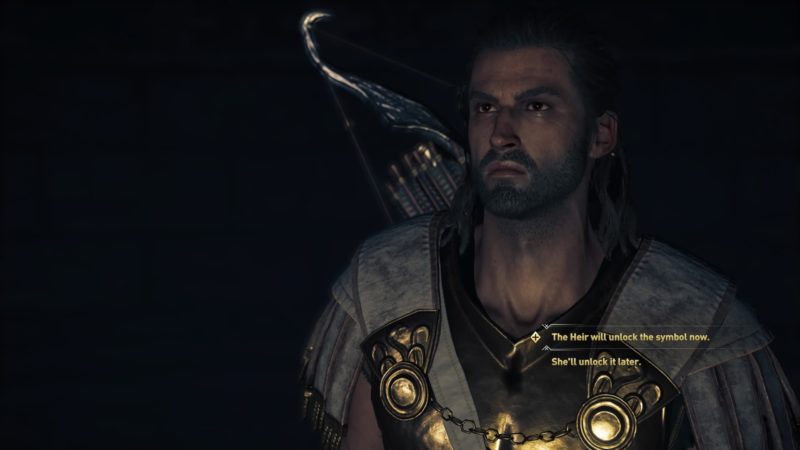 You will then be transported back to Layla.
Find the symbol
As Layla, you need to find the symbol. After spawning, just keep going downwards.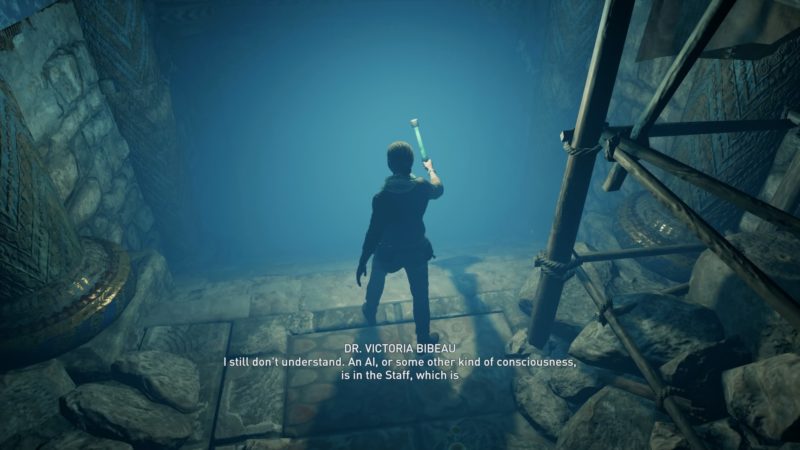 Keep walking until you reach this room with spikes on the ground.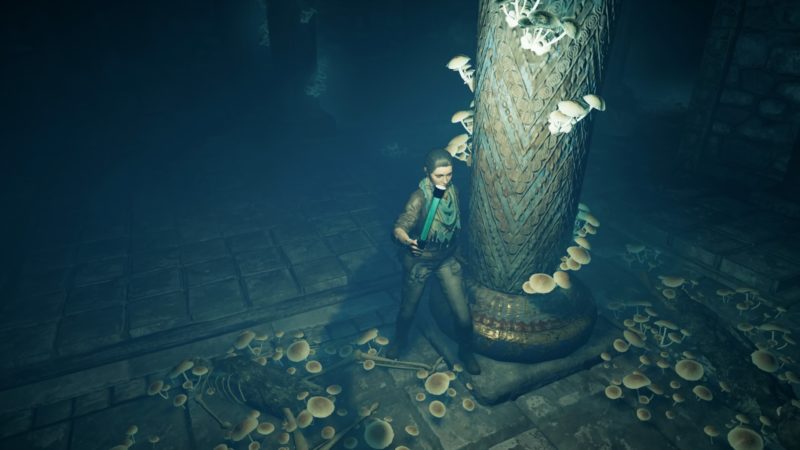 You have to be very careful with the spikes, because Layla dies immediately (image below) if she gets hit once.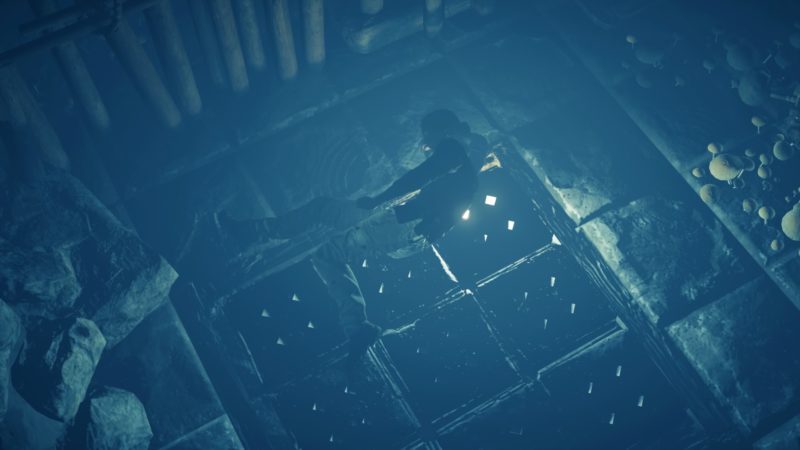 Inside the room, you need to climb to the other side which is blocked by some wooden poles.
Find this shelf which is at the entrance and pull it near the poles.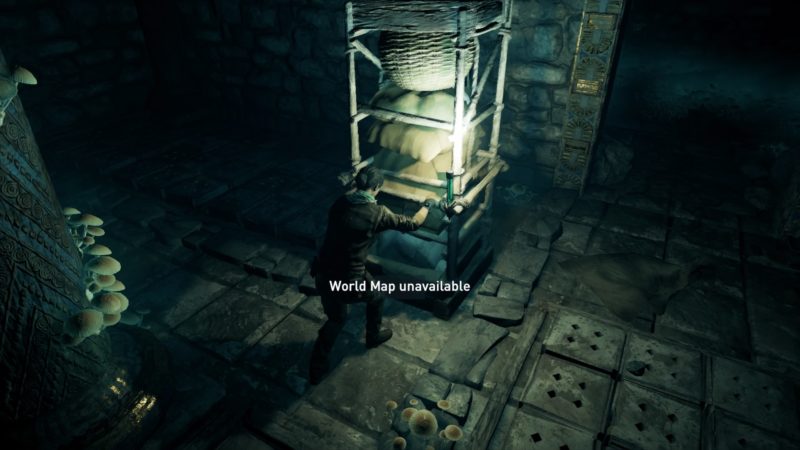 Keep pulling following the lines on the ground, without getting stabbed by the spikes.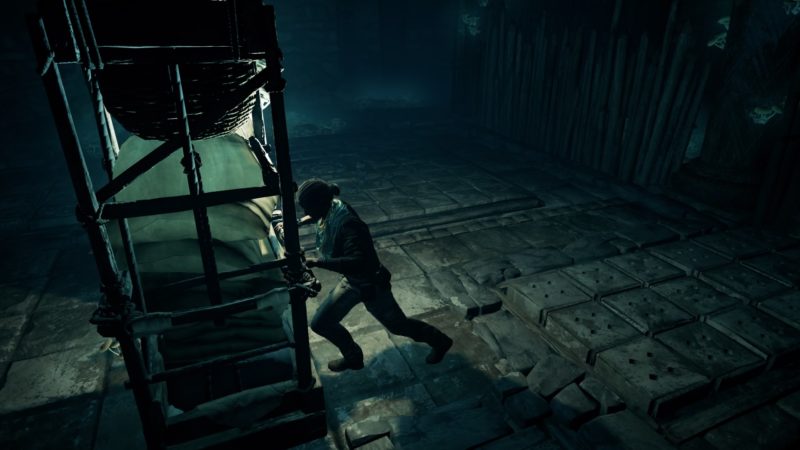 Eventually, you will reach the front of the wooden stakes. Climb on the shelf and jump to the other side.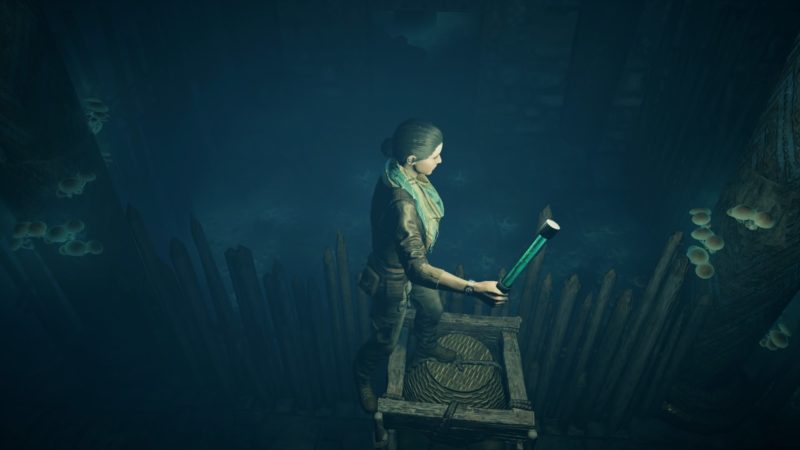 Keep walking and you will find a room with a huge hole on the ground. At the end of the room, you will see this symbol.
Do not waste your time by jumping down the hole.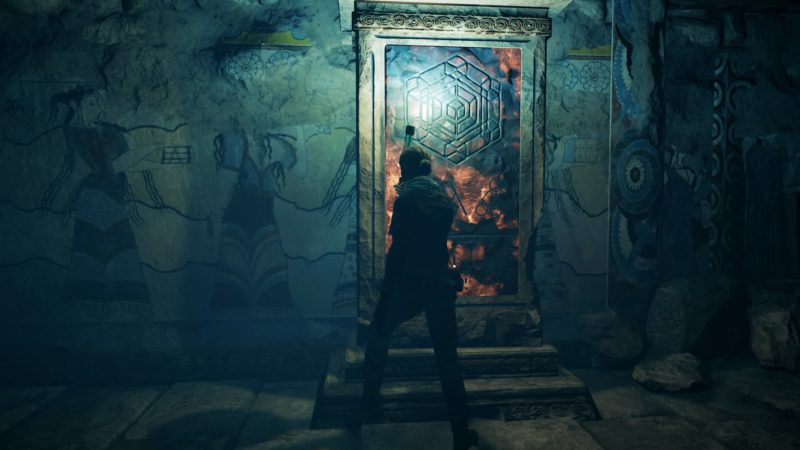 From the symbol, go left and you will see some big pots.
Destroy the pots by punching them. You will then uncover a small crack under the wall where Layla can slide through.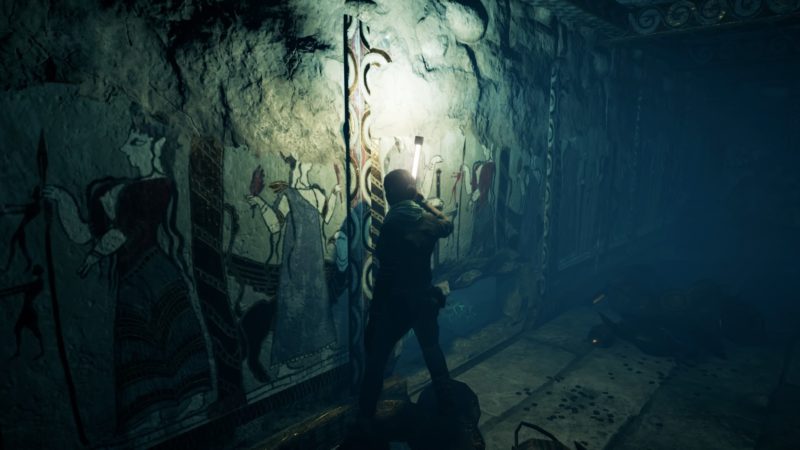 After going through the crack, the symbol is on the wall behind you.
Interact with it.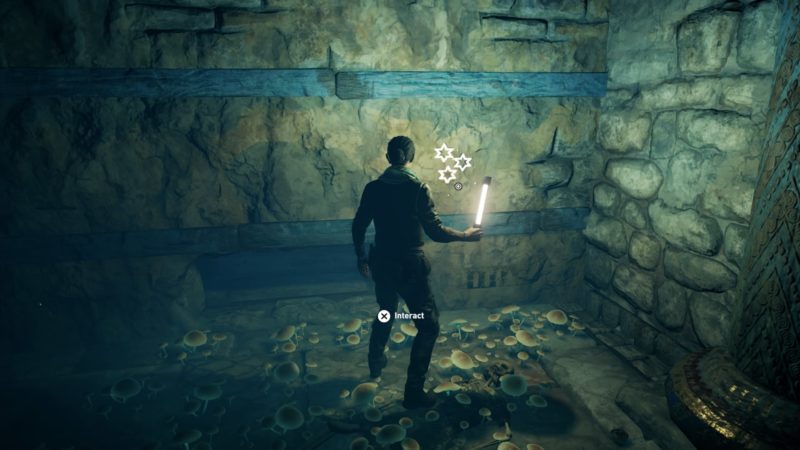 After interacting with the symbol, you will be transported back to Alexios or Kassandra and the quest is complete.
You will earn some drachmae.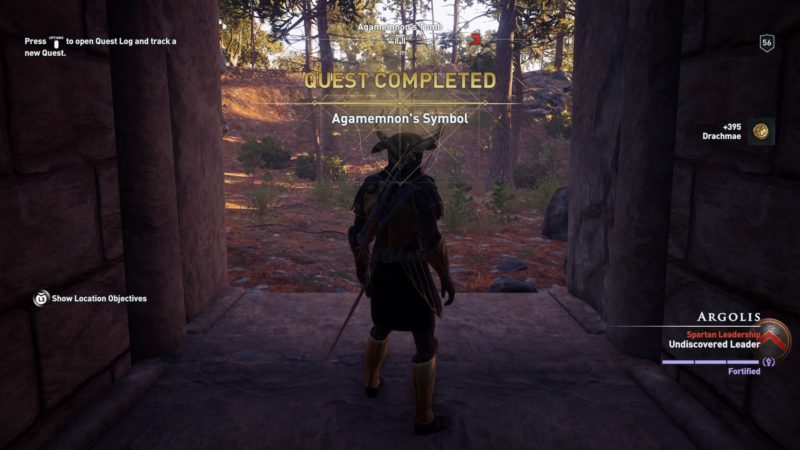 ---
Related articles:
Orion's Symbol: Assassin's Creed Odyssey Walkthrough
Eteokles' Symbol: Assassin's Creed Odyssey Walkthrough
The Heir Of Memories: Assassin's Creed Odyssey Walkthrough
Top Shows Like Lord of the Rings To Watch Today
Daddy's Home – Assassin's Creed Odyssey Walkthrough
Game Of Thrones S8E2 Recap: A Knight Of The Seven Kingdoms