The Weight of Sparta is a quest under the DLC Torment of Hades in Assassin's Creed Odyssey.
Your task is to find Brasidas' shield at the Forgotten Sepulchre but you need to decipher some symbols first.
Here's a walkthrough of The Weight of Sparta in AC Odyssey.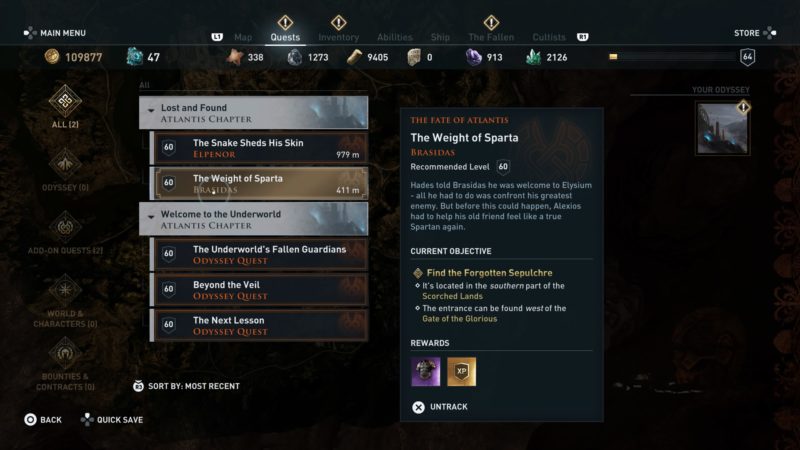 This quest is recommended for level 60 and above, but it changes according to your own level.
Find the Forgotten Sepulchre
To begin the quest, look for the place called Forgotten Sepulchre. The location is shown in the map below, marked as the quest symbol.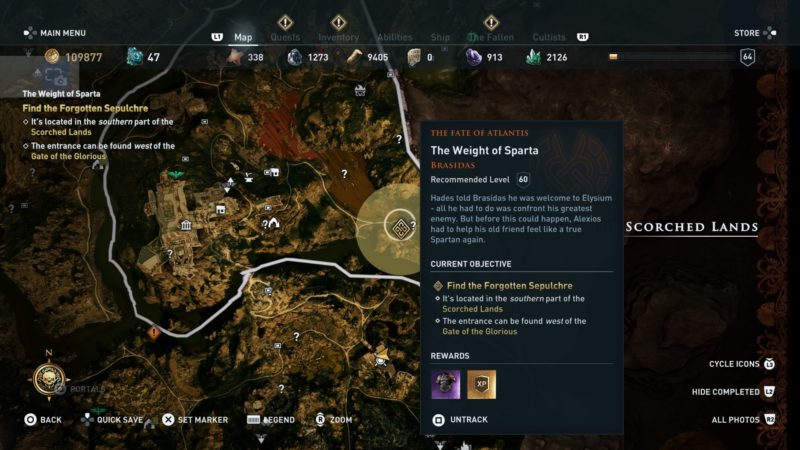 As you get nearer, use Ikaros to pinpoint the exact spot. You should see this cave-like entrance.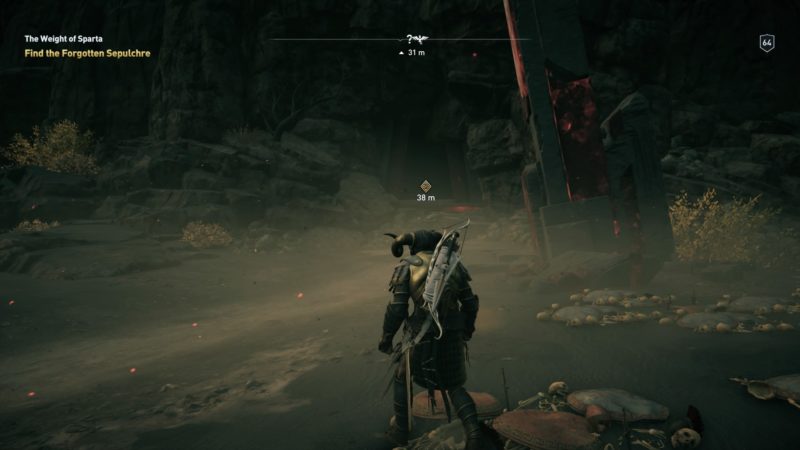 Enter the vault
Right after entering the cave, you'll see a vault. You need to enter it but you have to first unlock it.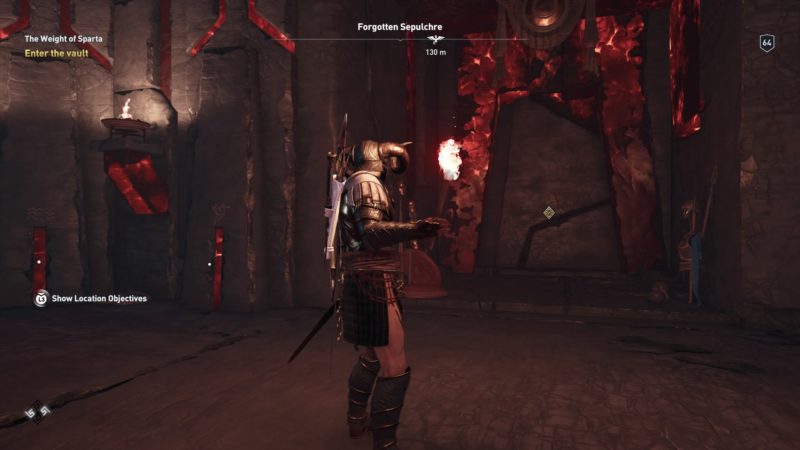 Find the 3 symbols that unlock the door
You have to first find the symbols to unlock the door.
Go to your left and you'll see some soldiers. Kill them all.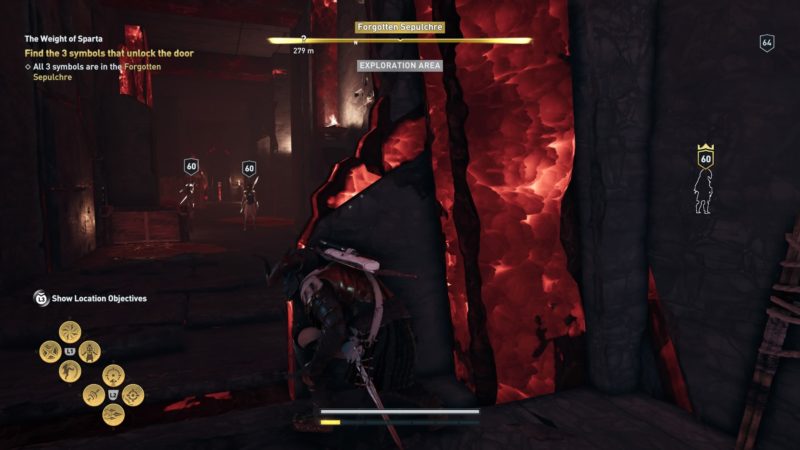 Go towards the end of the corridor and you'll see your first symbol, i.e. an hourglass.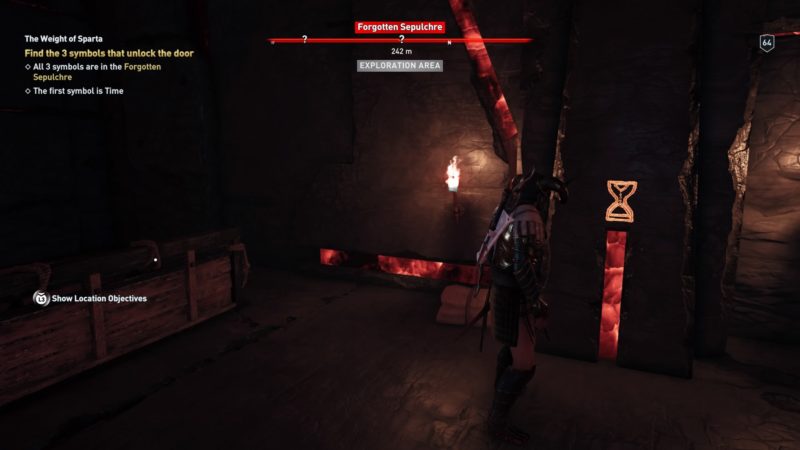 After finding that symbol, go back towards the door but before reaching, you'll see another pathway on the left with guards.
Eliminate them as well. Keep going until you reach this crack on the wall. Slide under it.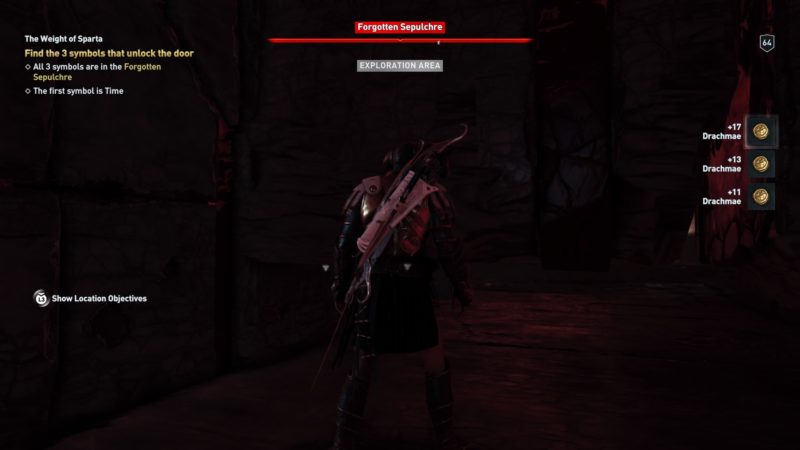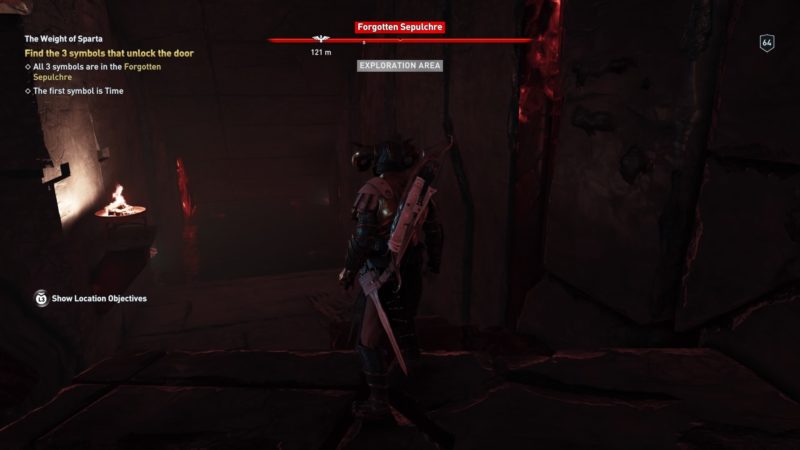 Keep going until you reach an area where you can jump down. There are snakes and traps at the bottom.
Ignore the Veil pathway, as it only leads to one treasure.
Go towards the water. Dive under and look for the symbol.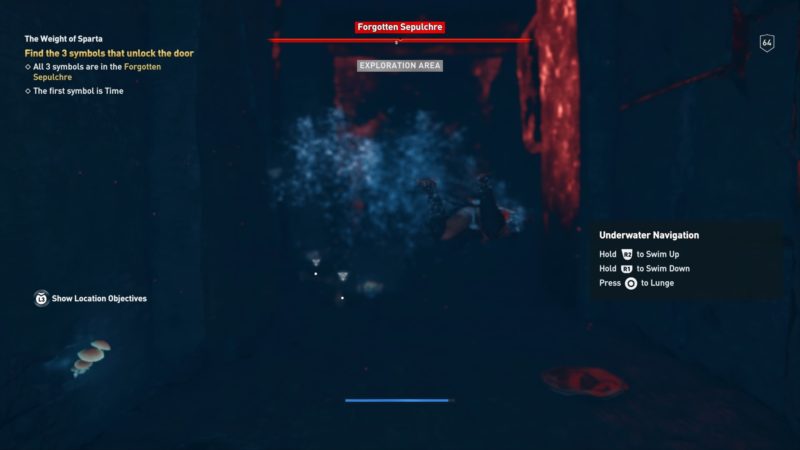 You'll discover the 2nd symbol, i.e. the mind symbol.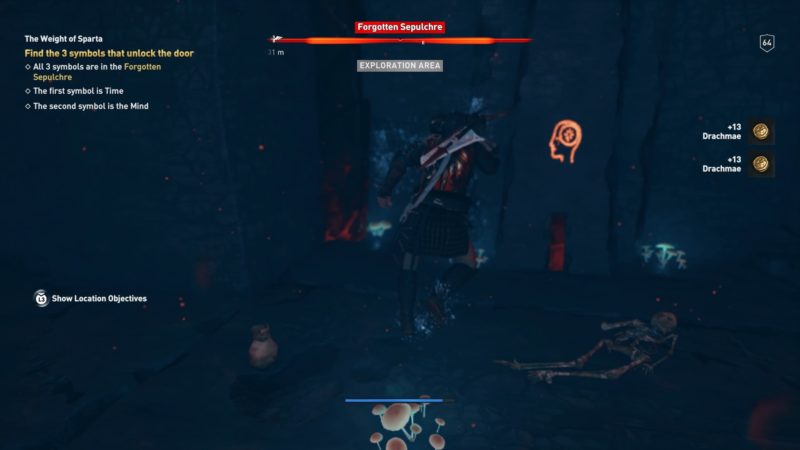 You can continue swimming to a new area.
Climb out of the water, keep walking and you'll reach another pond.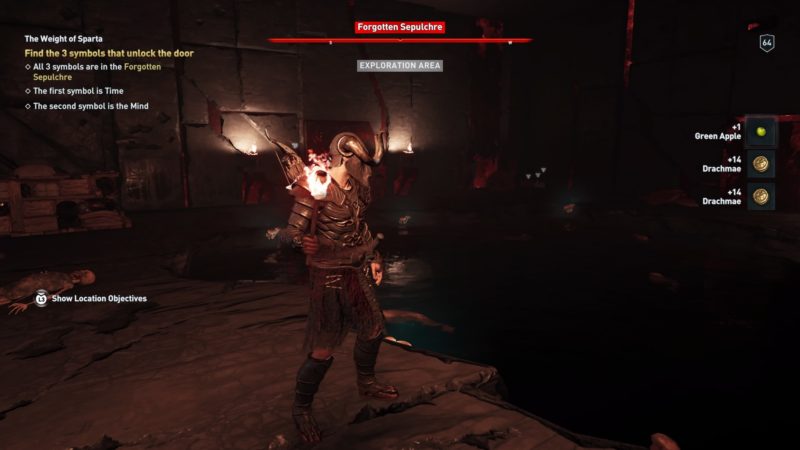 This time, dive into the newly-found pond.
Swim until you see some stairs going up. Surface up from the water.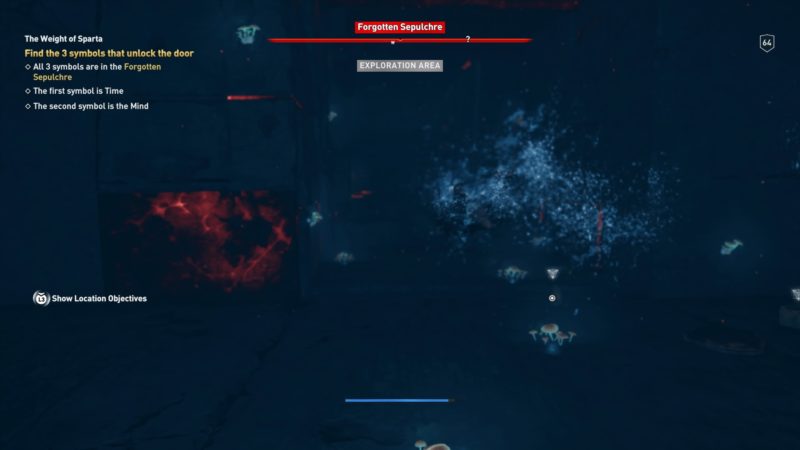 You will then come across this pathway blocked by some structures.
You can move them. The 2nd from the right can be pushed the furthest. Then, move the left ones towards the right to open a pathway.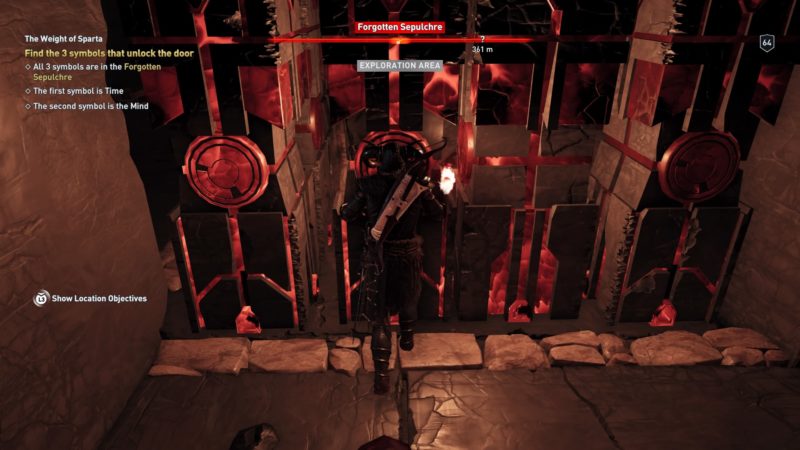 Continue walking and you'll see the last symbol, i.e. water.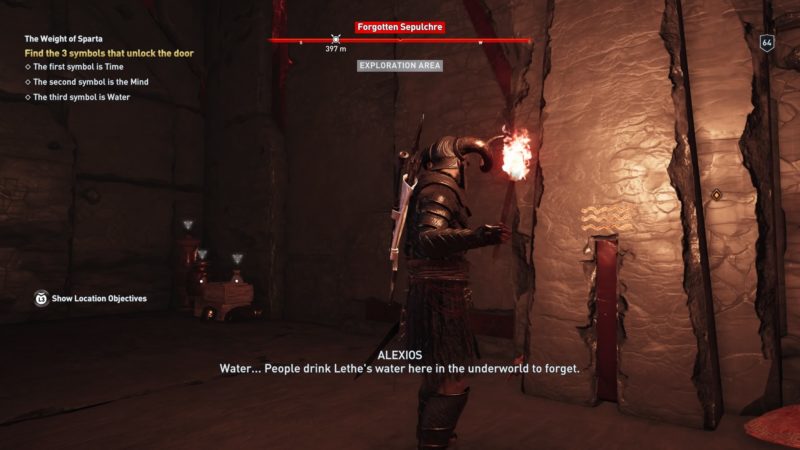 Open the door
Get back to the main door.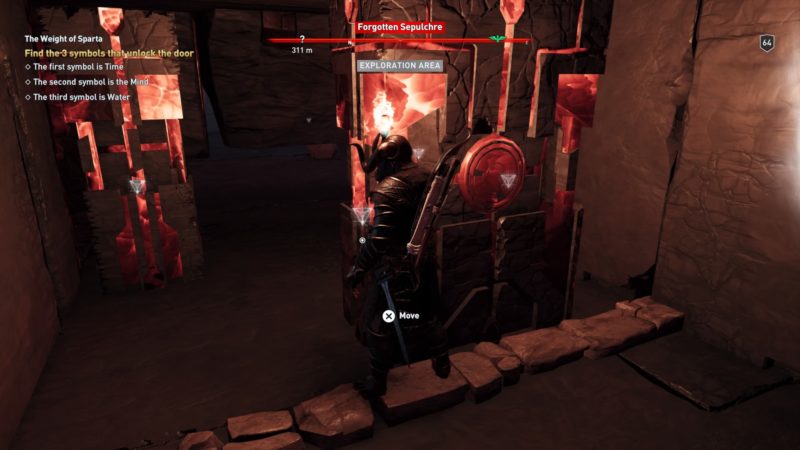 Interact with the symbols in the correct order, i.e. Time (hourglass), Mind (brain) and Water (waves).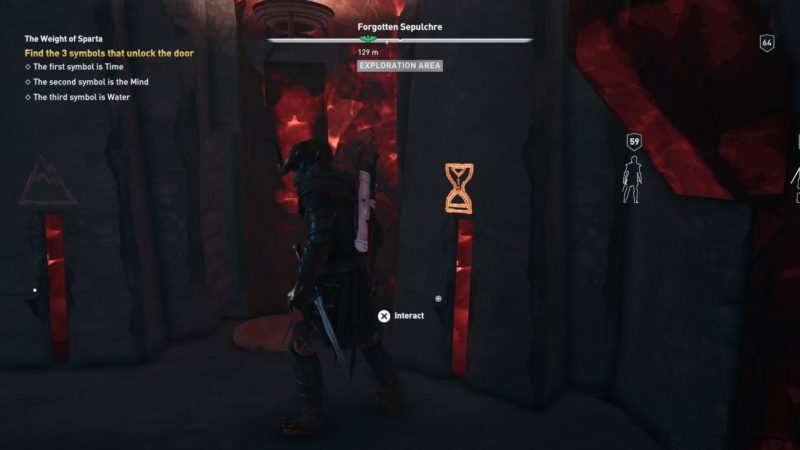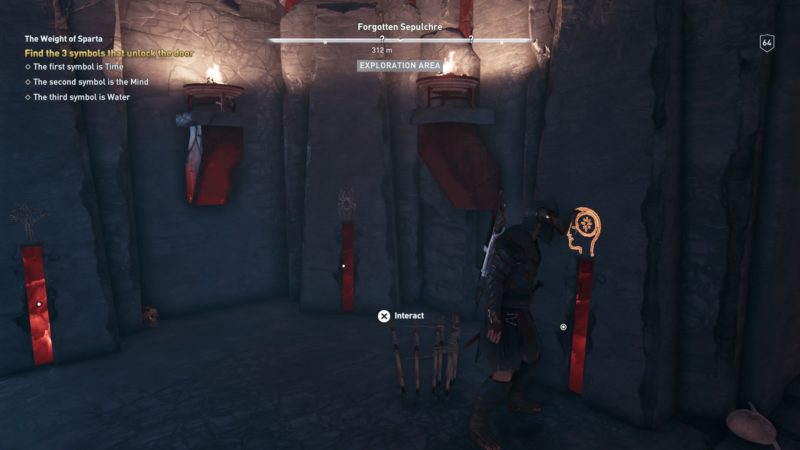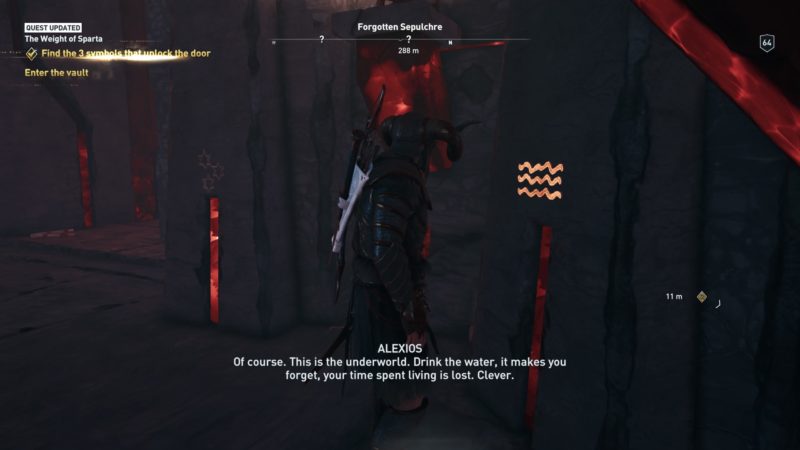 The door will open. Go through it.
You will see more guards here.
Retrieve Brasidas' shield
Kill the guards and retrieve Brasidas' shield.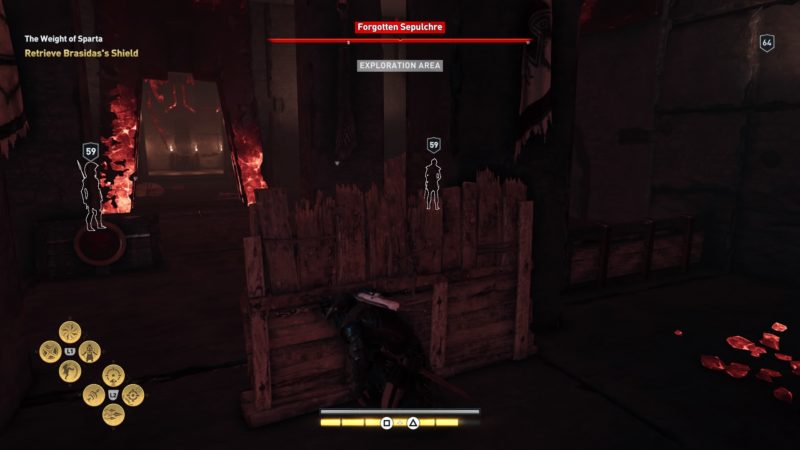 There are 3 shields here. If you choose the wrong one, you will spawn two Kolossi that will attack you.
The correct shield is the one on the right.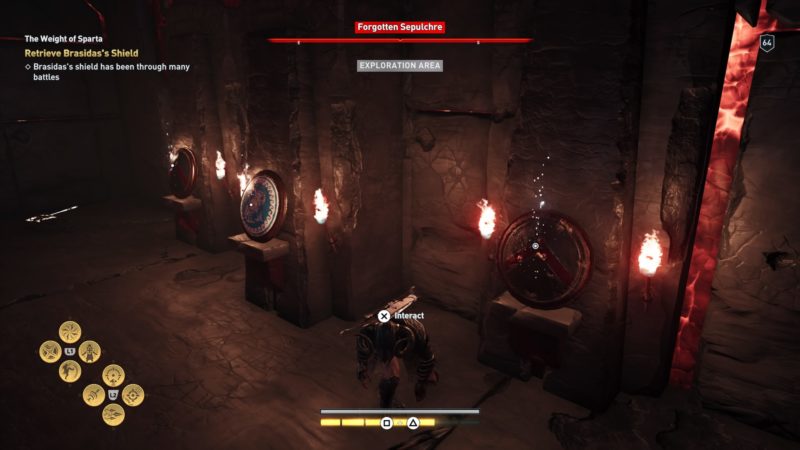 Return the shield to Brasidas
Get back to Brasidas at the exact location shown in the map below.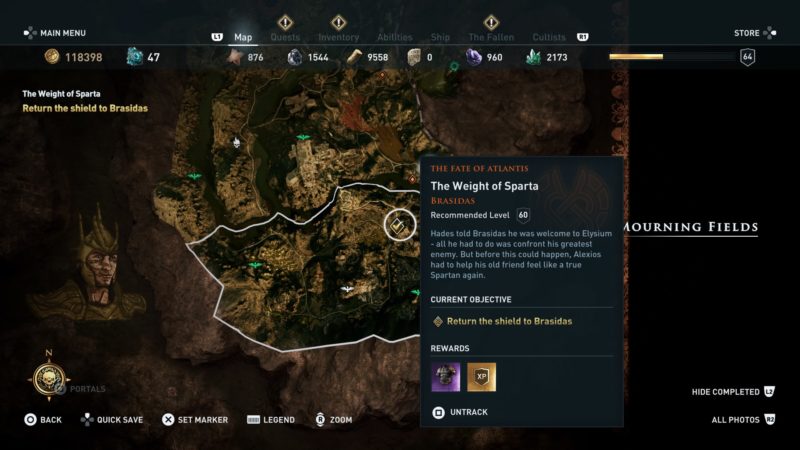 The quest completes here. You will unlock another quest where Brasidas will face his opponent.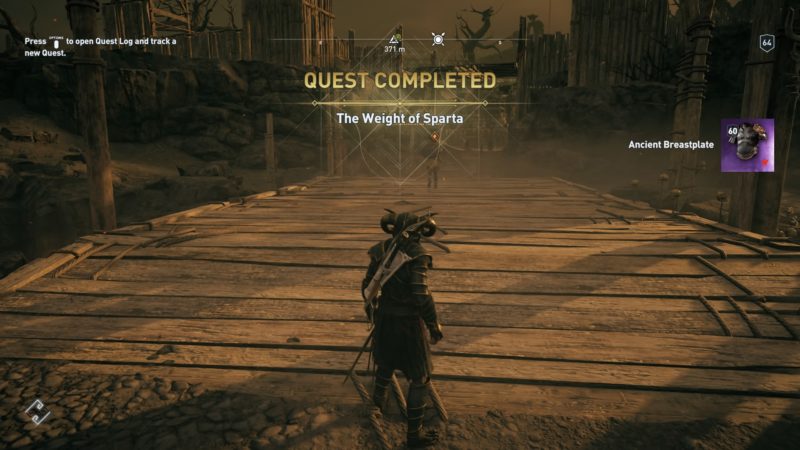 ---
Related articles:
Kill Me Once, Shame On You: Assassin's Creed Odyssey Walkthrough
Best Turn Based Games Of All Time [Updated 2019]
Death Before Dishonor: Assassin's Creed Odyssey Walkthrough
I Don't Belong Here: Assassin's Creed Odyssey Walkthrough
How To Get Armor Of Fallen Set (Beyond The Veil) – AC Odyssey
The Warrior, The Eagle Bearer: Assassin's Creed Odyssey
Undoing What's Been Done: Assassin's Creed Odyssey Walkthrough
Lost, But Not Forgotten: Assassin's Creed Odyssey Walkthrough