This is a press release. The content of this article was supplied to us.
Red Dot, the newest action-packed FPS on mobile, has over 50 great cool stuff to collect!
From marvelous playable characters to powerful weapons and stylish weapon skins, every unlockable item will always be something good for anybody.

Aside from the default character, Tuck, Red Dot players can also unlock up to four playable characters: Amber, Jason, Brad, and Leticia. Each unlockable character has a unique backstory behind their costumes.
Amber is a senior female police officer sworn to do her duty. She is a brave woman with blonde hair who wears a red jumpsuit.

Jason, like Tuck, is a special foreign aid for dangerous missions. He is a muscular man who wears a bulletproof vest and a scarf.

Brad, meanwhile, is a special agent of foreign aid. He is a young soldier who wears a bonnet and a military jumpsuit.

Leticia, unlike the other characters in the game, is actually a mascot for the foreign army. She is a young girl who wears a casual outfit with a cute backpack.
Red Dot is also complete with a huge arsenal of iconic unlockable weapons for every weapon type. Players can equip classic FPS weapons ranging from assault rifles such as AK47 and M4A1; sniper rifles such as the Dragunov; SMGs such as MP7 and P90; Heavy MGs such as the PKP6P41; shotguns such as AA12 and SOSG; and handguns such as GLOCK18 and Desert Eagle. Players are also equipped with a Bowie Knife and various types of hand grenades.
The weapons in Red Dot also come with a variety of colorful skins that players can equip for a more stylish look on the battlefield. Players can flaunt their game progress and weapon mastery with exclusive skins for their favorite weapons.
Red Dot players can get all unlockable items by purchasing each item with Gold in the Shop. Players can also buy Cryptogram Loot Boxes to get unlockable weapons and skins faster.
Red Dot has lots of exciting things to offer their players. Three action-packed game modes. Four awesome playable characters. Over 50 powerful weapons and stylish weapon skins. Every game is a wild encounter against your enemies. So pick up a weapon and ready your aim. Are you ready to take the shot?
About Red Dot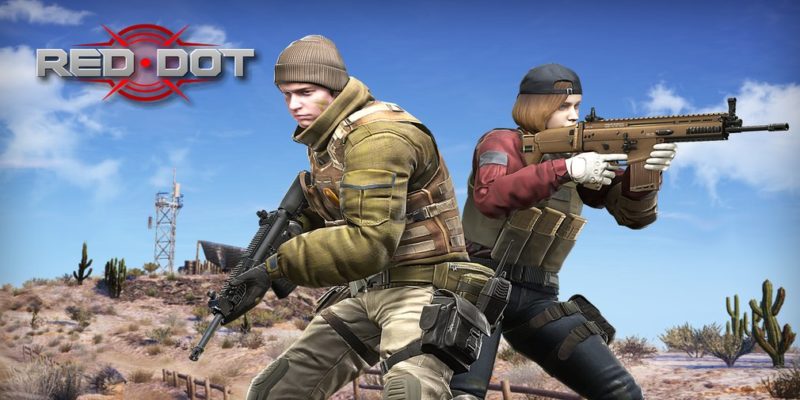 Red Dot is a brand-new action-packed first-person shooter (FPS) mobile game developed by OnFace.
Players can play in three different exciting game modes and collect various types of weapons and skins.
The game is currently available in Singapore and a global launch is expected to come soon.