Red Dead Redemption 2 is not just an immersive and realistic game. It also has its fair share of interesting easter eggs embedded within the game.
I have met the Saint Denis' vampire and the ghost of Agnes Dowd earlier, and this time, it's the UFOs at two different locations.
Here's how you can find the two UFOs in Red Dead Redemption 2.
First UFO (New Hanover)
For those who have done the debt collection mission of Chick Matthews, you may have encountered this shack.
In that mission, you had to look for the debt inside a huge tree, and that tree is near the shack.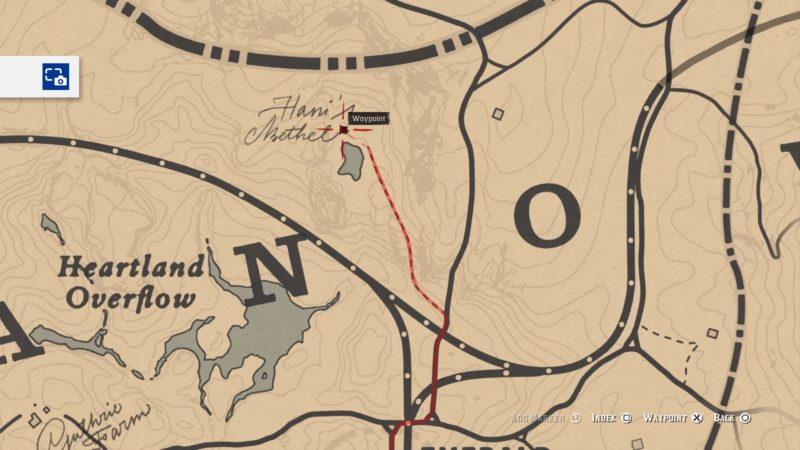 Get to the exact location shown in the map above. It's in a place called Hani's Bethel.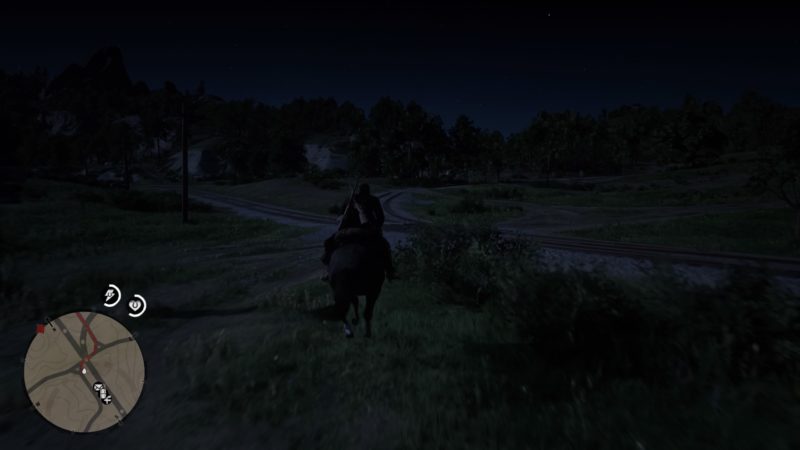 You can take a stagecoach to the nearest town.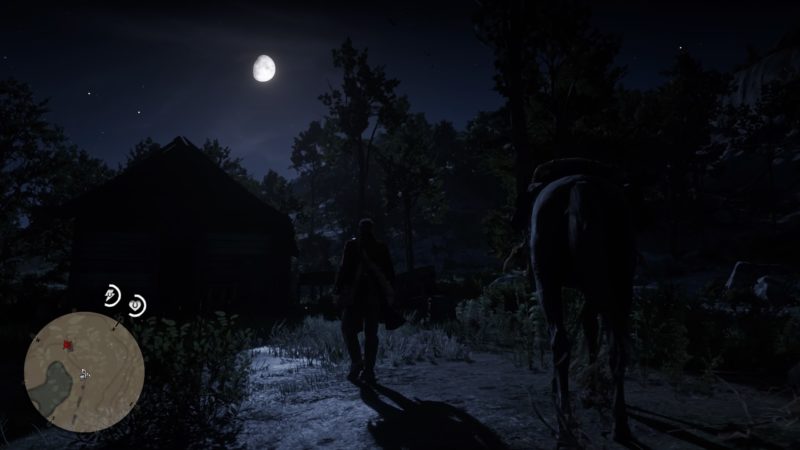 You should see this shack here. Inside the shack, there'll be plenty of skeletons. Some say it's a reference to the Heaven's Gate Massacre.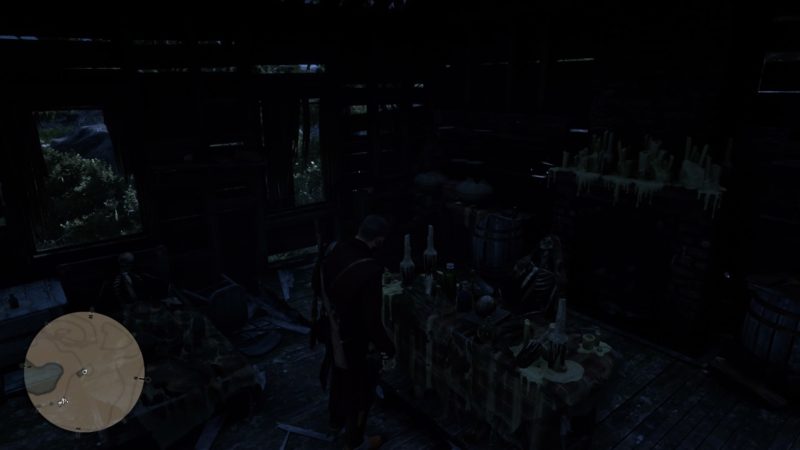 Inside this shack, you will find a letter (Mysterious Sermon) saying that you should get to the peak of Mount Shann.
Some guides say you have to get there to unlock the UFO for the shack in New Hanover.
Based on my own experience, you don't have to go up Mount Shann to get the UFO to appear on top of the shack.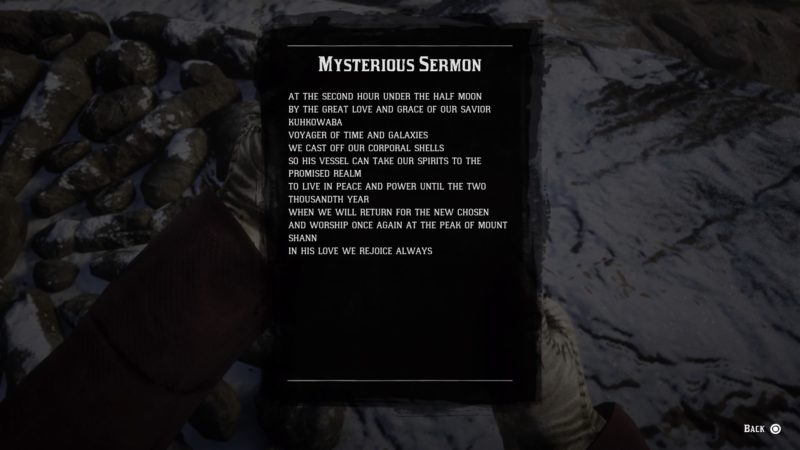 I entered the shack around 3 am plus (before going up the mountain) and immediately a green light shone from the sky.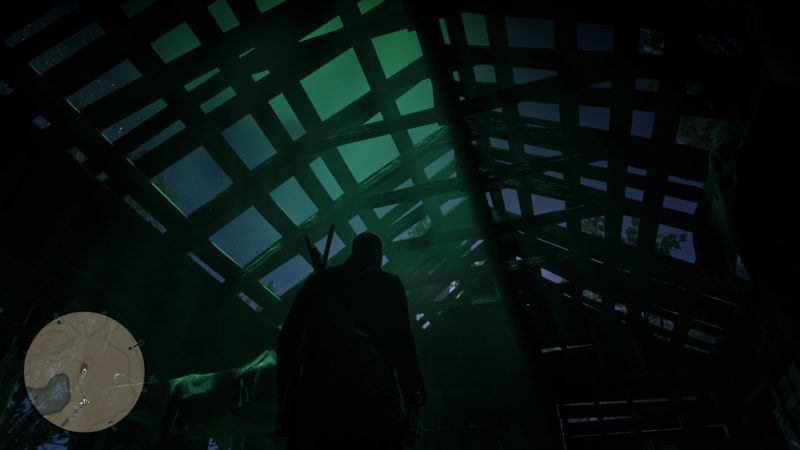 Get out of the shack quickly and you will see the UFO itself. I was 1 second late for the screenshot, which is why the UFO is not visible in the image.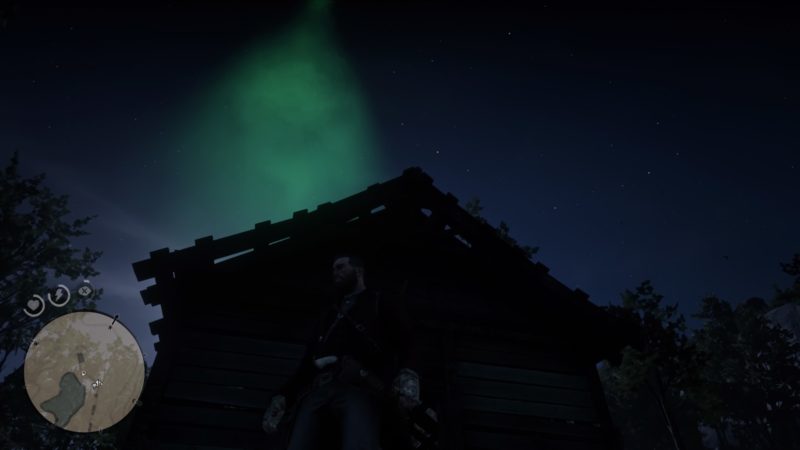 And that's it for the first UFO.
Second UFO on Mount Shann
You do have to go up Mount Shann to witness another UFO sighting.
The exact location is shown in the map below, where the player cursor is.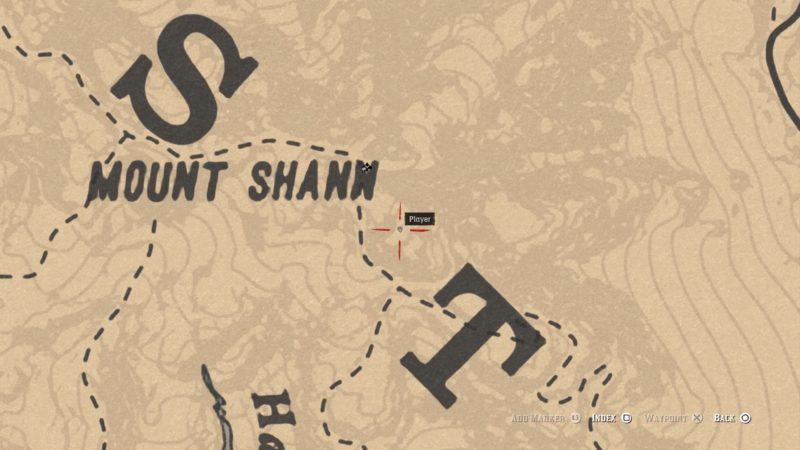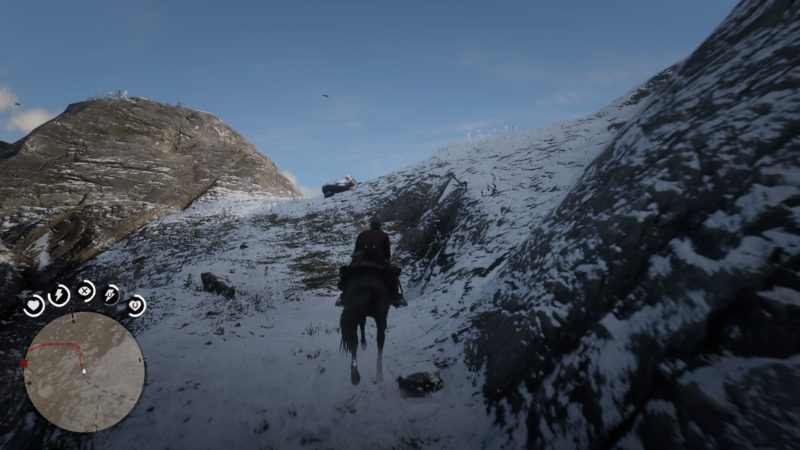 As you get up Mount Shann, you may notice this strange rock. It's not the place you can witness the UFO.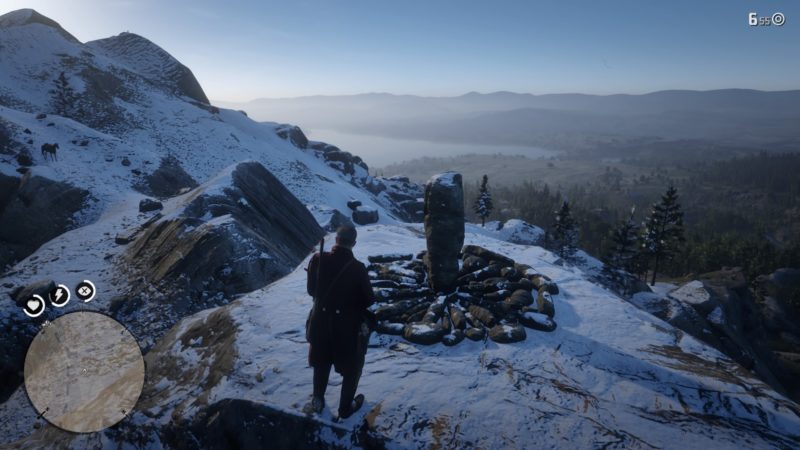 The exact location you should stand at is already shown in the map above.
It's the highest peak of Mount Shann, which is what you will see in the screenshot below, and that's what the letter said as well.
There's nothing unique-looking about the place.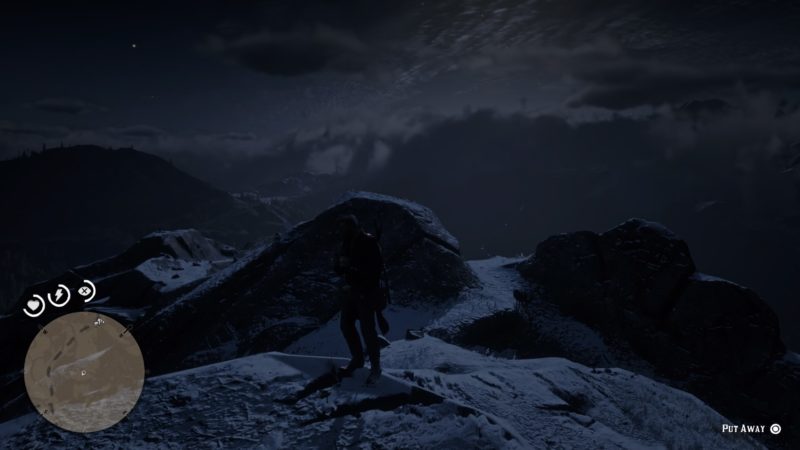 Get there by 2 am. At around 2 am, you should see the UFO coming.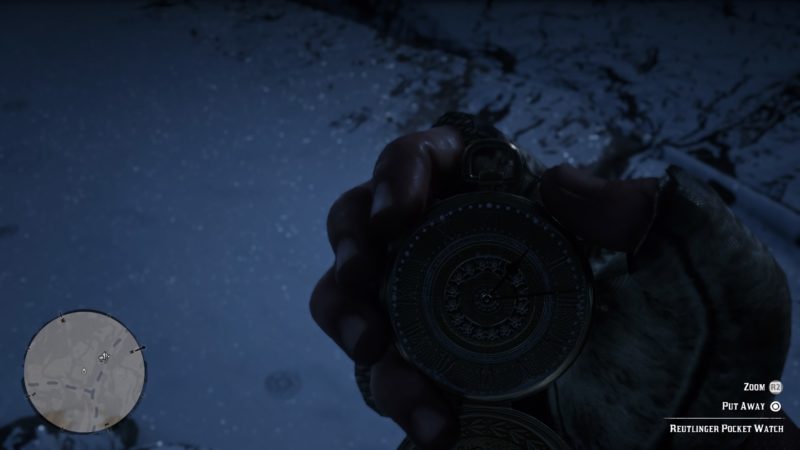 This UFO has green and red lights on it.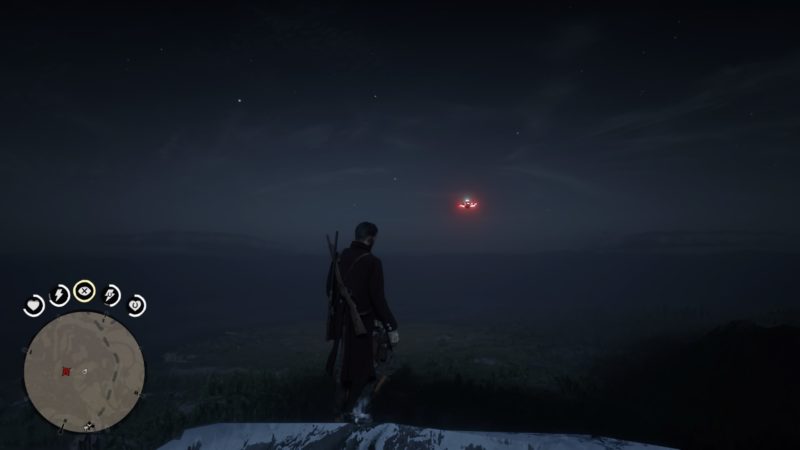 Use a binoculars to get a better look of it.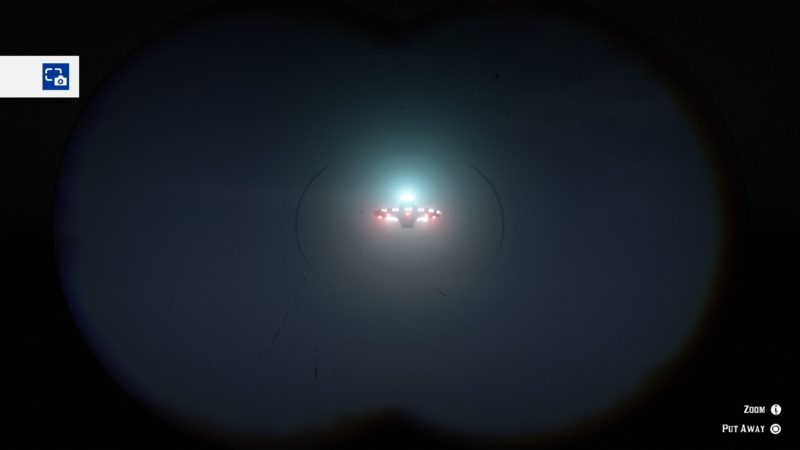 After a few seconds, the UFO will go up and disappear from your vision.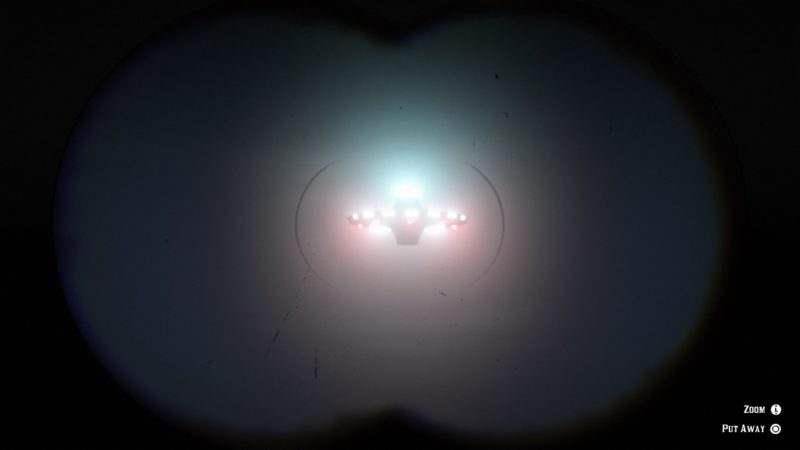 And that's about if for the first two UFOs. If you do know of other sightings, let me know in the comments below!
---
Related articles:
Where To Find The Werewolf In Red Dead 2
Red Dead Redemption 2: Where To Find The Zombie Teaser
Red Dead Redemption 2: How To Find The KKK (Location)
List Of Cheats In Red Dead Redemption 2
How To Find The Jesuit Missionary In Red Dead 2
Red Dead Redemption 2: How To Find Bigfoot (Location)
Red Dead Redemption 2: A Fine Night For It (Walkthrough)
RDR2: Idealism And Pragmatism For Beginners (Part Two)
Red Dead Redemption 2: A Really Big Bastard (Walkthrough)
Red Dead Redemption 2: Chapter 6 Last Mission (Walkthrough)