In Monster Hunter World, most assigned quests are quite easy and only takes a few tries maximum to complete the assignment.
Kirin, on the other hand, is more difficult than it seems. Despite its small unicorn-like body, it's considered as an elder dragon and is not to be taken lightly.
Here's how you can slay tempered Kirin for the HR 49 quest "Thunderous Rumble In The Highlands", with some tips and tricks.
How to find Kirin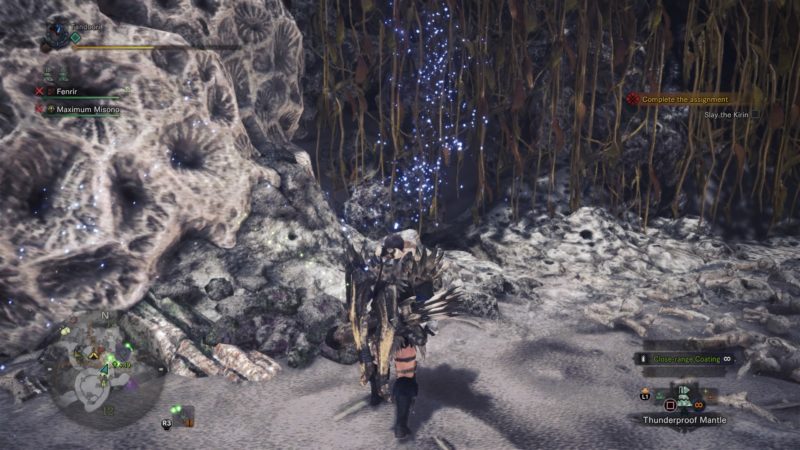 Before you can slay this elder dragon, you need to find it. Kirin is normally hiding somewhere high in the map.
As you spawn in Coral Highlands, try to find Kirin somewhere near Legiana usually is.
Otherwise, just use the tracks on the ground and follow the fireflies. It will be blue in color.
Best weapon and equipment to defeat tempered Kirin
I didn't actually use any specific weapon and equipment geared to defeat this elder dragon but it was still sufficient, as my teammates were also great at avoiding death.
The gear I used against Kirin:
Nergigante Vambraces Beta
It's not exactly the best choice since Nergigante beta set may be bad against thunder / lightning. Not sure why the game says thunder rather than lightning.
Try to use a set that is quite lightning resistant if you wish to have added protection.
The weapon I used was a Dragonbone bow III as I wanted a ranged weapon. My usual weapon are the dual blades (Decimation Claw) but I left them out for this match.
The bow doesn't deal much damage but it's easier to stay alive from a distance, since Kirin likes to use lightning attacks around him.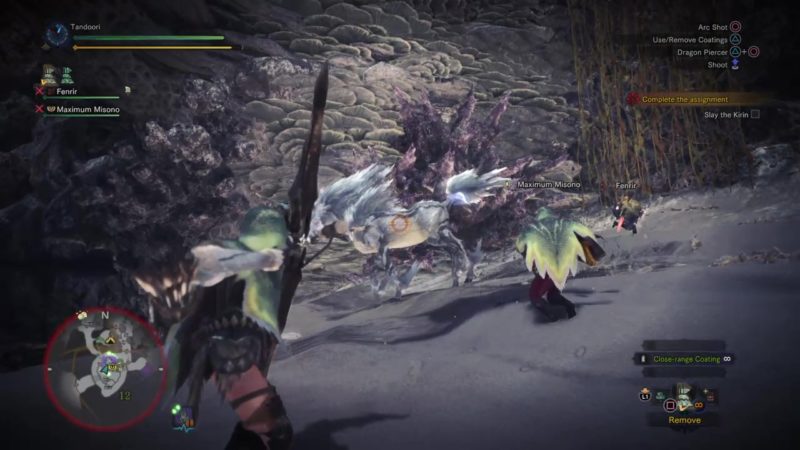 You should also bring a thunderproof mantle to the fight. As tempered Kirin tends to one-hit KO players with its lightning attack, wearing the thunderproof mantle helps to keep you survive as it absorbs a lot of damage.
Additionally, you can also use thunder resistant jewels (decoration) on your equips, or a general resistor jewel (against all elements).
Remember to also eat food before going after Kirin, especially one with elemental resistance. You would also be lucky if you get Feline Insurance as an added bonus since you or your teammates are likely to fall.
Go for Kirin's head / horn
If you had gone against this elder dragon before, you'll notice that hitting the body deals 0 damage when it's charged up (lightning sparks around it).
However, if you aim at its horn or head, you can still deal some damage towards it.
It may be difficult if you're using a bow since Kirin is quite agile, but it's still doable.
Read how tempered Kirin moves and avoid getting struck by lightning
Before Kirin uses any lightning attacks, you will notice the blueish color on the ground with some hints of electricity.
Just avoid those areas and you should be fine in dodging the lightning strikes.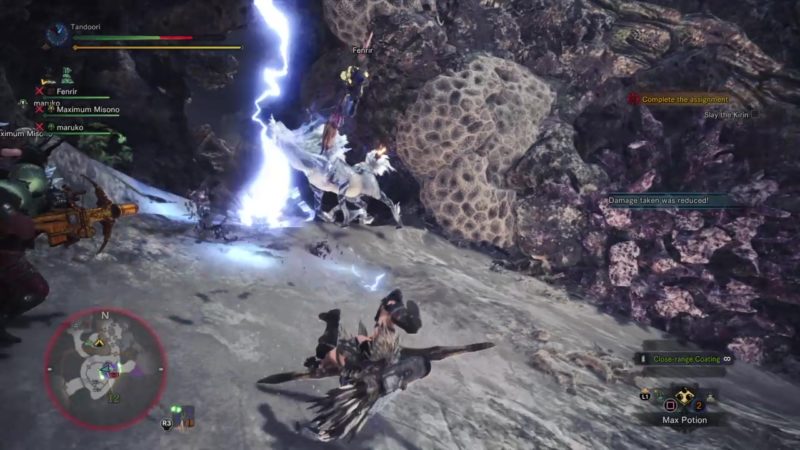 Another more deadly move is the lightning attack which covers a big area on the map, i.e. this long line as you can see in the screenshot below.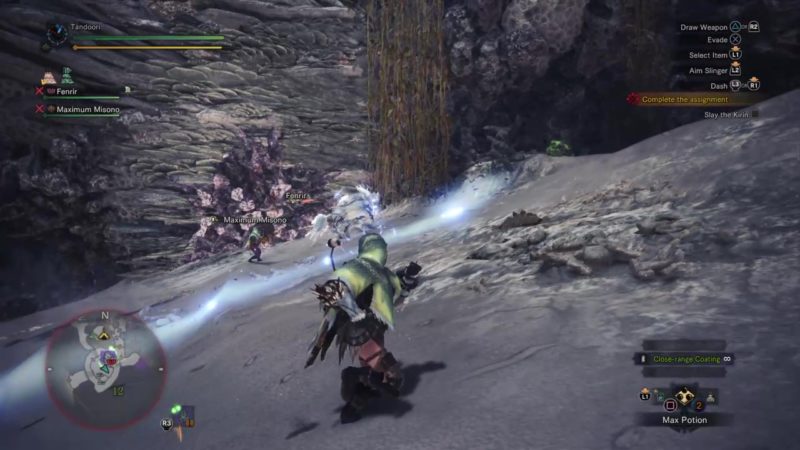 As you can see, there are traces of electricity, and if you don't avoid it, you will probably get killed (unless you are using a thunderproof mantle).
Just take a look at the screenshot below to see the full extent of the lightning attack.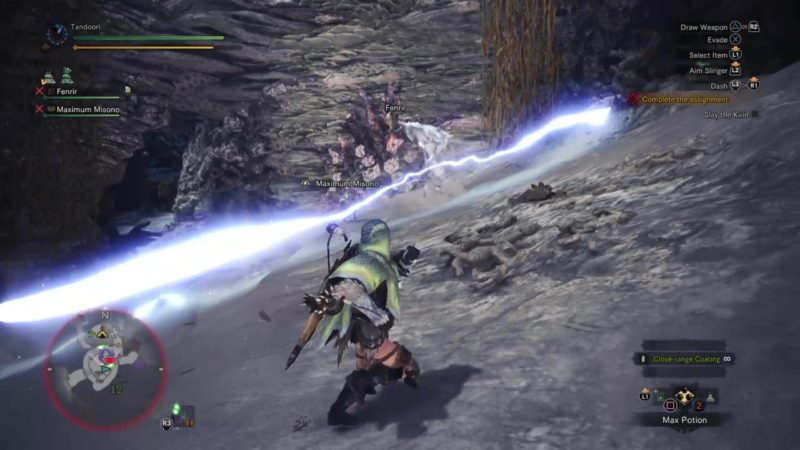 If it's only one line of attack, it's still avoidable. The real problem is when it uses a couple of lines of lightning attack, which is so much harder to avoid.
You also can't use traps (e.g. shock trap) as it's an elder dragon, which makes it even harder to slay it.
To sum it up, killing Kirin is pretty much a game of perseverance, i.e. dodging its attacks and making a few hits when you get a window of opportunity.
It helps to use mega barrel bombs to lessen its health much faster. Also, get those thunder resistant equips and items for your match for better survival.
Video on slaying tempered Kirin (HR 49)
I recorded a video of killing tempered Kirin for the "Thunderous Rumble In The Highlands" quest. Do enjoy watching!
---
Related articles:
Monster Hunter World: How To Slay Lunastra (Elder Dragon)
How To Get Dante's Armor In Monster Hunter World (September 2018)
Monster Hunter World: How To Defeat Teostra (Elder Dragon)
MHWorld: How To Make Money (Zenny) Fast
Monster Hunter World: How To Slay Tempered Vaal Hazak