Mu Lung Dojo is one of the dungeons in MapleStory M where you can obtain some items that may be useful for you.
It's a place where you get to fight all of the bosses in this game continuously until your character dies or you defeat all rounds.
To be clear, Mu Lung has 51 rounds for you to complete with Mu Gong as the final boss.
How to defeat all 51 rounds in Mu Lung Dojo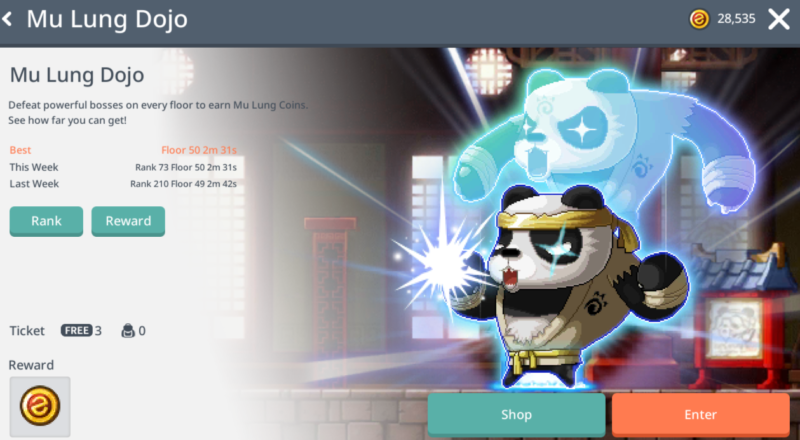 Most players above level 100 should have it easy from round 1 and the difficulty starts around round 40.
There's one with the huge pig monster in round 40 or 41 which is sort of like the section most players struggle to clear.
You probably miss most of your hits and get killed in a couple of seconds.
That's because you simply lack ACC (accuracy). Of course, you can't neglect damage. You should be using a unique weapon at least, and preferably close to max level and highly enhanced.
I bypassed that area when I was using a unique level 20 Jaihin claw which was enhanced to around 15 stars. You can probably clear that round with less attack than that.
How to add ACC
To be able to clear those rounds, you must be able to at least hit the monsters. Of course, we Night Lords have a huge advantage over other classes with our invincibility skills.
For other classes, you'll probably need a much higher ACC to make every hit count and invest in a high DMG weapon. Some would use Evade gear to clear Mu Lung as well. It's up to your preference.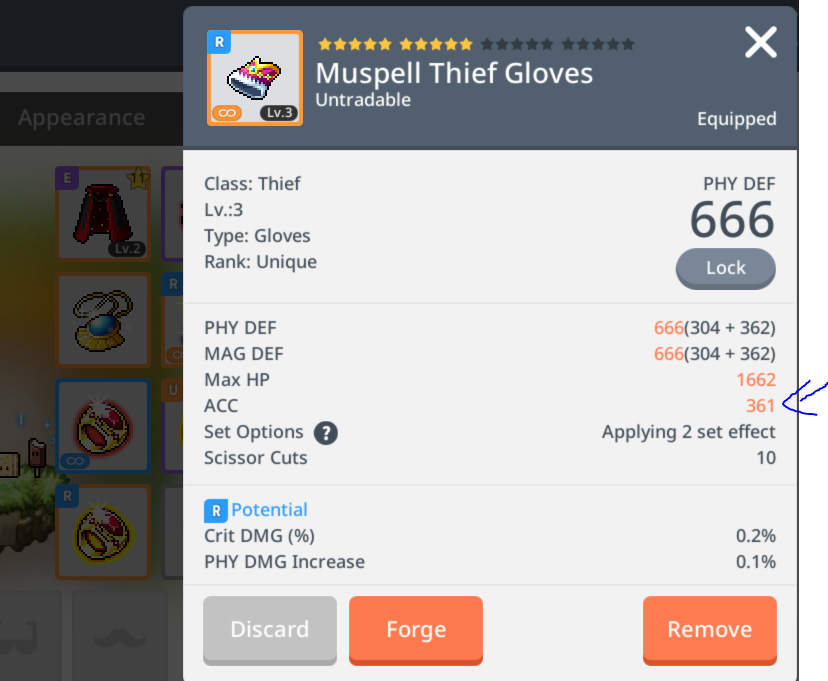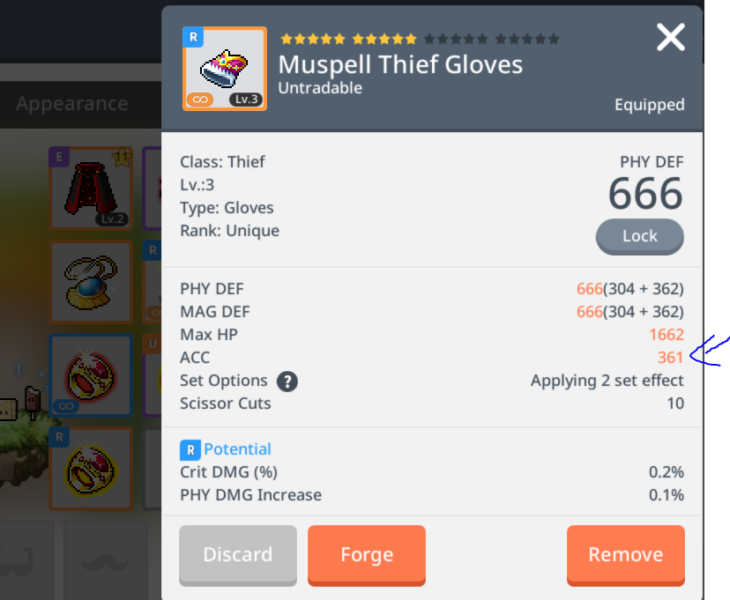 First of all, get gloves that add accuracy. For thieves, we use Muspell and the higher level it is, the more ACC it gets.
If that's not enough, some of your other equipment may have ACC potentials. That adds up as well. You can also use buffs that adds accuracy.
Funnily, you can get the Orange Juice which adds 10% accuracy for 700 Mu Lung coins at the shop itself. For those who are cash players, you can probably buy 30% ACC buffs from the Cash Shop if you really need it.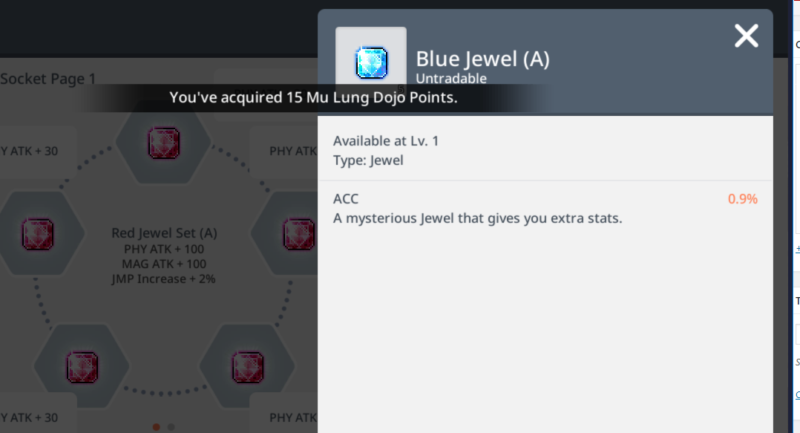 Other than investing in ACC equipment, potentials and buffs, you can also rely on your jewel set.
Rank A accuracy jewel gives 0.9% accuracy, and you can equip up to five, which gives 4.5% in total. There's also a set bonus if all of your ACC jewels are of the same rank. It's even better if you have S rank jewels.
There should be enough accuracy for your character if you utilize all the above methods.
The difficulty lies in round 51 (Mu Gong)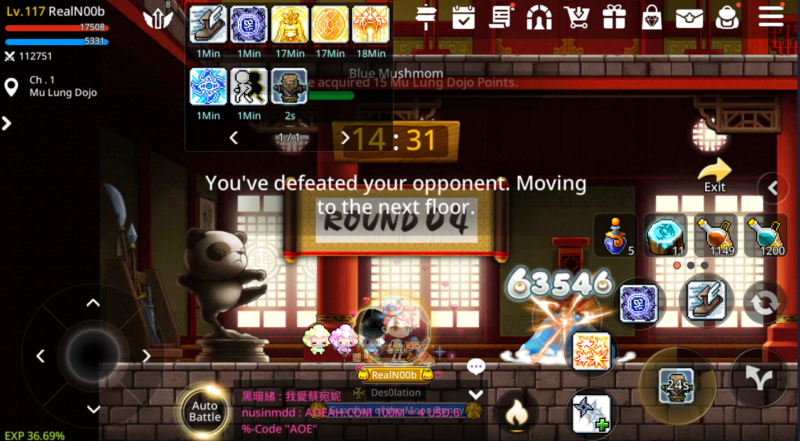 To be honest, I haven't cleared round 51 yet but I've done all the previous 50 rounds. I was only equipped with one Muspell glove for ACC. No jewel set nor buffs whatsoever.
I was missing most of the hits. If there were 10 hits, only 2 had damage. That said, I was using a low level Mythic claw which makes a big difference in damage.
But still, I was so close to defeating Mu Gong but at the last second I got a 42k damage hit (and died). Most of the time I was just jumping over him since he's very short so that can be your strategy. Auto-battling on that round probably won't work.
I will definitely try again with much better ACC stats the next time and I'm certain I can defeat him.
Edited: Just defeated Mu Gong today with level 20 Muspell gloves, 30% boss attack buff and 10% critical rate buff.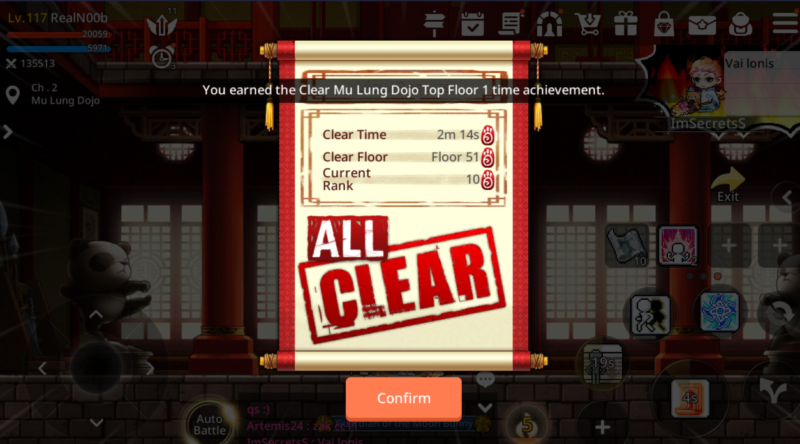 Video on defeating all 51 rounds of Mu Lung Dojo:
What should you buy from Mu Lung Dojo?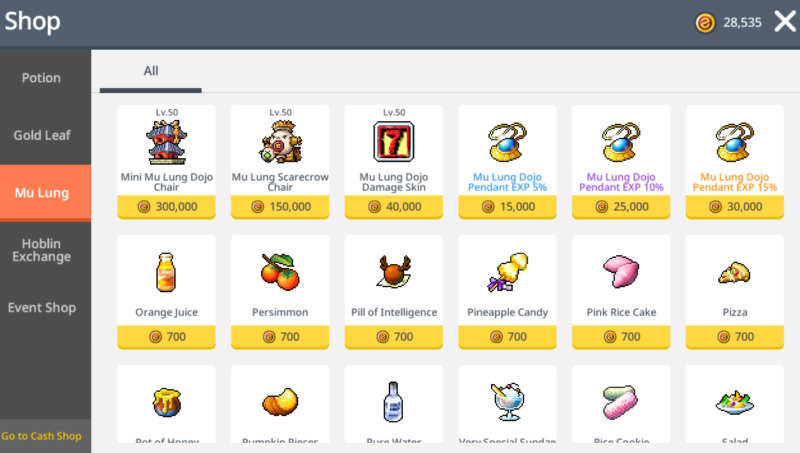 So what's the point of accumulating all of these Mu Lung Dojo coins? There's a shop where you can spend these coins but most items are of a temporal nature.
I normally buy the following items:
All cure potion for bosses
Buffs (boss attack / crit rate / physical attack / etc.)
EXP Pendants (5% /10% /15%) that last 7 days
Mini Mu Lung Dojo Chair / Scarecrow Chair (I'm saving up for the former)
The chairs are pretty cool and takes a huge amount of coins. I think they are permanent so I'm saving up for at least one of them.
But yeah, while Mu Lung doesn't give EXP, you can buy the pendant which lasts a week, or even the buffs that help you during boss fights.
EDITED (after Cygnus Knights patch):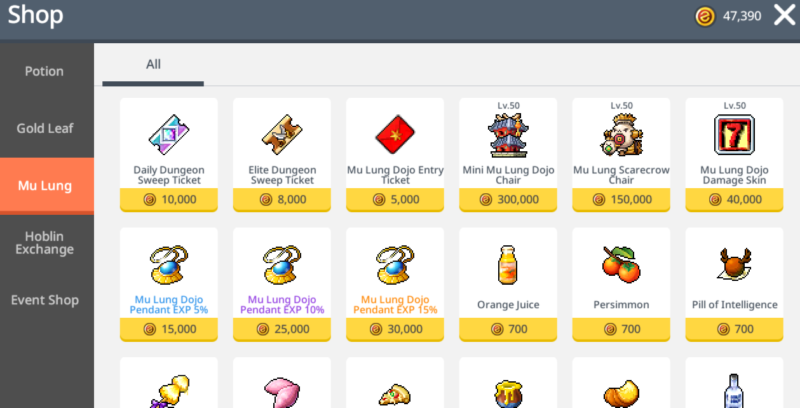 The dungeon sweep tickets are basically to help you clear the dungeons without needing to participate.
I don't really see the use in this considering it takes so many Mu Lung coins.
In a nutshell
MapleStory M's Mu Lung Dojo may not directly help in giving you EXP but it does allow you to buy useful items with its coins.
Most players would not be able to clear all rounds and it takes time to gather equipment good enough to clear it. Do play the game in your own pace.
---
Related articles:
Immortal Guild Dungeon (MapleStory M)
MapleStory M – Which Jewels To Use And Best Jewel Set
Yakuza Kiwami 2: How To Sell Silver Plates And Other Items
MapleStory M – Best Star Force Fields
MapleStory M – Cygnus Knights (KOC) Release
Games Like MapleStory – Top Ten Alternatives To Play Today
MapleStory M – How To Level Up Fast