In MapleStory M or in any other MMORPGs, damage or rather damage per second (DPS) are popular metrics among players. Possibly the most important metric for many players (especially whales).
So how do you increase your damage in this game? There are plenty of factors that influence damage, but the biggest two are probably the class you choose, and how rich you are. The more money you pour into this game, the better your equipment should be. That doesn't mean F2P players can't have good equips. It just takes a much longer time to get there.
Here are a few ways you can increase your damage in MapleStory M.
1. Choose a high DPS class
Assuming you're sticking with your current class, then ignore this part. If you're a newbie who wishes to have high DPS, read on.
With the launch of Cygnus Knights a couple of days ago, many are wondering which is the strongest class to play in MapleStory M.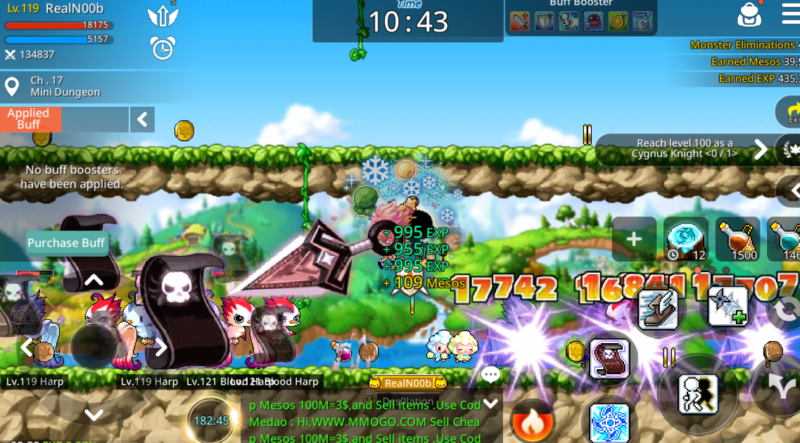 At the moment, I think Night Lord and Bow Master are still the top two DPS classes. That is because the Night Walker and Wind Archer seem to be much weaker than the Korean version of the game. Someone even did a screenshot to compare the skill damage and there's a huge difference.
That said, there's a possibility that Nexon will buff these characters in the future.
If you want to be safe, go with the Night Lord. They are decent for mobbing and great for bosses.
2. Always go for weapon before armor
The item that gives you the most damage in this game is obviously your weapon. In fact, you should get a really good weapon before you invest in great armor.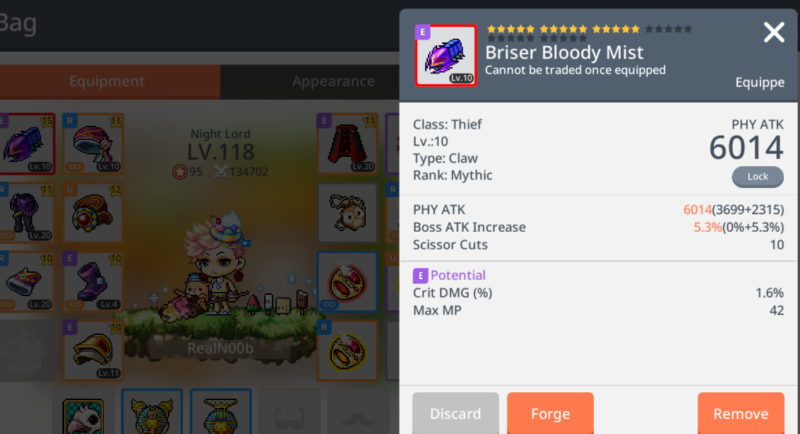 The physical defense and magic defense that armors provide aren't as helpful as you may think. They don't really block out much damage at all.
If you have a really good weapon, you will kill the monsters before they even deal damage to you. Furthermore, a great weapon gives you great damage during expeditions (Zakum or Horntail).
As for weapons, many go for PBA (perfect base attack) and they slowly rank up from there. If you aim to get a PBA, you should start early on, like from the epic rank.
That said, the route I went to get a mythic was by fusing two legendaries as the legendary rank up stone wasn't available then. The only downside to fusing is that the results are random in terms of stats and the type of weapon you will get, i.e. you will get either Jaihin, Briser, Halphas or Utgard.
3. Get equipment and potentials that adds damage
There are certain equipment (apart from weapon) that actually adds stats like physical / magic attack, critical attack or even boss attack.
One example is the Horntail necklace. By default, it adds critical attack and critical damage (%). Furthermore, if you get the set bonus, it adds like 50 physical / magic attack.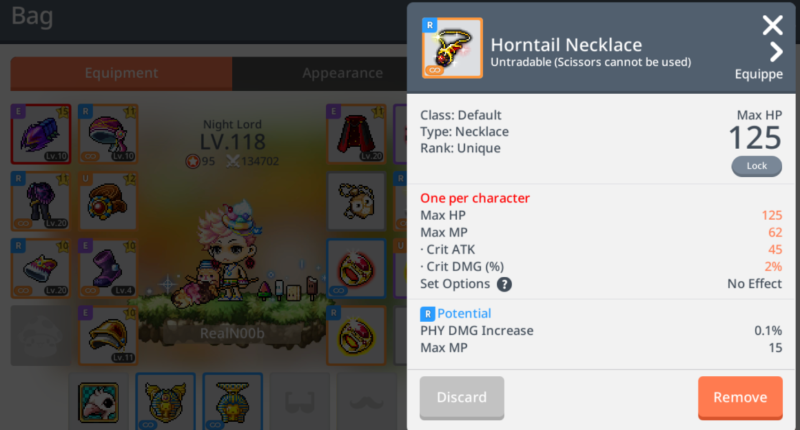 It's the best in slot for necklaces by far. Another example would be the Immortal Pharaoh Belt (unique rank) and the Immortal Pharaoh Ring (unique rank).
Together they give a huge set bonus of 200 magic / physical attack that would boost your damage for sure.
Those are equipment that adds damage to your total. Another metric to look at are potentials.
Each equipment of rank epic and above will have potentials. They give additional stats to the equipment, and some are useful for DPS.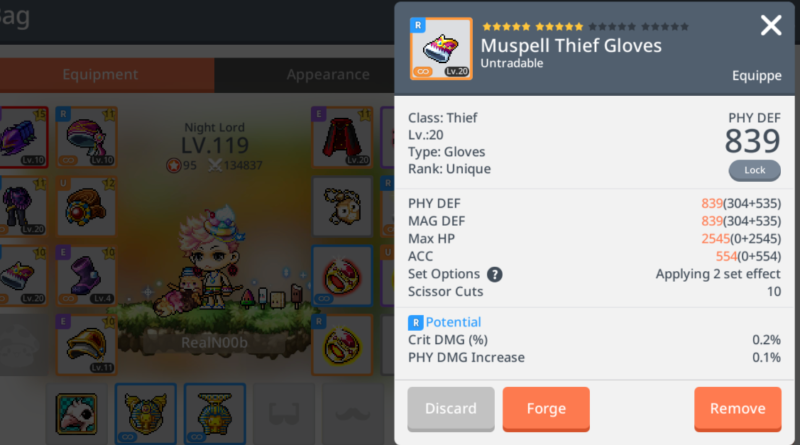 An example would be this Muspell Thief Gloves. It has additional crit damage (%) and physical damage increase.
Try to get more of these potentials on your equipment and you will add damage over time. You can change potentials using Occult Cubes, Red Cubes or Black Cubes.
4. Get the right jewel set
The best jewel set to add damage for most players is the physical or magic attack jewel.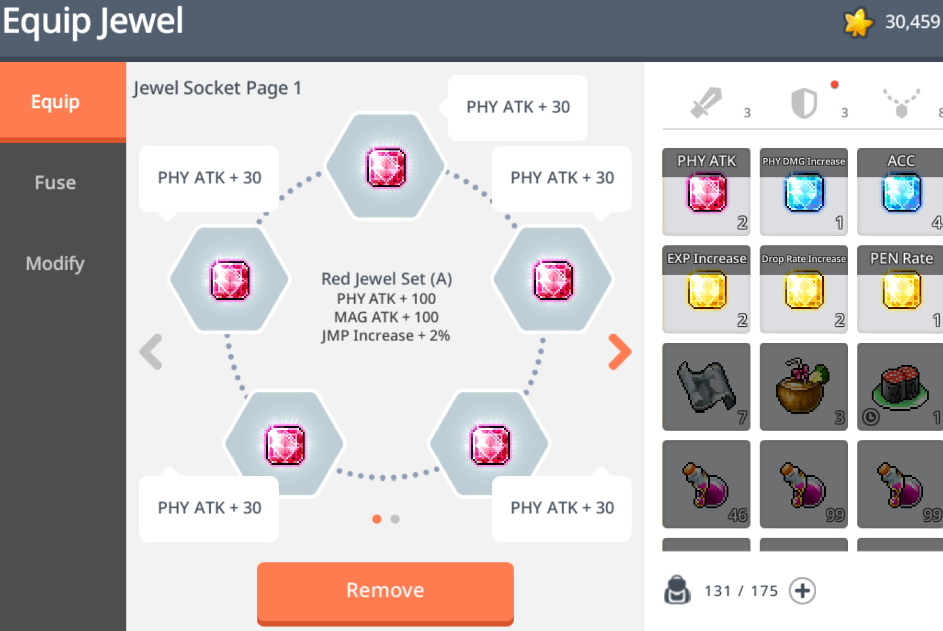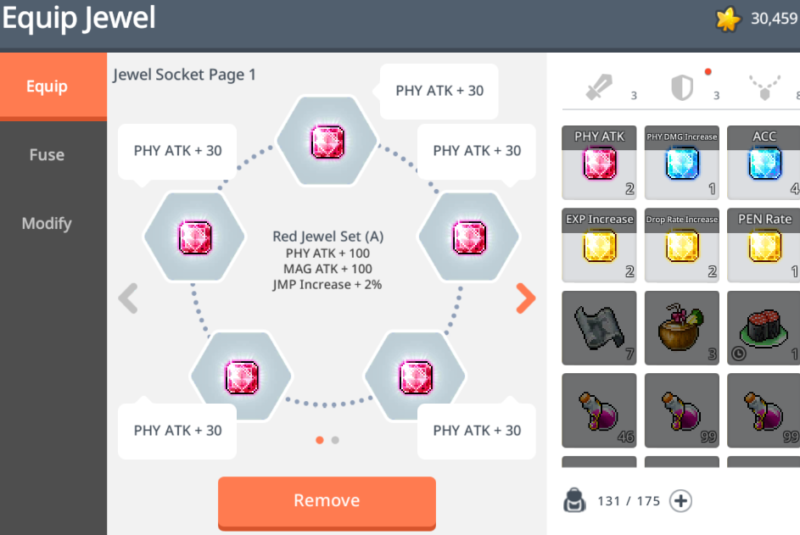 As you can see in the screenshot, each rank A jewel for physical attack gives 30 attack, which makes a total of 150 for a set.
Furthermore, you get a set bonus if you use all of the jewels of the same color and rank. I receive a 100 physical / magic attack set bonus from rank A jewels.
If you have a rank S jewel set, you should get a 200 physical / magic attack set bonus. You can actually mix different jewels, but it has to be the same color and the same rank.
For e.g. you can mix boss attack jewels (red in color) with physical attack jewels, and you get the set bonus if all are the same rank (e.g. rank A).
The physical damage (%) jewels are only useful for those who probably have a maxed level mythic. Someone did a calculation to see which brought the most damage, and unless you have over 8,500 phy / magic attack (approximately) from your equipment, it's better to use the phy / magic attack jewels.
5. Emblem is a bonus
The only type of weapon stronger than a PBA is an emblem. You may recognize emblems by the unique background the equipment has.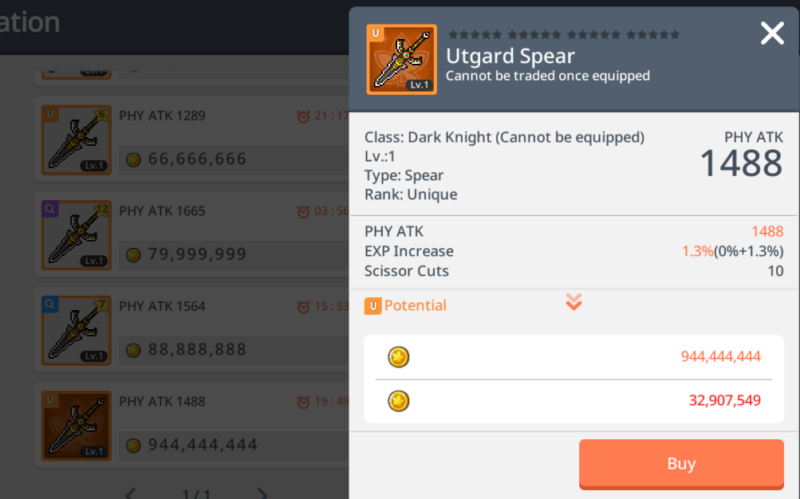 If your weapon is an emblem, you may have like 300 physical or magic attack higher than a PBA, which is why it's so precious and rare.
To add to that, you even get an additional emblem potential like 5% crit damage, as an example.
If you do have an emblem weapon, great for you.
In a nutshell
There are plenty of ways to increase damage in MapleStory M. Unfortunately, not all classes are built the same, so you won't have equal damage even with the same equips.
If you are only fond of high damage, then get a class like Night Lord as they are pretty good for DPS right now.
---
Related articles:
MapleStory M: Royal Style Sets For Every Month
MapleStory M: Best Equipment For Blaze Wizard And Bishop
Best Equipment For Wind Archer And Bow Master
MapleStory M: Golden Apples – New Gachapon System
MapleStory M: Immortal Guild Dungeon And Papulatus Guide
Best Places To Grind (MapleStory M) – Which Star Force Field To Use
MapleStory M: Mu Lung Dojo Guide (How To Complete It)