MapleStory M is a mobile version of the once popular side-scrolling MMORPG MapleStory. There's a Korean version that has been released for a few years now.
However, this game was just launched globally almost two weeks ago and many parts of the game may be different from the Korean version.
For those who are new to this game, you may find it confusing at first.
For the beginners, here's a guide on MapleStory M together with some tips you should know of.
It won't be way too detailed, so do leave your questions in the comment box if you have any.
1. Always do quests if you want to level up fast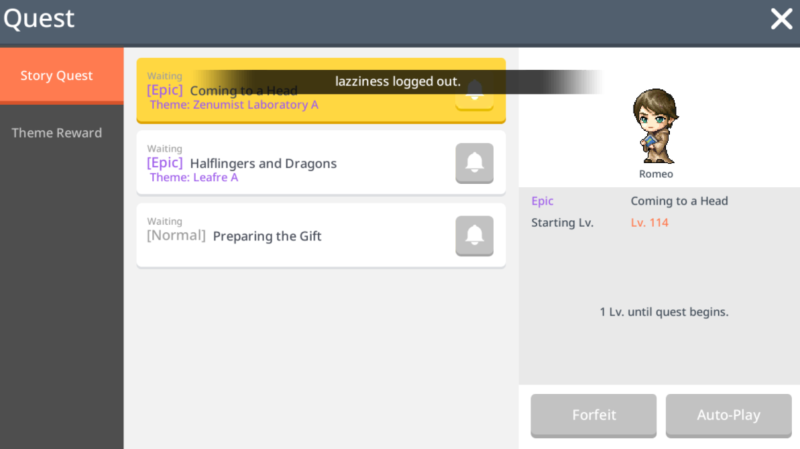 The first tip in this game is to keep doing quests if you want a fast progression. Unlike the MapleStory on PC, this mobile game gives more experience points for quests.
It's suitable for those who are already working, but still want to play the game due to nostalgia or other reasons.
You can pretty much rely on quests without grinding at all up until level 80+ or 90. I can't remember the exact level where it gets tougher but it's around there.
Furthermore, MapleStory M has an auto-quest function that allows your character to move and kill monsters by itself. All you need to do is to tap through the conversations.
At the start, it may seem like this function is pointless as the game sort of plays by itself. I mean, what's the point of you playing, right?
Well, once you hit the higher levels, you'll be begging for more quests. You'll notice a scarce number of quests later on and you have to rely a lot on dungeons and grinding.
2. Classes are not equal in this game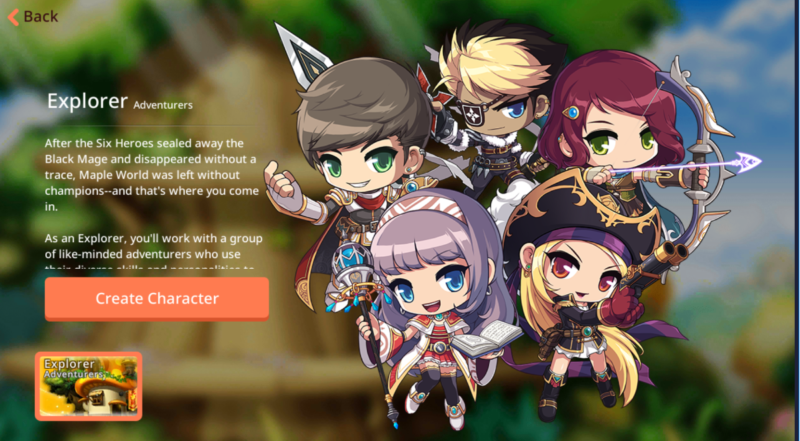 MapleStory M at the moment only has five classes to choose from. Supposedly, they play different roles in the game.
For e.g. Bishop is supposed to be the healer and the support in this game. However, you may notice Bishops being one of the top DPS in some expeditions. Additionally, their healing capabilities have been nerfed to become much weaker recently.
The biggest complaints are probably from the Bowmaster class as they seem to be one of the weakest at the moment. Class balances can always happen at any time, so this only applies at the time of writing.
The most overpowered character at the moment is probably the Night Lord. It usually has the highest DPS in most expeditions and doesn't die that easily due to skills like Dark Sight and Shadow Shifter. Edit: The Bowmaster is now on par or better than the Night Lord for expeditions.
Personally, I'm using a Night Lord so I get how strong and advantageous it can be.
3. Equipment is what sets you apart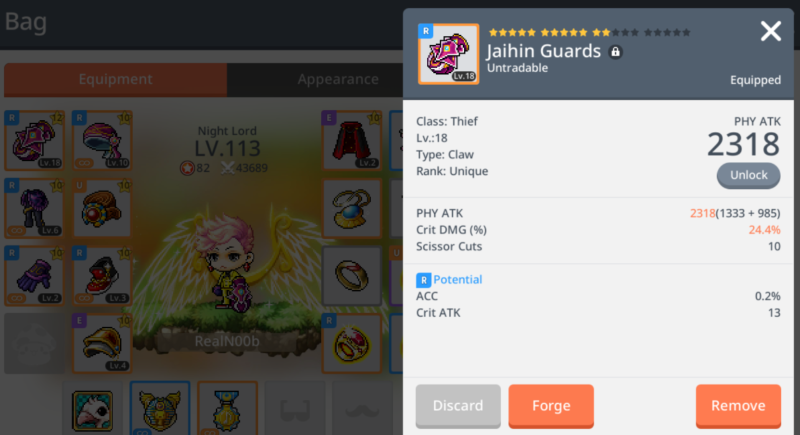 Leveling is not as important when you're over level 100 and what sets you guys apart is your equipment's stats.
There are different equipment ranks or rarity in the game and the weakest is the "normal" rank.
A basic hierarchy from weakest to strongest:
Normal (black) -> Rare (blue) -> Epic (purple) -> Unique (orange) -> Legendary (green) -> Mythic (red) -> (to be available)
The color refers to the color of the border of the item. You'll notice each equipment has its own colored border to signify rank.
Obviously, getting a legendary or a mythic equipment is seriously difficult for free-to-play players, unless you invest a lot of time.
Those who are heavy on cash items are already using legendary equipment and a very small number already has mythic.
Read also: How to increase your DPS in MapleStory M
4. Forging
Forging is where you level up and rank up equipment (both weapons and armor).
There are a few things you should know about forging.
i. Level Up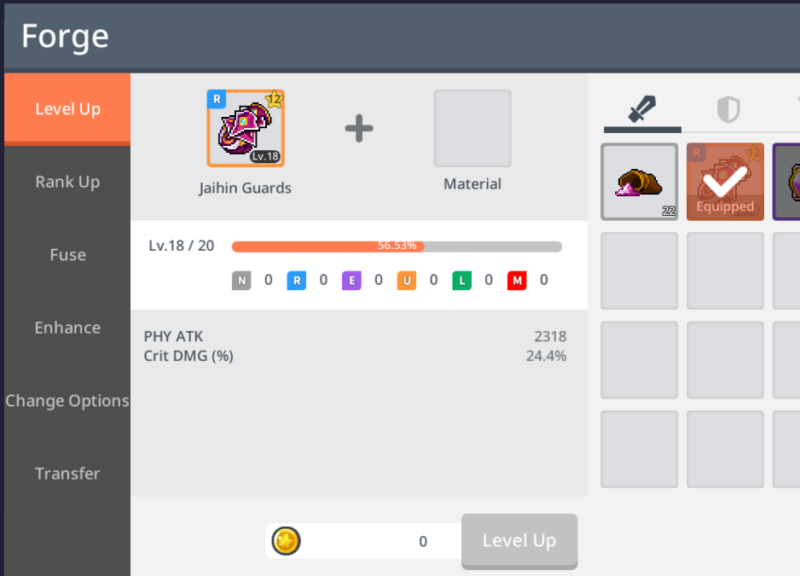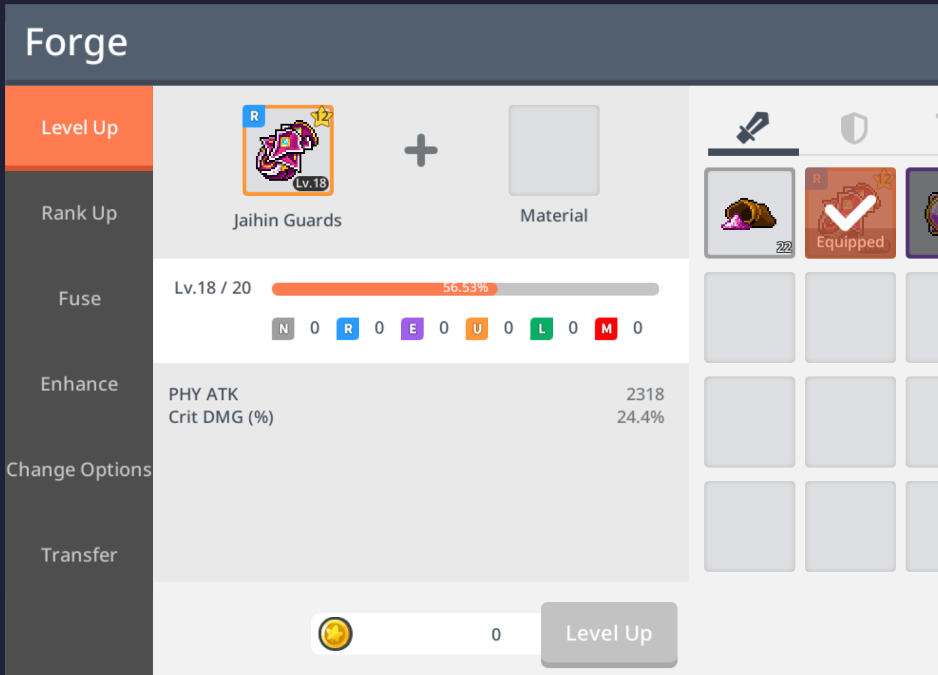 Each equipment in the game has a rank (e.g. rare, epic) and in order to go to the next rank, you need to first level the equipment.
Different ranks have a different max level. For e.g. an epic has a max level of 15 while a unique has a max level of 20. It increases while you scale up.
It's also harder and more costly to level up when the item rank is higher.
What you need to use to level up equipment is refining powder. There are two types, i.e. weapon and armor refining powder.
Even the refining powder has different ranks. Higher ranks give more experience points to your equipment, which means it levels up faster.
You'll get a good portion of these refining powder from quests around level 1 – 82. After that, it decreases slowly and eventually the quests no longer give such powder, making it scarce.
Do read this guide on how to obtain more of these refining powder to have a better idea.
ii. Rank Up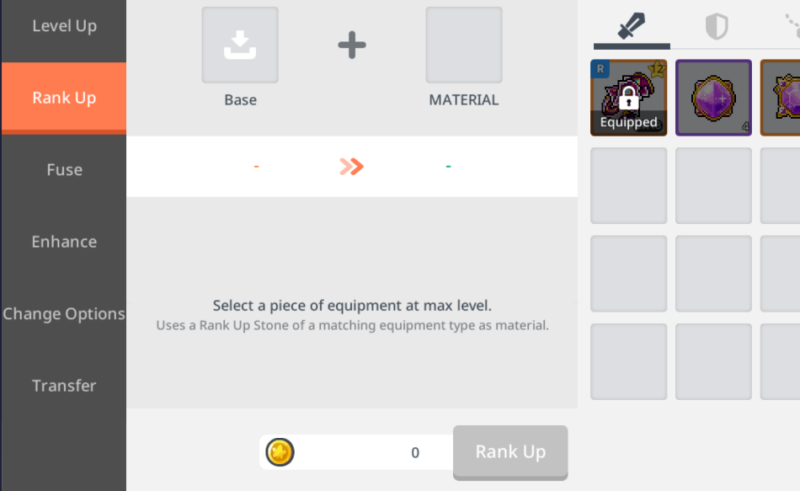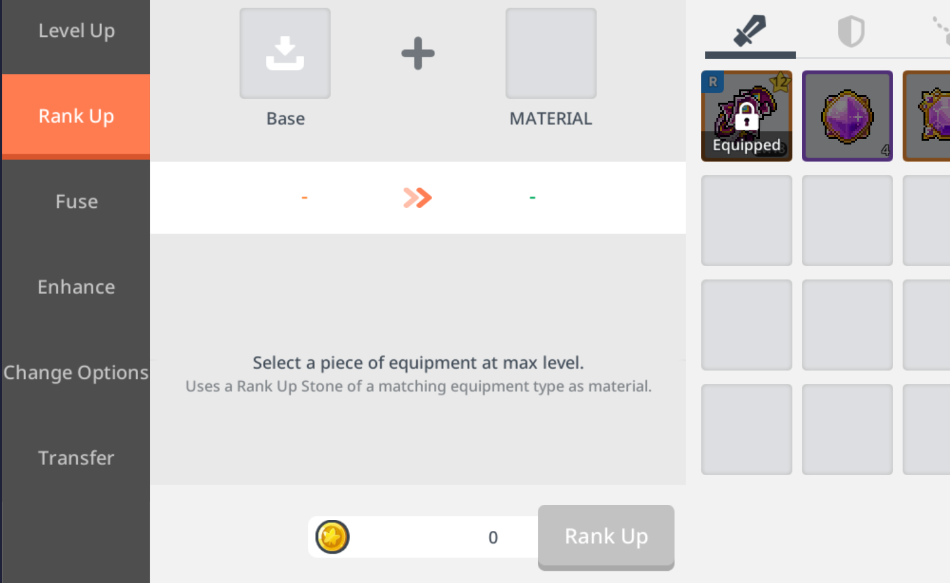 Ranking up simply means to go from one rank to another, such as from epic to unique.
To rank up, you need to have rank up stones and a decent amount of mesos ready.
For e.g. you need 10 unique rank up stones and about 40 million mesos to go from unique to legendary status.
Furthermore, your item has to be of max level before you can rank up, which means you need a lot of powder and mesos even before ranking up.
It's pretty hard if you're a F2P player, especially since 10 unique rank up stones is equivalent to 80,000 gold leaves.
Gold leaves are scarce in the game, so it takes awhile to accumulate them. Here's a guide on how to get gold leaves.
Read also: Ranking up vs fusing
iii. Enhance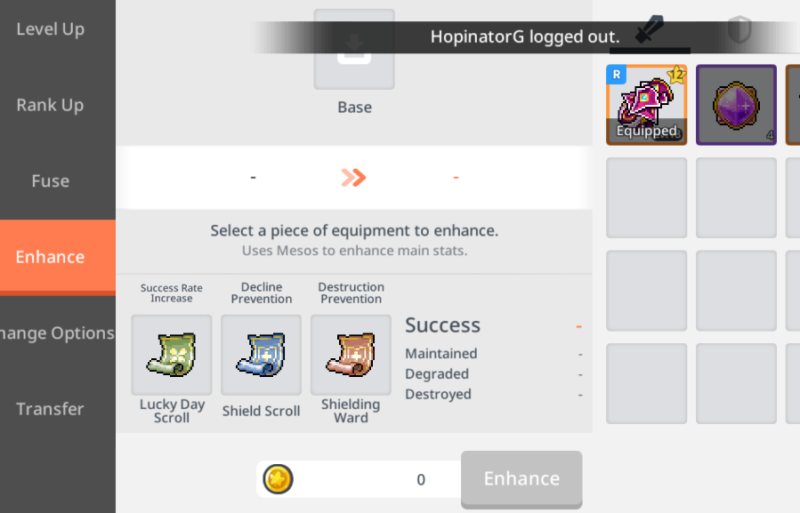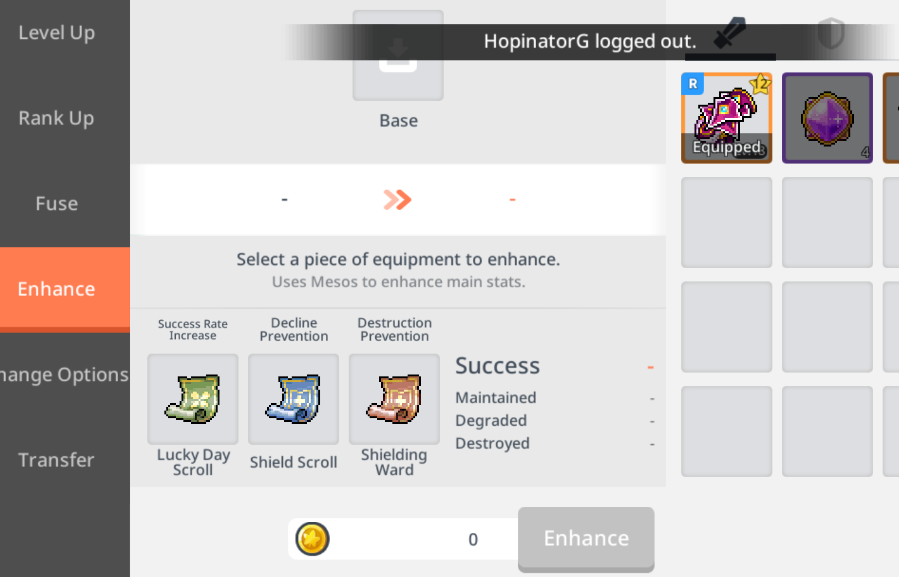 Another concept of forging is to enhance the equipment. When you enhance successfully, your item adds another star to it and the item stats go up.
These stars are also known as star force in MapleStory M. The higher your item rank, the more slots for enhancement will be available to you.
It gets more expensive as you enhance your equipment and the probability of failing increases. After level 10, your equipment may break.
To prevent it, you have to use scrolls that are available in the Cash Shop (good job Nexon). It's hard for F2P players when it comes to this point.
Sometimes they have events to give out free scrolls but it will never be enough if you wish to max out enhancements. That said, you don't need to max out enhancements to take on bosses.
The in-game tutorial should teach you a bit on enhancements.
iv. Fuse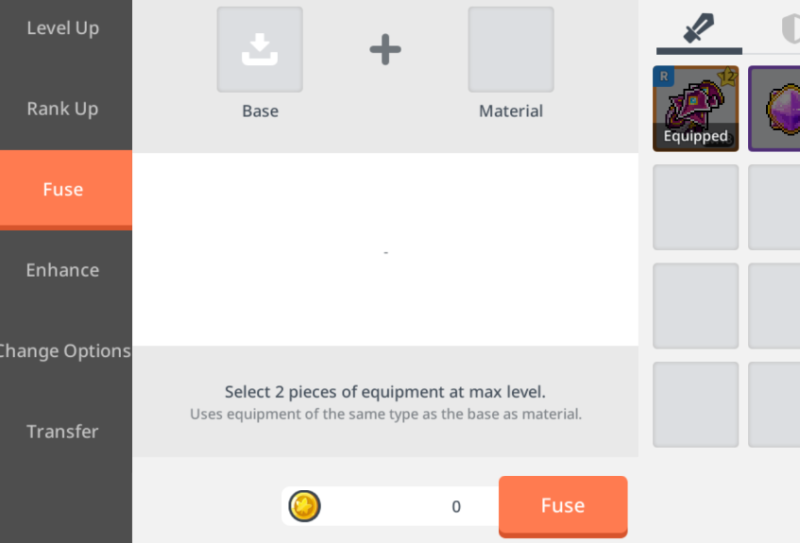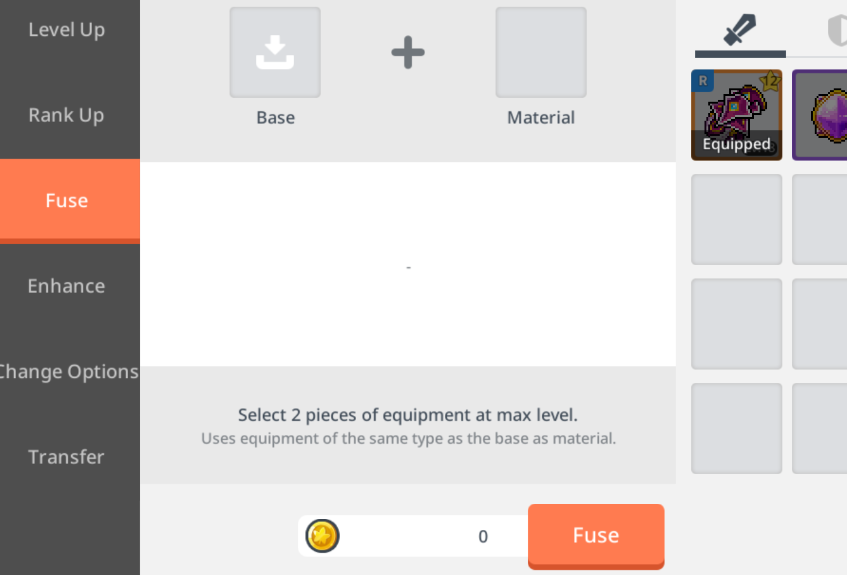 The next concept is "fusing". An alternative way to rank up your weapon or armor is to fuse two max level equipment.
This only applies for equipment of rank epic, unique and above.
If you're fusing a weapon, both materials have to be weapons. If you're doing armor, then both have to be armor.
For example, you can fuse a level 15 epic claw with a level 15 epic bow.
The good part about fusing is that you stand a chance to get an emblem equipment.
The chances are really low but if you do get one, do know that an emblem equipment has even higher stats than a regular equipment.
It even has better stats than a perfect base stat (PBS) equipment, which is why many players are trying their luck on fusion.
Regardless, you still get a ranked up equipment even if you don't get an additional emblem to it. For instance, fusing two epics will give you a unique equipment (whether emblem or not).
The biggest downside to fusing is that you'll end up with a random weapon of the same class, with random stats.
For e.g. if you fuse a claw (as base) with any other weapon, you will end up with a random claw (Briser / Halphas / Jaihin / Utgard).
The stats are also randomized, and may be worse than your previous stats.
Read also: Guide on how to get emblem equipment
v. Change options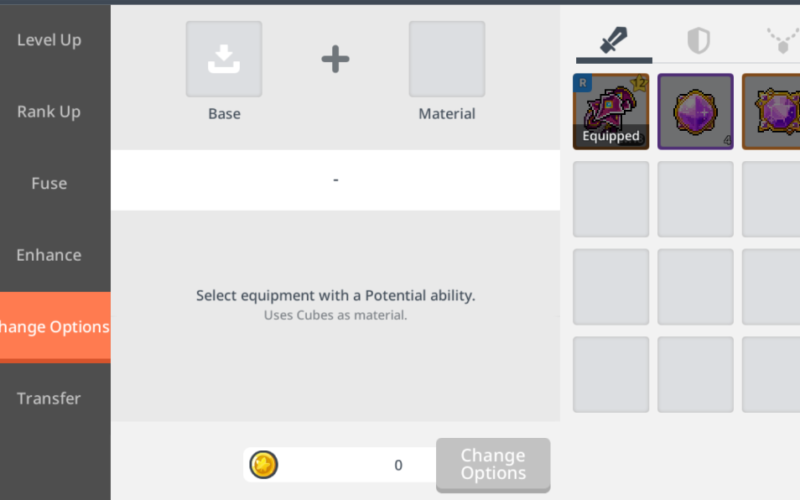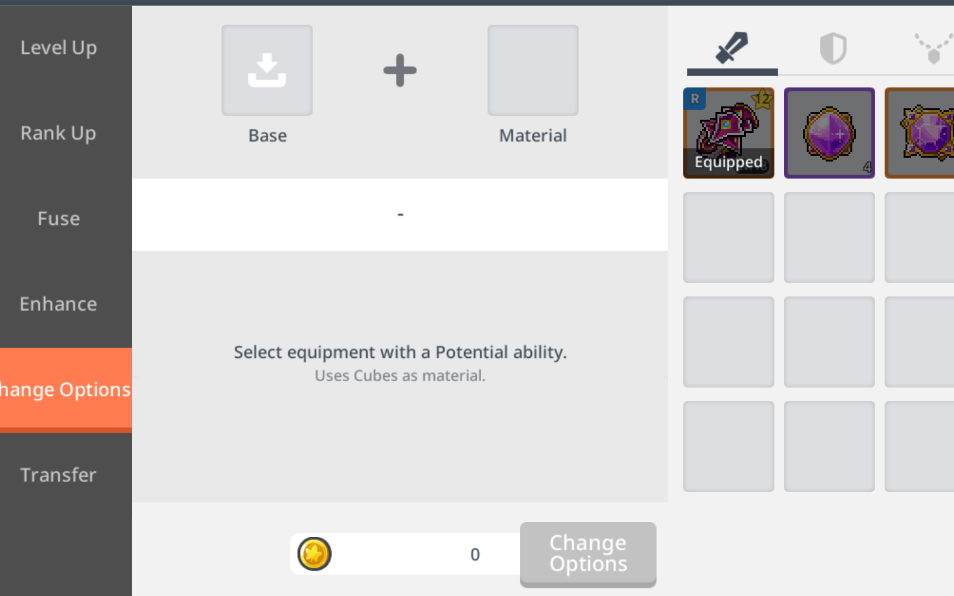 Each epic and higher rank equipment will give you potentials in this game.
Potentials refers to additional stats like Crit DMG, Accuracy, Evade, Max HP and so on.
Sometimes you have a great weapon but lousy potentials. You can change them by using cubes.
These cubes can either be bought with gold leaves or in the Cash Shop. You can also get some Occult Cubes through extracting equipment (but at low amounts).
vi. Transfer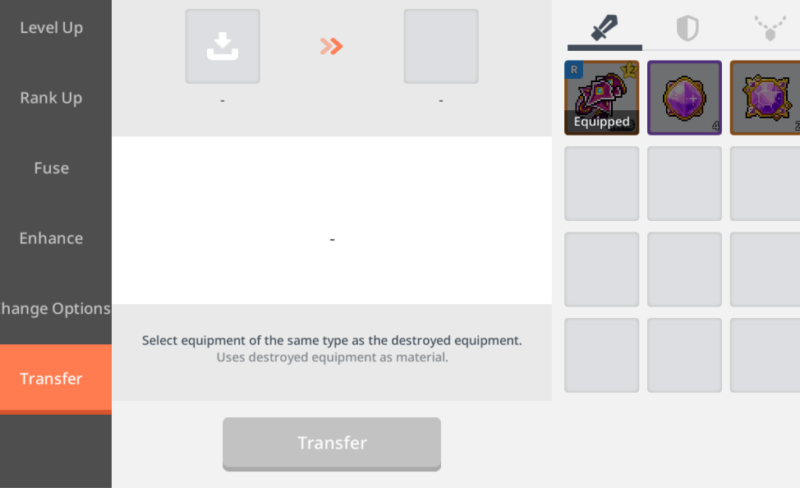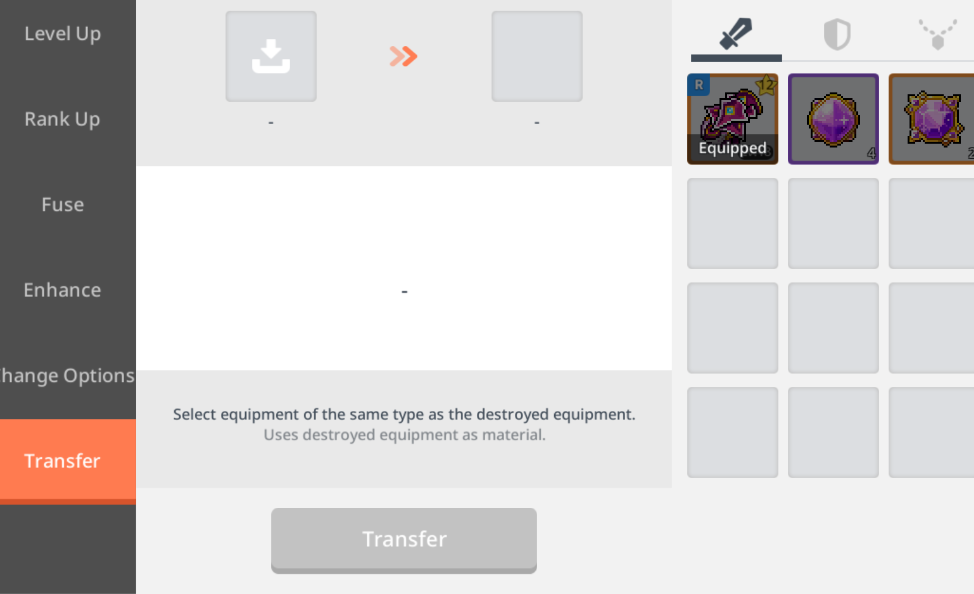 Sometimes when you enhance your equipment above 10 stars, it breaks (if you don't use a scroll).
That renders your equipment unusable. You can still transfer the stats to another equipment of the same kind.
However, that requires you to actually buy a new equipment of the same type, which can be very expensive.
5. Dungeons
There are plenty of dungeons in MapleStory M and they are really useful to do daily. Here's a brief overview of them.
i. Daily Dungeon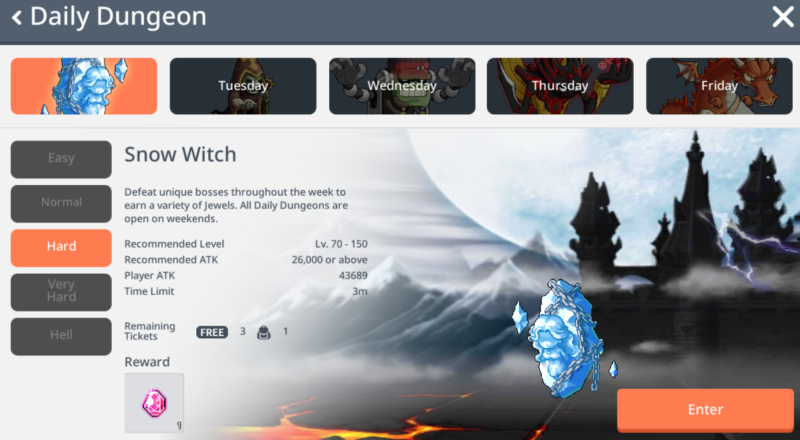 Daily Dungeon is useful for getting a decent amount of EXP, especially if you're doing the Very Hard or Hell modes.
You will also get jewels in return for completing it. It's basically a map that spawns 30 monsters and one mini boss at the end.
Like most of the dungeons here, you can do it four times a day in total (3 free tickets + 1 free upon finishing the earlier three tickets).
ii. Elite Dungeon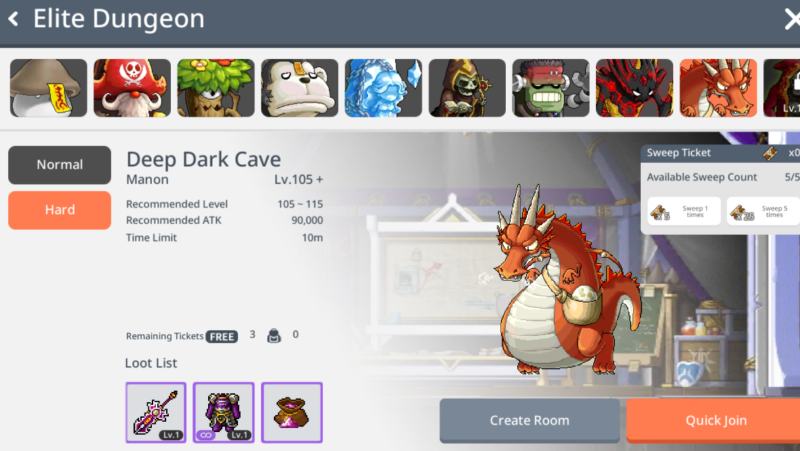 Elite Dungeon is divided into two maps, with a total of around 90 monsters. This one is a group effort, unlike the Daily Dungeon which is done solo.
This dungeon also comes with a mini boss at the end. At level 105 (hard mode), you can get an epic equipment plus a few refining powder upon completion.
Keep doing it as refining powder are precious and the epic equipment can be used for extracting gold leaves or for selling in the Trade Station.
iii. Mini Dungeon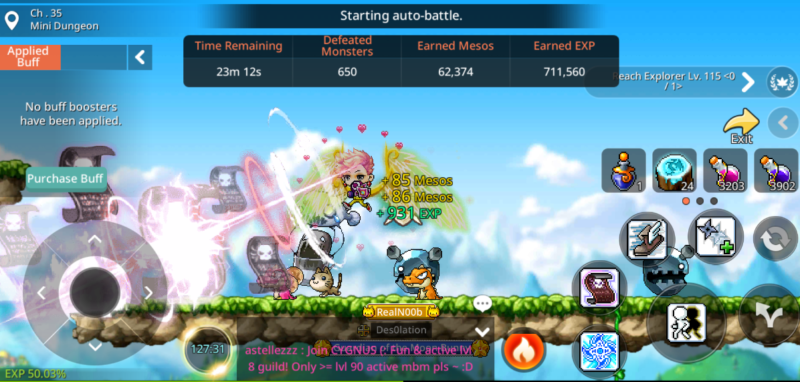 Mini Dungeon is a place solely accessible to you but entrance is limited by time. Each day you'll get a few free tickets which equates to maybe an hour plus.
You can choose which monsters to spawn depending on your character's level.
The monsters here are pretty weak and doesn't give that much EXP per kill. That said, if you can kill them fast (preferably 1 hit), the EXP adds up decently.
The great thing about Mini Dungeon is that the monsters drop quite a lot of mesos and it's a good place to collect mesos.
However, it's not the best place for EXP in the long run and entry is limited to tickets.
iv. Mulung Dojo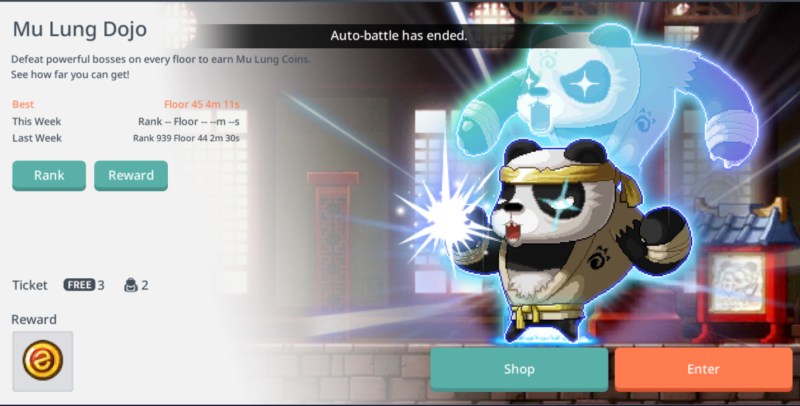 Mulung Dojo is a place where you fight mini bosses continuously and it doesn't give EXP but you get Mulung coins. These coins can be used to purchase items in the shop.
Some of the more attractive items are the Mulung chair, EXP pendants, all cure potions and other potions to be used during expeditions.
Furthermore, if you end up in the top 3 of your world for the week, you will get IMBA equipment. That's pretty unlikely for any of us.
v. Star Force Field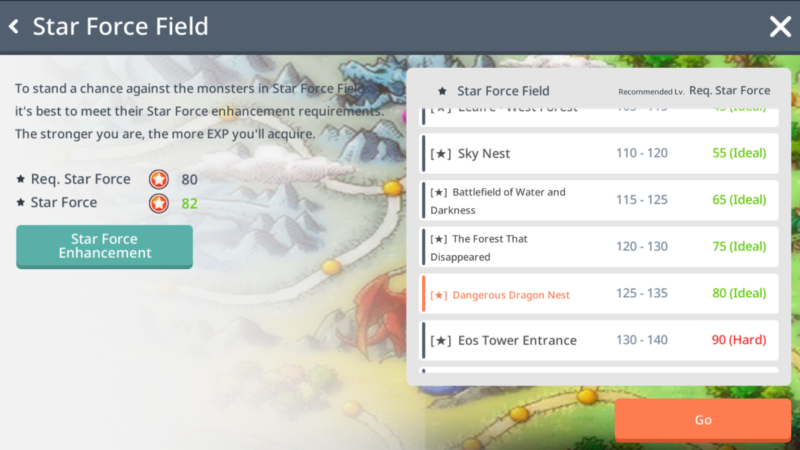 The best place to grind for EXP when you're above level 100 is probably the Star Force Fields.
You'll notice different star force requirements for each place. That refers to the total enhancements / stars you have on all of your equipment.
You're still allowed to enter places that exceed your star force. However, the monsters will hit you twice as hard, and it's not recommended or practical at all.
Keep enhancing your equipment to get into better places. I recommend SF 40 for levels 100 – 110, and SF 80 for higher levels.
The best part about this place is that there's no time limit.
vi. Nett's Pyramid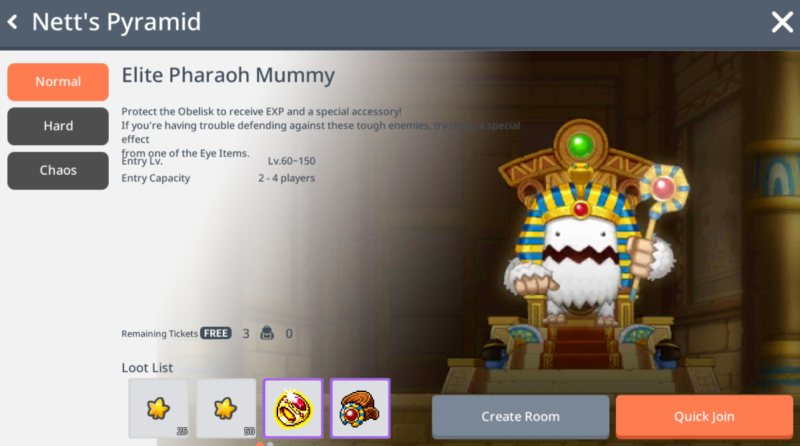 Nett's Pyramid is basically a dungeon which has 10 waves, 9 for normal mobs and 1 for the mini boss.
Your job (with 3 other players) is to prevent the monsters from entering the portals behind you.
This pyramid is great for three things, EXP, gold leaves and items.
It gives me almost 0.60% EXP (11 million) at level 113, which is pretty good.
You will also get either gold leaves or an equipment at the end. Like the rest, you can do it four times a day.
The Immortal Pharaoh Belt and the Immortal Ring are what players seek. If you have both of them, it gives you a big set bonus as well.
As expected, the rate of getting it is very low.
vii. Expeditions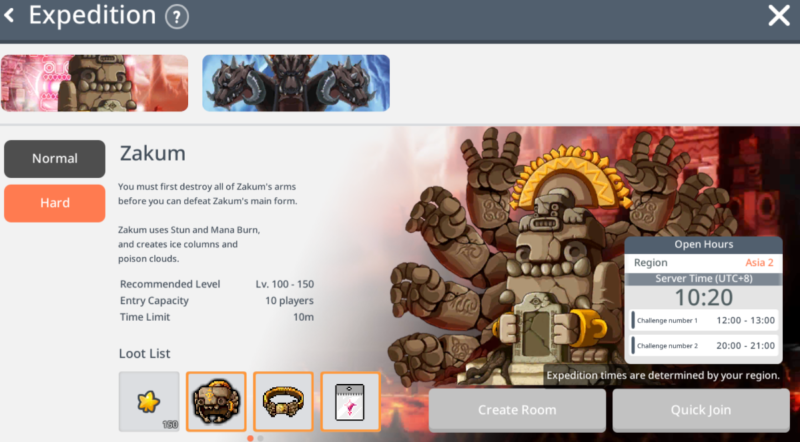 Expeditions give you the thrill of fighting bosses together with a team (up to 10 players) and is the reason why players grind so much.
It is open only twice a day, and an hour each time. As of now, there are only two expeditions, i.e. Zakum and Horntail.
You can get great equipment from both bosses, but the drop rate is incredibly low.
Fortunately, you will still get like 400 gold leaves from Zakum and 100 gold leaves from Horntail (although the latter is tougher).
6. Tasks and Events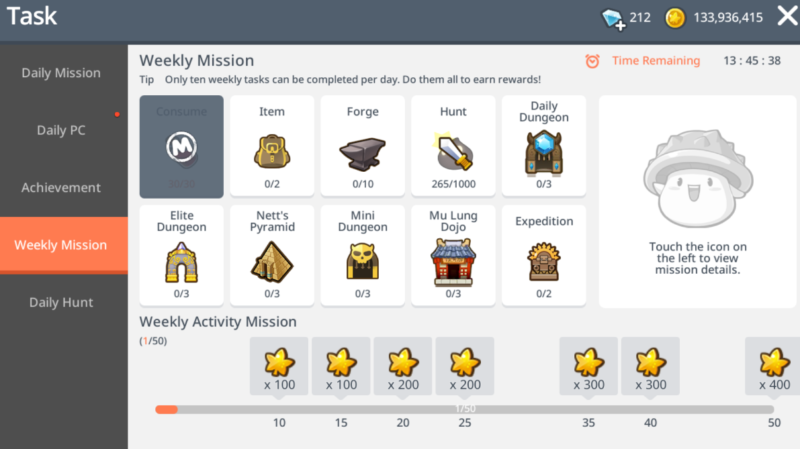 You'll notice two tabs above, called Tasks and another Events. These are doable daily and you should try to do them.
For e.g. doing dungeons daily will also get you more gold leaves by the end of the week.
Most of these are self-explanatory so I won't elaborate on this point.
They will explicitly mention what you will get for completing the achievements / tasks.
Also, keep doing daily hunts under the "Tasks" as they give quite a good amount of EXP.
7. Earning mesos the F2P way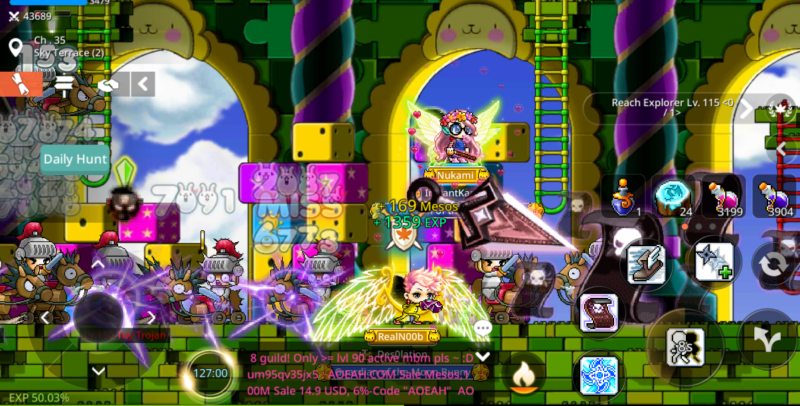 I've actually written a guide on how to earn mesos fast, especially for F2P players.
Here's a brief summary on it:
Grind at Sky Terrace 2. The Toy Trojans (level 150) give about 200 mesos per kill. They are pretty easy to kill, especially for levels 100 and above. That said, there are many botters these days at the map. Get a party but avoid those dubious-looking players.
Sell items at the Trade Station. You can sell epic equipment you gathered from Elite Dungeon runs.
Buy Cash Shop items that are trending and sell them on the Trade Station (only for cash players).
8. Brief leveling guide in MapleStory M
I've already written an article on leveling for MapleStory M so here's a brief overview of it.
Always do your quests for EXP, and you can solely do quests from level 1 to 80+.
Remember to do your dailies (Daily Dungeon, Elite Dungeon, Nett's Pyramid, etc.) as they give quite a good amount of EXP, especially for higher levels.
As far as grinding goes, Star Force Field is great for EXP. Get a big efficient party to farm more EXP as this game doesn't reduce EXP much even with a big party, unlike the PC version.
You can probably use EXP buffs and "fever" for Daily Dungeon and Elite Dungeon to multiply EXP.
9. Guilds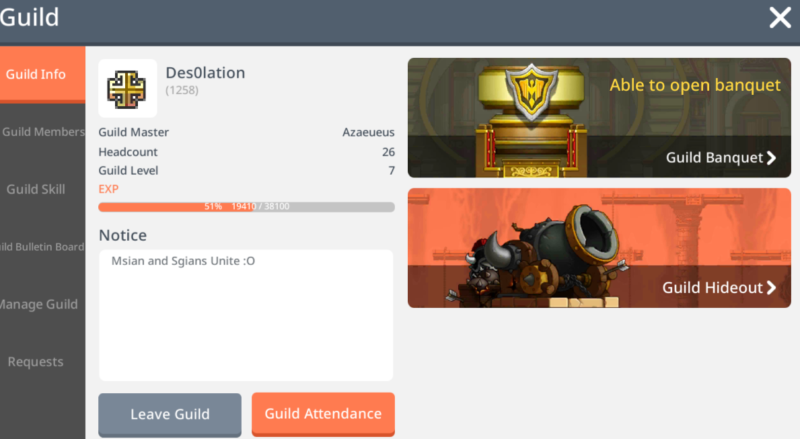 Like other games, a guild is like your own community or team of players and it comes with some perks.
There's this concept of a guild banquet that can be held once a day. It's 30 minutes long and it gives you EXP even for doing nothing. You just have to be at the Guild Fort when the banquet is opened.
Personally, I gained over 20 million EXP from that 30 minutes and the EXP differs according to your character's level. It's also a good time to chat with the other members.
Apart from that, high level guilds have more guild skills. An example of a skill would be EXP increase. A level 2 EXP skill grants you 1% additional EXP for 2 hours.
It can also be used once a day, which is great. There are other skills like meso increase, but it depends on whether your guild has leveled that skill.
Ultimately, having a guild makes you feel a sense of belonging in the game.
Read also: New Immortal Guild Dungeon And Papulatus Boss
In a nutshell
This is only a short guide on MapleStory M containing some of the tips I've learnt playing since the launch of this game.
If you have questions or things I should include in this guide, do leave your comments below.
Hopefully it is useful for at least some of you.
---
Related articles:
MapleStory M: Golden Apples – New Gachapon System
How To Play MapleStory M On Your PC (Windows)