MapleStory M is bringing in Golden Apples in this latest Cygnus Knights patch. I was beginning to wonder when they were going to introduce Gachapon to this mobile game.
Back in MapleSea, they had Gachapon machines where you had to buy tickets with real cash. The prizes were of course tempting but there were plenty of terrible prizes alongside it as well.
Here's a short article on what this new Golden Apples has to offer to MapleStory M.
1. What can you get from Golden Apples?
To buy these Golden Apples, go to the Cash Shop.
It costs 90 diamonds each and 900 diamonds if you pay for 10 + 1. It's similar to the treasure box in that sense.
There are plenty of things you can get from the Golden Apple gachapon as shown below.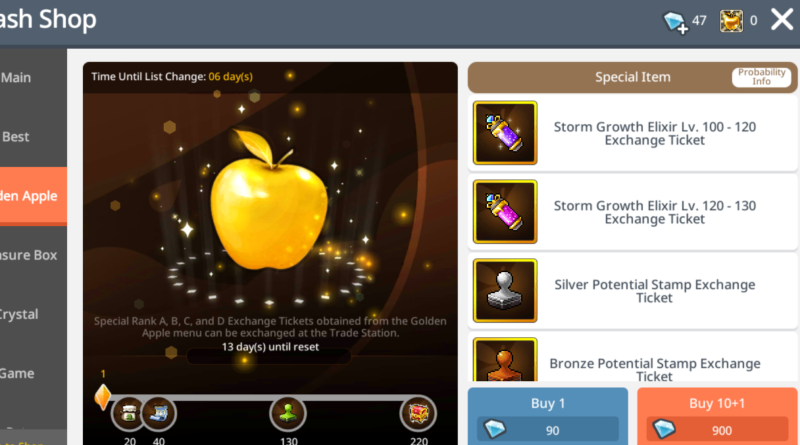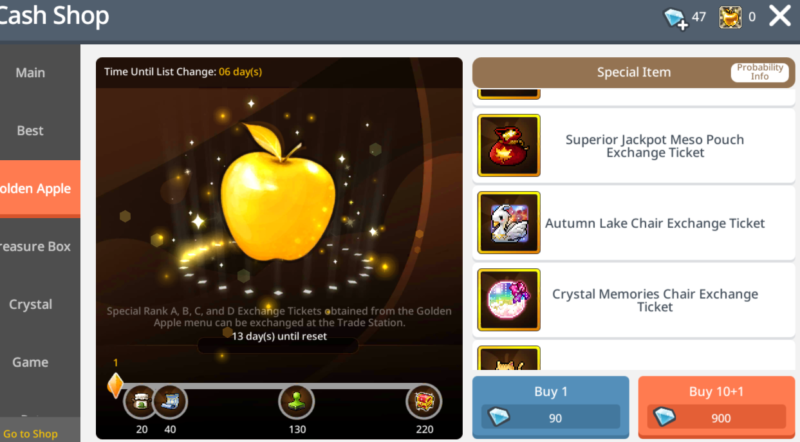 Here are some notable items worth mentioning:
Storm Growth Elixir (Levels 100 – 120 / 120 – 130). How it works is that you will instantly gain a level upon consuming that potion. Insanely good right?
Silver potential and bronze potential stamp tickets. These potential stamps may increase your item's potential from two to three lines. Silver has 50% chance while bronze has 15% chance.
Chairs, mounts and damage skins. If you love aesthetics, this is for you.
Star Force enhancement scrolls with different chances of success.
Probability of getting good items from Golden Apple
Needless to say, it's pretty bad. Just look at one screenshot I took of the list. The list goes on and this is mainly the best stuff you can get.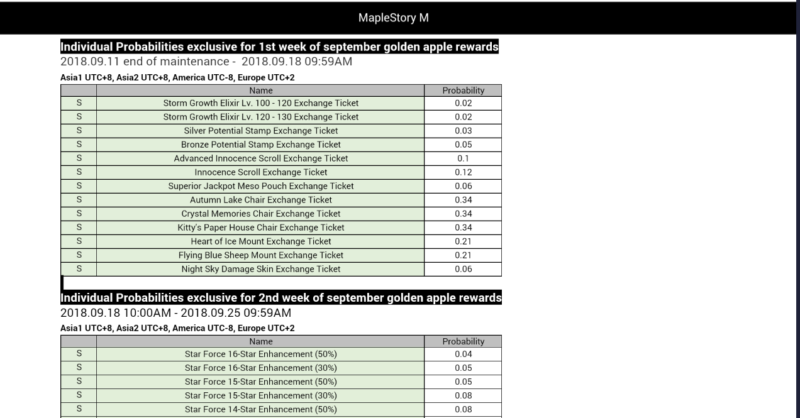 The Storm Growth Elixir only has a probability of 0.02% which is super low. The others are not far behind.
I bought one Golden Apple ticket myself to test my luck and see what kind of item they can offer.
And guess what?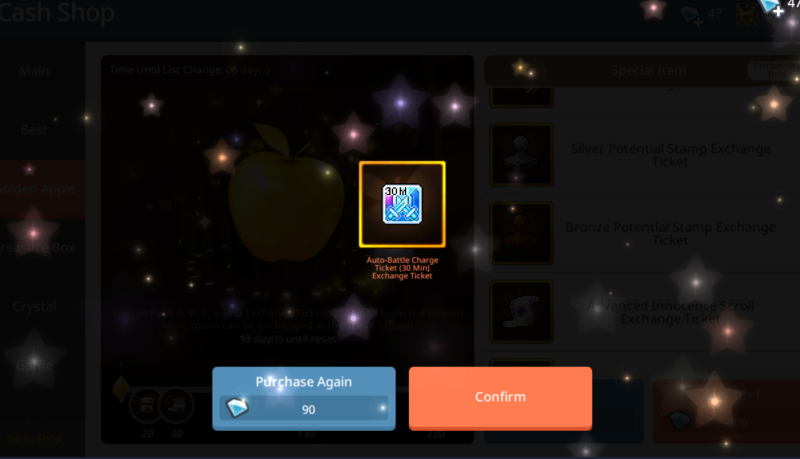 It's none other than the 30 minutes auto-battle ticket! Not a surprise there Nexon.
Check out my video on a 10 + 1 pull of the Golden Apples.
3. Golden Apple Puzzle Pieces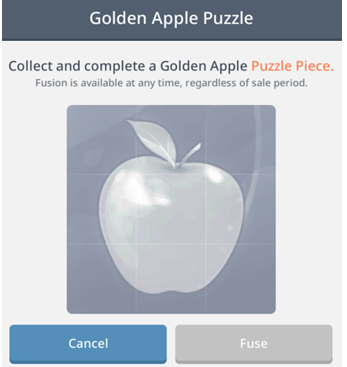 You also have the possibility of getting one of these puzzle pieces from the Golden Apple ticket.
There are 9 pieces to the puzzle and you need to collect all 9 to collect a "superior" reward.
There's a list of rewards you can get from fusing the 9 puzzle pieces, including the following:
Unique potential scroll (50%)
Star Force enhancement scrolls (17 / 18 stars)
Weapon / armor rank up stone (legendary)
Weapon / armor emblem scroll (30%)
Jackpot mesos pouch (I wouldn't want this)
Storm growth potion (level 130 – 140)
You'll be spending a lot of real cash before getting any of that. To get just one puzzle piece requires a lot of luck (and money).
4. You can buy some of these Golden Apple items on the Trade Station
Luckily, there's a way to buy some of the Golden Apple items, assuming players are willing to sell.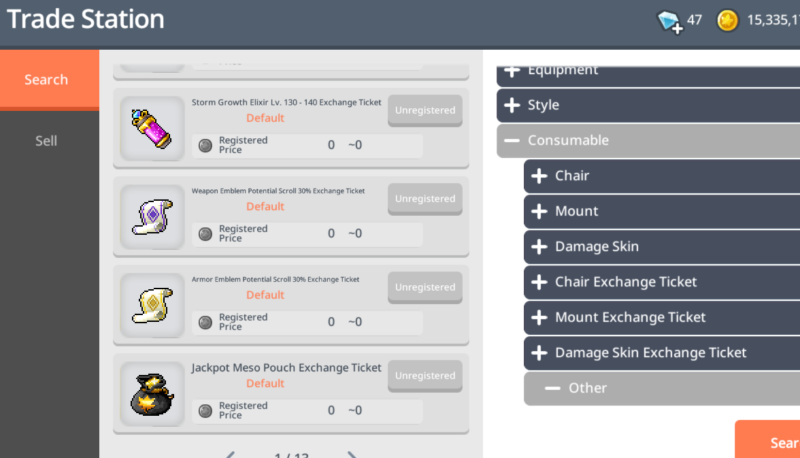 I doubt anyone would sell emblem scrolls, as they would just use for their end-game weapon / armor. In any case, just take a look at the Trade Station from time to time.
In a nutshell
Many changes have been made to MapleStory M after the Cygnus Knight patch, including the introduction of Immortal Guild Dungeon.
Now it's possible to trade your mythic item and at the same time use a scroll to give it emblem status.
Then again, it's more beneficial towards those who can spend a lot of real money on this game (unless you can find it in the Trade Station).
---
Related articles:
MapleStory M: Royal Style Sets For Every Month
MapleStory M: Best Equipment For Wind Archer And Bow Master
Best Places To Grind (MapleStory M) – Which Star Force Field To Use
MapleStory M: Mu Lung Dojo Guide (How To Complete It)
How To Increase Your DPS – MapleStory M
MapleStory M – How To Earn Mesos Fast
Games Like MapleStory – Top Ten Alternatives To Play Today
MapleStory M – Zakum And Horntail Guide (Expedition)
MapleStory M – Cygnus Knights (KOC) Release
Identity V Guide – Survivor Tips
MapleStory M: Best Equipment For Blaze Wizard And Bishop