Runescape was one of the first MMORPGs if not the first. At the time, people were bedazzled with all the content it offered.
Vast worlds to explore, quests to complete, monsters and even players you could kill. Furthermore, you could gathering resources and craft items, on top of fishing.
Although Runescape falls into a category of its own, here are 15 games like Runescape that you should consider playing today.
1. Wakfu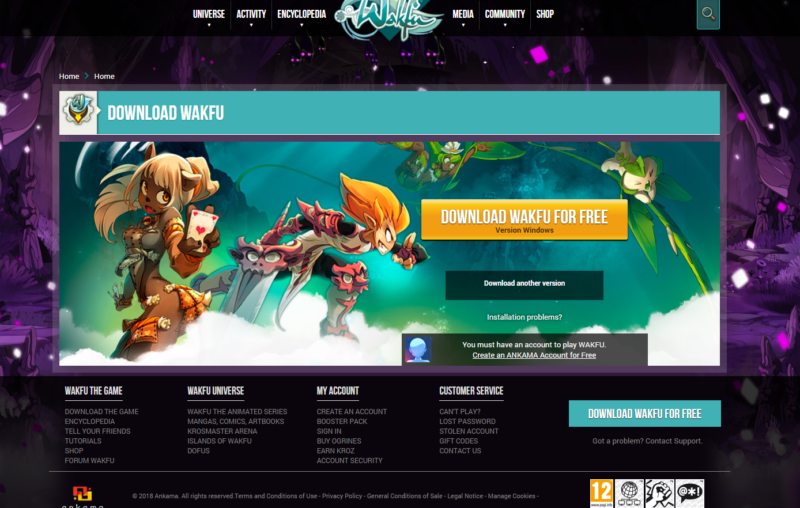 Wakfu is an MMORPG developed by Ankama Games, same guys who brought Dofus to us. It is known for tactical turn-based combat and its cartoon-like design. At least that is what it offers on the first look but once you get into it, you will discover a vast crafting and farming system.
The story in Wakfu takes place 1000 years after the happenings in Dofus. An ogre named Ogrest collected Dofus eggs for someone he loved.
Ogrest realized she only wanted the eggs and killed her in a fit of rage. Realizing what he had done, he started crying and continued for the next 1000 years, which brings us to Wakfu.
Do check it out to know more about the game.
2. Dofus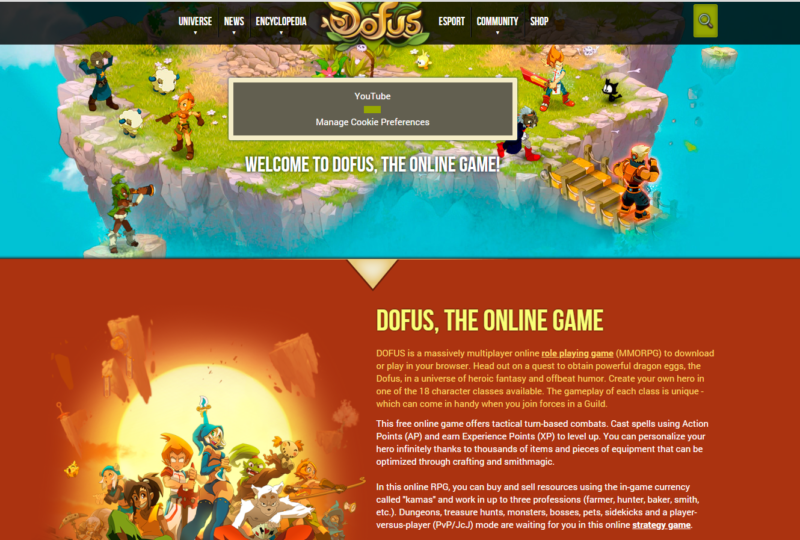 Dofus is a flash-based, tactical turn-oriented MMORPG that has changed a lot since it was first released. Unlike Runescape, Dofus is a pay-to-play game.
Although there is a limited amount of content available for free, to play the game in its entirety you need a monthly subscription.
Monthly subscription costs from five euros up, but you can also earn it through the game. Once you get to know the crafting and farming system Dofus offers, you will be able to earn Kamas and with it buy Ogrines that will enable you to subscribe for a certain time.
3. World of Warcraft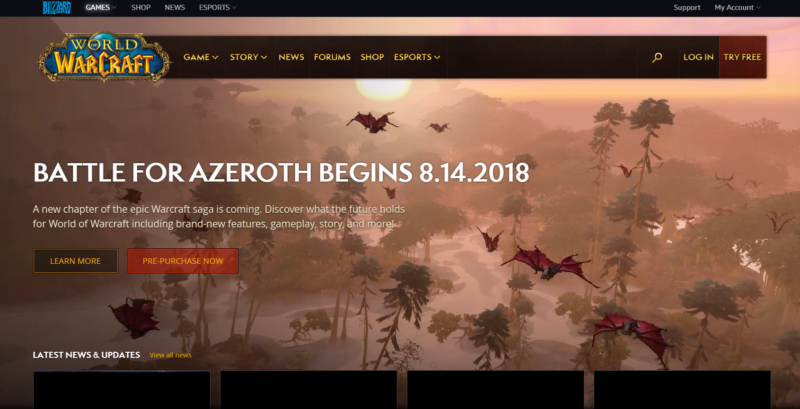 World of Warcraft is an MMORPG that hardly demands an introduction. It was released in 2004 by Blizzard and to this day it remains the most popular MMORPG.
The latest expansion Legion was released in 2016 and a new one was announced in 2017.
WoW probably offers everything you could want from an online RPG. Massive amounts of players, fun in-game mechanics, ever-updating content and much more.
The only downside? If you are just starting, your first year will cost you around $240.
If you love vanilla World of Warcraft, you may want to consider playing Classic WoW. It brings back the nostalgic memories for sure.
4. Rift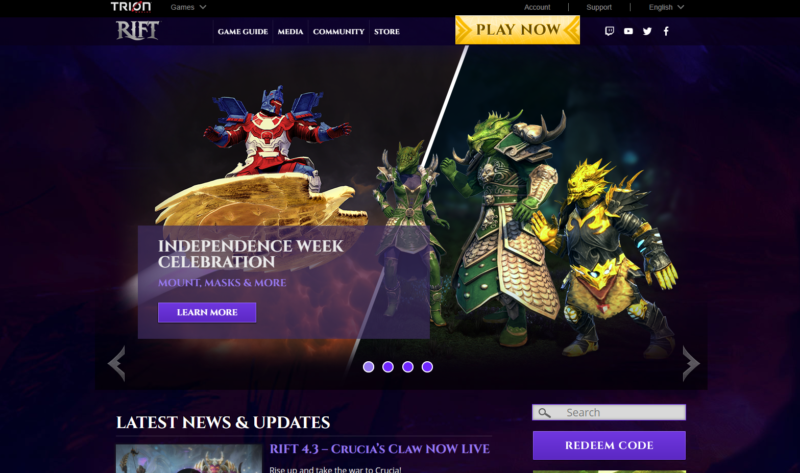 Next on the list of games like Runescape is none other than Rift. This game is an epic MMORPG where you can craft, collect, fight, and customize your gear.
Some people call it a free WoW version. But other people think it's a pay to win game or they prefer WoW and thus bash Rift.
As in any other MMORPG, you can buy customization items and actual gear, but you can also find items that are sometimes better than what you can buy.
Most online RPG players come to a crossroad in their gaming career, they will either pay for content or grind to get it.
5. Project Gorgon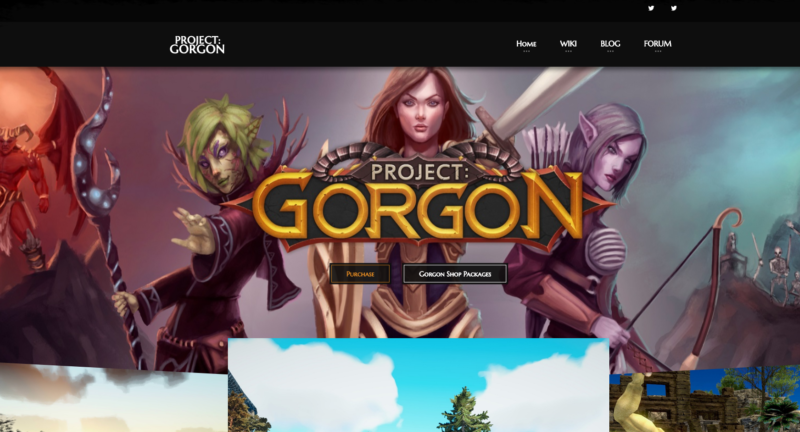 Project Gorgon is a fantasy MMORPG and it is probably the one most similar to Runescape.
In this case similar means it offers a vast world, a large number of quests, active community, and bad graphics. As for graphics, it reminds us of older World of Warcraft versions and Everquest.
However, there is one aspect quite unique and wonderful to have in Project Gorgon. Unlike other MMORPGs, you are not locked into one combat style, where in other games you have to choose your class, in Project Gorgon you can try different styles and pick the one you like most.
6. Archeage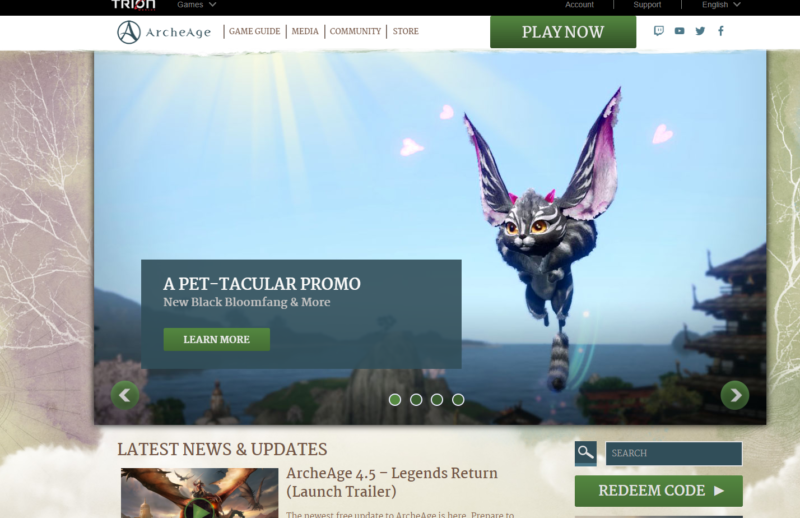 Archeage brings something new to the MMORPG world, where you can gather, craft, trade, and even build things like houses, ships, and castles.
This game offers a lot and the sad part is that you get to fully experience it only if you can afford it.
Sure, there are ways around the paying part, but these are long and tiresome. Rewarding system for those who grind is hardly existent.
By reading a few reviews you will quickly find out that Archeage was a wonderful game that was kind of ruined. Still, you can get it for free so why not try it?
7. Neverwinter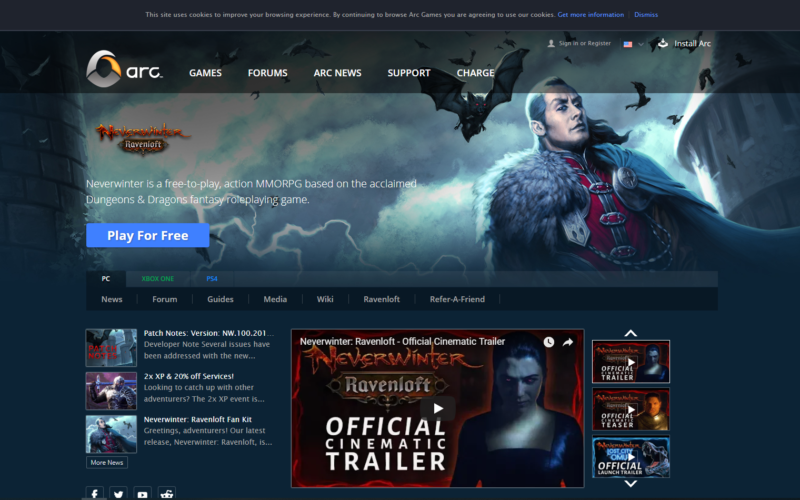 Neverwinter is a free-to-play MMORPG developed by Cryptic Studios and published by Perfect World Entertainment. It was first published in 2013 and the story is based in fictional Forgotten Realms from Dungeons & Dragons.
After the last lord of Neverwinter disappeared the city plunged into chaos. In between battles for dominance, the dead began to rise and attack. The player's mission is to investigate what the skeletons are after.
Finally, there is a special feature Neverwinter offers. Players are given a chance to create completely new locations that don't have to conform to the lore.
8. EverQuest 2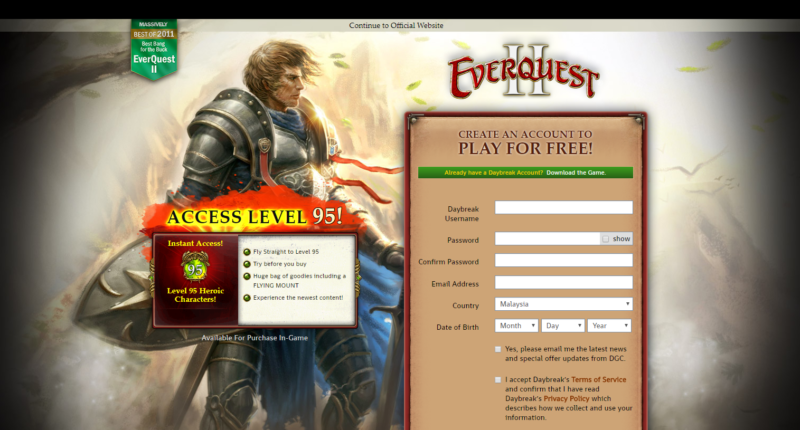 EverQuest 2 is an MMORPG developed by Sony Online Entertainment. It offers a classic approach to online multiplayer games.
Players can create a character and solve quests, explore the world, kill monsters, and search for treasures.
EverQuest 2 differs from other popular MMORPGs in that it offers a large pool of races to choose from when creating a character.
Some of the most popular races are Humans, Barbarians, Dwarfs, Erutides, Ogres, Iksars, Trolls, Gnomes, Half-Elves, High Elves, and Dark Elves.
9. Mortal Online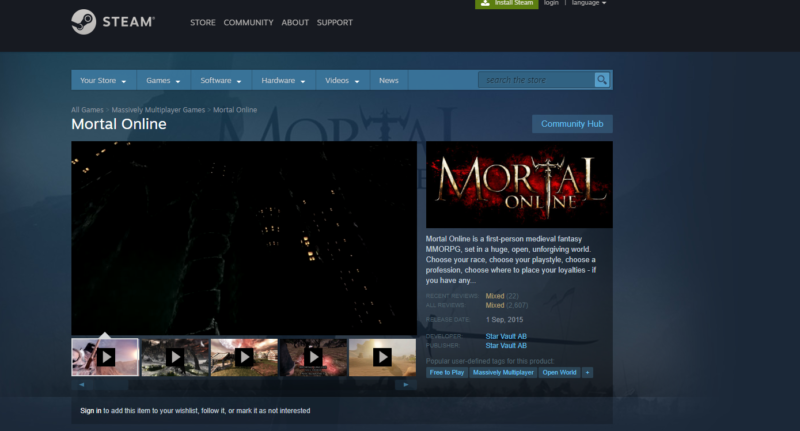 Another alternative to Runescape is Mortal Online. This game has outdated graphics and a few optimization problems, but if you manage to go past them, you will find yourself in a well-thought out world ready for exploration.
Mortal Online is also brutal, as you can kill anyone anywhere and steal from whoever you encounter if you manage to.
You can also lay sieges, conquer cities, bribe guards, tame animals and a lot more. In-game mechanics have been developed to the bone and you can find something to do even if you don't like fighting.
However, you can find a lot to do if you decide to take advantage of everything this game has to offer.
10. Wartune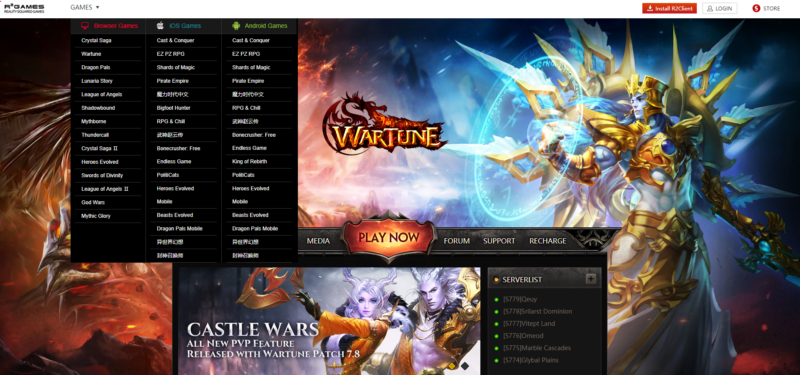 One thousand years ago a god named Yaros led an army against the Yaloran Empire. The war turned the land into a barren wasteland and it falls upon players to save humanity and defeat the divine terror, Yaros.
Wartune offers three classes, beautiful 2D artwork, and it is what some would argue, 100% free-to-play. Until recently Wartune was considered a highly pay-to-win game.
However, some players have mentioned that developers have fixed this issue and you can easily progress through the game without spending anything.
11. Planeshift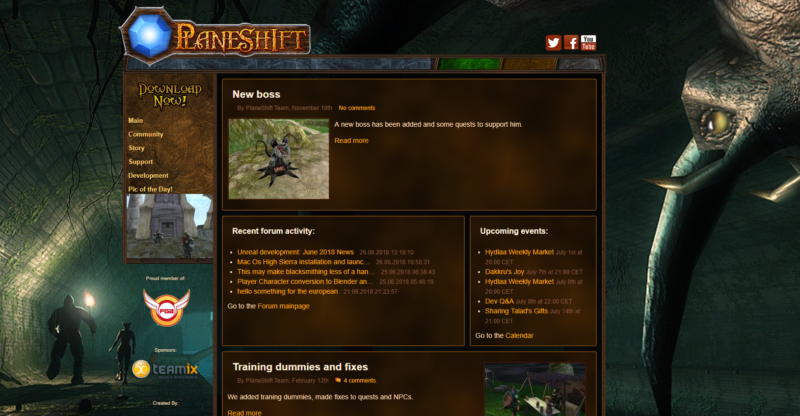 Planeshift players begin in a city called Hydlaa and they are given nine races to choose from. Each race has special characteristics and other than classic types like humans and elves, Planeshift also features humanoid characters made from rocks and other weird creatures.
Planeshift offers similar features to other MMORPGs but it also has a little twist. You can learn about the underground world by reading books and speaking to NPCs.
The latter is especially interesting because of the way you can answer in conversations. In Planeshift you can answer via freeform text entry.
12. Eternal Lands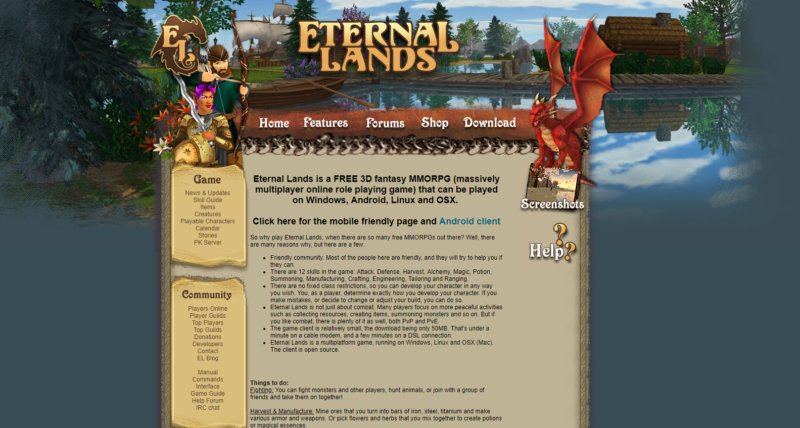 Eternal Lands is a free-to-play MMORPG set in a medieval-fantasy world. This game offers three races or more if you are aiming for the paid upgrade.
There are two things that set Eternal Lands apart from the rest of the MMORPGs.
The first is that there are no classes. Players can learn all the available skills and find a playstyle suitable for them. Another great feature is that Eternal Lands is an open-source game.
The community can add, edit, and mod the game, however they see fit. Because of this, the game has been in a beta stage for a long time, but it is completely playable already.
13. Last Chaos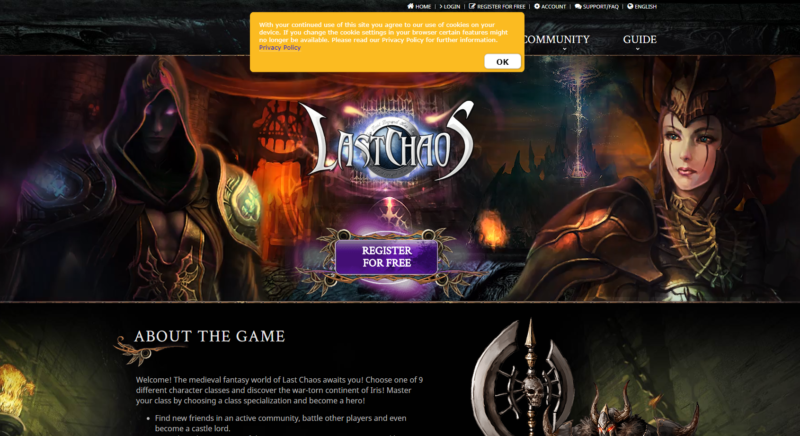 Last Chaos is a classic MMORPG. There are six classes to choose from. Players can create parties, guilds, craft, solve quests, and own pets.
Quests are also mostly repetitive in a "kill 20 monsters" type. You can upgrade your gear by obtaining upgrade stones from monsters, other players, or a shop.
However, there is a little more Last Chaos offers and that lies in pets. The pets you can own are fantastically versatile. Choose from horses, dragons, polar bears, pandas, succubae, and jaguars.
14. Ultima Online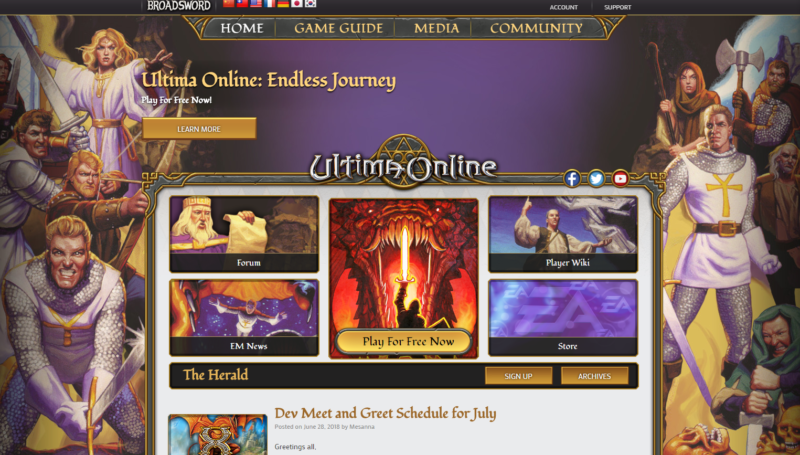 Another game similar to Runescape is Ultima Online, which is an older game released in 1997 by Origin Systems. Since its release, Origin added eight expansion packs.
Ultima Online: Kingdom Reborn, an expansion pack introduced in 2007 brought an innovative game engine with fresh visuals.
Ultima Online is well-known for its extensive player-versus-player combat. Hence, there are two kinds of servers.
Normal servers like Trammel and Felucca with consensual and non-consensual PvP respectively. But there are also siege servers with non-consensual PvP and without item insurance.
15. Drakensang Online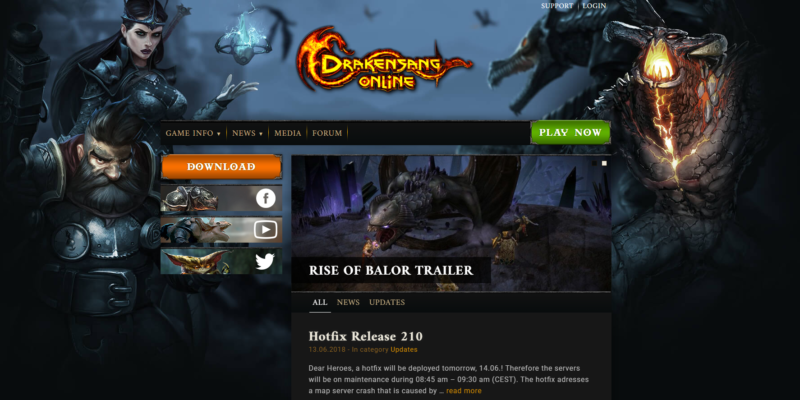 Drakensang Online is a freemium online role-playing game and one of the few developed in the European Union. Currently, there are around 35 million registered accounts.
However, since multiple registrations are available it is hard to tell how many actual players are active at a given time.
It offers a gameplay similar to Diablo and over the years Drakensang has changed considerably. Soon after its release, Drakensang was considered as the best new browser MMO and in 2012 it won a "best browser game" award at the German Video Game Awards.
Considering it's a browser game, Drakensang offers neat graphics and in-depth gameplay. However, it lacks crafting, collecting resources, and diversity in classes for it to be closer to Runescape.
Best Games Like Runescape?
Many similar games to Runescape have been listed above (15 exactly). Runescape seems to be fading in popularity these days. Note: This article was written before Old School Runescape came into existence.
Perhaps it's time to check out other alternative games. One of the top games mentioned above is undoubtedly World of Warcraft (current or classic). It's an awesome game, but sadly it's not free. There has also been new games released since this article was written.
---
Related articles:
Games Like Animal Jam To Play Today