Whether you just need something new or you've been stuck on the same level for what feels like forever (we've all been there), we're here for you. Sometimes you need something that isn't Candy Crush, but still gives you all the feels and lets you indulge that need for semi-mindless gameplay on your coffee break or while walking to your next class.
We've collected what we feel are the ten best games like Candy Crush for these purposes. They're all great fun all on their own, and they're similar enough to CC to appease hardcore fans while still being independently awesome games all by themselves. Say hello to your new addictions!
10 – Puzzle and Dragons

Platform: Android, iOS; Free with in-app purchases
This one is definitely a cross-breed, combining our old favorite match-three game format with elements of a RPG and even a dungeon crawler. In P&D, you begin life as a monster. An adorable one, of course, whose color represents either water, fire, wood, dark or light. You then play match-three games in order to attack monsters.
While this sounds fairly simple, P&D is actually the most involved game on our list. By capturing and combining monsters (feeding them to each other) you can create super-monsters with powers otherwise unavailable. You can invite friends to join and become monsters you can use to defeat other monsters, use attack multipliers, and use tons of other strategies that you never thought you'd find in a match-three.
There's a reason why so many forums and other sites dedicated to P&D have popped up – this is one addicting game!
9 – Triple Town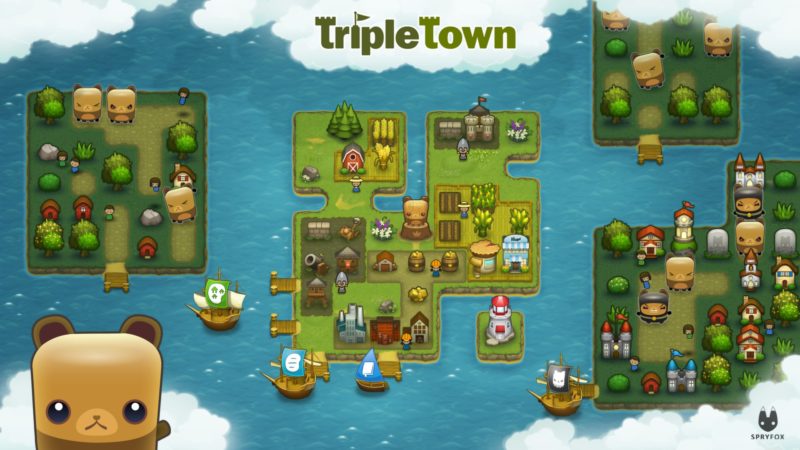 Platforms: Android, iOS, Kindle Fire, PC, Mac; Free with in-app purchases
Cute, adorable and addictive as all hell, Triple Town is a great choice for those who like their games with a side of square-shaped teddy bears. And really – be honest now – who doesn't? Triple Town is not a match-three but a town builder, with a heavy puzzle-solving element. The object is simple: place items into a 6×6 grid. When three like items touch, they combine and turn into a new, better structure, which frees up more space and earns you points.
Another deceptively simple game, this one sounds easy as pie but has oceans of detail lurking just beneath the surface. Give it a shot – you'll be glad you did – until it keeps you playing straight through lunch and you end up hangry. You've been warned.
8 – Puzzle Quest 2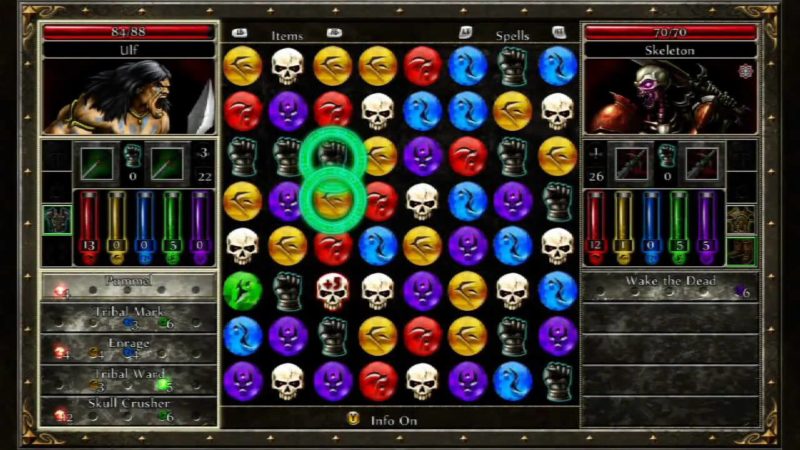 Platform: Android, iOS, PC, Mac; $2.99
Our only paid entry, we feel that the small purchase price is well worth all the hours of enjoyment you'll get out of Puzzle Quest 2. Literally created by taking the immense popularity of Bejeweled and adding elements of more involved console and online games, Puzzle Quest 2 is ideal for traditional gamers who want something a bit less involved to play during breaks or on the commute home (on public transport only, please!).
The premise is quite simple. You perform odd jobs while hunting down a murky, mysterious evil. The match-three element is quite strong in this one, but there are multiplayer modes, spells to learn, dungeons and a truckload of other features you just can't find in a traditional match-three.
7 – Bejeweled Blitz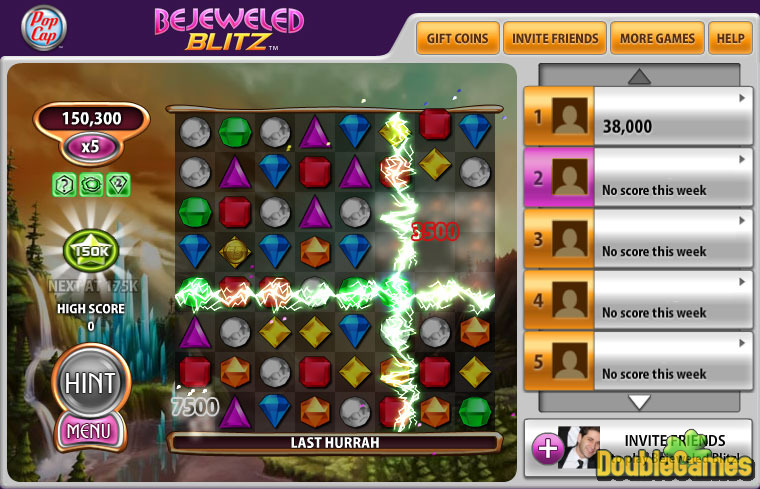 Platform: Android, iOS, Kindle Fire, PC, Mac; Free with in-app purchases
Descended from one of the most popular match-three games of all time, Bejeweled Blitz is a worthy follow-up to the juggernaut that is Bejeweled. It's a match-three in possibly it's purest form, simply asking you to match like jewels within a time frame. The more you match, the more rewards you rack up. You can create special jewels by matching more than three jewels in a row, which in turn earns you more points.
Trying to beat the sixty-second time clock is uber-addicting, and a nice twist on the match-three genre. Playing against friends always makes things more fun, so be sure to bug all your buddies until they download it. When they become addicted they might hate/love you for it, but trust us, it'll be more love.
6 – Candy Crush Soda Saga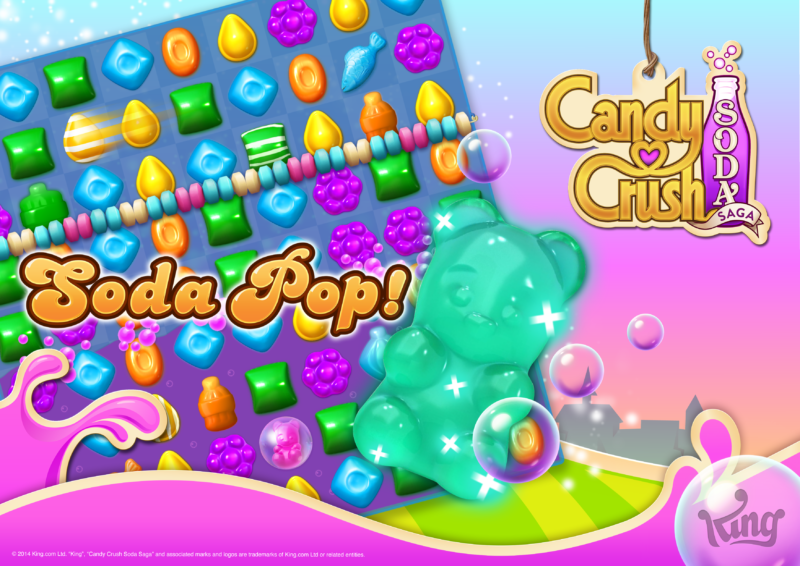 Platform: Android, iOS, Kindle Fire, PC, Mac; Free with in-app purchases
You didn't think you'd get through this entire list without finding at least a couple other games in the Candy Crush family, did you? Of course not. And this is one we just know you're going to love. Banding together with Kimmy on a quest for her lost sister Tiffi, you'll advance the search one brightly colored, sweet and fizzy board at a time.
There are new candies you've never seen in CC, along with brand-new challenges and modes to keep you just as addicted as CC ever did – possibly even more – all awash in an inexplicably smile-inducing splash of grape soda. You might as well just schedule that dental appointment now.
5 – Farm Heroes Super Saga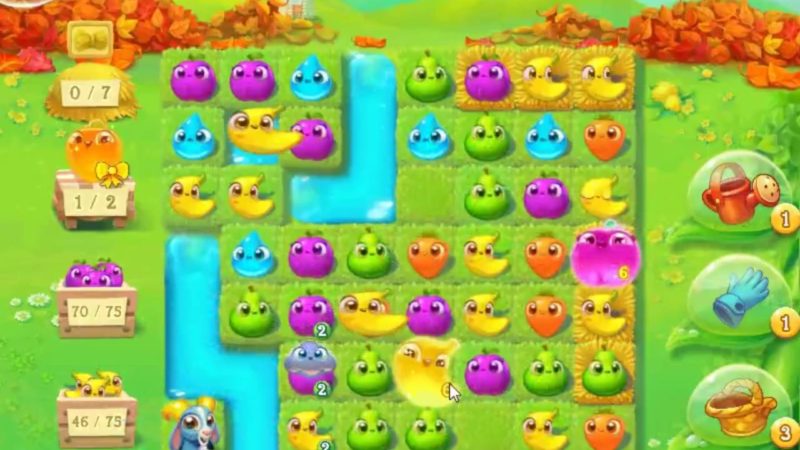 Platform: Android, iOS, Kindle Fire, PC, Mac; Free with in-app purchases
Whether you played the original or are making your first post-CC forage into the world of other match-three games, you're going to adore Farm Heroes Super Saga. The premise is simple and familiar to those who've played any of the King games. You match three items – farm-fresh veggies and fruits in this case – in order to earn points.
Matching more than three results in specialty items which are worth more points, and the higher you go, the more difficult the levels become. Your arch nemesis in this game is Rancid Raccoon, who's been winning all the Country Shows through cheating. Hurry up and match those fruits and veggies to defeat this enemy of all that is good!
4 – Candy Crush Jelly Saga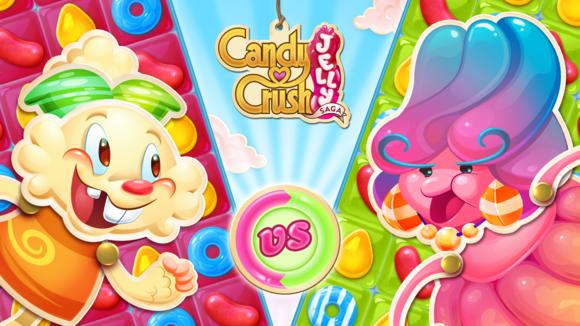 Platform: Android, iOS, PC, Mac; Free with in-app purchases
For those who want something that's about as close to CC as possible, Jelly Saga is the answer to your sugary-sweet prayers. Rescue the familiar Yeti, defeat the Jelly Queen and catch the infuriating Pufflers by matching three – and, of course, more if possible.
With new candies, new combinations and a host of new features that any match-three fan will enjoy, this one's a definite winner that will have you feeling as though you never really stopped playing Candy Crush, but just upgraded.
3 – Pet Rescue Saga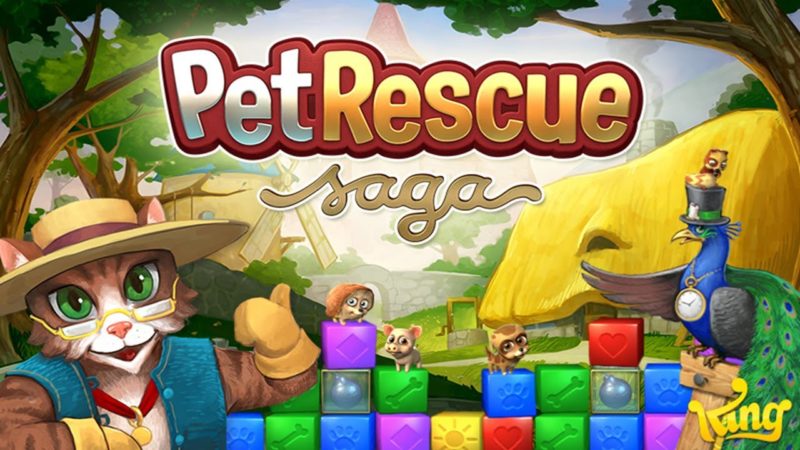 Platform: Android, iOS, PC, Mac, Kindle Fire; Free with in-app purchases
If you're an animal lover who also adores match-three games, then you're going to flip over Pet Rescue Saga. Another King game, this one uses a "lives" system instead of the more familiar "energy" system, which ultimately means that you can (probably) play for a longer amount of time at each stretch without purchasing upgrades. So where does the pet rescue part come in?
Impossibly adorable animals are stacked throughout the very familiar-looking gameboard. Each time you match three or more, the animals on top of those blocks drop accordingly. When one reaches the ground, it's free! However, this means that the ones on top can get squashed – avoid this at all costs. This is a great one for anybody who wants that match-three fix with a cute and cuddly twist.
2 – Tetris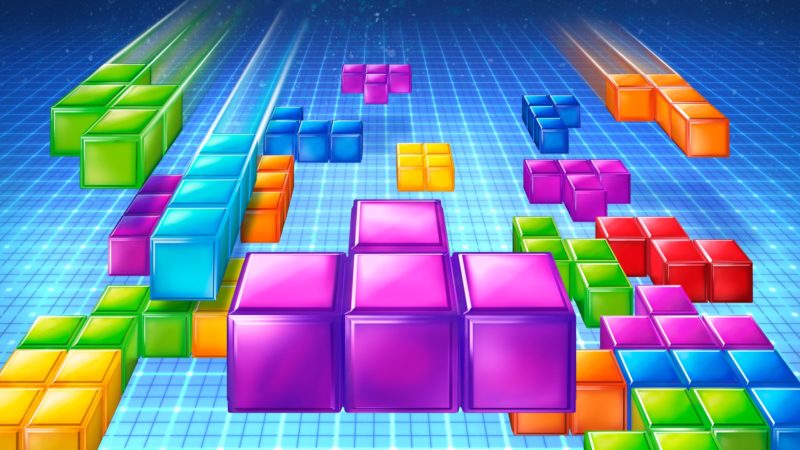 Platform: Android, iOS, PC, Mac, Kindle Fire; Free with in-app purchases
Yup, we went there. Back…way back. Back into time. Back to a day when Tetris reigned supreme and you gathered around the old non-HD TV watching your friends try to fit those endlessly frustrating pieces into some semblance of order. Tetris is still around, friends, and it's just as addicting as it ever was.
While obviously not a match-three, it could be argued that the immense popularity of this game sparked the idea of the match-three, many years ago. The premise is simple, for those who've never played or need a refresher. Differently shaped items fall from the top of the screen at varying speeds depending on what level of difficulty you're playing.
As they fall, tap to flip them around in order to form solid blocks across the bottom (no holes), which disappear as soon as they're completed. Like any of the traditional match-threes in this list, it's endlessly playable, highly addicting and sure to keep you entertained (and frustrated) for hours on end!
1 – Bubble Witch 3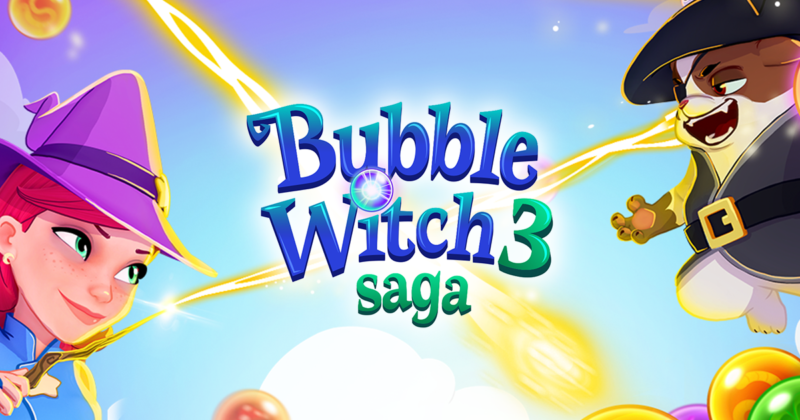 Platform: Android, iOS, Kindle Fire, PC, Mac; Free with in-app purchases
Although not new (or really old like Tetris), we picked this latest installment in the Bubble Witch franchise for some very basic reasons. For one, it's a very familiar match-three which nearly anybody can master the basics of in quite a short amount of time. Our other reason is the angle factor which anybody who's already played the earlier versions will be very familiar with but, for newbies, is a nice challenge to overcome.
You need to use your magic wand in order to pop the magic bubbles. It reminds us of calculating the angles used when sinking a tricky shot playing pool or billiards. That aside, there are the requisite bright colors and fun rewards, plus incredible combo shots, adorable ghosts and fairies which have to be freed. Naturally, there's also an evil nemesis in the form of Wilbur and tons of new worlds to explore. Game on, witches!
Best games like Candy Crush?
We've listed ten alternatives to the highly popular and iconic Candy Crush Saga.
If you do know of other better games to be listed here, do leave your comments below.
This article was written by a freelance writer.
---
Related articles:
Games Like League Of Legends: 10 Alternatives To Check Out
The Lego Movie 2: How To Defeat The Giant Alien Dinosaur
Top 10 Best Games Like Cards Against Humanity
Games Like Anthem: Top 10 Alternatives To Check Out
Kingdom Hearts 3: How To Mail Postcards