Forza Horizon 4 is dubbed as one of the best racing games ever introduced since its release a couple of days ago.
There are plenty of different types of races in this game and a huge open world map to do a free roam.
Furthermore, you can actually buy houses in Forza Horizon 4 and if not mistaken, there are 12 properties for sale right now.
Here are all of the locations of the houses (properties) in Forza Horizon 4.
Location of all properties in Forza Horizon 4
If you do know of any property apart from the 12 listed, do leave your comments below. Houses can be bought using credits (CR) and some are seriously expensive.
1. The Gables
This is the first property you will be introduced to in this game. The Gables will be available to you for free and if not mistaken, this was after you complete the Stunt Driver quest (level 1 or 2).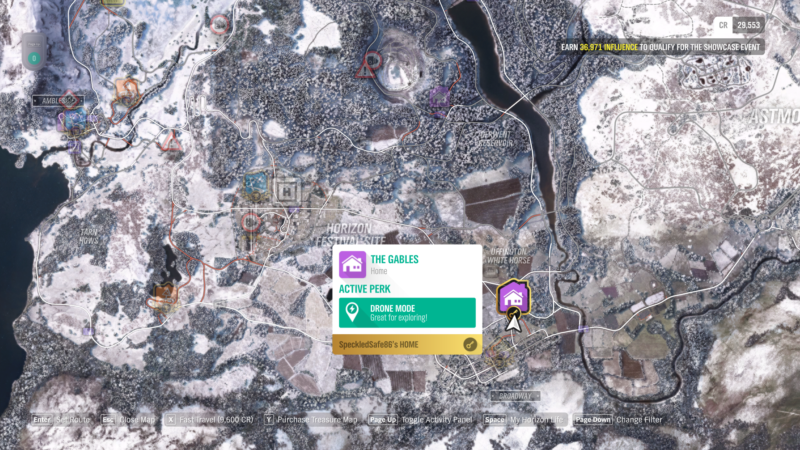 Price: Free / 0 CR
Reward: It unlocks drone mode that allows you to explore the map easily and find hidden stuff (e.g. barn finds) without using your car.
2. The Huntsman's Lodge
Next up is the Huntsman's Lodge, which is one of the harder properties to find. It's located right in the middle of a thick forest with trees that obstruct your car.
Look for Lakehurst Forest and the exact location is as shown in the screenshot.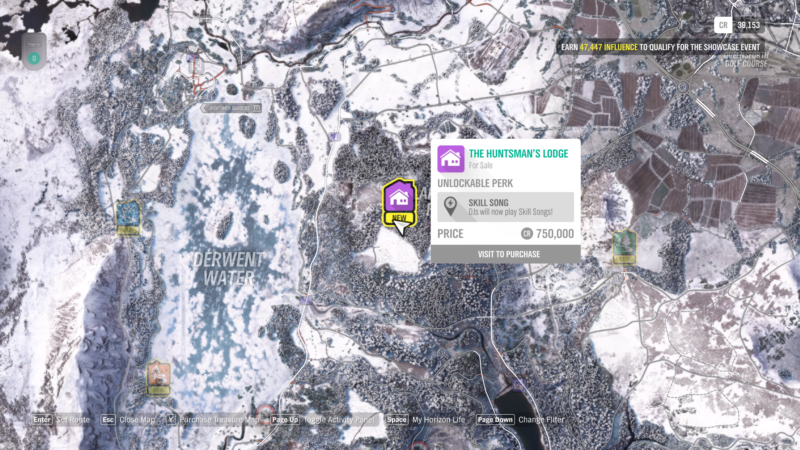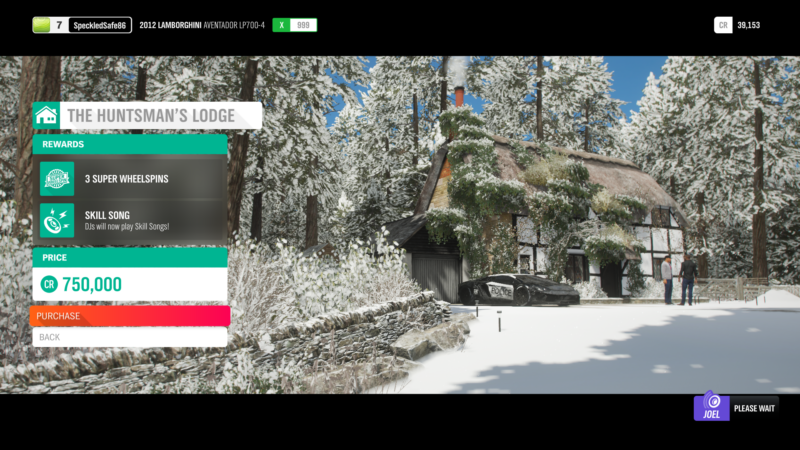 Price: 750,000 CR
Rewards: 3 Super Wheelspins and Skill Song (meaning the radio DJs will start playing skill songs).
3. Sunflower Meadows
Sunflower Meadows is one of the cheaper houses and it's located at Ambleside inside the town area. It's just at the bottom of Derwent Water.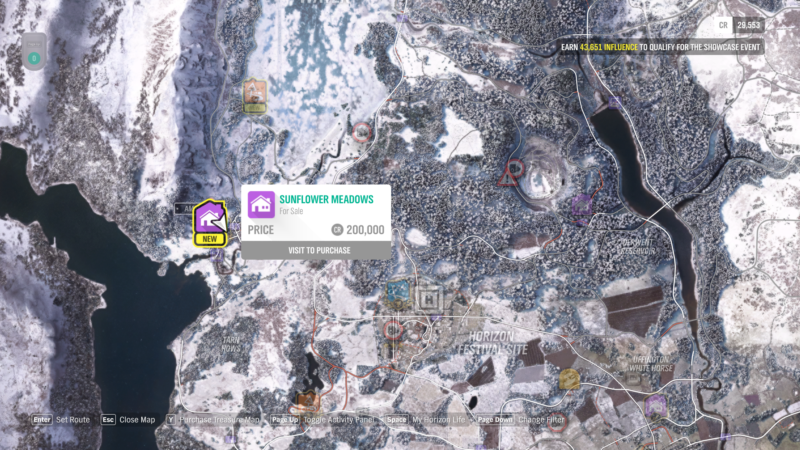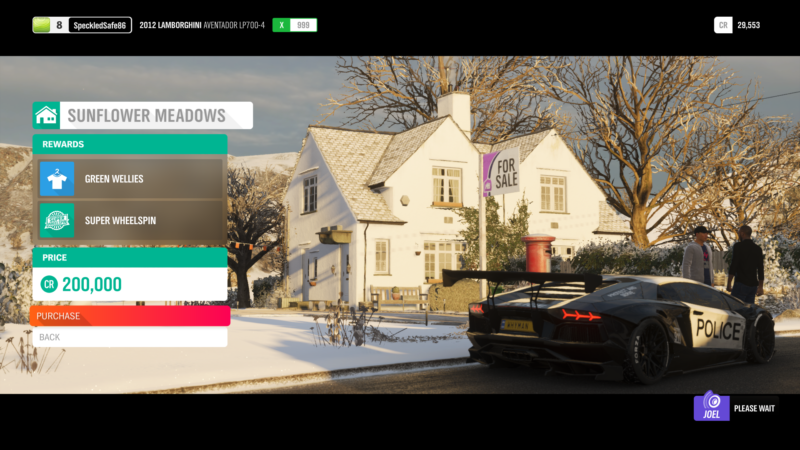 Price: 200,000 CR
Rewards: Green Wellies T-shirt and 1 Super Wheelspin.
4. Lake Lodge
Lake Lodge is a house located right above Derwent Water and it's pretty expensive. Just follow the screenshot below.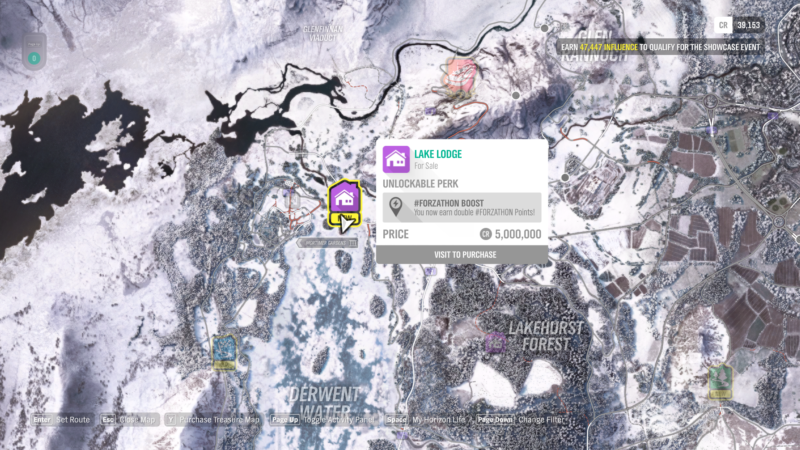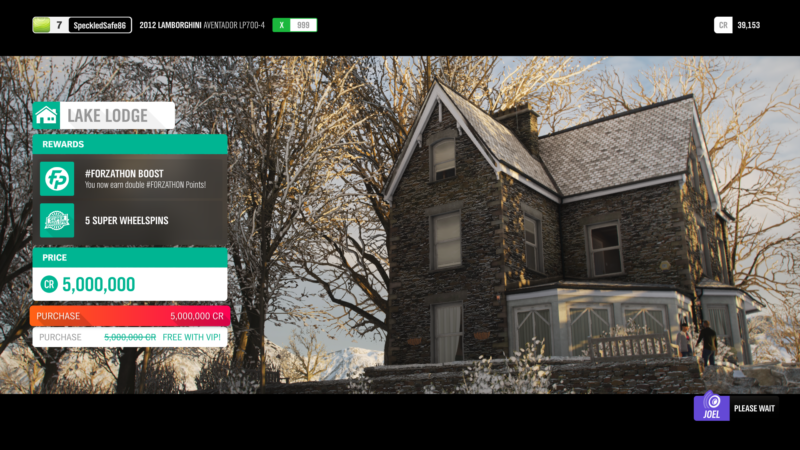 Price: 5,000,000 CR
Rewards: You will earn double Forzathon points from then on and also 5 Super Wheelspins.
5. Kingfisher Cottage
Kingfisher Cottage is located northeast of Horizon Festival Site or another way to put it, northwest of Derwent Reservoir.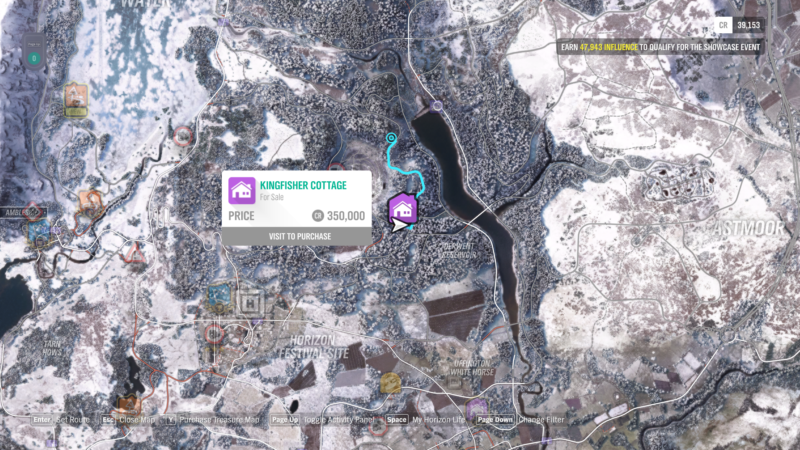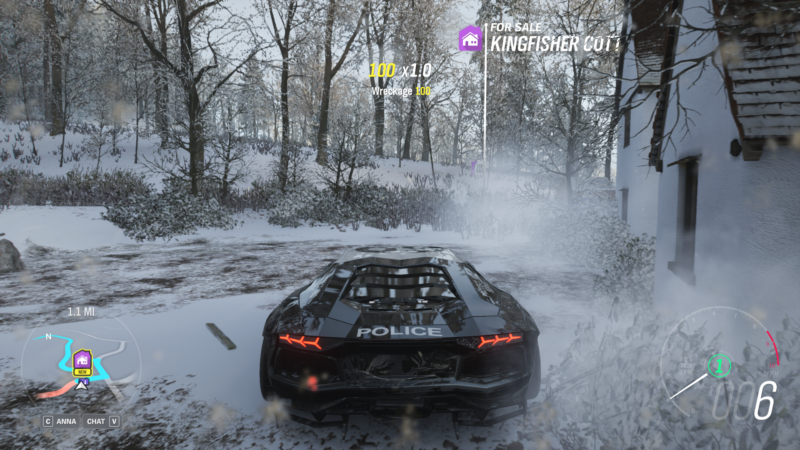 Price: 350,000 CR
Reward: 1 Wheelspin and 1 Rubber Ducky Horn.
6. Derwent Mansion
Derwent Mansion is located at the southwest side of Derwent Water. It's marked in the map as shown below.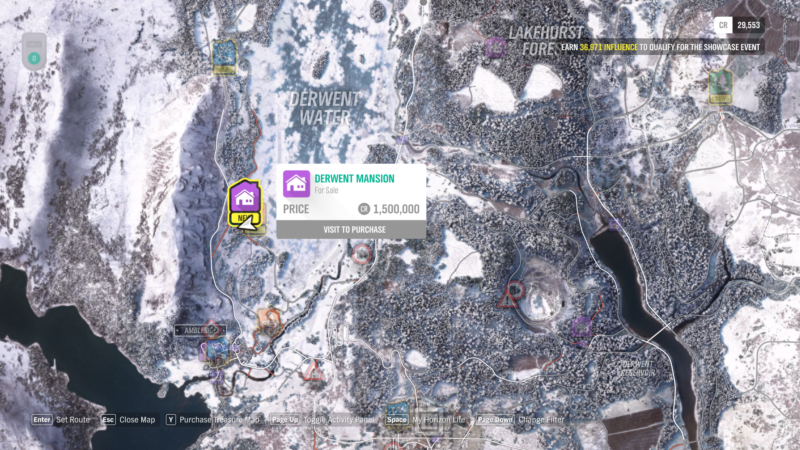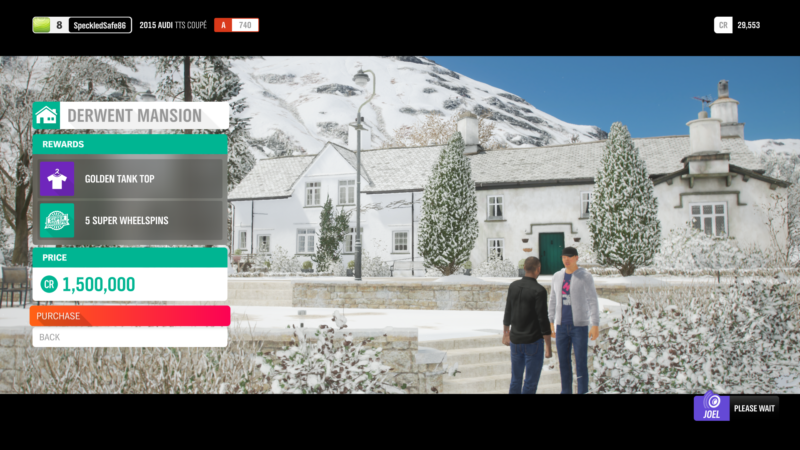 Price: 1,500,000
Rewards: 5 Super Wheelspins and 1 Golden Tank Top (t-shirt).
7. Edinburgh Castle
Edinburgh Castle is located in the middle of the Edinburgh city as marked in the map below. The entrance may be a little confusing and you have to go a big round just to find the entrance (since there are walls surrounding the castle.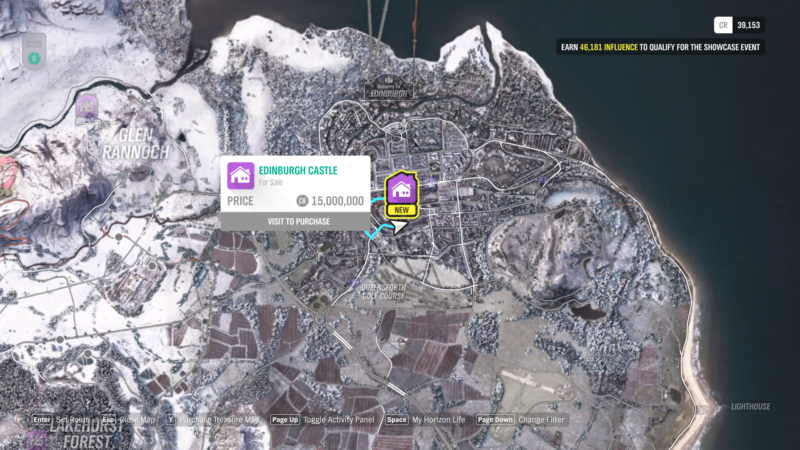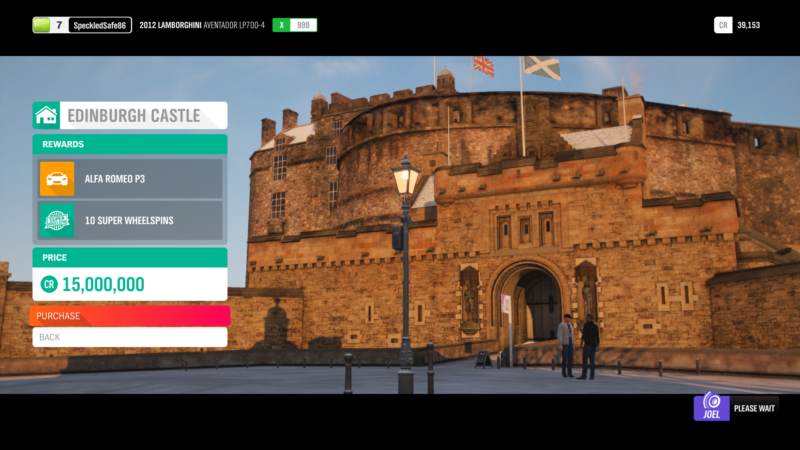 Price: 15,000,000
Rewards: 10 Super Wheelspins and 1 Alfa Romeo P3 (car).
8. Croftdale Farm
Croftdale Farm is another budget house in Forza Horizon 4. This property is located northwest of Glen Rannoch (which is high up the map).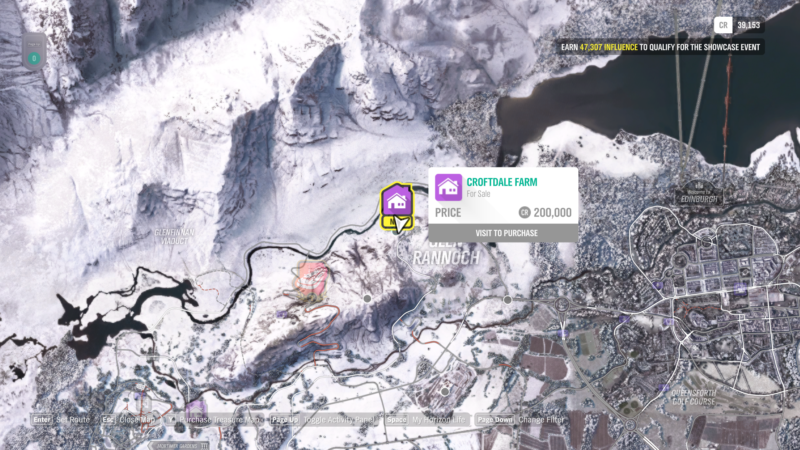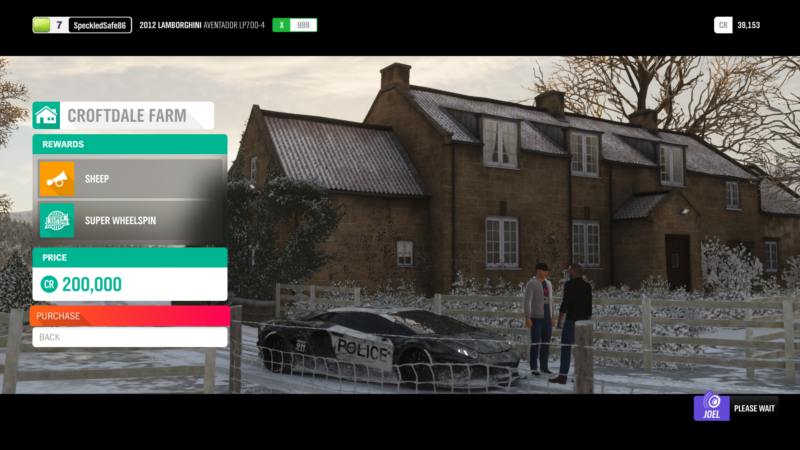 Price: 200,000
Rewards: Sheep Horn and 1 Super Wheelspin.
9. Thatch Corner
Thatch Corner is located at a beach side, on the east side of the map. It's exactly east from the words Astmoor on the map.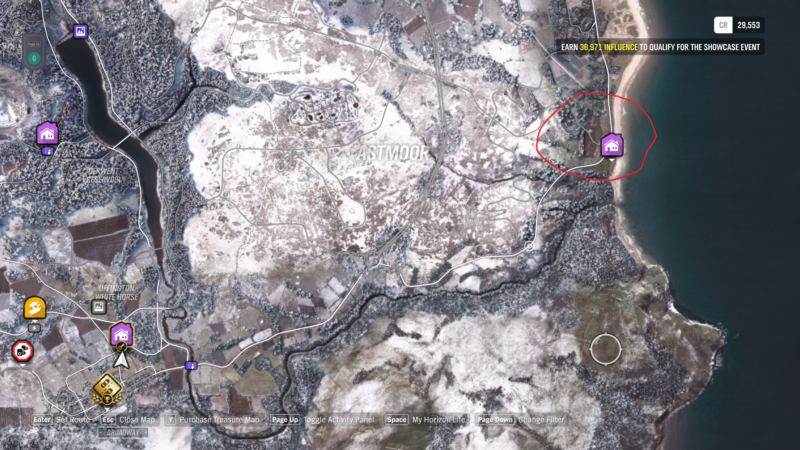 Price: 500,000 CR
Rewards: 2 Super Wheelspins and unlocks the phrase "Are We There Yet?".
10. Castleview Road
It is located at the northwest of an airstrip, but it's easier to just follow the image below.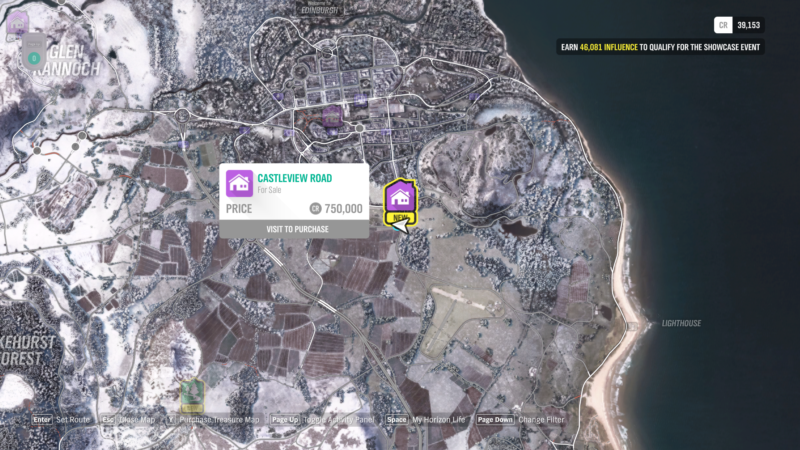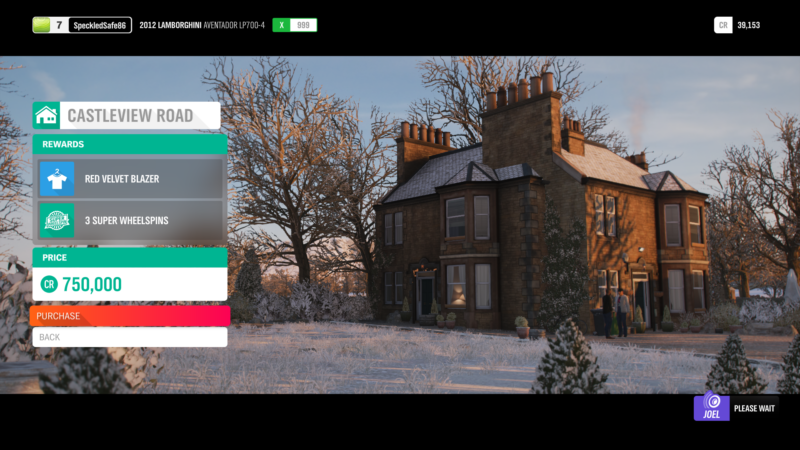 Price: 750,000
Rewards: 1 Red Velvet Blazer and 3 Super Wheelspins.
11. Fairlawn Manor
Fairlawn Manor is another expensive property in Forza Horizon 4 and it's located southwest of the Queensforth Golf Course.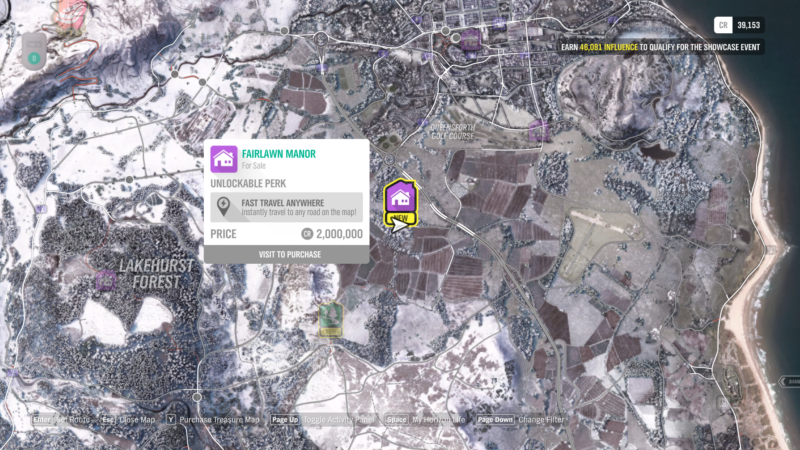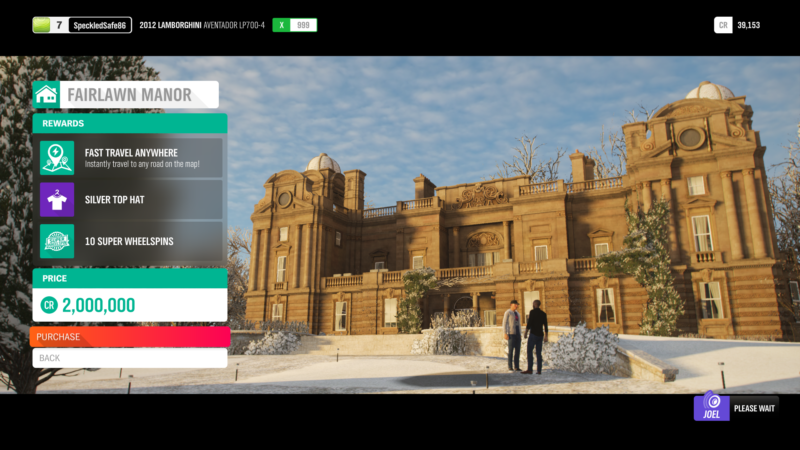 Price: 2,000,000
Rewards: Fast travel anywhere, a Silver Top Hat and 10 Super Wheelspins. By far one of the best rewards for convenience due to the fast travel abilities.
12. Bamburgh Castle
Lastly, Bamburgh Castle is located on the same road as Thatch Corner. It's at the beach side, where if you go north from Thatch Corner, you won't miss it.
The location is also mentioned in the map itself, just look at the words beside the beach (in the map).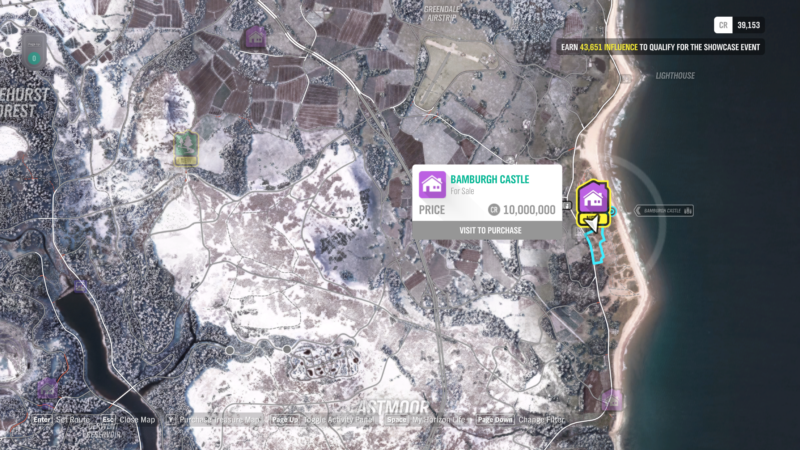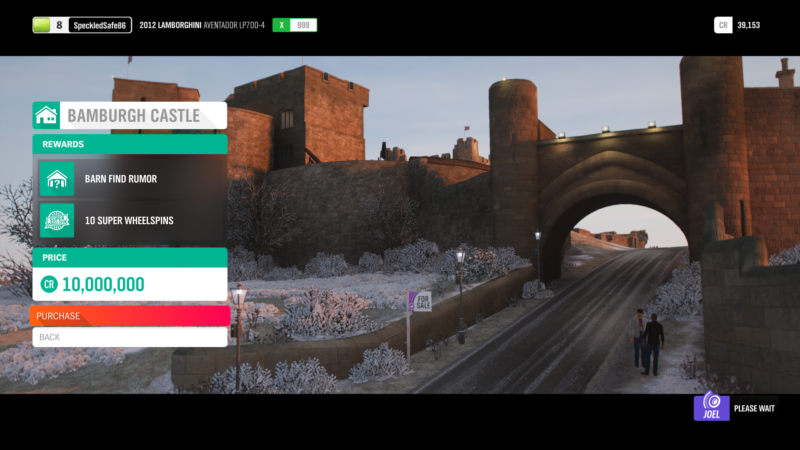 Price: 10,000,000
Rewards: 10 Super Wheelspins and Barn Find Rumor.
Other property locations in Forza Horizon 4?
If you do know of any property not listed here already, do let us know in the comments below.
---
Related articles:
All Barn Find Rumors – Forza Horizon 4
Forza Horizon 4: Best Cars In The Game (Fastest Cars)
Forza Horizon 4: How To Redeem Cars In DLC Packs
Location Of All Fast Travel And Influence Boards In Horizon 4
Forza Horizon 4: How To Earn Influence Fast (Guide)