Death Before Dishonor is a side quest in Torment of Hades under Assassin's Creed Odyssey.
Your task is to help a fallen Athenian find his path by defeating him in a proper battle.
Here's a walkthrough of Death Before Dishonor in AC Odyssey.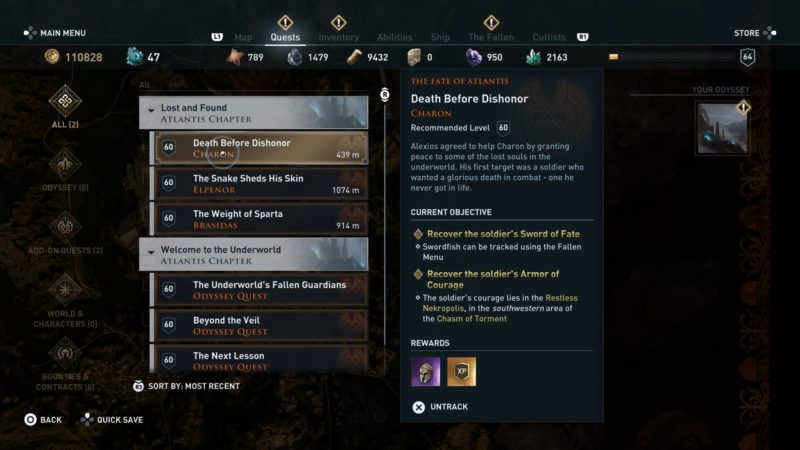 This quest is recommended for level 60 and above, but it differs according to your level.
Meet Charon
To begin the quest, you have to meet Charon the Ferryman. His exact location is shown in the map below, marked as the exclamation symbol.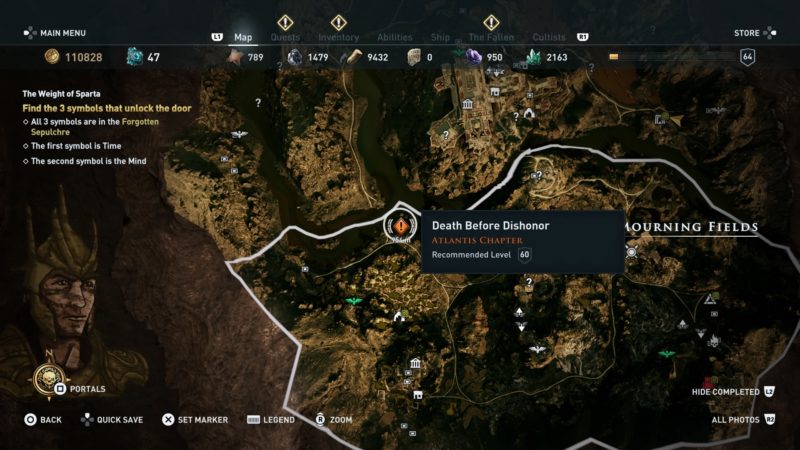 Talk to him and a cutscene will load.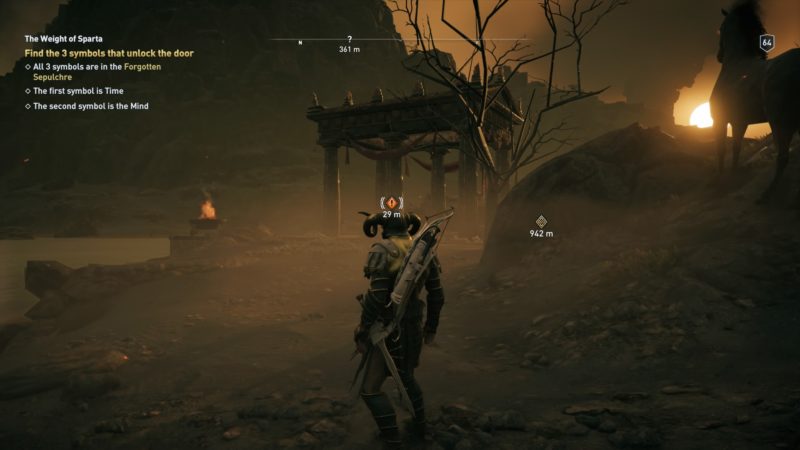 Recover the soldier's Sword of Fate
The first thing you have to do is to recover an Athenian's sword. Apparently it was taken by Swordfish.
The exact location of Swordfish is shown in the map below.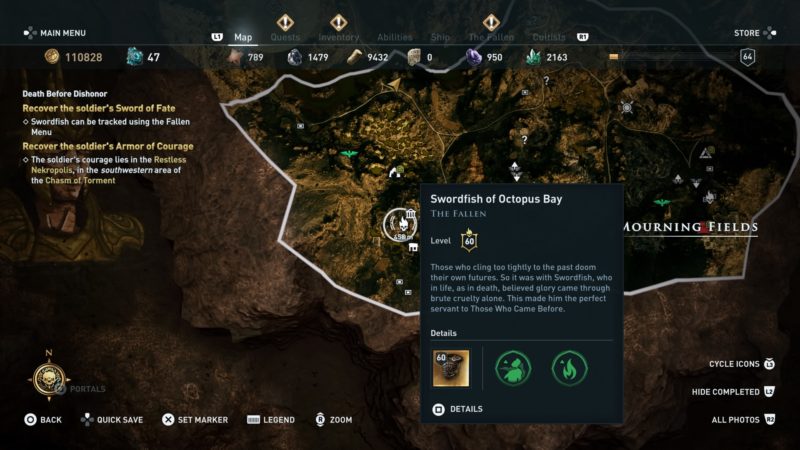 Defeat Swordfish
To retrieve the sword and to get the Chestplate of the Fallen, you need to defeat Swordfish.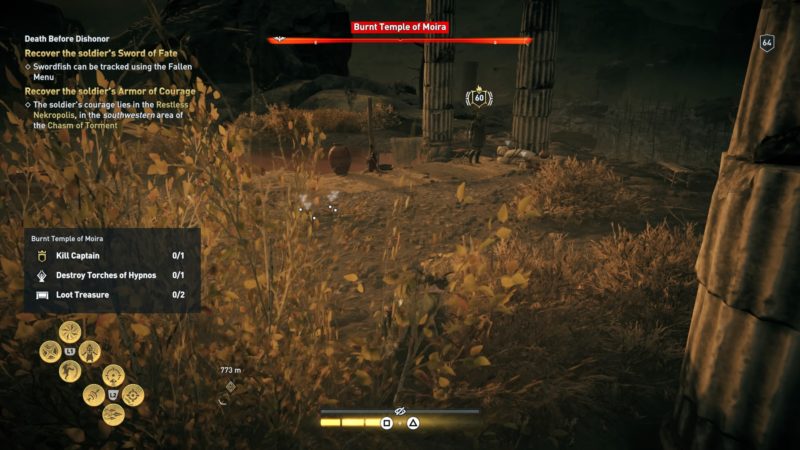 Swordfish is quite easy to fight but his HP bar is quite long.
You can actually just kick him off the cliff using your skill, and he'll lose most of his HP, if not dead.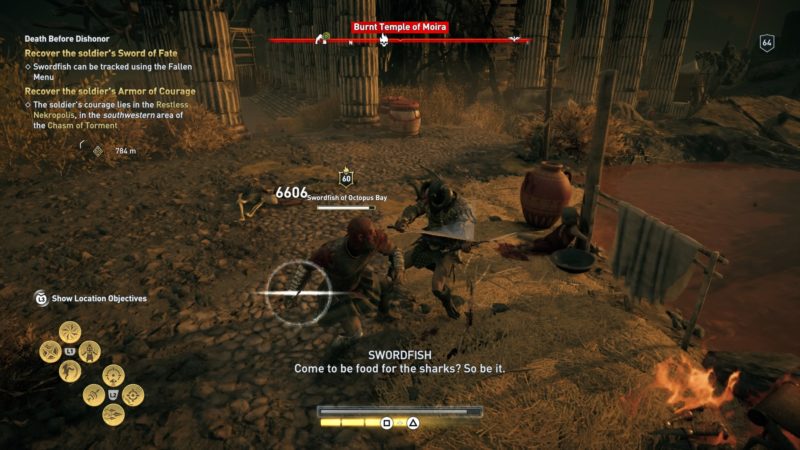 After killing him, you'll get the Sword of Fate and the chestplate of the Fallen for your other quest.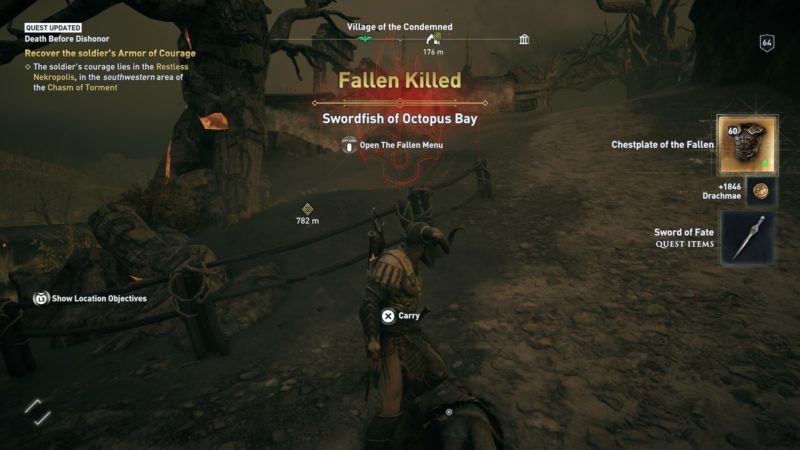 Recover the soldier's Armor of Courage
Next, you need to get the soldier's armor back. Go to the Chasm of Torment at the exact location shown below.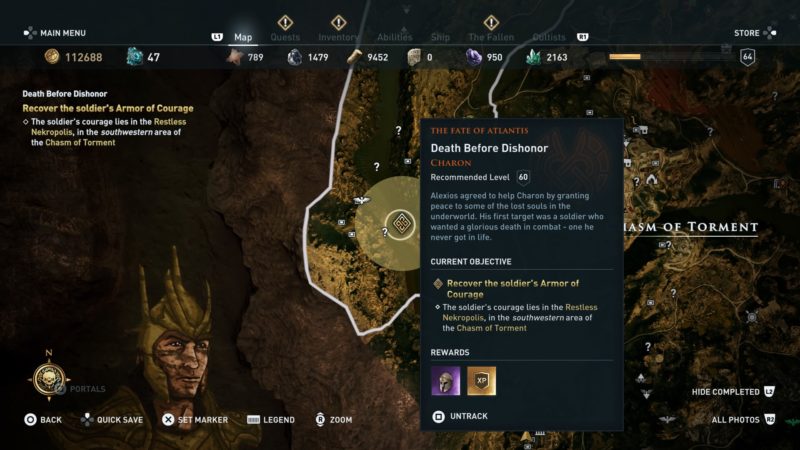 When you get close, use Ikaros to pinpoint the location. The cave is right beside the river.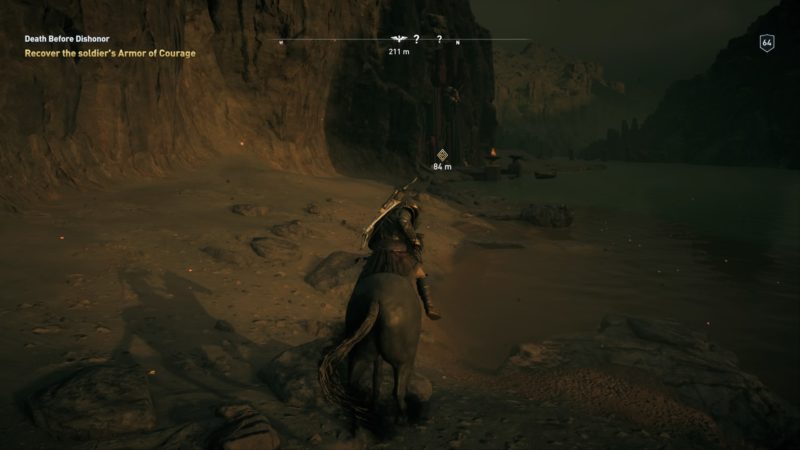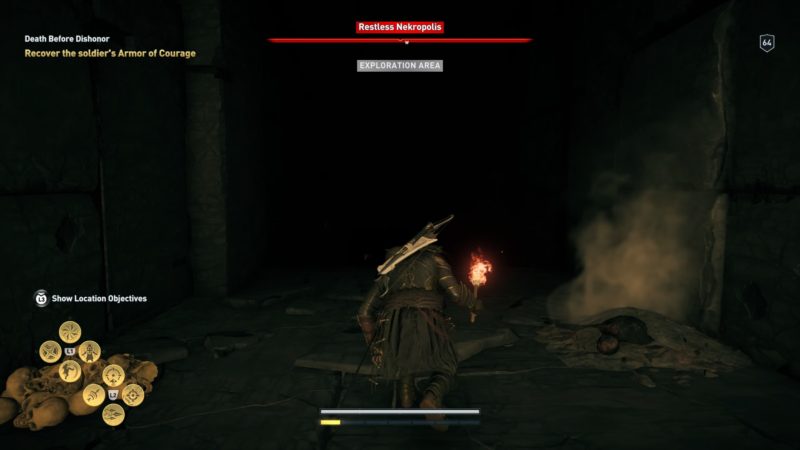 It's pretty dark inside and there'll be escaped souls.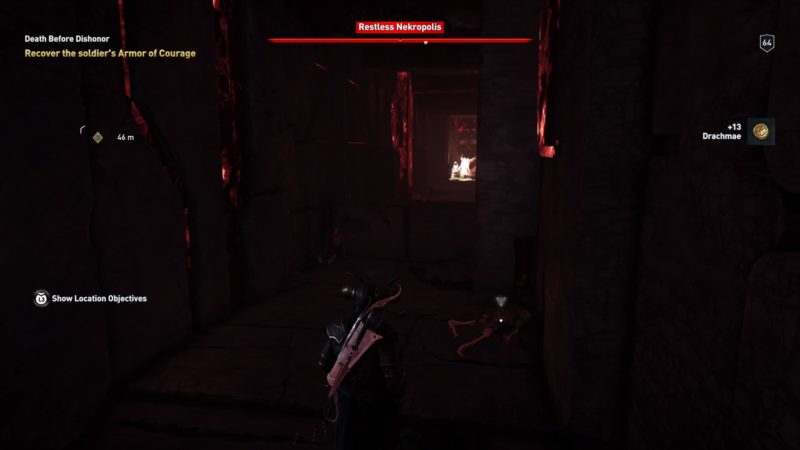 To kill the souls, enter the Rift first. Eliminate them and the Rift is sealed. You'll get an ability point for each Rift you seal.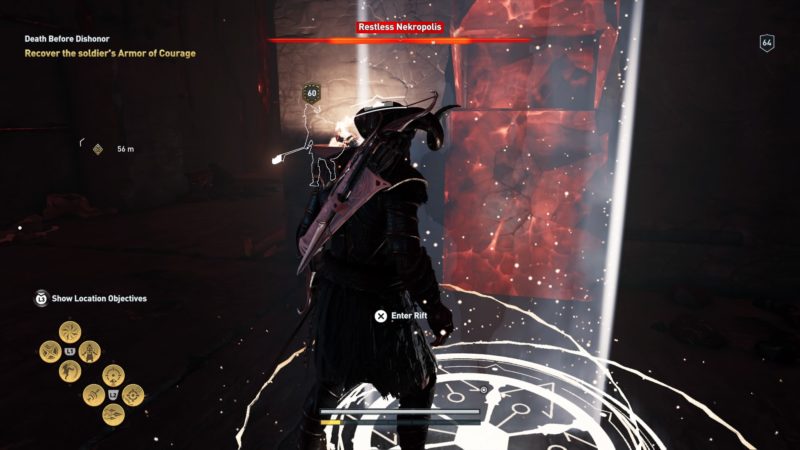 After eliminating the escaped souls and some snakes, keep going until you reach a room with the chest at the end.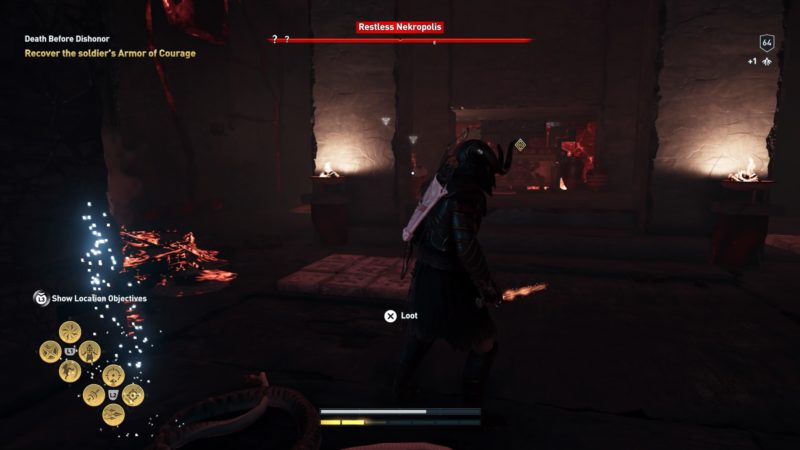 Loot the chest and you'll get the Armor of Courage.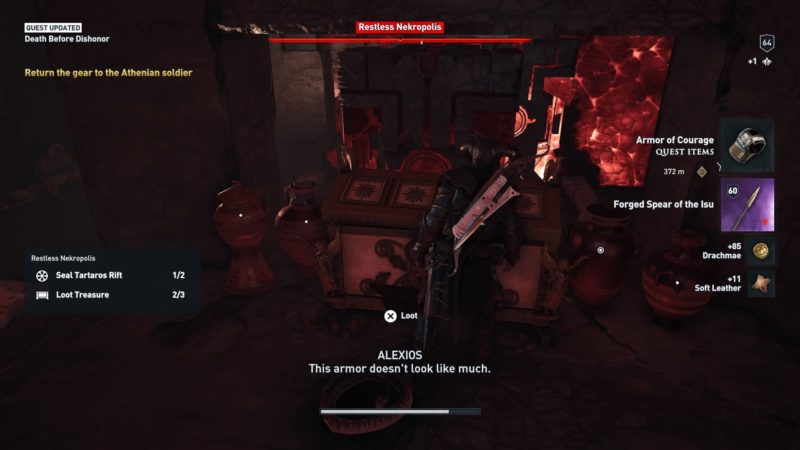 Return the gear to the Athenian
Now, look for the Athenian. He's in the Mourning Fields, at the exact location shown in the map below marked as the quest symbol.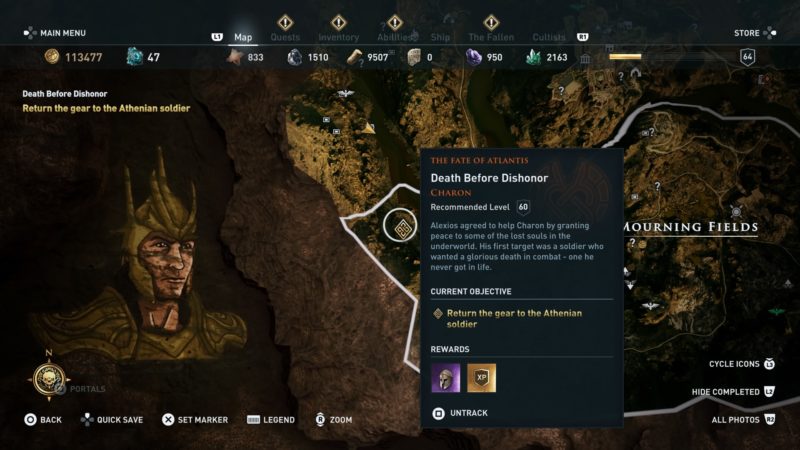 During the conversation, I chose to lie and say that Athen is safe (although there was a plague). It doesn't seem to be an important choice.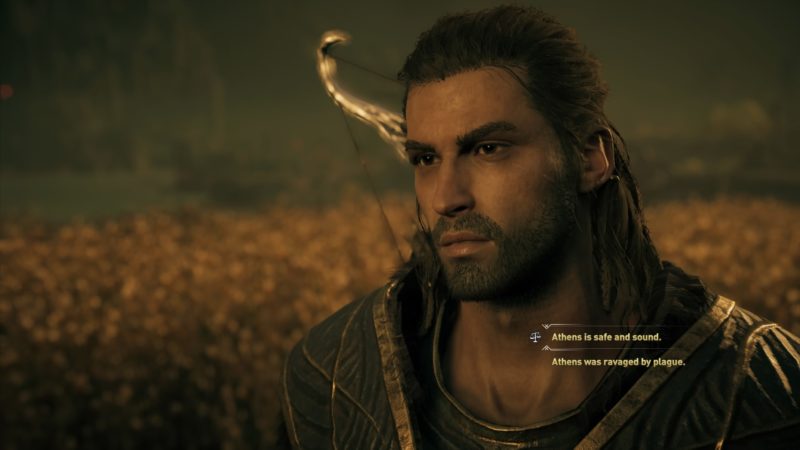 Defeat the Athenian
To give him a proper send-off, defeat the Athenian in battle.
His moves are simple and predictable, but his HP is very long.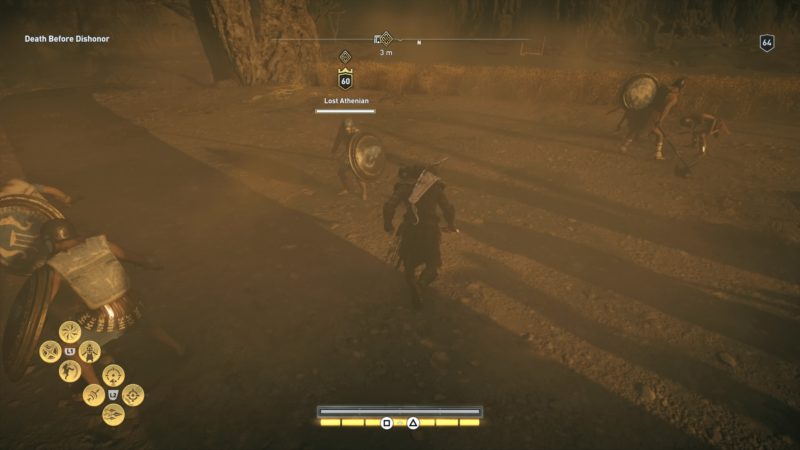 Also, there are other soldiers who will attack you.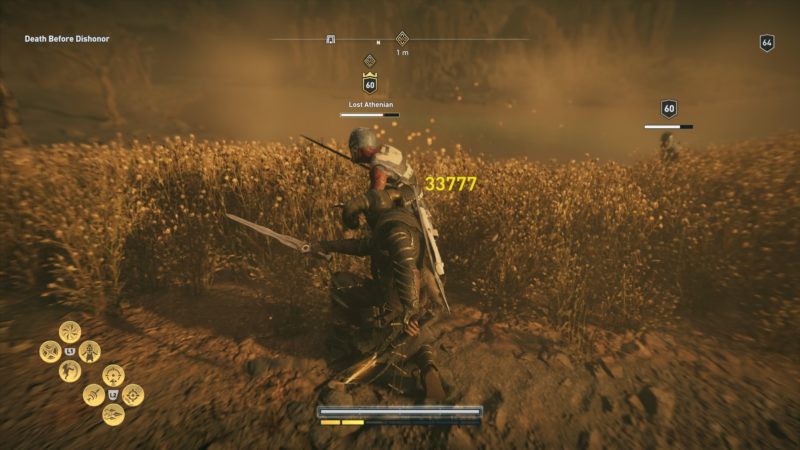 The quest completes after you've defeated him. You'll get a Lost Soldier's Helmet.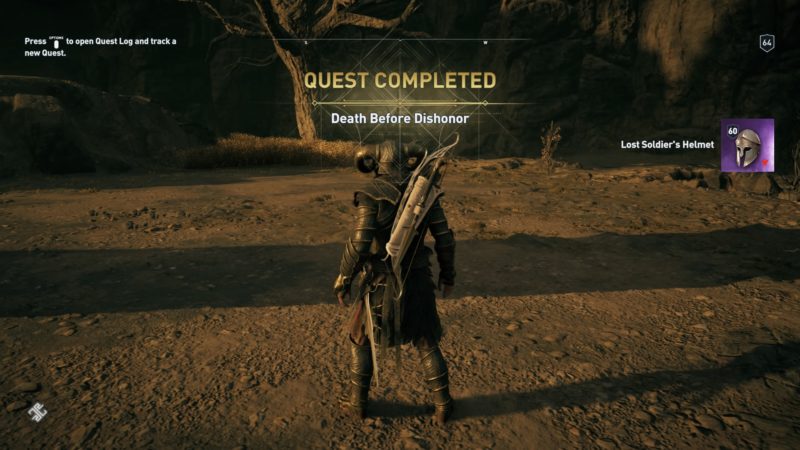 ---
Related articles:
Fallen From Grace: Assassin's Creed Odyssey Walkthrough
Best Turn Based Games Of All Time [Updated 2019]
The Weight Of Sparta: Assassin's Creed Odyssey Walkthrough
I Don't Belong Here: Assassin's Creed Odyssey Walkthrough
How To Get Armor Of Fallen Set (Beyond The Veil) – AC Odyssey
Worst Anime Films and Shows Ever