The story of Japanese whiskey is a little bittersweet. The making of Japanese whiskey is heavily focused on quality and tradition, producing great whiskey over the years since the first whiskey distilleries were established in Japan around 1870 by the founder of Suntory, Shinjiro Torii.
Many have followed suit after him, more notably the founder of Nikka, Masataka Taketsuru. Their legacies remain today in the whiskey brewing techniques that they developed over many years, passed down to generations of Master Brewers.
Some of these techniques were departures from the Scottish style of brewing whiskey which further increased its appeal in the international market.
However, the quality of Japanese whiskey came at a price. The demand for Japanese whiskey rose quickly in foreign markets as word of the quality of Japanese whiskey spread.
Prices began to rise as well but the Japanese whiskey distilleries could not handle the demand over many of their stock. As a result, some of the aged whiskey brands have been discontinued in favor of whiskey brands that do not have an age statement.
This, together with the rise of smaller distilleries, has helped stabilize the market over Japanese whiskey while distilleries work to regain their stocks for the future.
The NAS whiskeys still carry the passion and quality that has become the standard for any Japanese whiskey maker and still sell very well today.
Here are some of the best Japanese whiskeys that are popular worldwide.
Note: There may be affiliate links below.
1. Nikka From The Barrel
Nikka From The Barrel made its American debut in 2018. It already possessed a strong impression as a high-quality bottle of whiskey long before reaching American stores by winning several awards from the World Whiskies Awards for several years in many categories.
It has an aroma of floral tones and fresh fruits, particularly of orange zest, green banana, and a slight hint of coconut. Adding a drop of water enhances the sweetness and the taste of oak in the whiskey.
It is bottled at 51.4% ABV. Nikka From The Barrel is a blended whiskey made from both grain and malt whiskeys from Nikka's Miyagikyo and Yoichi Distilleries.
It's a whiskey with a great taste that doesn't break the bank, making it a perfect holiday drink or gift.
2. Hibiki Japanese Harmony
Fans of quality whiskey may remember the days when the 12-Year-Old and 17-Year-Old Hibiki Japanese Whiskey were widely available. Those days are long gone since neither whiskey is in production following a strong demand that outpaced production.
In its place stands the Hibiki Japanese Harmony, a reminder of the 12 and 17-Year-Old Hibiki expressions.
It uses the same grain and malt whiskeys as the 12 and 17-Year-Old Hibiki expressions that came before it to great effect, resulting in an approachable whiskey with a 43% ABV and a taste of honey, orange peel, and white chocolate.
It is the creation of the Suntory Whiskey blending team through the mind of third-generation Master Blender Shingo Torii, the grandson of Suntory's founder, together with Shinji Fukuyo, Suntory's fourth Chief Blender.
This whiskey is made through a combination of at least ten grain and malt whiskeys. The whiskeys are aged in five different types of oak, notably including the rare Mizunara oak barrel which can cost over $6,000 per barrel.
The Hibiki Japanese Harmony itself is surprisingly affordable for the clean but complex impression it delivers.

3. Yamazaki 12-Year-Old
The Yamazaki 12-Year-Old is Japan's best-selling whiskey with the quality to match its popularity.
Since its first introduction into the market in 1984, the Yamazaki 12-Year-Old has been the receiver of several international awards.
Most notably, this whiskey received the Gold Award from the International Spirits Challenge in 2010 and the Double Gold Medal Award from the San Francisco World Spirits Competition in 2013.
It has a beautiful gold color and tastes of Japanese oak, vanilla, candied orange, peach, and a variety of other fruits at 43% ABV. The Yamazaki 12-Year-Old is Suntory's first great achievement in the world of international whiskey and its impact remains today in this beautiful, succulent, yet affordable bottle of single malt whiskey.
It serves as an excellent introduction to whiskey for novices and a good, reliable classic drink for long-time whiskey drinkers. The Yamazaki line also has an 18-Year-Old expression, a 25-Year-Old expression, and a Distiller's Reserve.

4. Kamiki Intense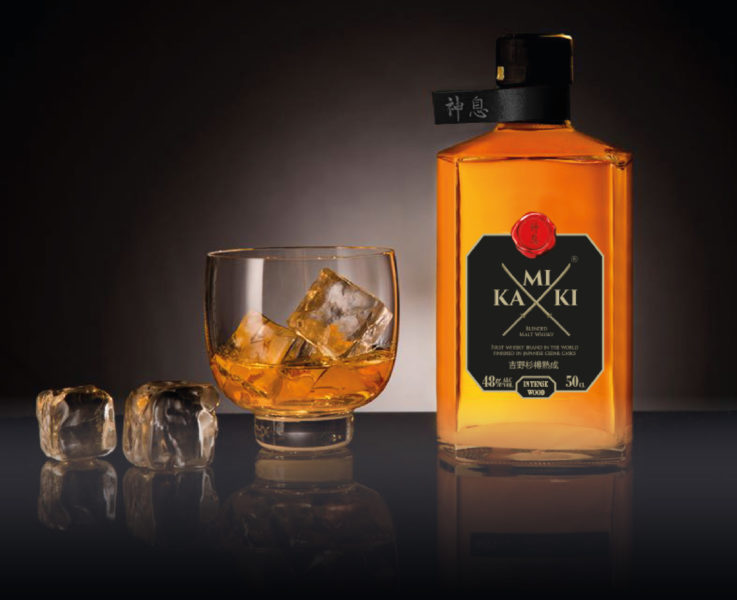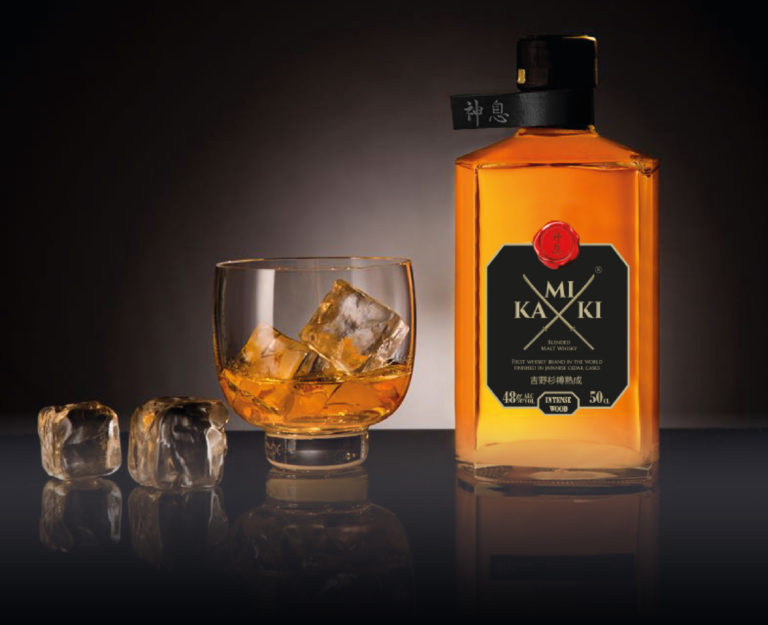 The Kamiki Intense is one of the newcomers to the Japanese whiskey scene. It was first introduced in 2018 as a bottle that can be purchased exclusively from online retailer Dekanta.
It follows the path of the multi-award winning Kamiki Original, famous for being the world's first Japanese cedar wood cask-finished whiskey. The Kamiki Intense spends a much longer time in the Japanese cedar cask, resulting in a stronger flavor and aromatic complexity.
It is a product of intense experimentation and is a departure from the standard rules set by the Scotch Whiskey Association which all Scotch whiskeys follow. This blended malt whiskey has an ABV of 48% and delivers an intense yet balanced taste of Japanese Cedar.
5. Hakushu Distiller's Reserve
The Hakushu distillery sits within the deepest forests of Mount Kaikomagatake in the picturesque town of Toribara. It was founded by Suntory's second Master Blender, Keizo Saji, as he followed his father's quest to develop new kinds of whiskey.
He found the soft and pure water in Hakushu to be excellent ingredients in making his whiskey. The Hakushu Distiller's Reserve captures this environment in the whiskey's look and taste.
It is a light gold whiskey in a deep green bottle and tastes of grapefruit, lemon thyme, and the yuzu citrus fruit. It is distinctly refreshing too, a great finish to reflect the distillery's locale.
The Hakushu Distiller's Reserve is a blend of whiskey, delicately peated malt, and heavily peated malt and has an ABV of 43%.

6. Chichibu Mizunara Reserve
Chichibu is a small distillery established by Ichiro Akuto, following the closure of the Hanyu distillery that was founded by his grandfather. Despite its size, Ichiro's Malt has been competing well against the bigger whiskey brands from Japan, namely Suntory and Nikka.
The Chichibu Mizunara Reserve, in particular, is aged in Mizunara oak casks. This gives it a very distinct sandalwood taste and a coconut aroma. The barrels themselves tend to be very expensive, resulting in the rising prices of whiskey made in these barrels like the Chichibu Mizunara Reserve.
Nonetheless, the whiskey remains widely popular across the globe. It is released in relatively smaller batches and can run out of stock just a few days after being on sale. The exact components used to make the whiskey remains unknown to this day, but it is most likely newer productions from Chichibu.
It has an ABV of 46% and has a bold, yet smooth taste of honey, citrus fruits, and a bit of spice.
7. Taketsuru 17-Year-Old
The Taketsuru line is one of Nikka's premium line of whiskeys. It is named after Nikka's founder, Masataka Taketsuru. It has consistently won awards in many areas, most notably winning the World's Best Blended Malt Whiskey award from the World Whiskies Awards in 2014, 2015, and 2018.
The Taketsuru 17-Year-Old is what is known in Japan as a "pure malt". This means that it is a blended malt with blends that come from different distilleries under the same company.
In this case, the Taketsuru 17-Year-Old comes from a select combination of malts from the Yoichi and Miyagikyo distilleries, the first and second distillery established by Taketsuru and both owned by Nikka.
The Yoichi distillery has similar features to the Highland in Scotland where Taketsuru first learned to make whiskey. It is surrounded by mountains on three sides and is close to the sea.
The Miyagikyo distillery sits near the junction of two rivers in a forest surrounded by mountains. The excellent water sources and environmental conditions near both distilleries combined with Japanese whiskey brewing techniques refined over generations gives the Taketsuru 17 Year-Old its award-winning qualities.
It has a strong kick of oak and spice with a hint of sweetness and has an ABV of 43%. The Taketsuru line also has a no age specified expression and a 21-Year-Old expression.

8. Hibiki 21-Year-Old
The Hibiki 21-Year-Old is arguably Suntory's best whiskey. It is a multi-award winning whiskey, crowned as the World's Best Blended Malt Whiskey by the World Whiskies Awards in 2010, 2013, 2016, and 2017.
In Japanese, the word 'Hibiki' means resonance, as if to resonate with the soul of its drinker. The idea behind the Hibiki line was to find a balance between a combination of Suntory's best whiskeys from its many distilleries.
The Hibiki line is the perfection of the art of blending. It is the result of the sampling of one million casks which were narrowed down to a blend of thirty mellow grain and malt whiskeys. The line was launched in 1989 in commemoration of Suntory's 90th anniversary.
The Hibiki 21 Year-Old has an ABV of 43% and tastes of honeycomb, dried apricot, Mizunara, and sandalwood. This line also includes a 17-Year-Old expression, a 30-Year-Old expression, a no age specified expression, and a limited edition Master's Select.

These Japanese whiskeys are among the best in the world. Go ahead and try a bottle today!
This article was written by a freelancer.
---
Related articles:
8 Bubble Tea Places In Malacca That You Can Check Out
Top 10 Best Japanese Dramas Of All Time
Hoshino Coffee Japanese Cafe @ Midvalley Megamall
9 Fun Things To Do At Asakusa (Tokyo, Japan)