When we talk about instant noodles, no one can deny the fact that Japan has one of the best instant noodles in the world. It is also the best go-to food for every busy person.
A lot of people love instant noodles because it's easy to make, fast, tasty, and cheap. It's been known to some that if you are looking for a portion of healthy quality food, instant noodles are not for you.
But as time goes by, different instant noodle manufacturer has been successfully improving the taste of instant noodles which some products can even compete freshly make noodles.
Instant noodles are the most accessible food because anyone can buy it anywhere. In Japan, you can find different classes of instant noodles in convenience stores and supermarkets.
Here I have listed 12 best Japanese instant noodles ranging from the classics to the most popular products in Japan.
1. Nissin Mouko Tanmen Nakamoto

Nissin Mouko Tanmen Nakamoto is the product of the collaboration between the world's first and largest instant noodle manufacturer, Nissin, and the famous restaurant in Tokyo, Mouko Tanmen Nakamoto.
Mouko Tanmen Nakamoto is one of the most famous ramen shops in Japan. They serve one of the hottest bowls of ramen. Their signature dish, Tanmen, is ramen that is filled with meat and spicy soup. Even though the ramen is very spicy, it does not overpower the taste and the aromatic flavors of the ingredients.
If you wish to taste this great creation, you can purchase this at any 7-Eleven stores in Japan for only JPY 183. It's very convenient and you won't have any problem preparing it because it has instruction in the cup.

2. Nissin Men Shokunin Soya Sauce Flavor
Nissin Men Shokunin comes with a healthier version of instant noodles. Most of the noodles sold in the market are made with fried noodles. This makes the food absorb a lot of fat which is not good for our health.
The creators of Nissin Men Shokunin comes with a solution to lessen the fat content of the noodles and make it a little more nutritious by making a non-fried noodle. Non-fried noodle has a lower calorie content compared to a fried noodle.
This solution didn't just solve the health issue of eating instant noodle but also it widens the market of the company by attracting healthy eaters. The sauce is also unique.
Nissen Men Shokunin comes with mid-thin straight noodle and seafood ingredient with a soya sauce flavored soup. This instant noodle is available in different convenience stores and supermarkets in Japan for only JPY 194.

3. Maruchan Seimen Umakoku Tonkotsu Soya Sauce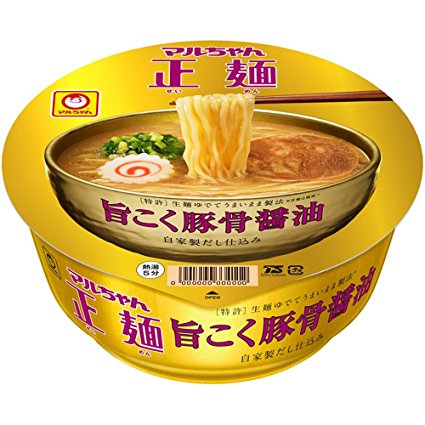 Maruchan Seimen Umakoku Tonkotsu Soya Sauce is another soya sauce flavored instant noodle you'll surely love. For only JPY 221, you can already enjoy the non-fried sticky and smooth noodles with a broth that is an original mix of chicken and pig bone.
The flavor is a well-balanced combination of umami pork and soy sauce. It contains sliced pork belly and spring onions with seaweed.
4. Nissin Roah Kojuku Koku Miso
Nissin's Roah brand is the pioneer of using non-fried noodles. This is also the premium brand of Nissin. And knowing that it's their premium brand, Nissin Roah Kojuku Koku Miso will surely satisfy your instant noodle cravings.
This is available in different convenience stores and supermarkets for only JPY 237. The whole purchase comes with two (2) dried topping sachet, which are dried meat nuggets and dehydrated veggies, and two (2) soup stock, which are liquid soup base and powdered soup base.
The noodles are firm and chewy, and the soup was a rich broth.

5. Nissin Cup Noodle Chili Tomato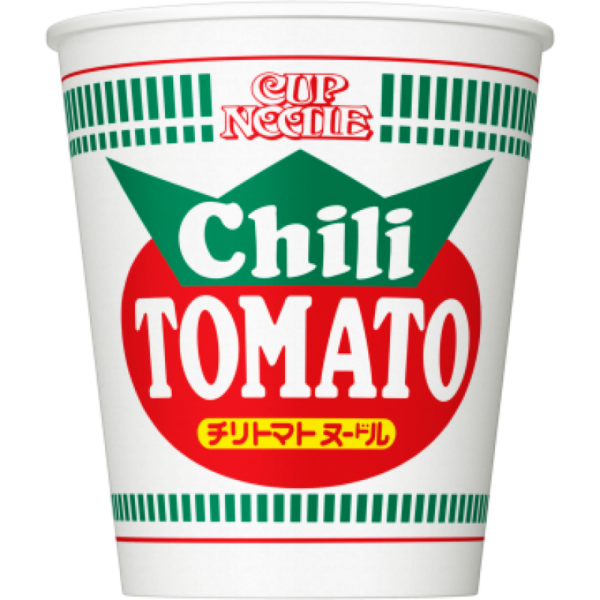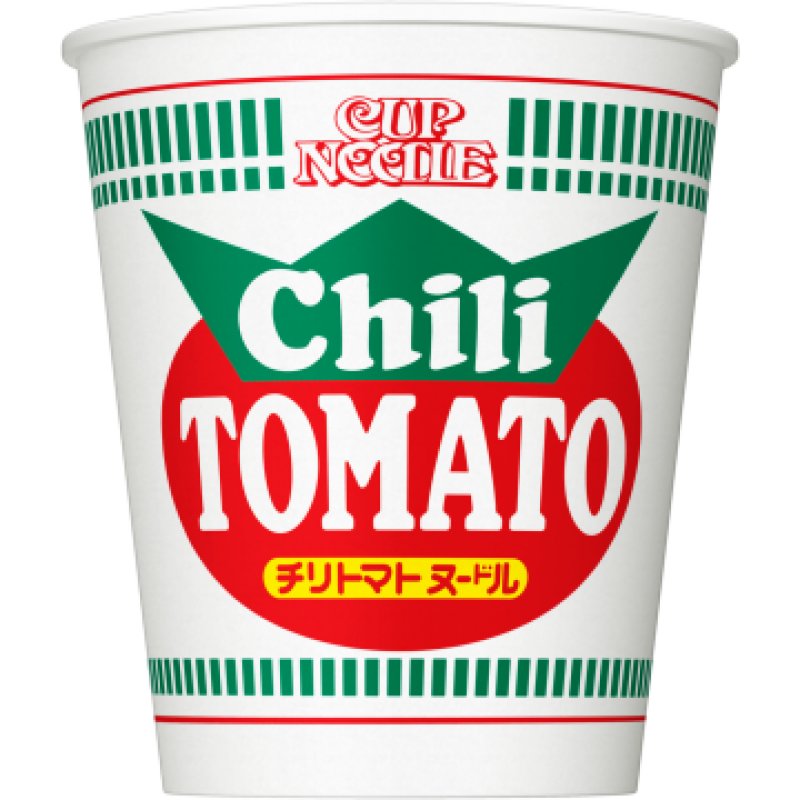 Nissin Cup Noodle Chili Tomato is a tasty tomato flavored instant noodle. Although the packaging is quite simple, you still don't want to skip on this when you find this at your local convenience stores.
The cup has chicken pieces, dried meat, and veggies. You can also taste the chili which is just right and blends perfectly with the tomato flavor. Other customers love to experiment on this product by making their own recipe such as adding hot milk instead of water.
There are also others who add cheese at the top which perfectly matches the tomato flavor. You can purchase this instant noodle for only JPY 194.
6. Super Cup 1.5 times Tonkotsu Ramen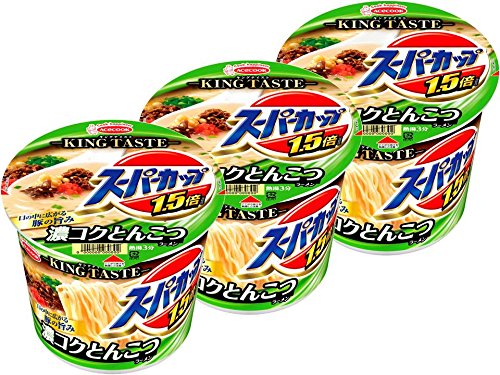 Super Cup 1.5 times Tonkotsu Ramen was manufactured by Acecook. It entered the market in 1988 and since then it continuously dominates the Japanese instant noodle market.
The manufacturers made this product popular because of their customer-responsive approach where they always listen to the voice of the customer. The "1.5 times" name of the product is based on the 1.5 times more increase in capacity of their cup which is originally from 60g to 90g which was asked by their customers.
The Tonkotsu is the most popular flavor of their instant noodles. This instant noodle is available at any convenience store in Japan for only JPY 216.
7. Nissin Cup Noodle
Nissin Cup Noodle is probably the most popular instant noodle of all time. Its popularity already reached different parts of the world.
You can buy this anywhere in the world and it only costs at around JPY 194. It's the classic instant noodle if Nissin. The soya sauce-based soup, noodles and seasoning blends perfectly together.
Aside from serving your personal appetite, there is also another use for this instant noodle. According to some fans, after you eat all the noodles, you can actually use the soup as an ingredient for other cooking dishes.

8. Maruchan Menzukuri Awase Miso
Maruchan Menzukuri Awase Miso was manufactured by Toyo Suisan. The noodle used for this instant ramen is also non-fried. This allows the customers to taste the natural flavor of the noodles.
The Awase Miso flavor is composed of pork broth and miso-based soup. This product is available for purchase at different supermarkets and stores in Japan for only JPY 194.

9. Peyang Yakisoba
Peyang Yakisoba is the first noodle product that uses liquid-based sauce which is now applied by most of the instant noodle's manufacturer. The Peyang Yakisoba is the most popular and best-selling yakisoba.
It uses a fried noodle but it has less oil content. The noodle is also light and soft, but consumers can adjust the noodle to their preferred softness by just adjusting your waiting time.
Peyang Yakisoba has veggies, classic sauce, seaweed, noodle block, and white pepper sachets. The vegetables are clean and crunchy which makes it preferred by most of the yakisoba lovers.
This instant noodles is very easy to prepare. It will only take at least 10 minutes for your yakisoba to be ready. It is also available in different convenience stores and markets for only JPY 183.

10. Nissin Donbei Tempura Soba
Nissin instant Donbei Tempura Soba is one of Japan's most beloved Soba noodle soup. This soba noodle comes with powder base, crispy tempura disc, and shichimi spice sachet. Fans love the aromatic, light, and delicate soup which is a perfect match for the crispy tempura disc.
The taste of this Soba varies from three regions which are West Japan, East Japan, and Hokkaido. Each product has its own distinctive taste such as the seaweed or Konbu and bonito stock of West Japan.
Even though there is a different special ingredient added in each product, one thing is for sure, you will surely enjoy eating these three products whether it is for an afternoon snack or light lunch.

11. Menma Kyoto (Yamadai)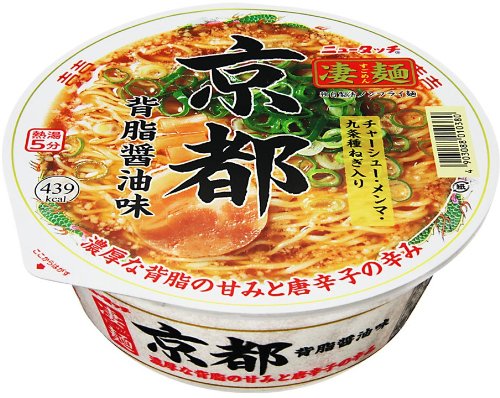 Yamadai is a Kyoto-based company in the restaurant business. The restaurant wanted people to experience the taste of the ramen they serve in their restaurant chain; that's why they created Menma Kyoto which is famous for its rich soy sauce made from actual pork bones.
It doesn't contain a lot of MSGs like other cup noodles out there and relies on cayenne powder for that extra flavor. Every sip and bite will surely remind people of the Yamadai's restaurant ramen.
12. Wakame Ramen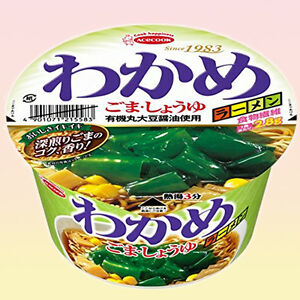 Are you a big fan of seaweed? If yes, wakame ramen is for you. This ramen isn't by Nissin but it's been a favorite since 1983.
It's refreshingly light in flavor with a good combination of sesame oil and soy sauce. It also contains a healthy portion of wakame seaweeds.
In a nutshell
Since instant noodles were invented in 1955, humanity already made this food as the best go-to food by everyone. Because of its easy preparation, people can immediately feed their hungry or craving within just a few minutes.
In Japan, instant noodles are made of different kinds. The products listed here are just the best instant noodles available in Japan.
There are still a lot of different classes of instant noodles available in different convenience stores and supermarkets with prices varies from each other.
Some Japanese instant noodle lover suggests buying instant noodle at discount stores because they are usually offered at a lower price in there.
This article was written by a freelance writer.
---
Related articles:
8 Best Japanese Whiskeys That Are Very Popular [Updated 2020]
Best Carnival Games: 8 Great Carnival Ideas To Choose From
Hutong One Peking (Hong Kong) – Amazing Night View And Food
Top 10 Best Japanese Dramas Of All Time
6 Fun Things To Do In Akihabara, Tokyo