Whimpers Through The Fog is a main quest in Assassin's Creed Odyssey's DLC.
Your task is to look for Neema's contact and help the contact find her boy who was taken.
Here's a walkthrough of Whimpers Through The Fog in AC Odyssey.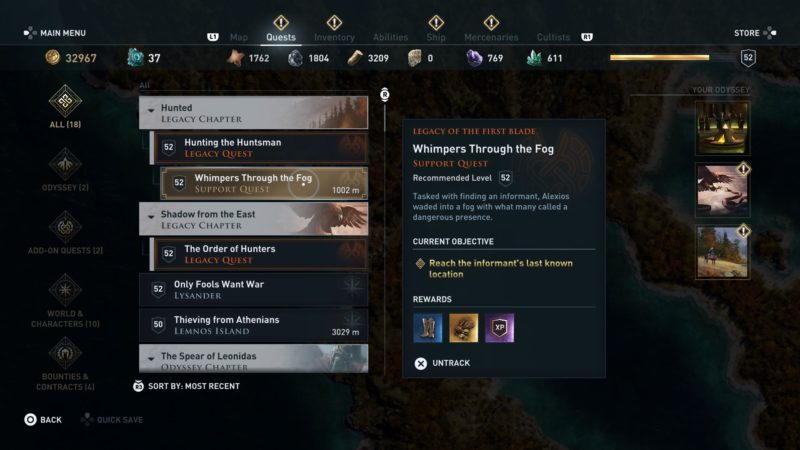 This quest is recommended for those level 52 and above, but it differs according to your own level.
Find the informant
To begin the quest, find the informant in Makedonia. Her last known location is shown in the map below, marked as the quest symbol.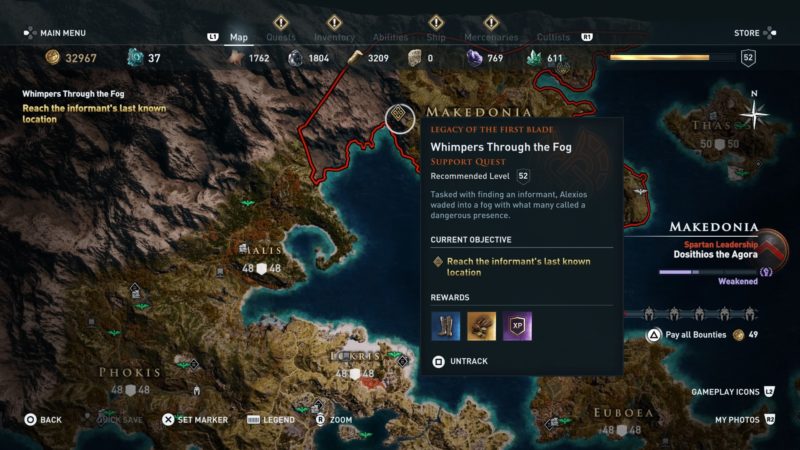 You should see a few cages here.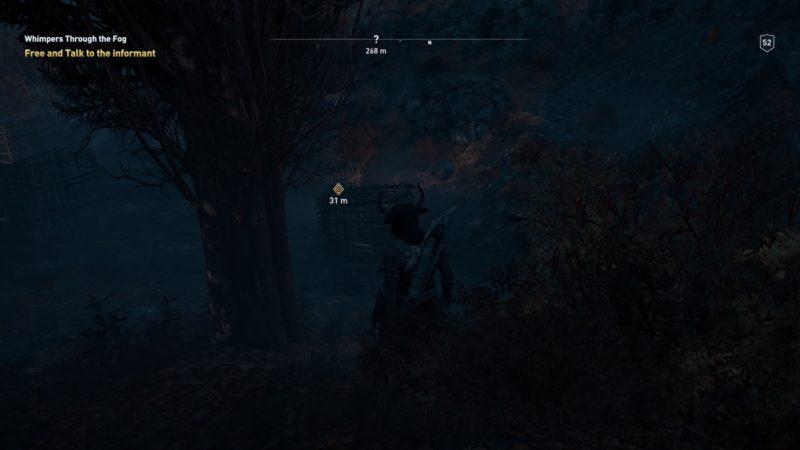 The area is guarded with two bears. Kill both of the bears to be safe.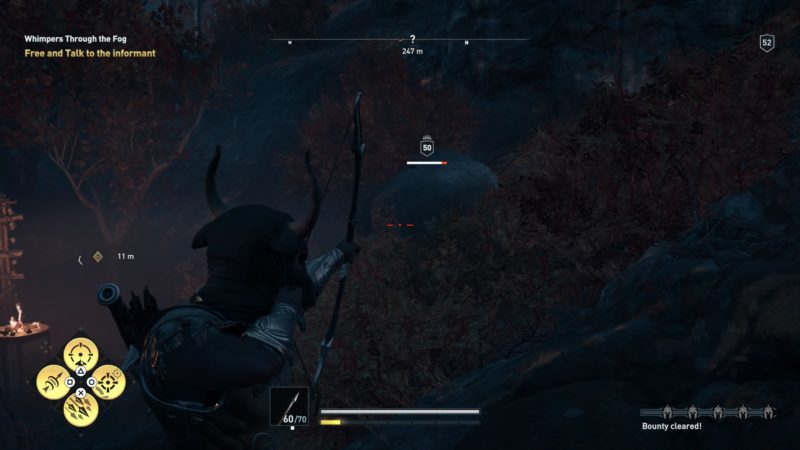 Once you're done, free the informant from the cage. Talk to her to proceed.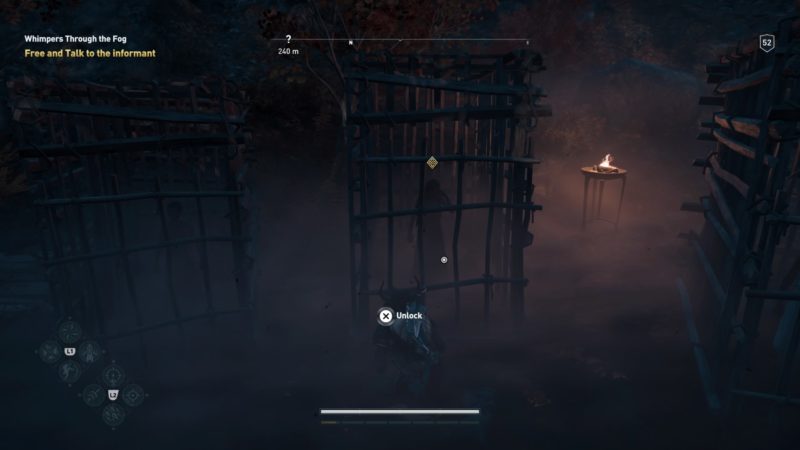 Investigate downstream
She will tell you that her son has been taken away. Go downstream, as you can see in the map below.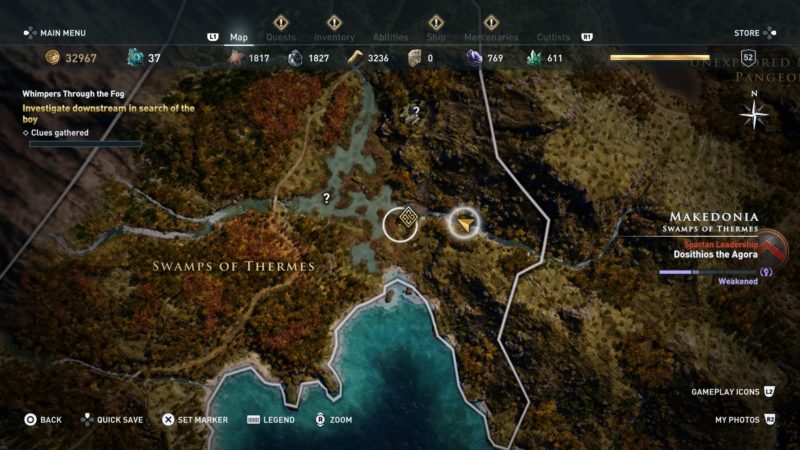 Keep going until you find these cages. The first clue is here. Interact with it.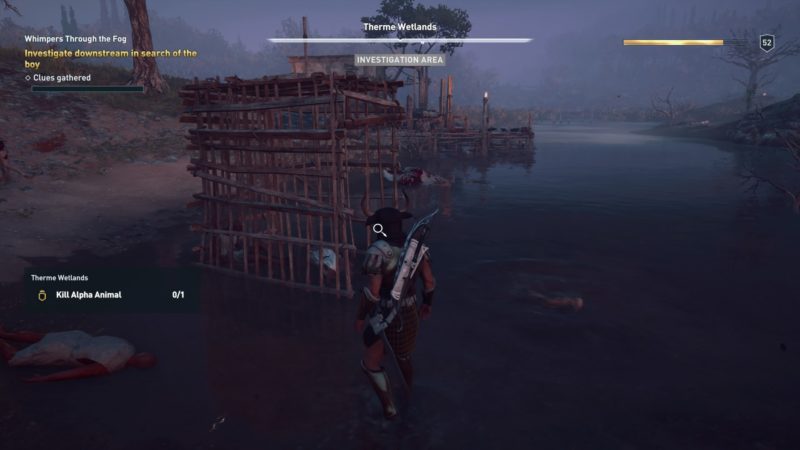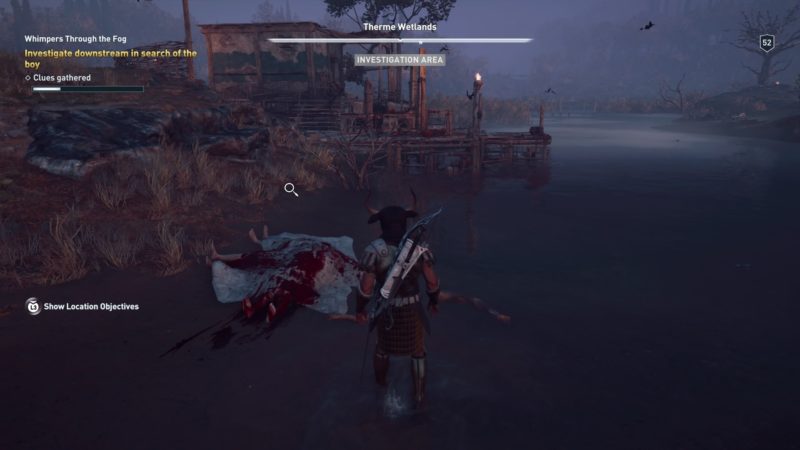 There are four clues in total. Keep going towards this shack.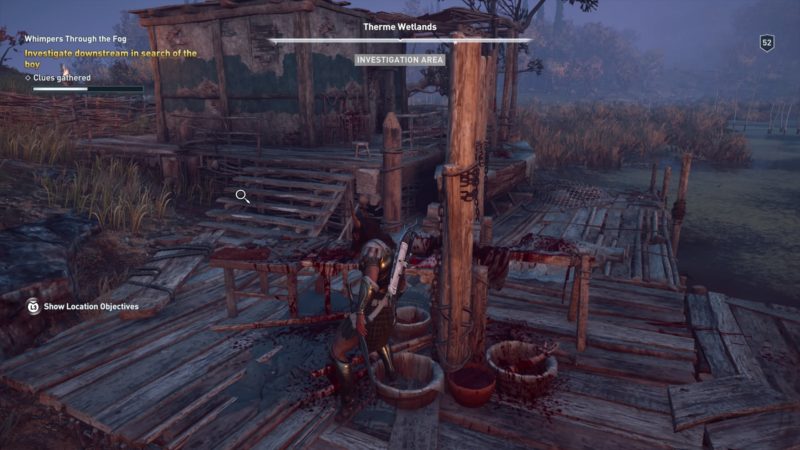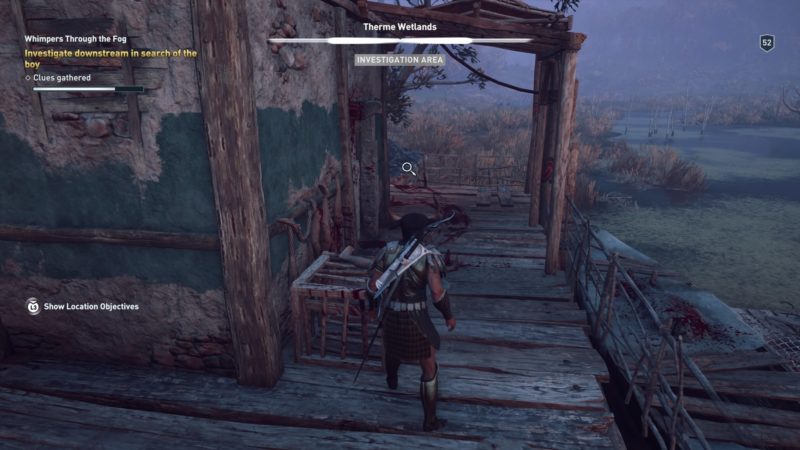 After the last clue, you will get the whereabouts of the boy.
Help the boy
If you go further, you should find the boy hiding in the tall grass / paddy field.
Talk to him.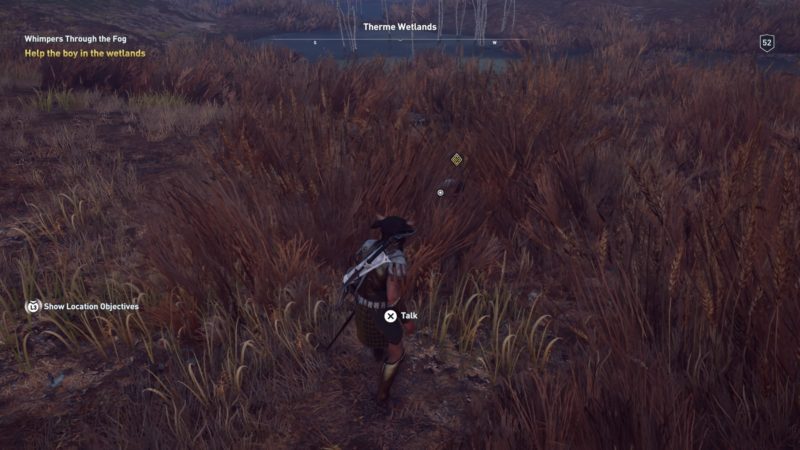 Chase after him
The boy will then run away. Chase after the boy until you reach the death tree. It's a tree with dead bodies hanging.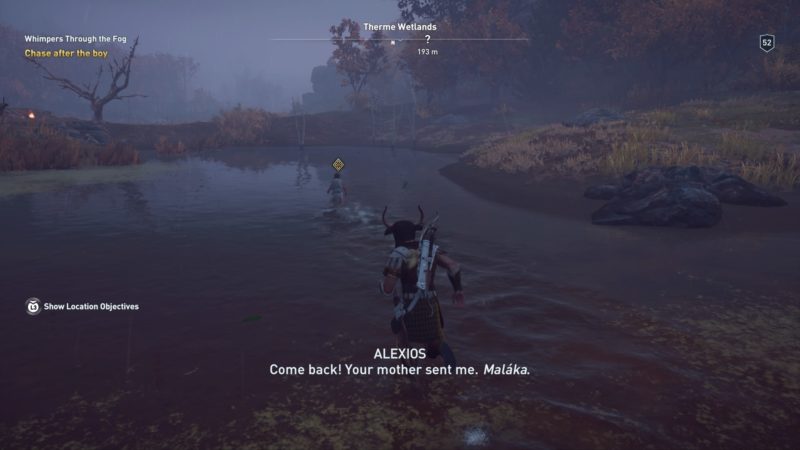 You won't miss it. This is how it looks like.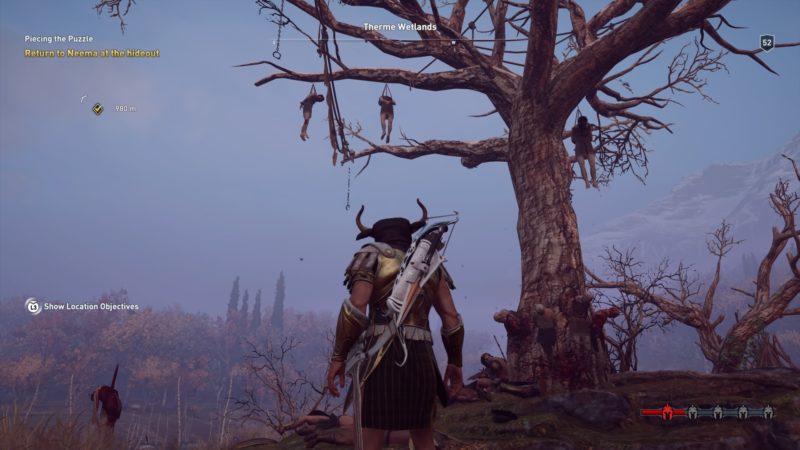 During the cutscene, the madman will appear.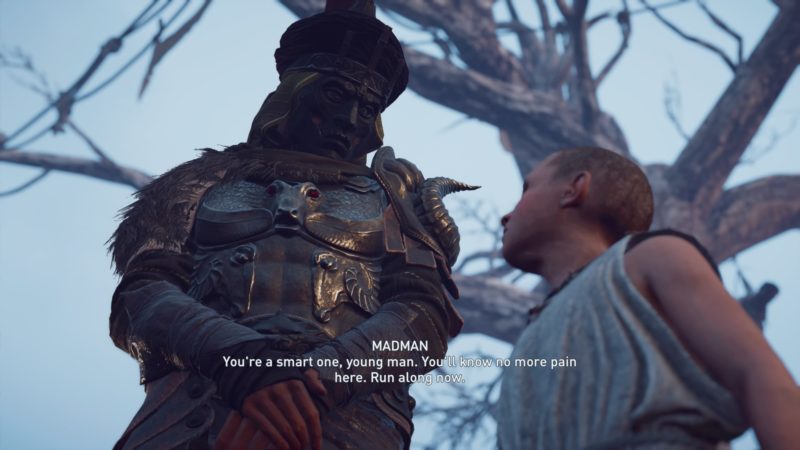 The villagers are all angry towards Alexios, because they believe he killed everyone.
I tried the option "I'm not a mindless killer", but it didn't work. Instead of trying the other options, I immediately chose to fight them all using the last option.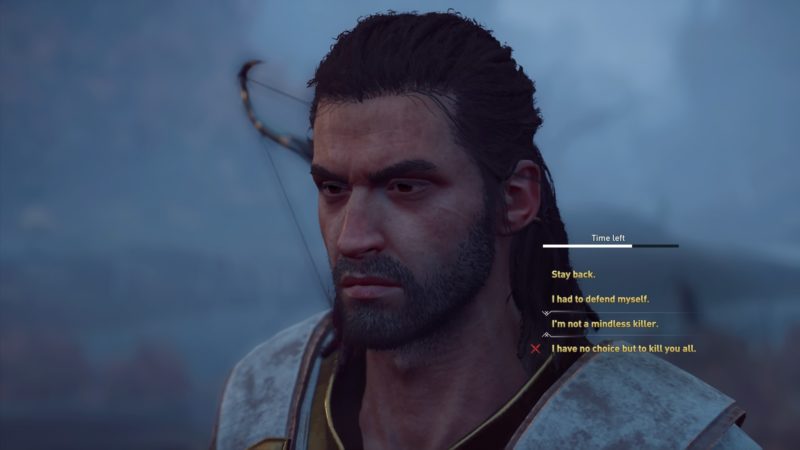 Kill the family members
If you had chosen the last option, kill all of the family members remaining. There are about five of them.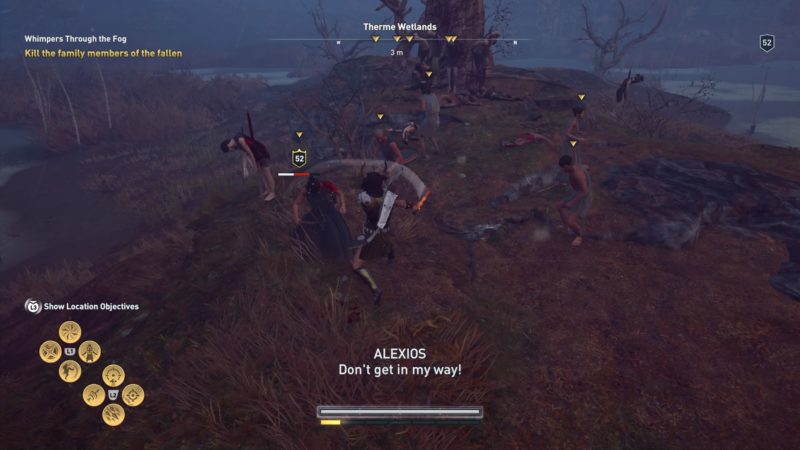 Once they're dead, go after the madman.
Interrogate the madman
If you go behind the tree and towards the swamp, you should reach this area shown below.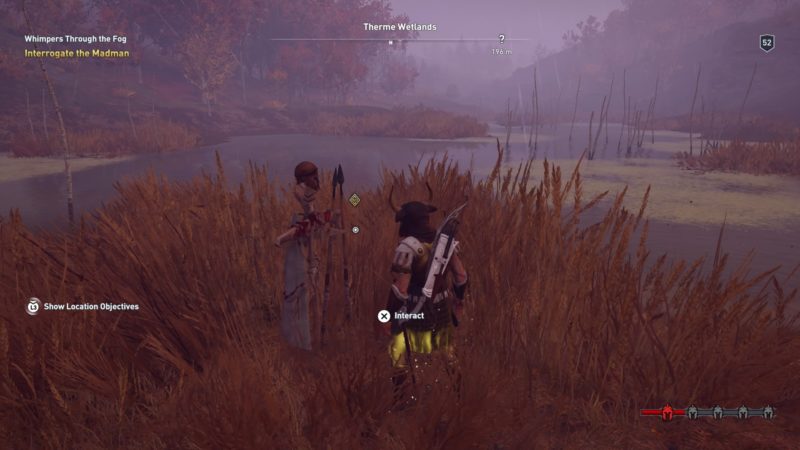 Interact with it, and you will get a message that the Huntsman is waiting for you in the forest.
The quest ends here, and you will get a pair of Greaves of Grieving, some drachmae and an ancient clue.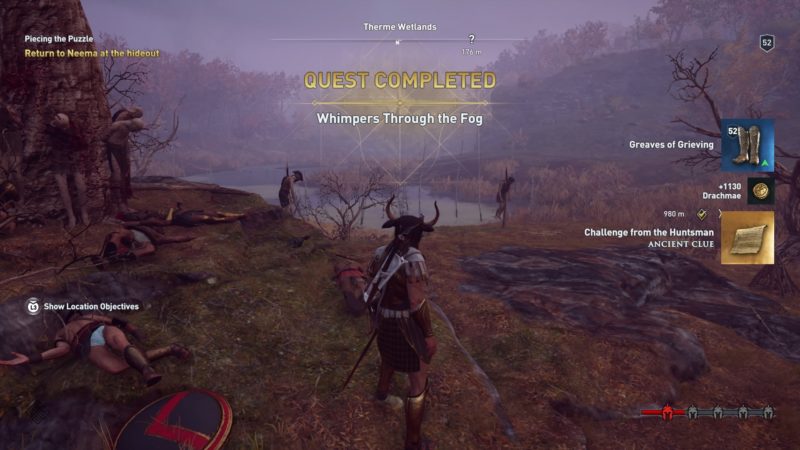 ---
Related articles:
Assassin's Creed Odyssey: A Curious Request (Walkthrough)
Assassin's Creed Odyssey: Test Of Judgment (Walkthrough)
AC Odyssey: Thank You, Malaka! (Walkthrough)
Assassin's Creed Odyssey: Mysterious Malady (Quest Walkthrough)
Assassin's Creed Odyssey: Revealing The Recruiter (Walkthrough)
AC Odyssey: Shadow Of A Legend (Walkthrough)
How To Start Playing Legacy Of The First Blade (AC Odyssey)