Persian Puppetry is a main quest under the DLC in Assassin's Creed Odyssey.
Your task is to look for the Tempest and get rid of her as she's part of the Order.
Here's a walkthrough of Persian Puppetry in AC Odyssey.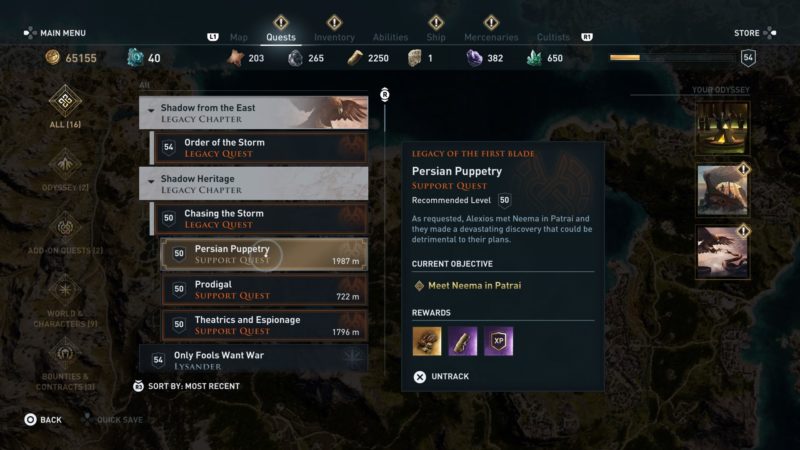 This quest is recommended for those level 50 and above, but it probably differs according to your own level.
Meet Neema
To begin the quest, talk to Neema who is in Patrai.
The exact location is shown in the map below, marked as the quest symbol.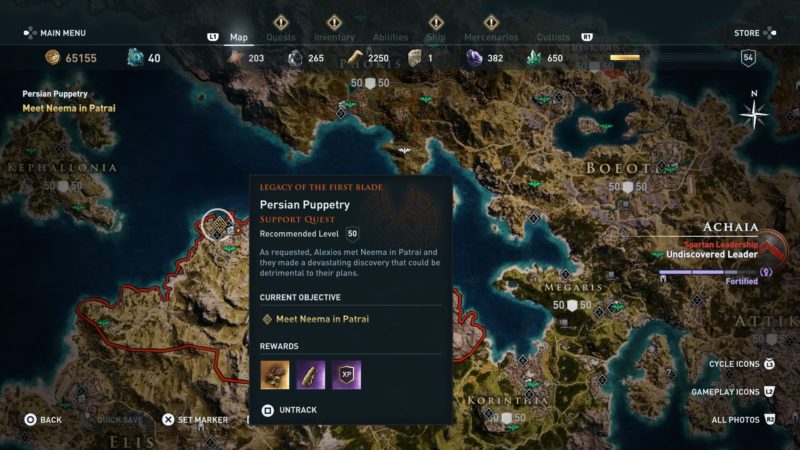 You should see her hiding here. Talk to her.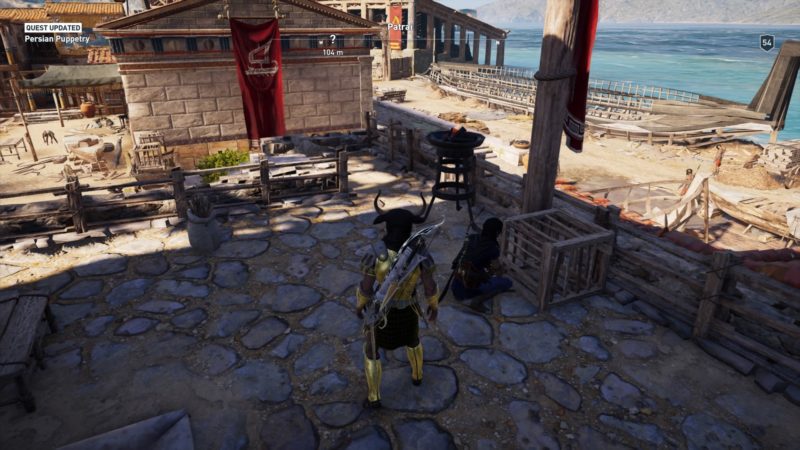 During the cutscene, you will be introduced to the Tempest who is known for her ruthlessness.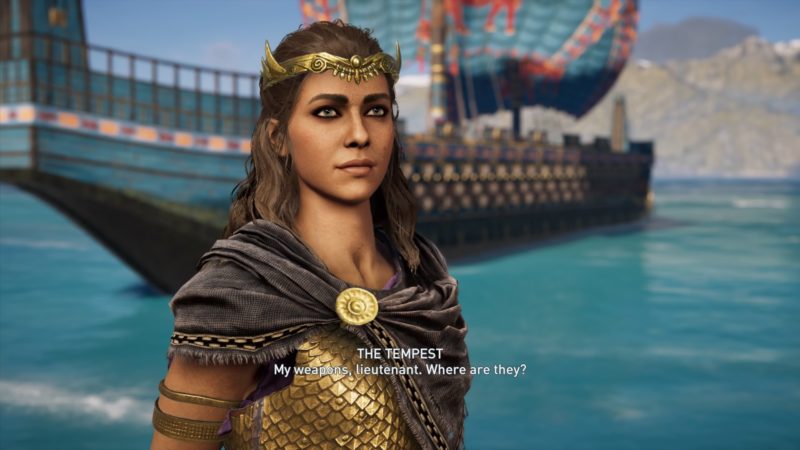 Reach the shipyard
Now, the objective is to defeat the Tempest, but you need to find her first.
The shipyard is just nearby, as you can see below.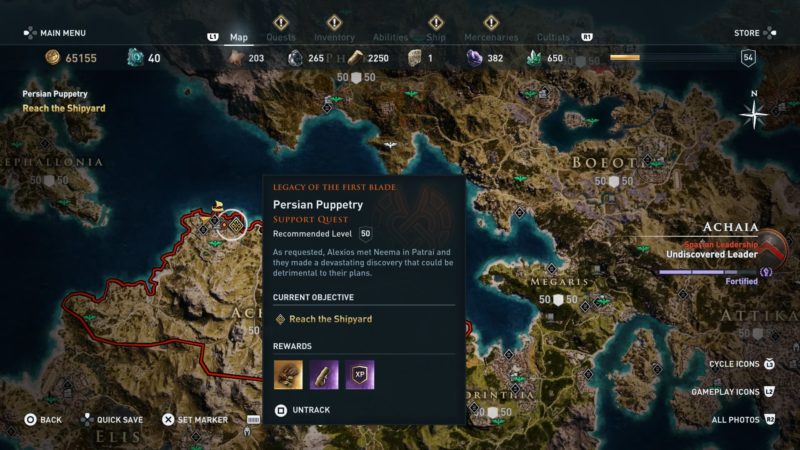 Walk towards the quest marker.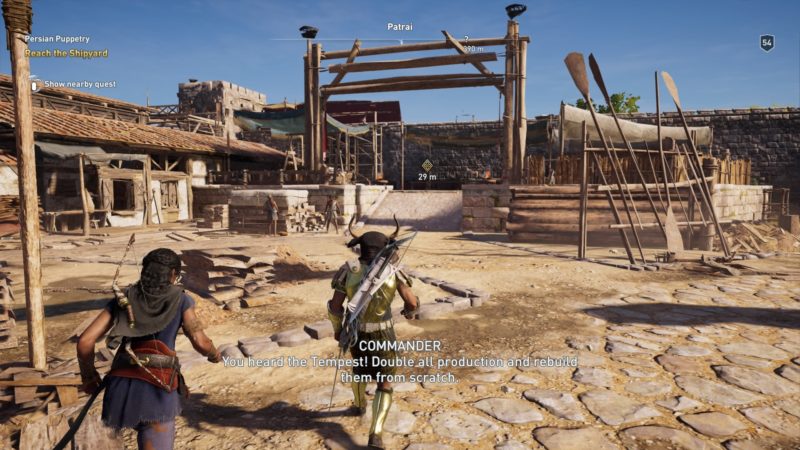 Investigate the whereabouts of the Tempest
You need to ask the people inside the shipyard about the Tempest. Naturally, they will avoid telling you anything.
This is the first person you can talk to.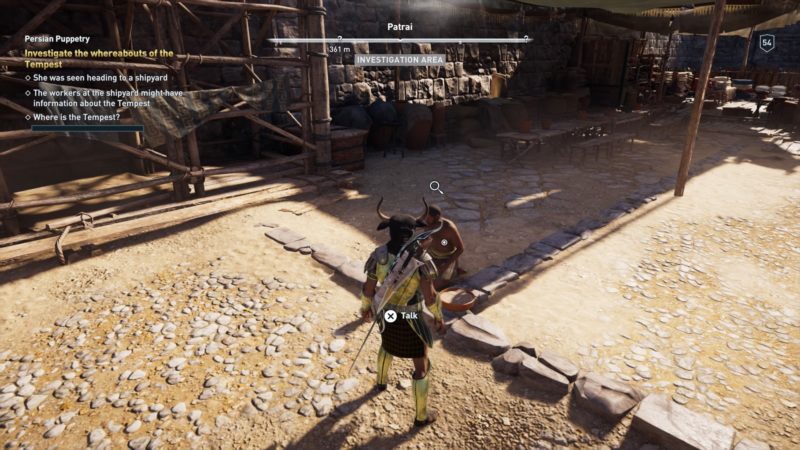 You will also notice a group of people following you around the shipyard. They are pretty damn obvious, but they think they're not.
Next, talk to this person.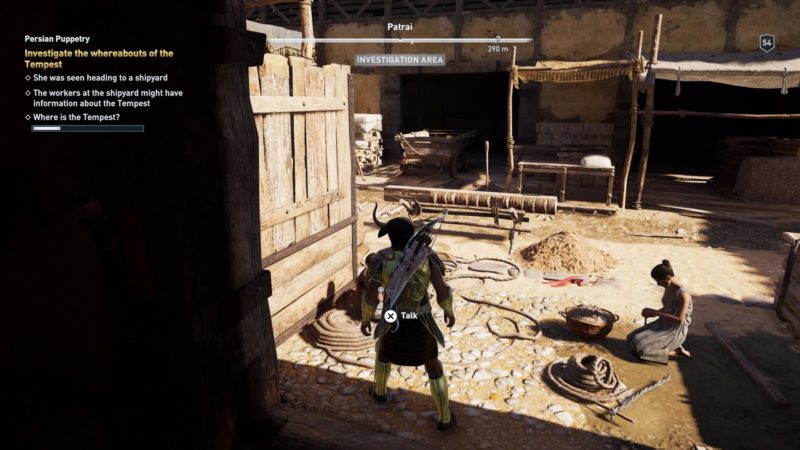 Talk to this guy as well. None of them will tell you anything.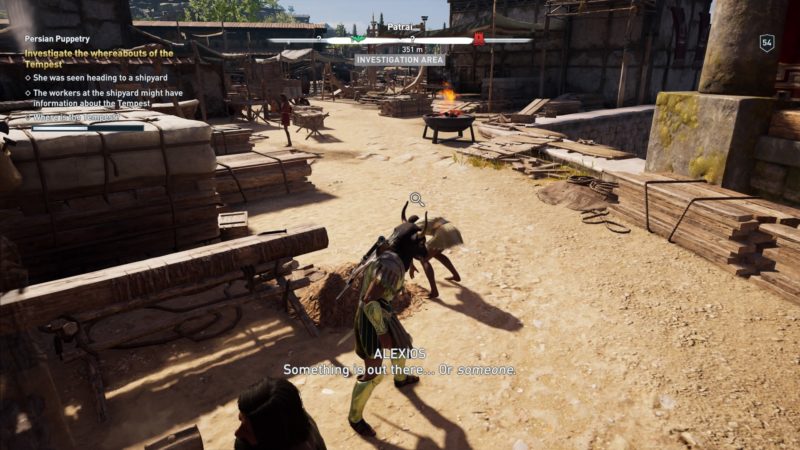 Lastly, talk to this lady here. You can see her kneeling down.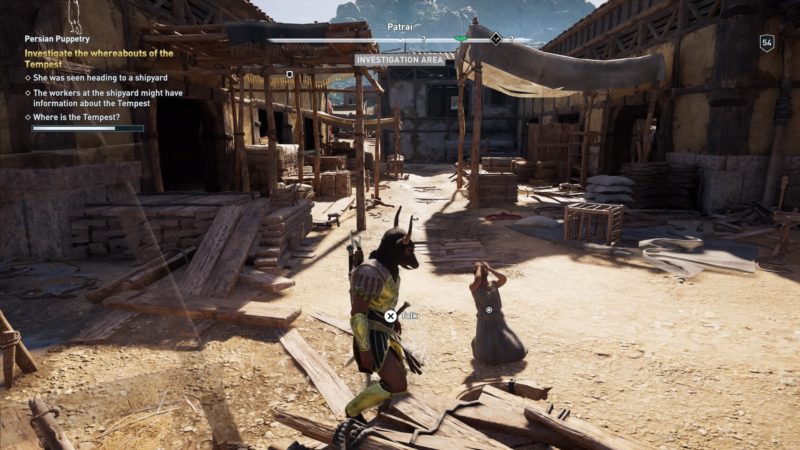 Personally, I killed all of the people who were trying to follow me around. It gave me some bounty but it didn't fail the quest.
Talk to Neema
Once you're done investigating the place, talk to Neema again. She'll be at the entrance of the shipyard.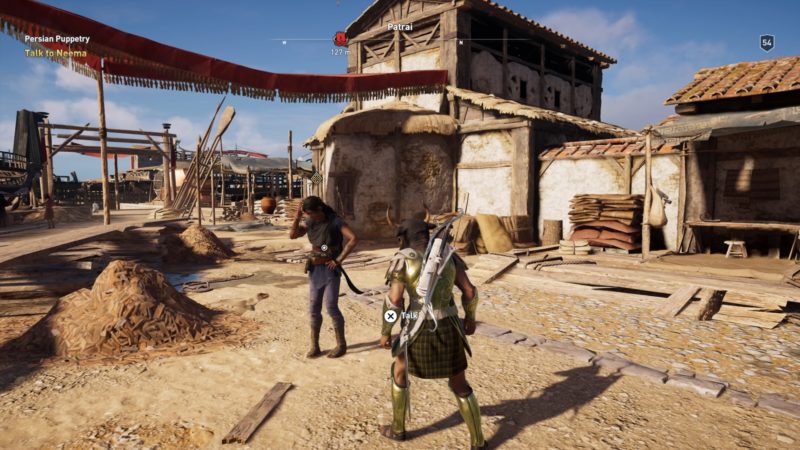 Neema will then ask you for your opinion on how to deal with the bounty hunters following you guys. I chose to "charge in instead".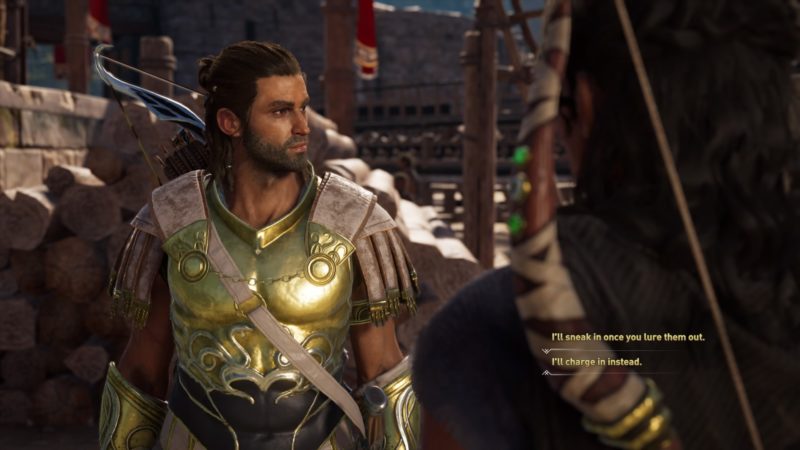 Help Neema lure out the bounty hunters
Now, get to the warehouse just nearby.
As you enter you will see some bounty hunters. If you attack any of them, all will come out.
Just kill all of them.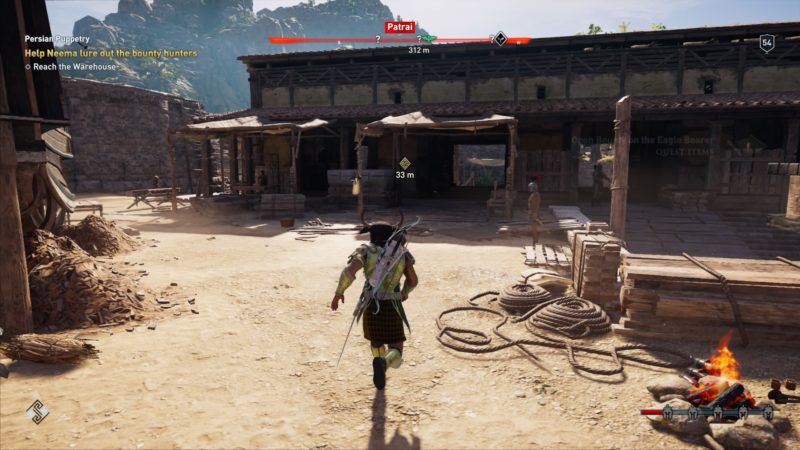 They are pretty weak, unlike mercenaries.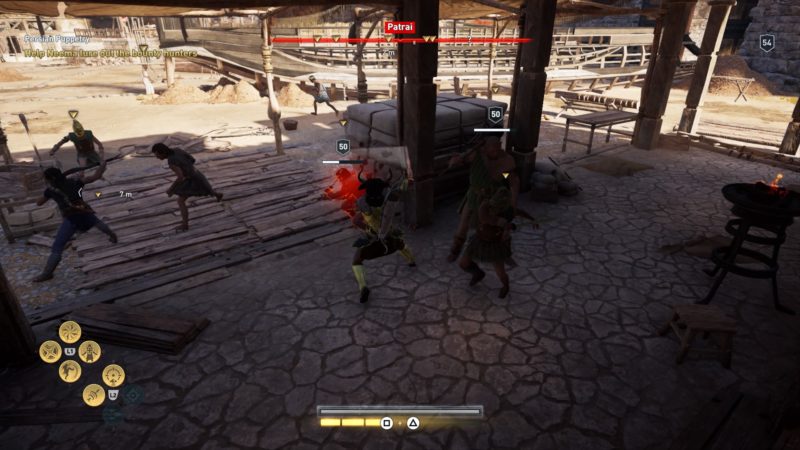 Interrogate the hired assassin
After defeating them, interrogate the hired killer.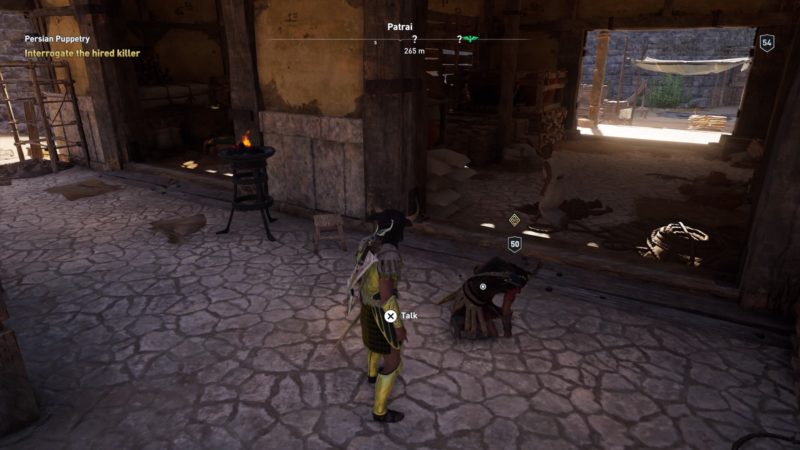 He will tell you that the whole of Achaia is hunting the eagle bearer.
Destroy ships in the Tempest's fleet
Neema and Alexios will then decide to draw the Tempest out by destroying her ships.
The locations of the ships are shown in the map below.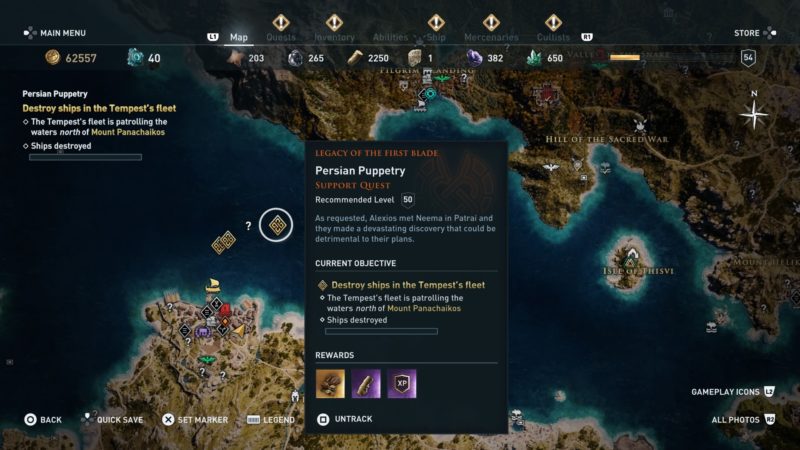 Get to your Adrestia and start defeating those ships.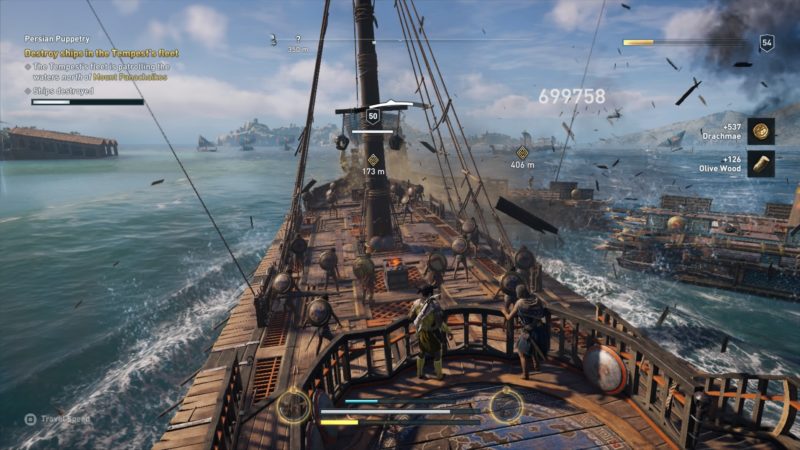 You may need to board some of the ships to complete the destruction.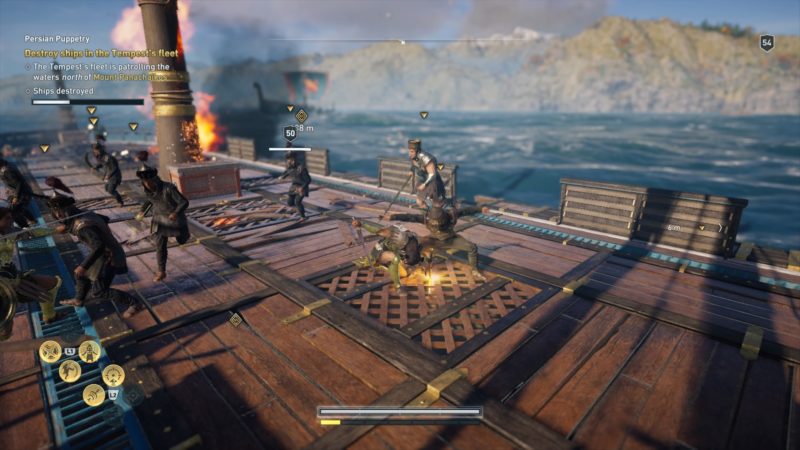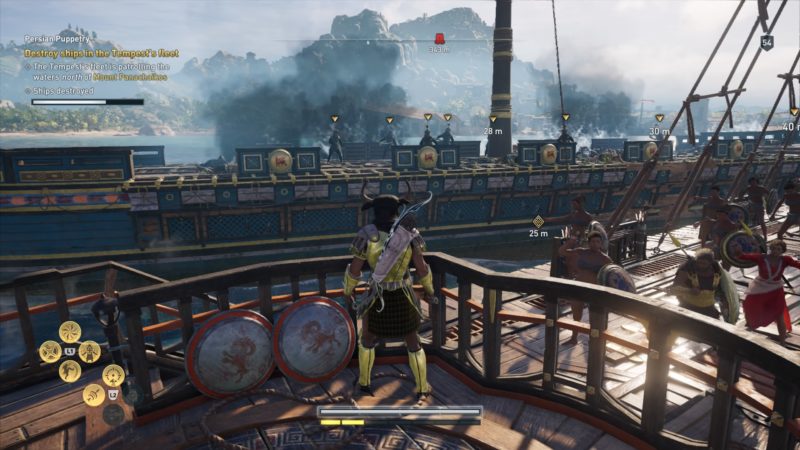 The quest completes after defeating the three ships. You should get a pair of Bracers of Whispers with some drachmae for your troubles.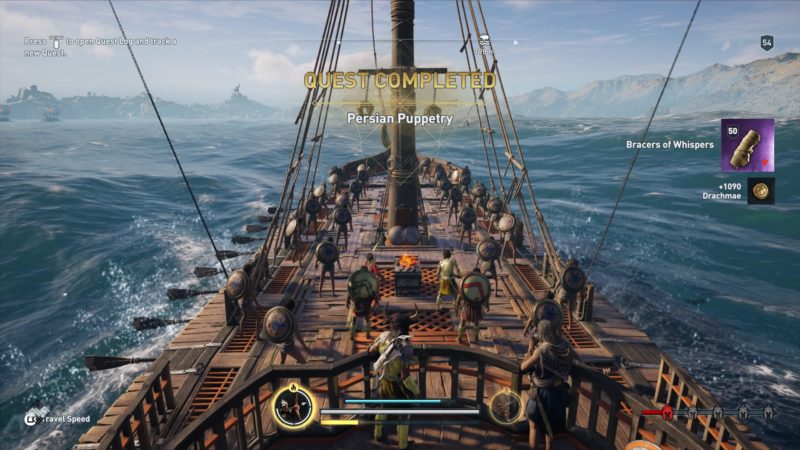 ---
Related articles:
Assassin's Creed Odyssey: Prodigal (Quest Walkthrough)
AC Odyssey: Knives In The Dark (Walkthrough)
Assassin's Creed Odyssey: Dead Man Rises (Walkthrough)
Assassin's Creed Odyssey: On The Grapevine (Walkthrough)
AC Odyssey: Stranger Tides (Quest Walkthrough)
Assassin's Creed Odyssey: Protector Of Persia (Huntsman Battle)
Assassin's Creed Odyssey: The Bright One (Defeat Arges The Cyclops)