Home is the last quest in the 2nd episode of Legacy of the First Blade in Assassin's Creed Odyssey.
The outcome of this quest is heavily influenced by your choices at the end.
Here's a walkthrough of the quest Home in AC Odyssey.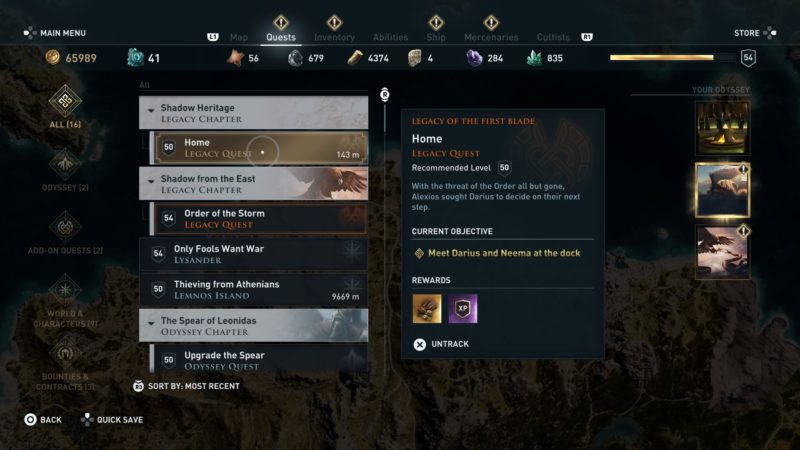 This quest is recommended for those level 50 and above, but it differs according to your own level.
Meet Darius and Neema
The first objective is to meet the two of them at the dock. You can find them in the exact location below.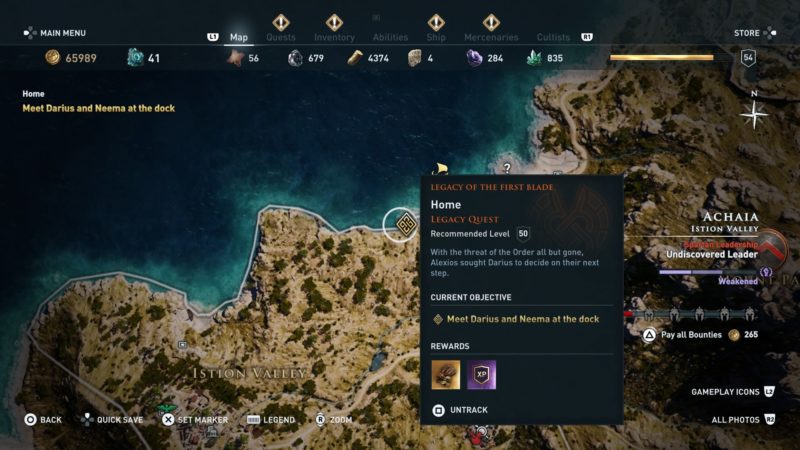 As they're leaving to someplace else, you need to meet them first.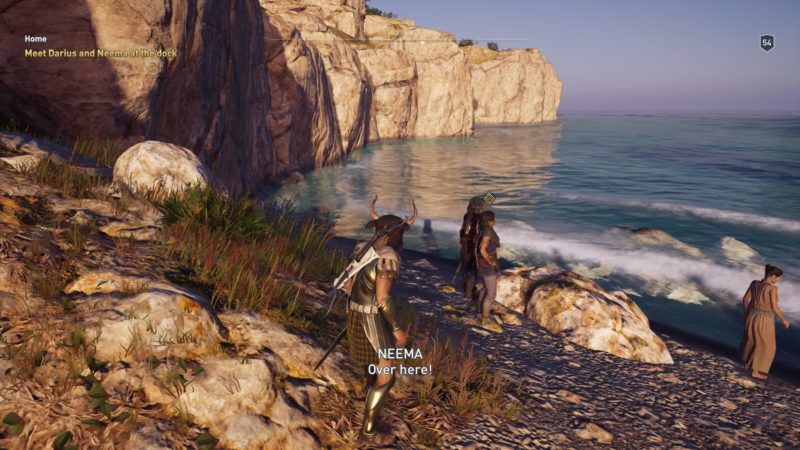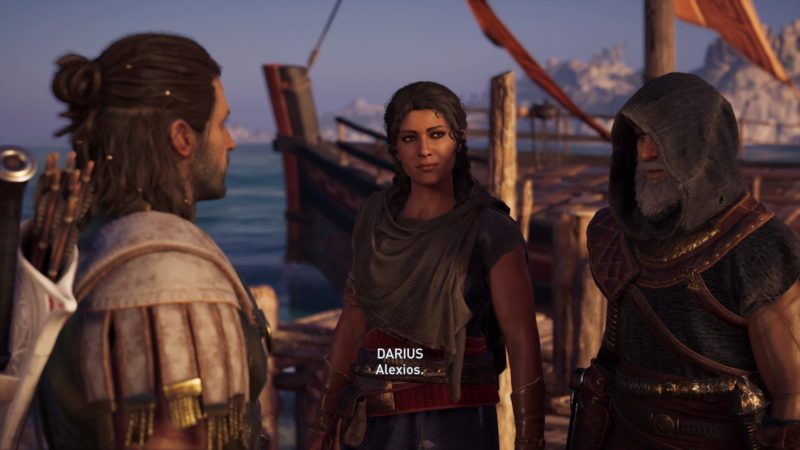 Stay or Farewell?
This is where it matters. Depending on what you choose, you may get a different ending.
I chose to say "Stay" and they actually stayed behind.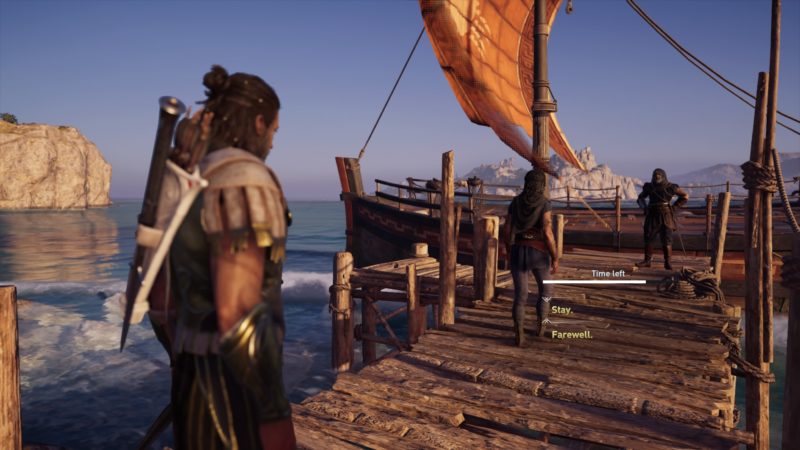 This part is mainly just scenes which show the three of them living a happy life.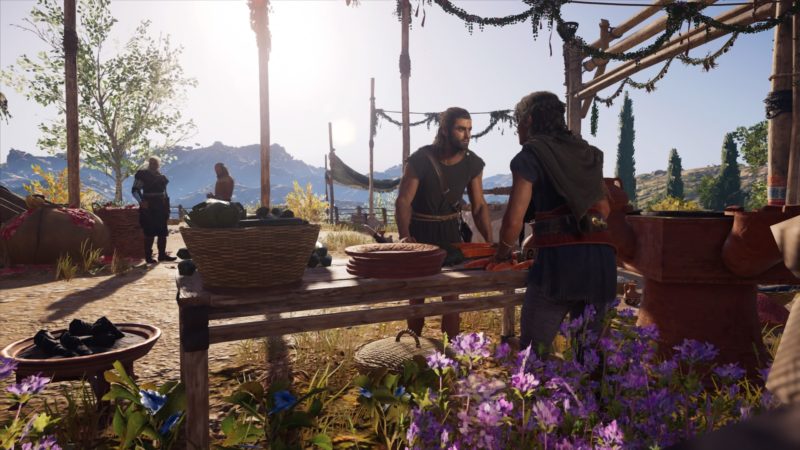 Alexios and Neema are also now lovers.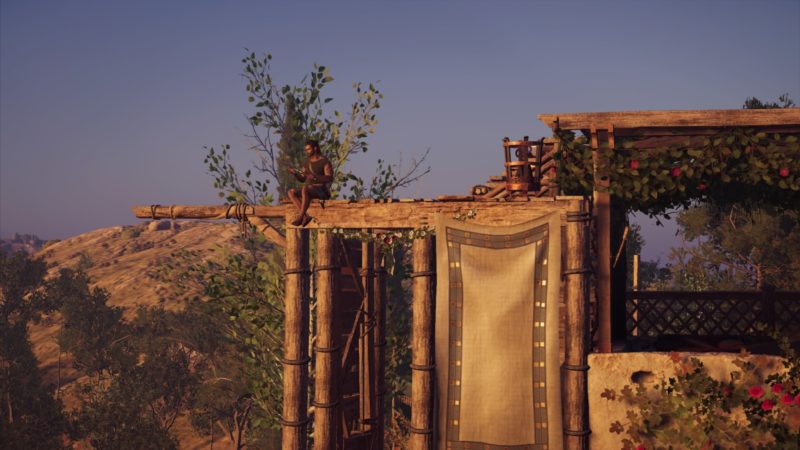 Talk to Darius
After the cutscene, you have to talk to Darius. He will ask for your help to buy some bread and milk.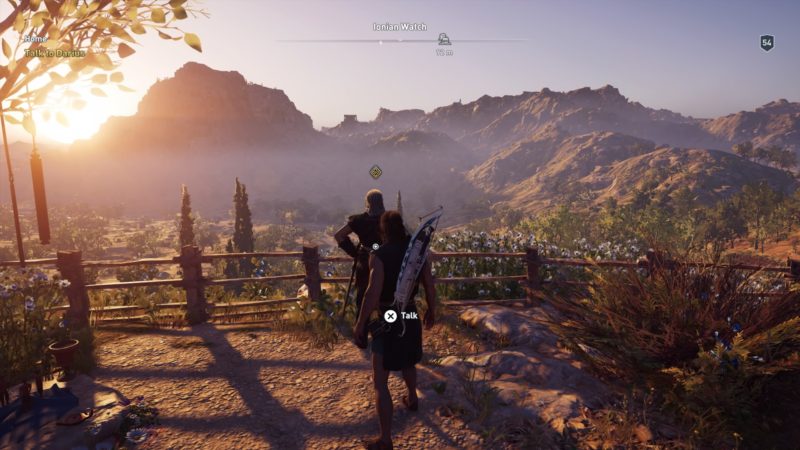 You also need to bring the basket of goods to the merchant.
Deliver the basket of goods to the merchant
Carry the basket and walk to the merchant. His location is shown in the map below, marked as the quest symbol.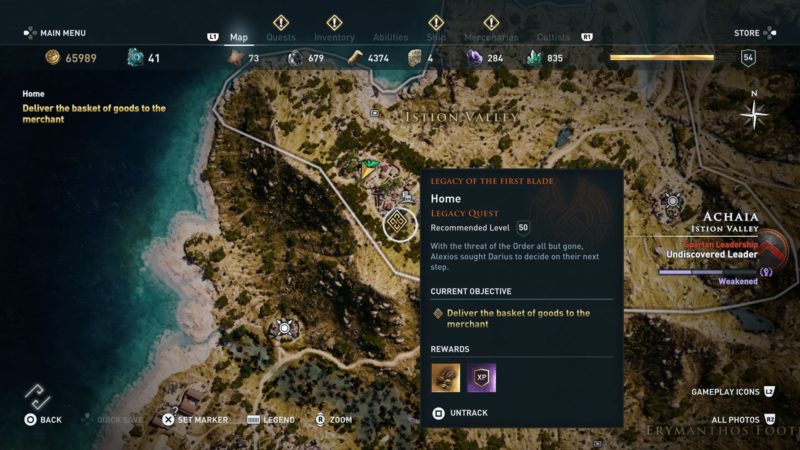 Since you have to carry it, you can't fast travel or climb stuff.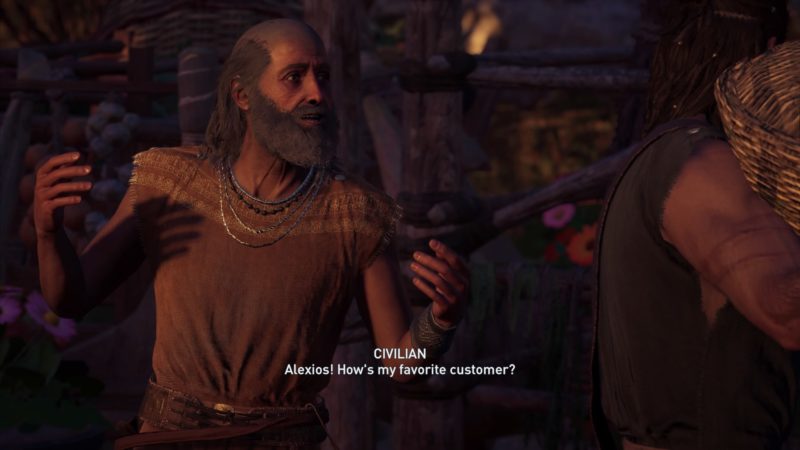 During the dialogue, the merchant asks for a favor to get some wheat. I chose the first option.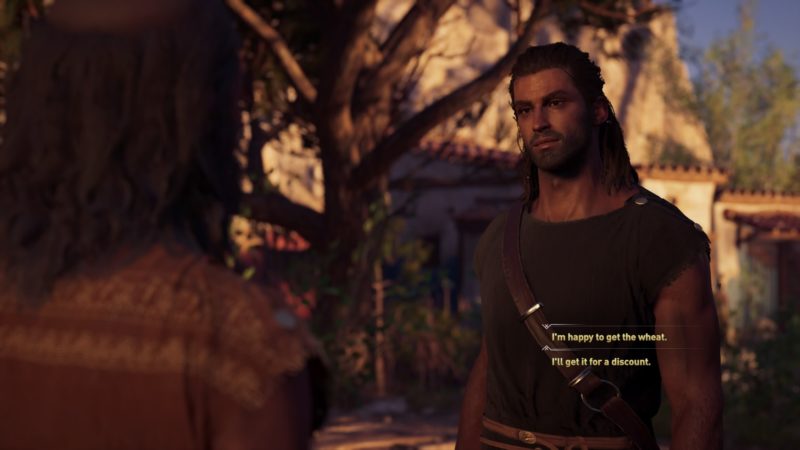 Deliver the wheat to the merchant
Carry the basket again.
Walk further ahead to find some wheat. The exact location is shown in the map below.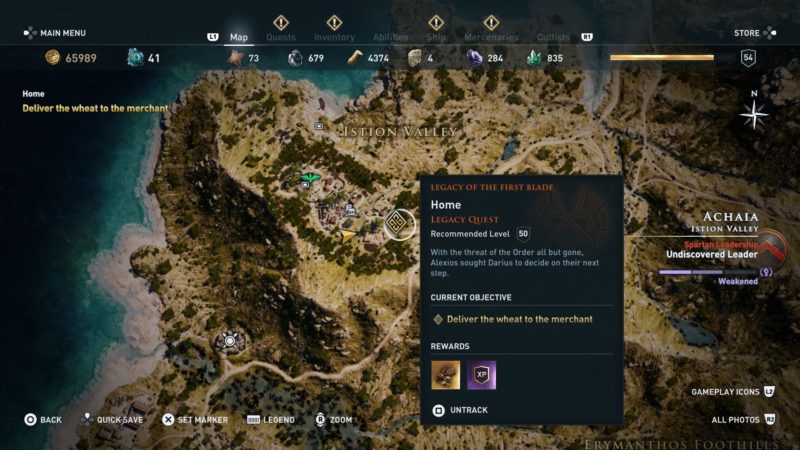 The wheat is shown in the image below.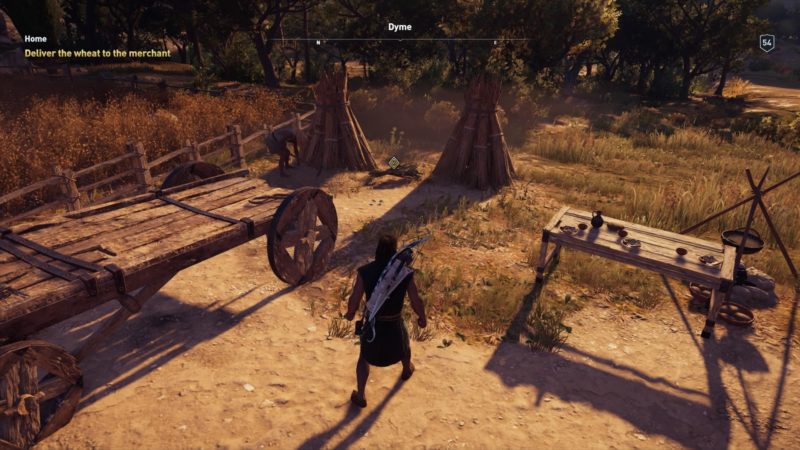 Carry the basket of wheat back to the merchant.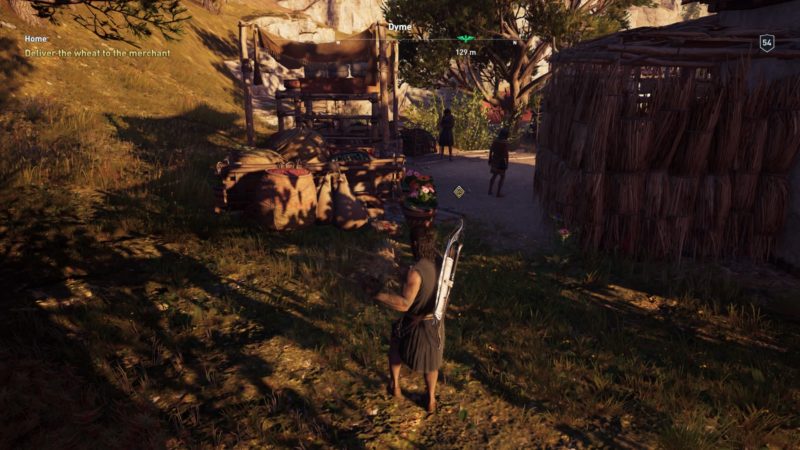 Return home with the goods
Now, get back to your house in the location shown below.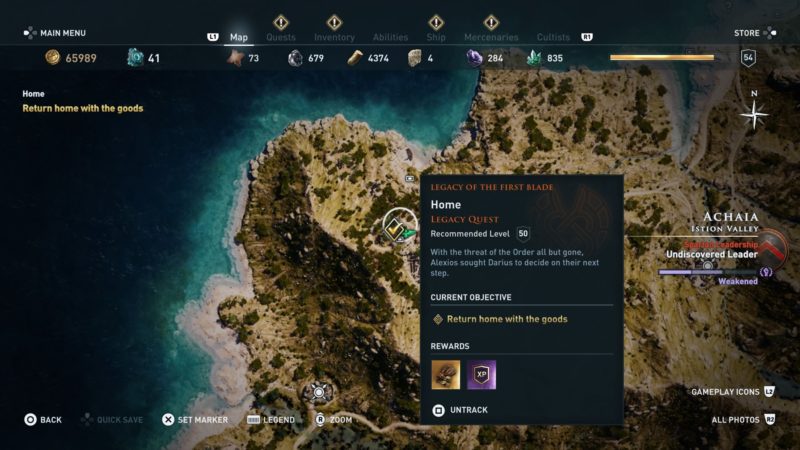 You can't fast travel as it leaves the goods behind. You need to take the long way to get to your house since you can't climb as well.
During the cutscene, you will learn that Alexios and Neema has a baby, and Darius is happy being a grand pater.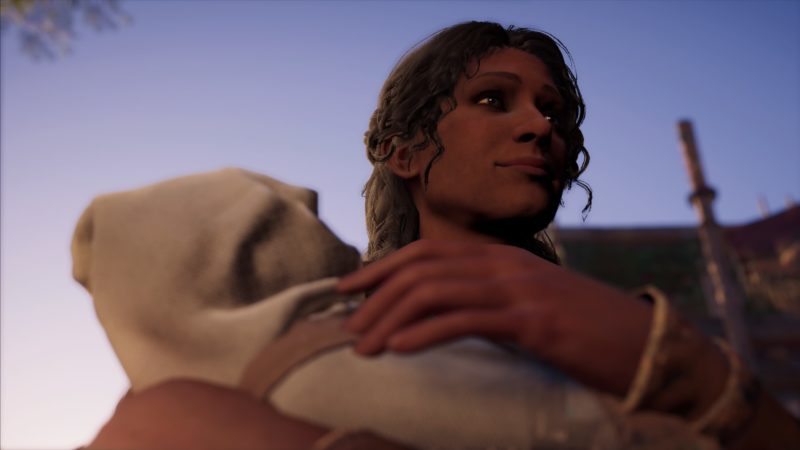 However, there's also a huge spoiler here.
Turns out, Orontas who you've helped in Boura is actually Amorges, the leader of the Order.
He has been together with you guys all the time. The cutscene ends with him saying "send all of the fleets here".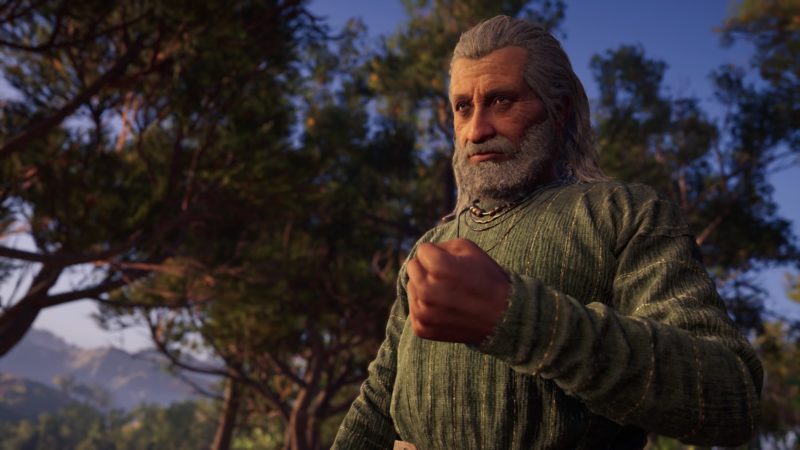 The quest completes here, and you'll have to wait for the next episode of the DLC to continue.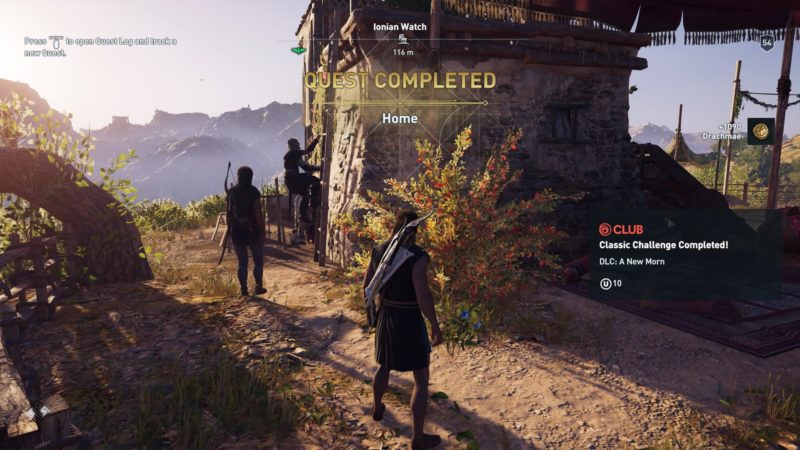 ---
Related articles:
Assassin's Creed Odyssey: Into The Storm (Walkthrough)
Kingdom Hearts 3: Thebes & Olympus (Walkthrough And Guide)
AC Odyssey: More Questions Than Answers (Walkthrough)
Assassin's Creed Odyssey: Leviathan's Maw (Quest Walkthrough)
Assassin's Creed Odyssey: Calm Before The Storm
AC Odyssey: Tides Of War (Quest Walkthrough)
Assassin's Creed Odyssey: Theatrics And Espionage (Walkthrough)
Assassin's Creed Odyssey: Prodigal (Quest Walkthrough)