A Sophisticated Tipple is a support quest in Assassin's Creed Odyssey under the newest quest Setting The Stage.
It's one of the Lost Tales of Greece. Your task was to choose to acquire a special wine or a common wine.
If you had chosen to look for the special wine, read on.
Here's a walkthrough of A Sophisticated Tipple in AC Odyssey.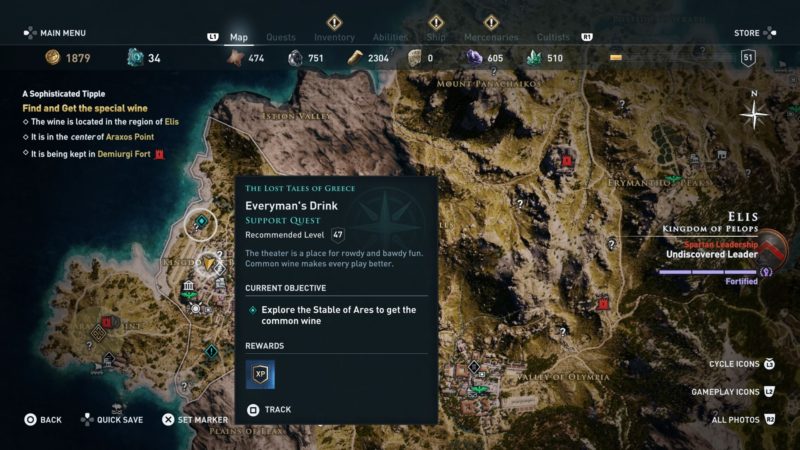 The other support quest is called Everyman's Drink, but I can't help you with that as I chose A Sophisticated Tipple.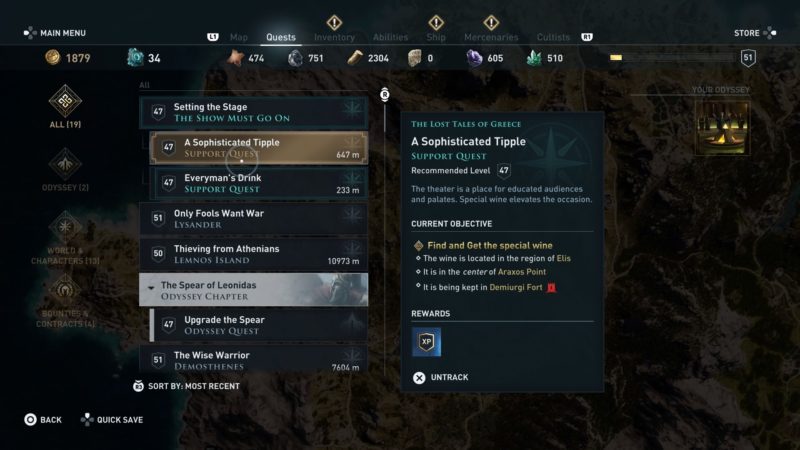 This quest is recommended for those level 47 and above, but it differs according to your own level.
Find and get the special wine
The main objective of this quest is to obtain the special wine. The wine is located on the island of Elis, at the exact location shown in the map below, marked as the quest symbol.
It's being kept in the Demiurgi Fort.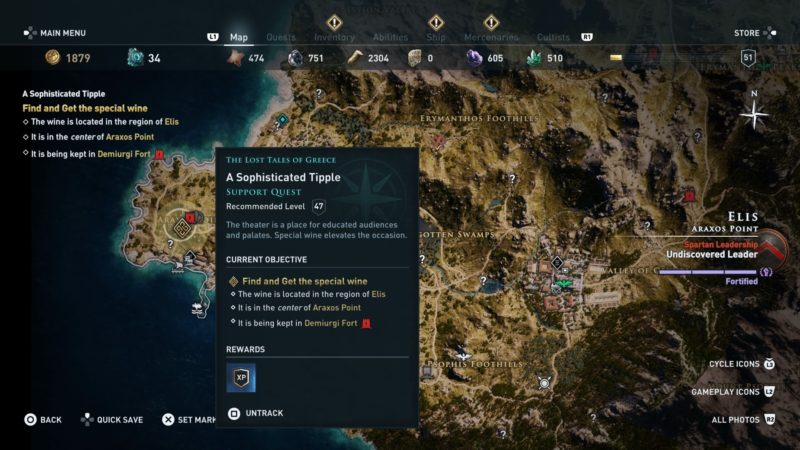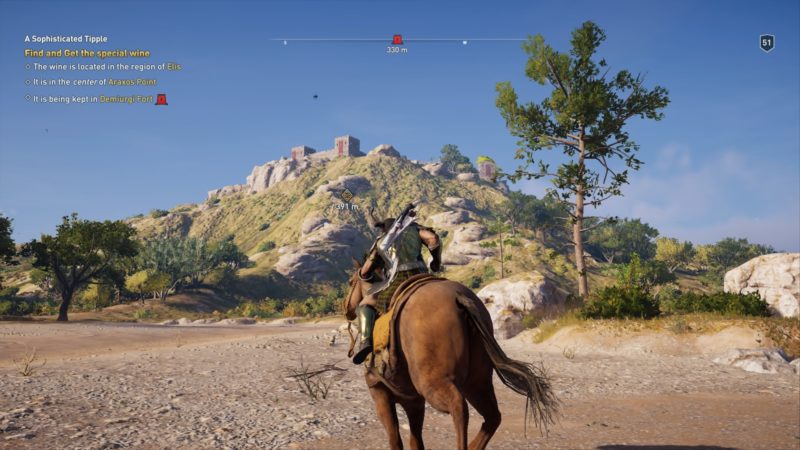 The fort is heavily guarded, and you may have to fight them as it's hard to get in undetected.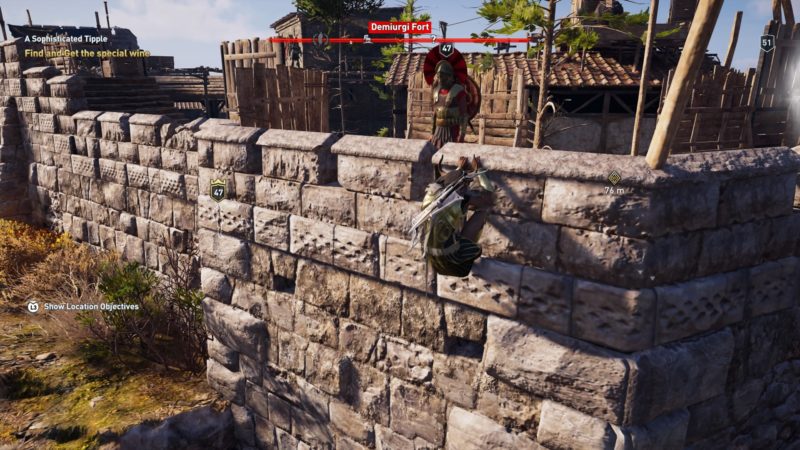 I ended up killing most of the guards here, including many mercenaries who came after my bounty.
It took way longer than required.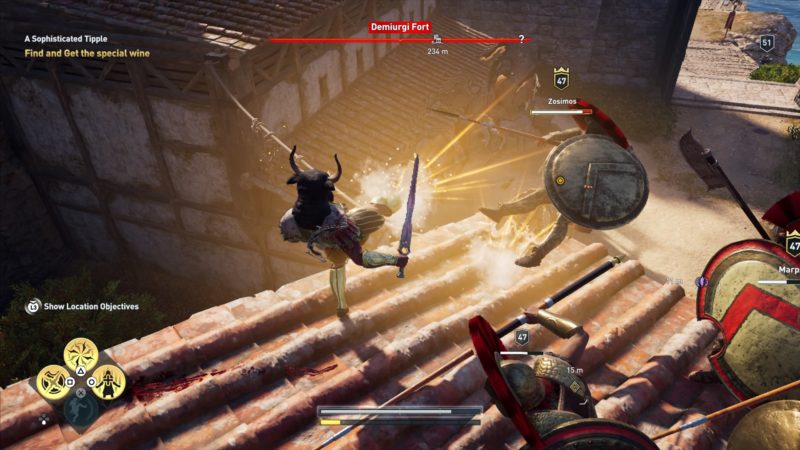 You should find the wine inside a building as shown in the image below.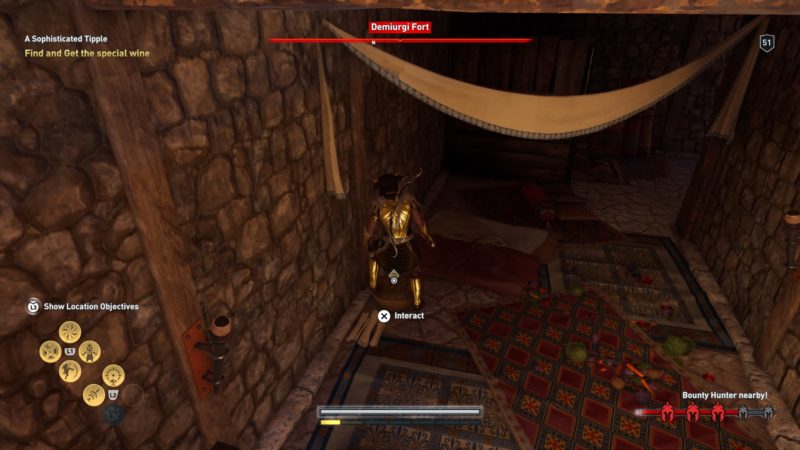 Turns out, it's not the real wine.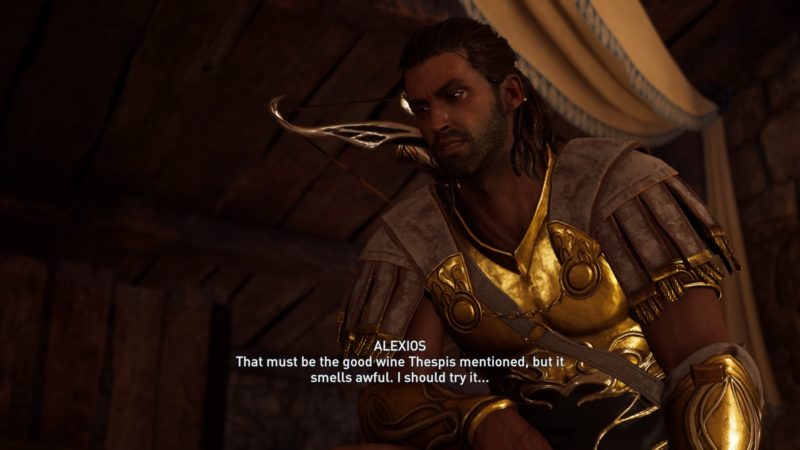 You will then receive a Wine Society Invitation.
Open your inventory and read the invitation to proceed with the quest.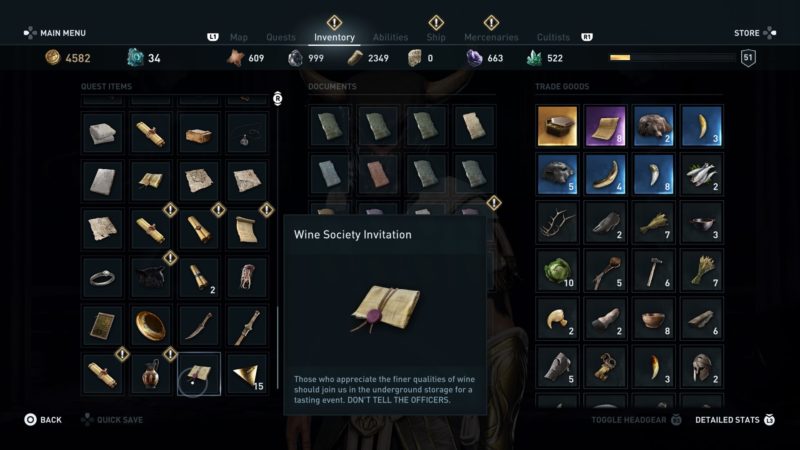 Explore the underground of Demiurgi Fort
After reading the invitation, you'll learn that the special wine is probably kept underground.
The location of the cave is shown in the map below.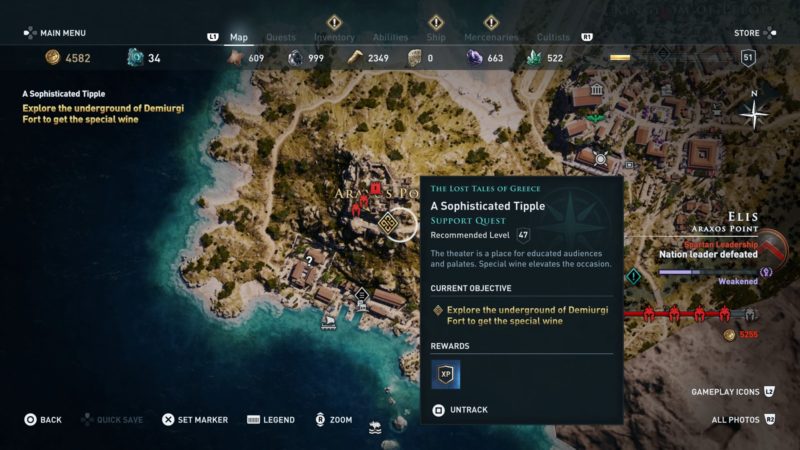 It's actually right beside the fort. You should get out of the fort and look for this small opening.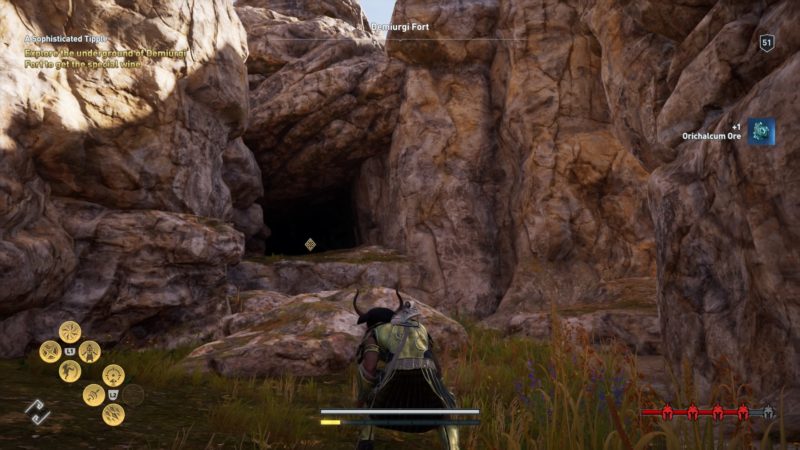 The special wine is inside the cave-like structure.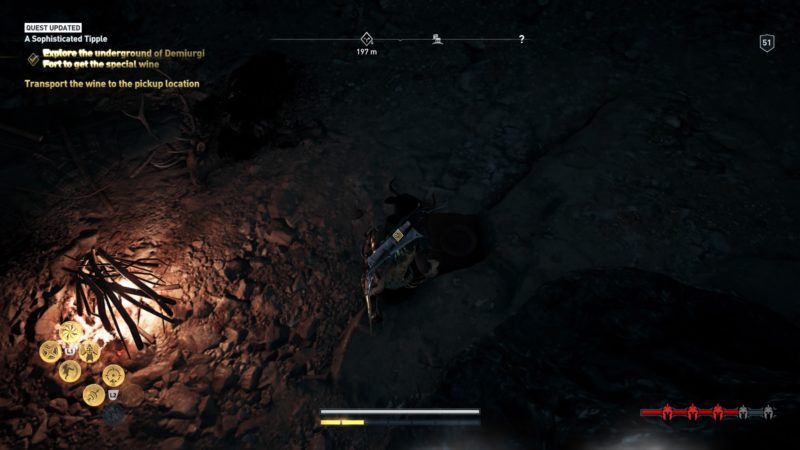 Transport the wine to the pickup location
You have to literally carry the wine to the pickup place. The location is shown in the map below, marked as the quest symbol.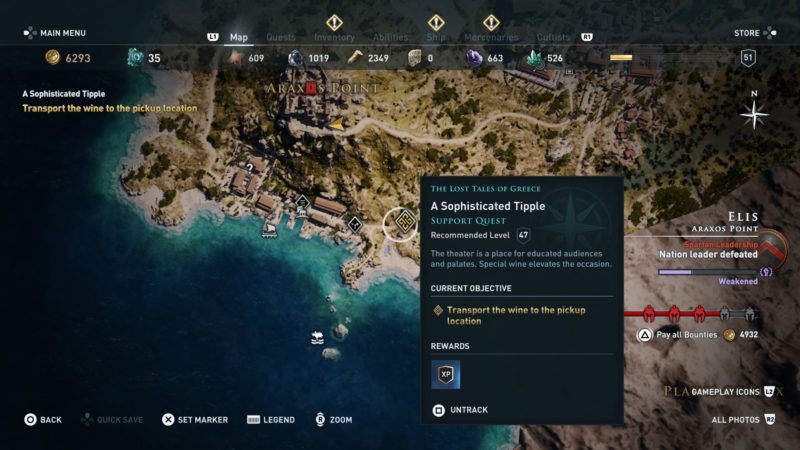 Luckily, you can carry it all the way without stumbling upon any threats.
Try avoiding some of the animals that may appear on the way.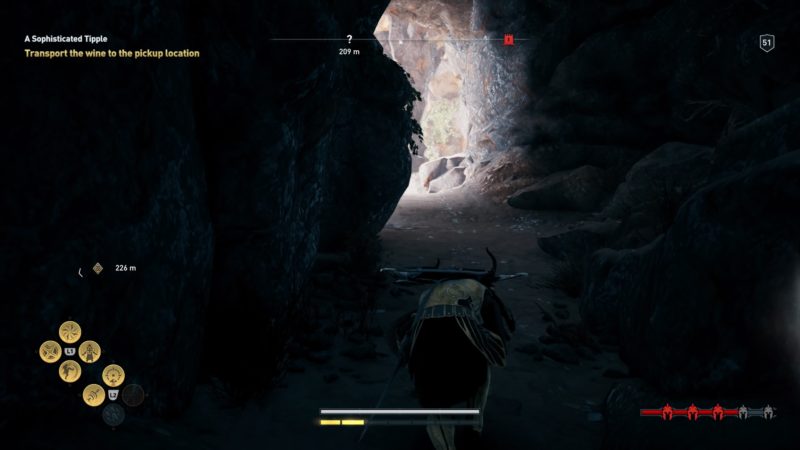 Once you bring the wine here, the quest completes.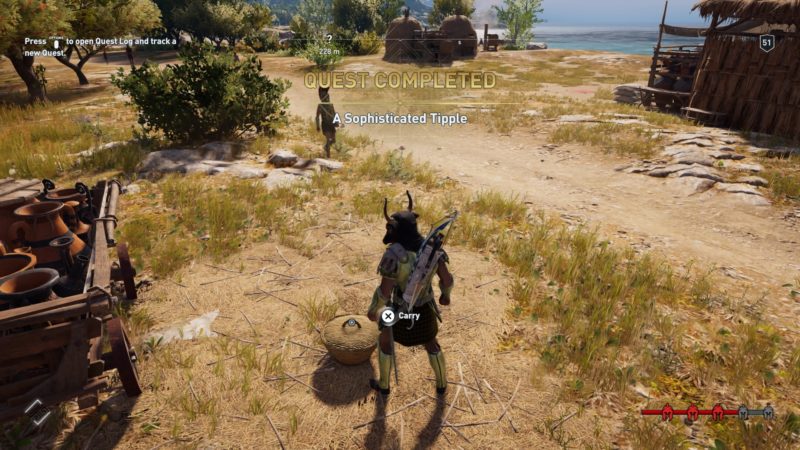 Now, you need to get back to the arena to complete the side quest Setting The Stage.
---
Related articles:
Assassin's Creed Odyssey: The Curse Of Fame
AC Odyssey: Evening The Odds (Walkthrough)
Assassin's Creed Odyssey: Blood For Aphrodite (Walkthrough)
Assassin's Creed Odyssey: The Best Defense (Walkthrough)
AC Odyssey: The Ore Of Aphrodite (Walkthrough)
Assassin's Creed Odyssey: Learning The Land (Walkthrough)
Assassin's Creed Odyssey: The Kingfisher And The Robin (Walkthrough)