Hi guys, this is my first income report on this blog! Well, $100+ is not much but it's a good motivation for myself. Blogging is not difficult. Anybody can be a blogger.
That said, not everyone can (or care about) monetizing their blog. The thing about starting a blog is that you can't expect to make loads of money from the get-go.
It takes time and a lot of hard work especially in the beginning.
The first few months of blogging is basically a lot of working for free and writing lots of content for very few readers. Most people gave up at this point. Well, if blogging is merely your hobby then maybe not.
If you're depending on your blog to earn you a full-time living, it's tough but it's not impossible. Many have done it. Some much better than others.
I myself have thought about giving up many times as it's not easy to write when nobody's reading it. Nonetheless, I will continue to persevere and write better quality content.
Note: There may be affiliate links in the content where I earn additional income if you sign-up using my link at no additional cost to you.
How much traffic I received in my 2nd month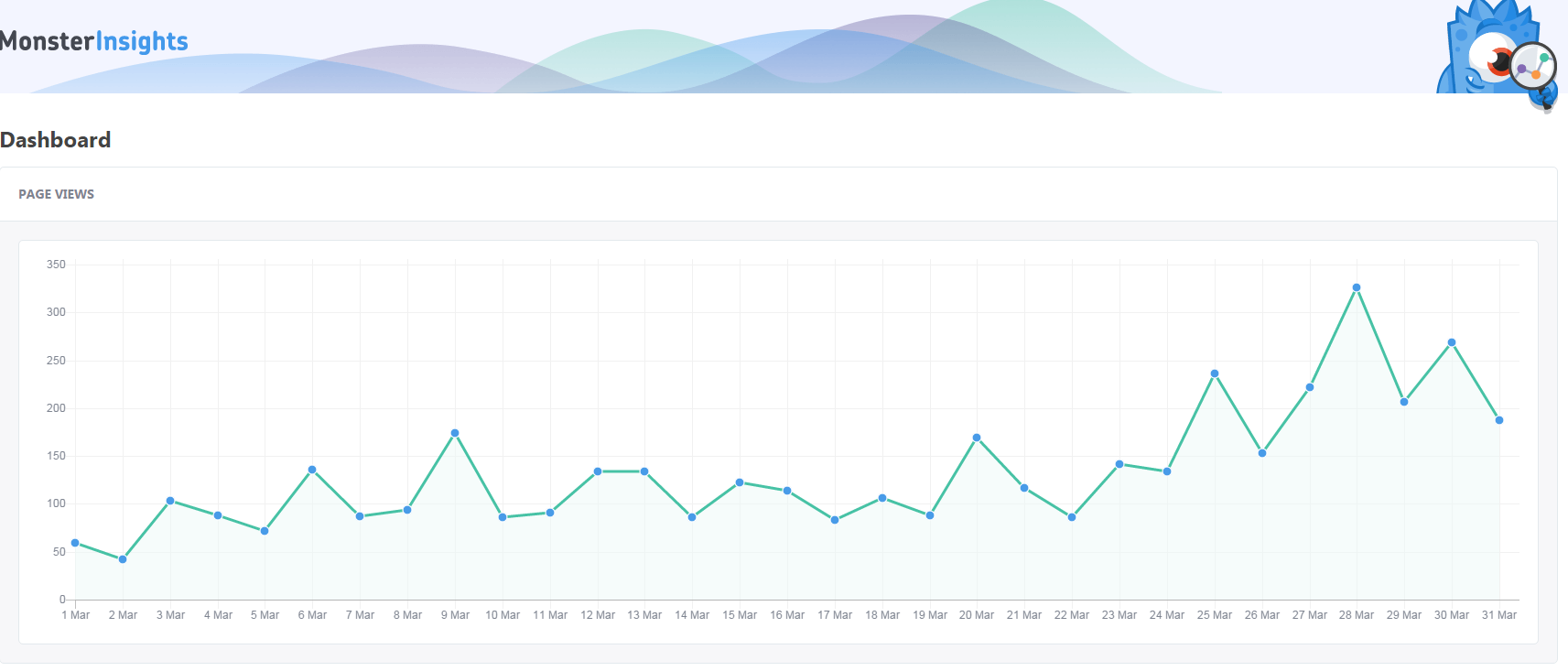 The graph above refers to my traffic data on Google Analytics (by MonsterInsights). As you can see, my traffic has improved in recent days. All thanks to Pinterest! One of my pins jumped in traffic and I'm not sure why, really. I'm getting 200+ visitors daily in my 2nd month. I'm not sure if it's great or just mediocre.
Regardless, it's still a jump in traffic and I'm happy to have started pinning actively this month!
Main contributors of traffic to my blog
Ever since I started blogging, I tried to diversify my traffic streams. Granted, search engine traffic is the best kind of traffic for top bloggers, but it normally takes around 6 months before Google grants you your SEO wish. Therefore, I relied on all kinds of social media platforms to boost my blog. Sharing your content on social media may actually help SEO if you get a lot of engagement and shares. Not too sure about it though.
#1 Pinterest
Pinterest has become my number one source of traffic in my 2nd month of blogging. I started using it only in the second month, as I had the misconception that Pinterest only works for DIY crafts or food photography.
I started off slow on Pinterest. Like reallllly slow.
Thanks to the suggestion of one of the members of Facebook's "Boost Your Blog", I started looking for group boards. It made a huge difference. I don't mean just following group boards, but applying to be a contributor. That way, your pins are seen by thousands of others, and if it gets re-pinned, the potential reach multiplies.
You can look for group boards to join on PinGroupie. It lists the number of followers, contributors, pins and even average re-pins that a group has. Look for those with a high re-pin rate. Otherwise, you can ask members of Facebook blog groups to see if you can join their group boards as a contributor.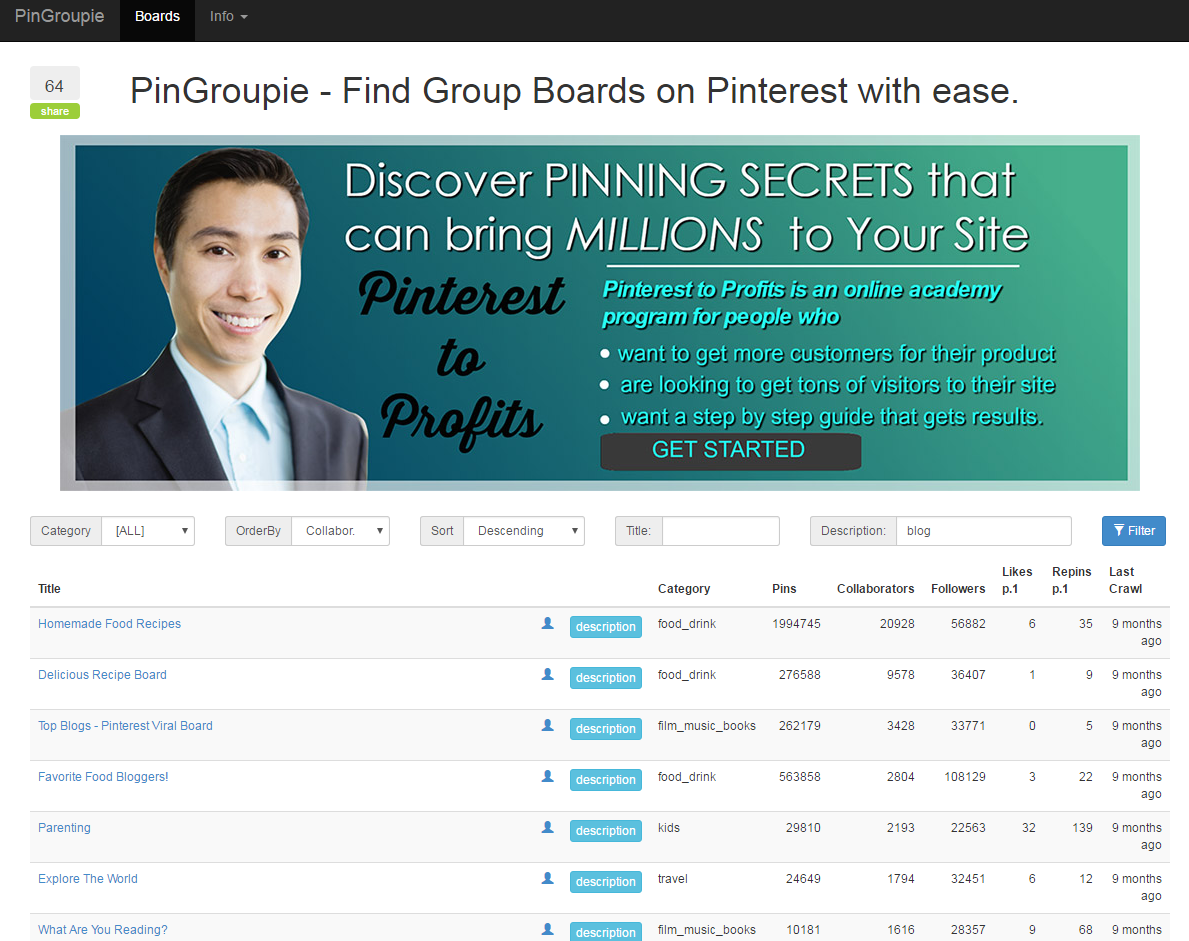 As there is no "apply" button for group boards, most group boards will state their conditions before applying in the description. Some group boards are closed to new contributors, so look for others.
Normally, they will require you to follow the owner of the board and provide a link to your Pinterest profile for them to add you. Otherwise, they will provide an email for you to send your request. They have to manually add you in via your email or your Pinterest profile. Once you're in, adhere to their rules. Some allow you to pin freely while others impose restrictions on the number of daily pins.
Apart from group boards, I started using Tailwind (paid subscription) to schedule my pins. It costs about $120 a year, though you will get a month free if you use my link. It helps me to pin even when I sleep as my pins work best at certain times. They also have a smart feed which tells you the time slots when your pins get the most engagement.
One of the best things about Tailwind is that they have a separate Tailwind Tribes. It's something like group boards but it's exclusive to Tailwind. You don't need a paid subscription to utilize Tailwind Tribes. How it works is that you can add your pins to Tribes and it almost guarantees re-pins. Why? Because most Tribes made it a condition for you to re-pin content from others as well. They can actually monitor your number of re-pins. Non-compliance may get you kicked out. There are many benefits to Tailwind but I won't elaborate more here.
To create Pinterest-friendly images, I use Canva or PicMonkey. If your pins don't stand out, it's difficult to grow. Ever since I started using PicMonkey, my pins have been getting more and more engagement.
#2 Facebook
Facebook started off as my number one traffic referrer but it has since taken the second spot after Pinterest. I joined a few Facebook groups for bloggers which allowed me to promote my latest posts.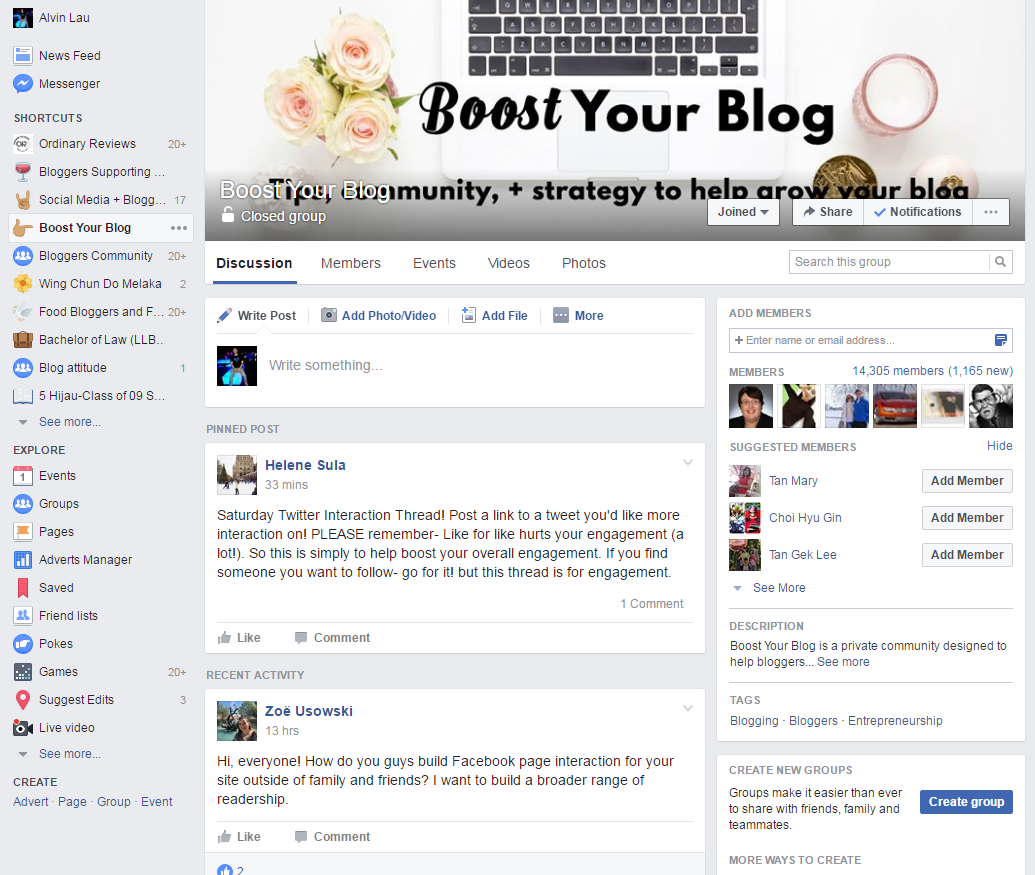 Do note however that not all groups allow you to promote your posts. Some are for blogging help which is quite crucial if you're a new blogger. Some are groups which only facilitate threads for "like for like", "comment for comment" or other forms of engagement. "Like for like" threads for your Facebook page may not be that helpful if your new followers are not interested in your content. It might be detrimental as it actually reduces your potential reach. Facebook algorithm works in a way that increases your reach if your followers always engage with your posts and vice versa.
As my niche is mainly on blogging, social media and making money from home, promoting on blogging groups seem to work for me. Most of them are my targeted audience anyway. If you're running a fashion blog, you may take a different approach. Pinterest or Instagram may be better for you.
#3 Miscellaneous
As I'm not getting much traffic from other sources I'm just listing them as miscellaneous. It includes search engine traffic, Instagram, direct traffic, Quora and other platforms.
I hope to increase my search engine traffic in the next 4 months, to be even higher than Pinterest traffic.
Income for March 2017
Finally to the topic at hand, this is a breakdown of my income streams which is quite depressing. I know.
SiteGround Affiliate: $100
Amazon CPM Ads: $2.70
Total: $102.70 (excluding expenses)
The funny thing is, I'm using Bluehost for this blog and I'm promoting as such yet I get no sign-ups. I do promote SiteGround a lot as I am an affiliate of SiteGround but I do disclose that I'm not a user of it. I guess Bluehost has such a bad name these days and SiteGround is the popular hosting company of 2017. I did a comparison of the three hosting companies here including HostGator if you are interested.
As for Amazon CPM ads, the amount is really little which reflects my traffic. Ads is not the best way to monetize your blog for most people. If you have massive traffic like a news site (The Huffington Post or Mashable), you can earn millions from advertisements. That is not the case for most of us.
Note: I didn't include my income from freelancing though it's not much.
Goals for the next month
Higher traffic. I believe that if you continue to pump in quality content and promote it constantly, traffic will grow gradually. Your older posts won't magically disappear. In fact, most of the posts you see on the first page of Google were written months or a few years ago. SEO takes time.
Higher income. With higher traffic, I'm hoping for a better conversion rate in terms of affiliate marketing. My blog can't sustain without money anyway.
More subscribers. I recently included a pop-up subscription form (MailChimp) which may be annoying. Having said that, I am actually getting subscribers after inserting that pop-up. It works!
Conclusion
There are many reasons to start a blog and many reasons to quit as well. I don't plan to give up anytime soon and I'm looking at this more as a career path. I started blogging years ago with no intention to monetize. This is the first blog where I hope to actually make a living out of it.
If any of you wish to start a profitable blog, you can refer to my guide on how to start a blog. I recommend SiteGround for hosting. Bluehost has so many negative reviews to the point that I am a bit cautious of promoting it (though this blog is hosted on Bluehost).
What about you guys or girls? Are you making money blogging already? Leave your comments below!
If you are an expert in monetizing your blog, I would love to have further tips!
Remember to pin this if you like what you read!
---
Related articles:
How To Increase Your Blog Traffic With MIX
Contest For Bloggers – Win USD 200 Worth Of Amazon Gift Cards!