Episode 8 of Vincenzo was just released in South Korea and on Netflix and the conflict continues.
In episode 8, we mostly see how Cassano played with Min-seong who is the president of Shinkwang Bank.
Here's a preview and release date of episode 9 of Vincenzo.
Episode 8 ending
Towards the end of episode 8, Vincenzo manages to convince Min-seong to not sign the agreement with Babel during the signing.
However, the plan failed as Min-seong's mother who is the chairwoman decided to sign instead. This was planned by Choi Myung-hee beforehand in case Min-seong couldn't sign.
After the signing had gone through, Geumga Plaza's tenants tortured Min-seong by staging a zombie scare.
The latter then ran out to the open where the reporters were and was later arrested by the police. That was when Cassano reveals himself to Min-seong.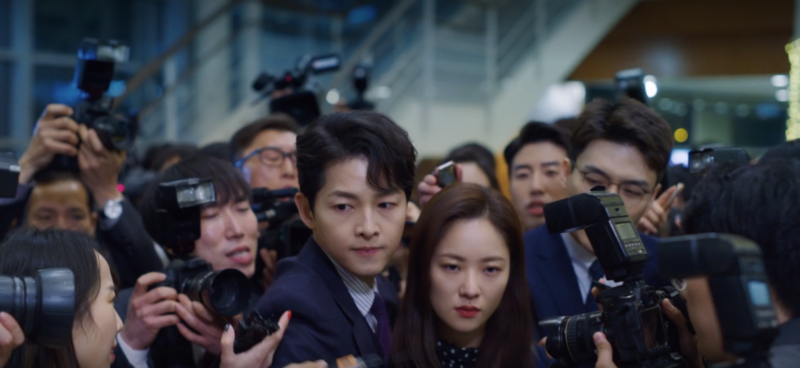 After Myung-hee taunts Cha-young that the latter might end up like her father, Cha-young calls the reporters, saying she'll expose Babel.
Episode 9 preview and release date
Episode 9 of Vincenzo should release on the 20th of March. The air time in South Korea is 9 pm (GMT+9), and the Netflix release should be slightly later.
In the preview of episode 9, we see someone dead on the floor, with Cassano investigating the scene. We also hear Cha-young saying Director Gil knows who it is. Director Gil seems to be in a meeting with someone else as well.
In another scene, Cha-young seems to be attacked at her place by an unknown person. We also see Joon-wo talking on the phone, saying "I just have to promise not to kill you, right?".
Joon-wo is also seen confronting Wusang's top staff and his younger brother with an ice hockey stick. He is also heard saying he'll change things to the way it once was from today.
We also see a vehicle getting attacked, but we're not sure if it's Cassano.
In the next scene, Joon-wo seems to be the one in a hockey helmet possibly beating some people up.
Towards the end of the preview, we see Cassano firing his gun.
---
Related articles:
Vincenzo – Episode 8 Preview And Release Date
Vincenzo – Episode 7 Preview And Release Date