Episode 6 of Vincenzo ended with a plot twist, as Cassano himself is summoned as a special witness.
We'll see in the next episode what he has planned, especially after their witnesses were all disqualified.
Here's a preview and release date of episode 7 of Vincenzo.
Episode 6 ending
Towards the end of episode 6, Babel managed to disqualify Jirapugi's witnesses. They planted cash to make it seem like the witnesses stole the donations.
They also drugged Lee U-yeong who is in the hospital for leukemia and prevented him as a witness.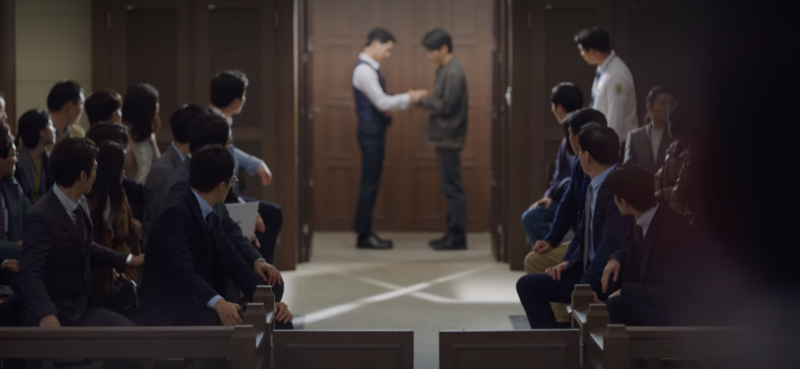 However, Cha-young then summons Vincenzo as a special witness during the second trial.
Episode 7 preview & release date
Episode 7 of Vincenzo releases on the 13th of March. The air time in South Korea is 9 pm (GMT+9), and the Netflix release should be slightly later.
In the preview, we see someone secretly taking photos (possibly Vincenzo) of their opponents. We also see Joon-wo getting pissed off as he destroys the windshield of a car, and scolding the Wusang top staff.
It seems like Jipuragi law firm had won the case as Cha-young was celebrating. However, we also see Cassano in a jail cell as Cha-young hugs him. This might have been a flashback prior to the trial.
Joon-wo then asks his younger brother to demolish the plaza as soon as possible. In the next scene, a group of men from Babel holding baseball bats start attacking people, with the boss from ANT corporation looking.
We also see Vincenzo punching someone in a restaurant. In another scene, we see Jang Han-seo at the ice rink with some men gathered in front of him, perhaps to punish them like his brother did to him.
Towards the end of the preview, we see Cassano's mother and (perhaps) Joon-wo injecting a liquid into a patient's intubation system.
At the end of the preview, Vincenzo is seen saying he'll make them pay no matter what.
---
Related articles:
Sisyphus: The Myth – Episode 8 Preview