Episode 12 of Vincenzo ended on a plot twist as we anticipate next week's episode.
In episode 12, we mostly see betrayals, for e.g., how Han-seo betrayed his older brother by shooting him.
Here's the preview and release date for episode 13 of Vincenzo.
Episode 12 ending
Towards the end of episode 12, Joon-wo finally revealed himself as Han-seok, the actual owner of Babel Group.
In another scene, Vincenzo and the Jipuragi law firm colluded to send all of the tenants of Geumga Plaza for a vacation.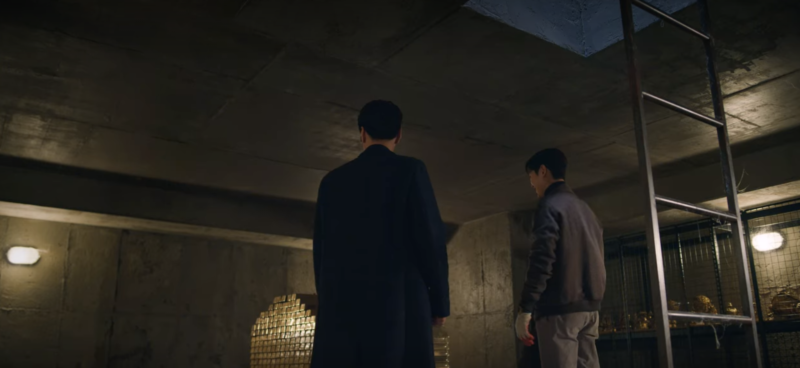 This is to allow him and his friend Young-joon to take out all of the gold. After they managed to open the safe and access the gold, Young-joon points a gun towards Vincenzo.
Episode 13 preview and release date
Episode 13 of Vincenzo should release on the 3rd of April 2021. The air time in South Korea is 9 pm (GMT+9), and the Netflix release should be slightly later.
At the start of the preview, it seems like Vincenzo lost of the gold to Mr. Cho but one. Vincenzo also seems to be crying over the gold, and we also see the three of them from Jipuragi sitting on the rooftop as they seem disappointed.
We also hear Vincenzo saying it may be pointless to summon CEO Jang Han-seok at the point in time. Cha-young also asks him if he has another plan.
In another scene, we seem to be looking at Prosecutor Jung (or someone else) running away with some files.
In the next scene, Vincenzo and his gang all masked up seems to be surrounding someone who's kneeling.
As always, we see Han-seok grabbing his brother at the neck, probably to scold the latter again.
We also see a crowd who seems to be taking photos and cheering but we're not sure what the context is.
At the end of the preview, we hear Han-seok saying it's time to kill Vincenzo.
---
Related articles:
Vincenzo – Episode 11 Preview And Release Date
Vincenzo: Episode 10 Preview And Release Date