Episode 6 of Start-Up was released two hours ago and we seem to be getting a story line.
In this episode, Dal-mi finally exercised her right as the CEO to unite Samsan Tech after their internal squabbles.
Here's a preview of episode 7 of Start-Up (Korean drama).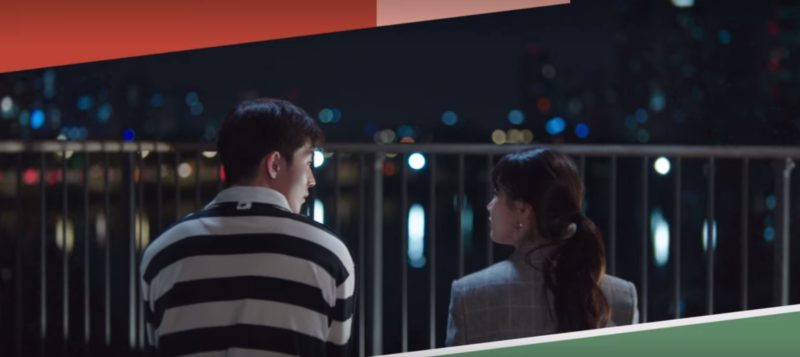 Episode 6 ending
Towards the end of episode 6, Do-san finally agreed to meet Dal-mi's grandmother at the latter's house. This was after Do-san consulted Ji-pyeong first.
Upon meeting Dal-mi's grandmother, Do-san is startled as he recognized her from the hospital earlier (shown in a flashback). When he brought Chul-san to the hospital, he noticed Dal-mi's grandmother coming out from the room beside, and the doctor seemed to be saying she's going blind.
Dal-mi's grandmother signaled to Do-san not to mention about it.
In the epilogue, we seem to be getting a new branching story line. Someone apparently joined the Sandbox program to take revenge. Yoon Sun-hak (director of SH Venture Capital) remembers one snowy night when a guy committed suicide by jumping off the bridge and she failed to stop him. She is reminded of it when she saw the white flower tied around the bridge's railing. It was during the time when the weather changed and the lightning struck.
It seems like the guy who's taking revenge is probably related to the one who committed suicide and he has managed to join the top five teams for Sandbox. We're not shown the person's face yet; we only see his body and his face is covered with a hoodie.
Episode 7 preview
In the preview for episode 7, Do-san probably hasn't told Dal-mi about his secret as he told her that he doesn't really remember 15 years ago. He also wishes that she didn't know him back then. In another scene, he asks Ji-pyeong if he's actually jealous.
We also see Samsan Tech busy in discussion, and they watched another team leave the venue (possibly because they failed to produce something of value). They only have six months to succeed.
In-jae is also seen telling Dal-mi some crucial information and asking the latter if she's not going to utilize it.
At the end of the preview, we see Won Doo-jung (In-jae's stepfather) telling Dal-mi that she should have chosen him instead like In-jae did. Do-san gets upset and asks Doo-jung to shut up as he defends Dal-mi.
---
Related posts:
Start-Up (Korean Drama) Episode 6 Preview
Start-Up (Korean Drama) Episode 5 Preview