Episode 10 of Start-Up just released an hour ago and Demo Day is coming.
In this episode, we see Dal-mi having mixed feelings about Do-san and Ji-pyeong. We also see a new revelation in the revenge story.
Here's a preview of episode 11 of Start-Up (Korean drama).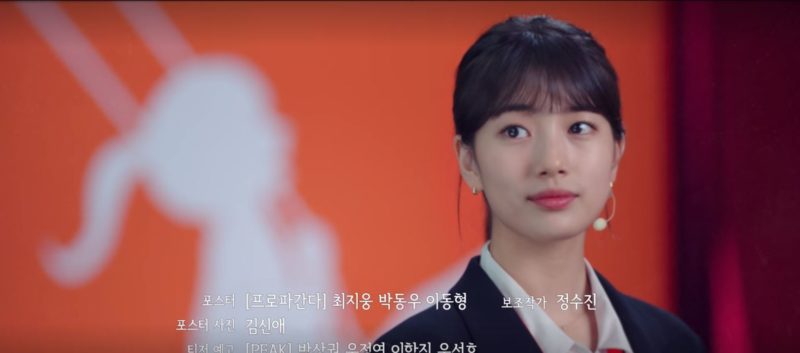 Ending of episode 10
Towards the end of episode 10, Do-san continues to encourage Dal-mi before the Demo Day presentation. He also tells her to forget all that she knows about him in the past.
We also see Yong-san pinning Ji-pyeong inside the elevator after revealing that the latter killed his brother a few years ago. Ji-pyeong doesn't remember anything about Yong-san's brother and made the latter even angrier.
Do-san also tells Alex of 2STO that he wishes to take on the offer by Alex earlier.
In the epilogue, we see Ji-pyeong practicing what he said to Dal-mi earlier in the episode when they had noodles together. He also met the same lady who talked about asking the ancestors when stumbling into any problem, similar to what the lady said to Do-san and Dal-mi.
Preview of episode 11
In the preview to episode 11, we see Dal-mi wondering who is actually the one inside her heart. Do-san brings Dal-mi to his actual Samsan Tech office as well, to show how he actually started as they begin to heal their relationship.
Chul-san is seen asking what if Dal-mi's solution is Ji-pyeong (presumably for their project); will Do-san be okay with it?
In another scene, Ji-pyeong seems to be in deep thoughts and thinks that it may have been true (assuming it's about the suicide).
Sun-hak from Sandbox is also saying that they're probably seeing a rematch between presumably Samsan Tech and In-jae's company.
The preview ends with Do-san saying he doesn't want Dal-mi to suffer anymore and Dal-mi also says she'll win no matter what.
---
Related articles:
Start-Up (Korean Drama) Episode 10 Preview
Start-Up (Korean Drama) Episode 9 Preview