Episode 7 of Sisyphus: The Myth was just released on Netflix and we finally see a reveal on Sigma.
In this episode, we're shown the face of Sigma but he's not familiar yet.
Here's a preview of episode 8 of Sisyphus: The Myth.
Episode 7 ending
Towards the end of episode 7, Tae-sul confronted Chairman Kim again at the latter's house, with Seo-hae's help as a sniper.
Tae-sul managed to record the conversation between Kim and Seo-jin the other day, and blackmailed Kim to tell him who Sigma is.
Chairman Kim told Tae-sul that Sigma contacted him to invest in Quantum & Time at the beginning and that he doesn't know how to contact Sigma.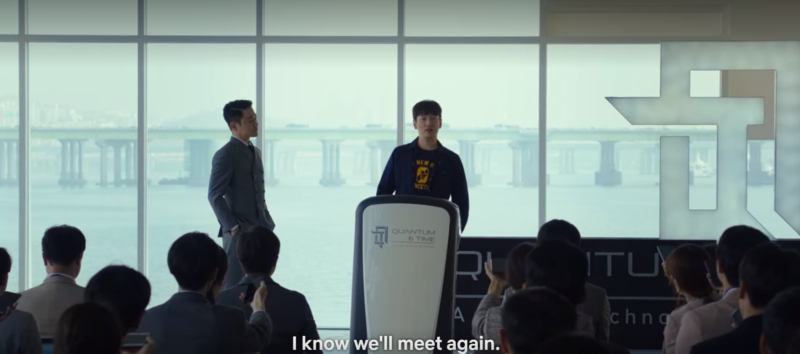 Tae-sul then appeared at a Quantum & Time conference, shocking Eddie Kim again. He then sent a live message to Sigma saying he'll find the latter.
After the live conference, Chairman Kim's wife seem to be ill again, possibly because Sigma withdrew the medication supply. Chairman Kim then committed suicide as he was disappointed with himself. We also see Sigma at Kim's funeral at the end.
Episode 8 preview
In the preview to episode 8, we see Tae-sul and Seo-hae being attacked by some men. Seo-hae then gets injured. We also hear someone saying why she has to go through all this to save him. This was possibly by Jae-sun since he doesn't like Tae-sul.
We also see a flashback when Quantum & Time probably first got started, with Sigma as one of the audience members. We then see Chairman Kim during a meeting and he is given a type of liquid, possibly the medicine for his wife.
In another scene, Seo-hae is saying she wants to help Tae-sul find his brother, not Sigma. We then see someone running with a briefcase to tell Tae-sul something, but is possibly stopped by other men.
We then see a scene probably from the future where Seo-hae jumps from a high floor in the mall and shoots at people as she falls.
CEO Park is also seen at the Control Bureau's headquarters as he seems to be interrogated and punched by the officer.
In another scene, Sigma is seen with a group of people, as they're burning money.
At the end of the preview, Tae-sul seems to have figured out what Sigma means.
---
Related articles:
Sisyphus: The Myth – Episode 7 Preview
Sisyphus: The Myth – Episode 6 Preview And Release Date