Episode 6 of Sisyphus: The Myth finally ended and we're already waiting for next week's episode.
In this episode, we see that Tae-sul can't really trust those near him as even they know what's going on with the time travel.
Here's a preview of episode 7 of Sisyphus: The Myth.
Episode 6 ending
Towards the end of episode 6, we see that Han Tae-sul finally understands what's going on even after he was drugged by Seo-jin.
He then used an EMP to escape his own house and the guards from the future (possibly Sigma).
After escaping, he managed to build a phone and called Seo-hae. She told him she's busy and she ended up shooting all of the guards as Tae-sul escapes.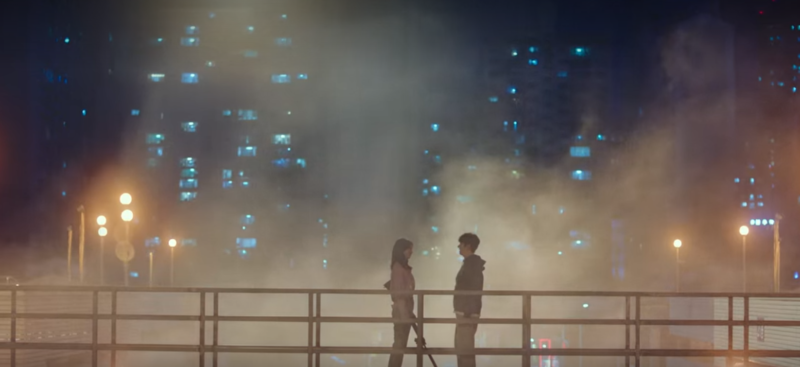 They then reunited at the bridge above.
We also see that Tae-sul's brother, Tae-san, is held captive in a room. The guy who is holding him hostage is watching both Tae-san and Seo-hae on many screens.
Episode 7 preview
In the preview for episode 7, we see Seo-hae meeting up with the brokers at Asia Mart, possibly to strike a deal in saving Tae-sul. She believes she can change the future.
We also see Tae-sul having a conversation with Chairman Han-yong, asking the latter who Sigma is. The chairman has a laser pointed at him, possibly a sniper to kill the man if he leaks out any secret on Sigma.
We then see the Control Bureau storming into Asia Mart. In another scene, Tae-sul and Seo-hae meets the guys again in Asia Mart which probably happens after Tae-sul was saved.
Seo-hae also tells Tae-sul that she met his brother. Tae-sul also has an idea on who Sigma is, and that he was beside him all along. We also see CEO Park of Asia Mart held at gunpoint by the Control Bureau, and his voice saying the downloader should never be turned off.
Finally, during a conference, Tae-sul sends a message to the guy who's looking for him (assuming Sigma), saying he'll find the guy instead.
---
Related articles:
Sisyphus: The Myth – Episode 6 Preview And Release Date