Episode 11 of Shooting Stars ended with Yu-seong finding out that Min-gyu was the anti-fan all along.
Tae-sung also gets bombarded by the paparazzi over the latest article on Yu-seong and Si-woo meeting in the past. He eventually faints before being rescued by Han-byeol.
Here's a preview of episode 12 of Shooting Stars.
Episode 12 preview
You can watch the preview to episode 12 of Shooting Stars using the YouTube embed below.
In the preview, we see Tae-sung's agency coming towards the front of his condominium where he was bombarded with questions by the paparazzi.
Han-byeol seems to be the one who picks him up to get him away from the rest.
We also see the actress Da-hye looking at her computer screen looking sad, possibly over Tae-sung again.
The three working under the Publicity Team once again seems puzzled over what had happened.
In another scene, Min-gyu is asking if hating an entertainer is an actual crime.
Han-byeol is also seen sighing over a news article on Si-woo, most likely linked to Tae-sung. We also hear someone saying it doesn't matter if they believe it or not.
Yu-seong is seen talking to the director of the movie that Tae-sung is filming, saying you can't do it that way. This is possibly due to a scandal of some sort affecting their reputation.
Ho-young is then seen hugging Yu-seong, trying to console the latter over the whole incident.
In another scene, we see Lawyer Do and Jo Gi-bbeum having drinks together as they may be starting a new love line.
Eun Si-woo is also seen sobbing as she thinks it's a mistake she came back to South Korea. Tae-sung then shows to Han-byeol the image that he received on Yu-seong meeting up with Si-woo. We also see Yu-seong and Han-byeol talking over the matter, and the former seems to be emotional about it.
We then see Tae-sung and Yu-seong arguing at the former's house.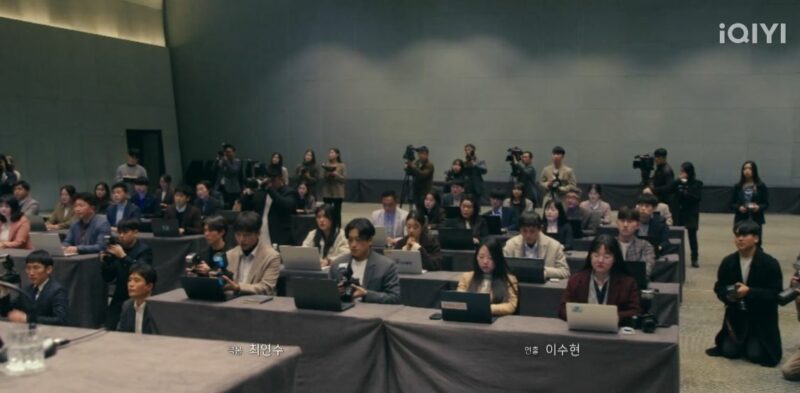 At the end of the preview, Yu-seong indicates to Han-byeol that he probably knows who is trying to destroy Tae-sung.
---
Related posts:
Shooting Stars (Korean Drama): Episode 11 Preview
Shooting Stars (Korean Drama): Episode 10 Preview