Episode 6 of Record of Youth was just released a few hours ago which dealt with the new relationship between Hye-jun and Jeong-ha.
Among other things, Hye-jun gets news that he is accepted in a new drama series but it eventually didn't happen.
Here's a preview of episode 7 of Record of Youth.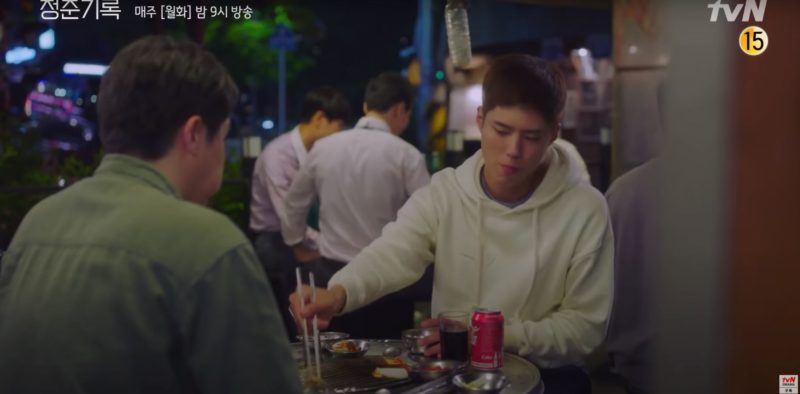 Episode 6 Ending
In episode 6, Hye-jun received news that he was accepted for a mini-series, but the role disappeared as Tae-su influenced the director not to give the role. His family all heard that Hye-jun got the role but they mostly haven't found out that the role is gone.
Towards the end of episode 6, Sa Min-ki (Hye-jun's grandpa) fainted due to exhaustion. Yeong-nam then discovered that Hye-jun enrolled his grandpa for a modeling class and slapped Hye-jun.
The latter was upset and cried by himself until Jeong-ha called. The pair went out for a date and they eventually had their first kiss.
Episode 7 Preview
You can watch the preview of episode 7 on YouTube or at the end of episode 6.
In the beginning of the preview, Hye-jun is seen saying that he is grateful Jeong-ha is by his side.
In the next scene, Tae-su and Do-ha is seen meeting up with Hae-hyo's mother (or both parents) at the golf course.
Hae-hyo is seen running up to Jeong-ha and asks her not to be startled by something he will say.
Later, Gyeong-jun is seen upset as he binge eats, possibly because he was scammed by the 'realtor'. He tells Hye-jun to forget about his duty as the eldest son. Hye-jun asks him what has he actually done as the eldest son.
Gyeong-jun comes home and gets scolded by his mother.
At the make-up salon, Jin-ju tries to argue with Jeong-ha again. She then tries to slap Jeong-ha but the latter stopped her. Jeong-ha then says she won't let Jin-ju have her way.
Hye-jun seems to get news from Min-jae that someone is looking for a model-turned-actor, possibly for a new role.
---
Related articles:
Do You Like Brahms Episode 10 Preview
Flower Of Evil Episode 16 (Ending) Recap
'Do You Like Brahms?' Episode 8 Preview
Record Of Youth Episode 6 Preview