If you have heard of the famous cryptocurrency-based ponzi scheme called PoWH3D (proof of weak hands), you may want to stick around for this.
P3C can also be said to be a ponzi scheme or a pyramid scheme since the earlier you enter, the more you'll earn (only assuming if people buy in). The developers call it a universal basic income game.
P3C is based on the Ethereum Classic Network, not the Ethereum network unlike PoWH3D. If you think you're late to the latter, maybe try out P3C since it's rather new and can be seen as an alternative.
Big disclaimer: P3C can be deemed to be a ponzi scheme, so don't join the 'game' if you're afraid of losing money. Don't invest if you can't afford to since it's a big gamble. I may also have affiliate links in the article.
How does P3C work?


According to their official wiki, the rules of the game are simple. Here's what you should know.
For every p3c token purchased, the price of the token increases by 0.00000001 ETC (Ethereum Classic). Correct me if I'm wrong.
10% of what you spent to buy in gets distributed in proportion to all the existing token holders.
Whenever you sell your token, you can only get back the ETC at a specified price. Furthermore, the price of p3c will go down similarly by 0.00000001 ETC.
Additionally, 10% of what you sold back is distributed proportionally to all token holders. This means if someone sells, you get a portion of that 10% if you're still holding p3c.
You can also use referral links also known as a Masternode link and when someone buys using your link, you earn 33% of what the community would have gotten by distribution (in dividends).
What this means is that if you buy in early and many others buy in later, the price of p3c tokens keeps increasing and you also share a small pie of the 10% during the buy-in.
The scheme is clearly a pyramid kinda scheme and is considered to be a scam in ordinary language. Hence, please be informed that it's a gamble and you may lose everything you invest if this scheme collapses. You have been warned!
How to join or participate in this P3C game
1. Before you begin, you need a wallet for Ethereum Classic. They recommend using the Saturn wallet. It's available as an extension in Chrome, just like Metamask.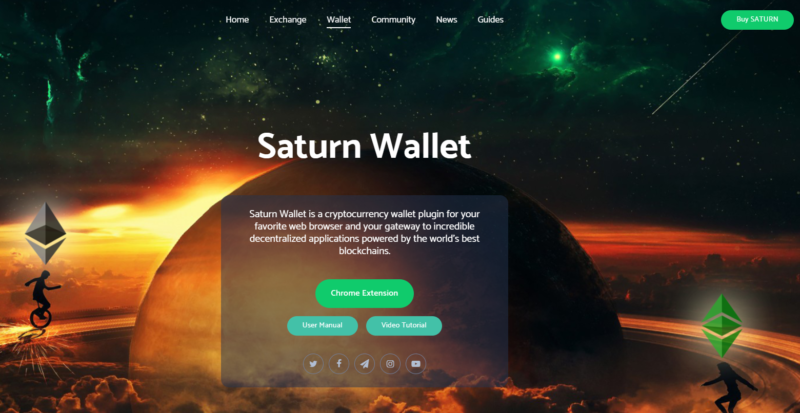 2. You have to disable Metamask when you're using the official p3c website.
3. You can download the Saturn wallet by going to Chrome Extensions.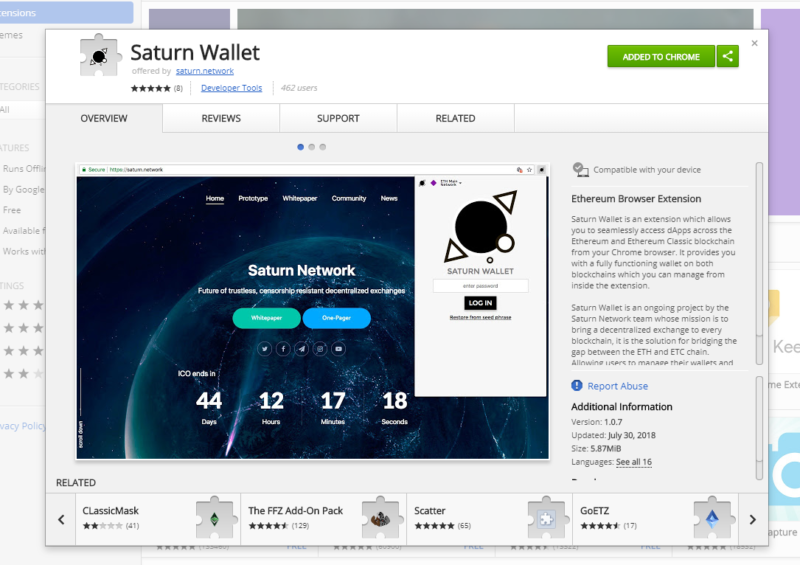 4. Create a new account and save the seed password properly. Keep an offline copy to be safe. The seed is as important as your bank account ownership. Treat it that way.
5. Once you have your new account, choose Ethereum Classic Network instead of Ethereum Network for it to work.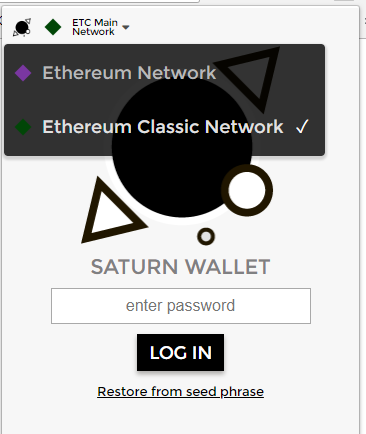 6. Next step, go to the official website P3C to start buying. You should see the following screen when you enter the official site. Remember to sign in into your Saturn wallet first.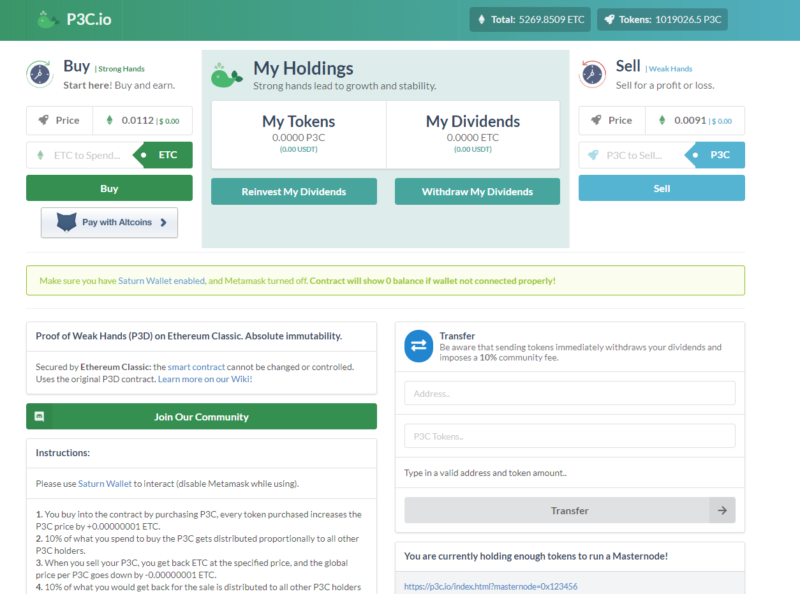 7. The website can detect your Saturn wallet extension and show you your balance accordingly. Before you can buy p3c tokens, you need to have some Ethereum Classic tokens (ETC) in your wallet. You can buy Ethereum Classic from exchanges like Binance. Transfer Ethereum Classic to your Saturn wallet.
8. You can now proceed to buy p3c tokens with your ETC by filling in the form (how much ETC to spend) and click submit. Your Saturn wallet will then prompt you to go on with the transaction. If the transaction fails the first time, you may have run out of gas. Put a higher amount of gas for the transaction the second time. It worked for me the second time.
9. And that's it. You should see your balance and your dividends. You can cash out at anytime (supposedly). I'm not a cryptocurrency tech expert so I'm not fully sure if the mechanism is safe. Whether this token becomes a success depends on the cryptocurrency community and whether it's shilled a lot. PoWH3D shot up a lot in value due to people FOMO-ing.
P3C in a nutshell
To sum it up, p3c is sort of a game (ponzi scheme) where you can either win a lot or lose a lot of money. Either way, never invest what you can't afford to since it's super risky. You have been warned.
If you do get into it, good luck.
---
Related articles:
How To Buy Cryptocurrency In Malaysia (Non-Bitcoin)
3 Ways To Earn Cryptocurrency With No Investment
8 Popular Bitcoin Exchanges – Buy Bitcoin And Other Cryptocurrencies
How Does Discord Make Money – The Business Model Of This Chat App