So what is Mingo? On first impression, it seems to have many different things going on. It's actually an interconnected set of supporting products.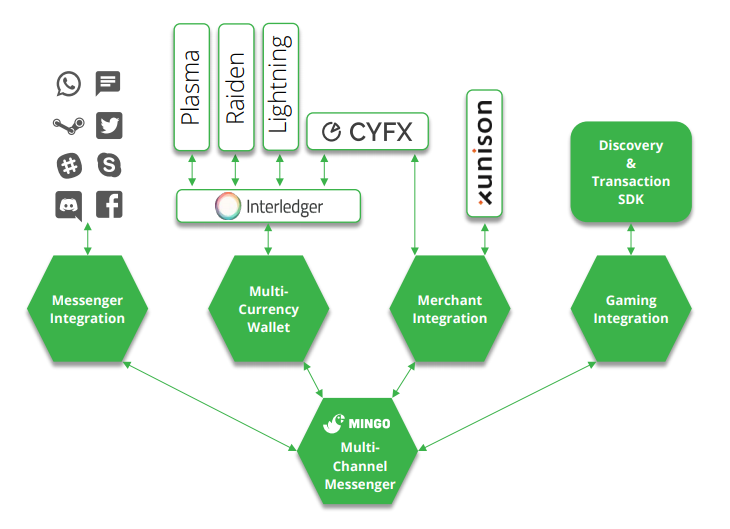 One of it is MingoMessenger, a platform agnostic, multi-channel messenger app as well as a white-label solution. It allows enterprises to manage their customer relationships as well.
It also comes with their own MingoWallet, a multi-currency wallet that uses Mingo Coin, amongst others.
What's great about Mingo is that their MingoMessenger has already been available for some time now, and they have over 50,000 users across 170 countries.
Let's look at individual subheadings to get a better understanding.
MingoMessenger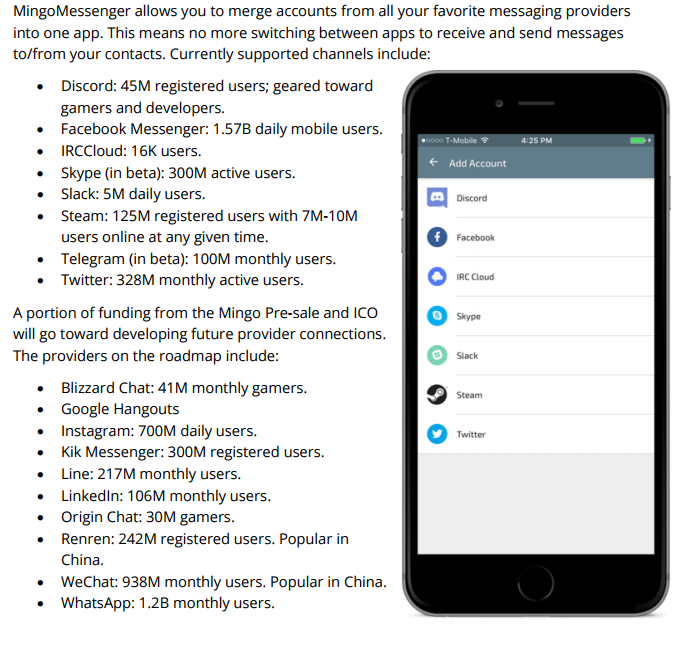 One of the stand out features in my personal opinion is their merging capabilities. It allows you to merge accounts from all of your favorite messaging apps. Perhaps many of you are on Discord, Telegram, Facebook Messenger or even on Slack.
You can put all of them together into one app and it saves you so much time! The above messaging apps are already on their platform. The funding from the pre-sale and ICO will go into adding more apps, including WhatsApp, WeChat, Kik, Line and so on.
The potential that they have is pretty awesome.
MingoWallet
No crypto is complete without a wallet. Mingo will have their own MingoWallet by 2018. It's in the plan but the product is not launched yet.
Their wallet is supposed to have multiple currencies and you'll be able to maintain multiple wallets within this wallet itself. Sounds like a wallet-ception?
Of course, the main coin that runs in the heard of this wallet is their very own MingoCoin.
What's awesome about these MingoCoins is that you can actually earn it. According to their White Paper, you may actually earn coins from doing healthy behaviors. For instance, if a user takes an action, he is rewarded with recognition, achievements and ultimately coins.
The concept of rewarding users is a great one and I'm sure everyone can agree with that.
Roadmap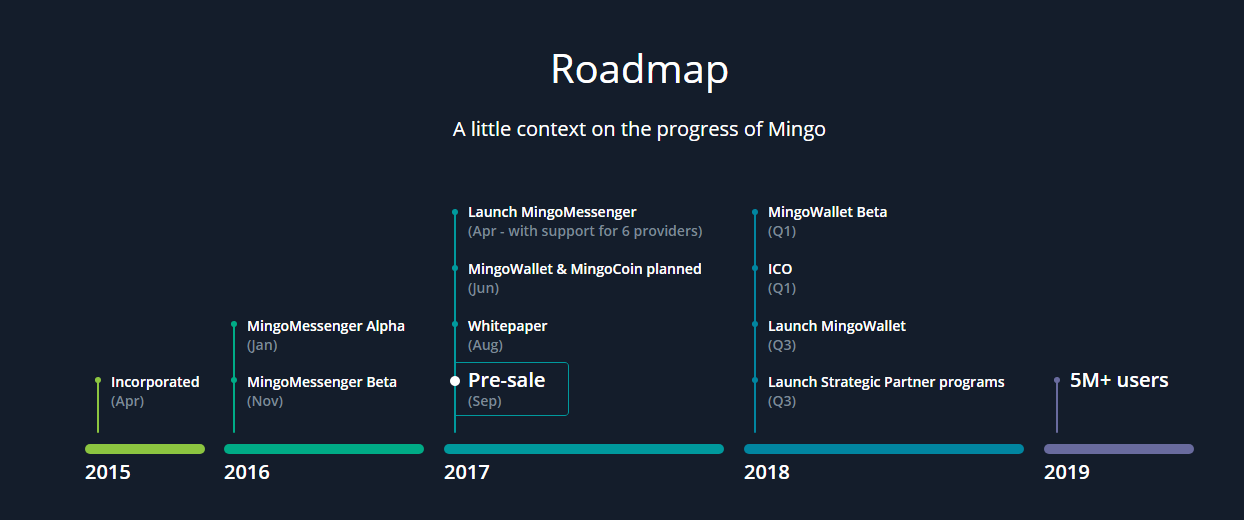 Their Roadmap seems pretty promising. They were incorporated in 2015 and by 2017 MingoMessenger has been launched officially.
It's good that they have a product to show in the first place, before doing all of the marketing. The target by 2018 is to have MingoWallet launched and some other Strategic Partner programs launched as well.
Pre-Sale
Their Mingo token pre-sale is in 10 days! A pre-sale has lots of discount and you have to get in early to get the most discounts.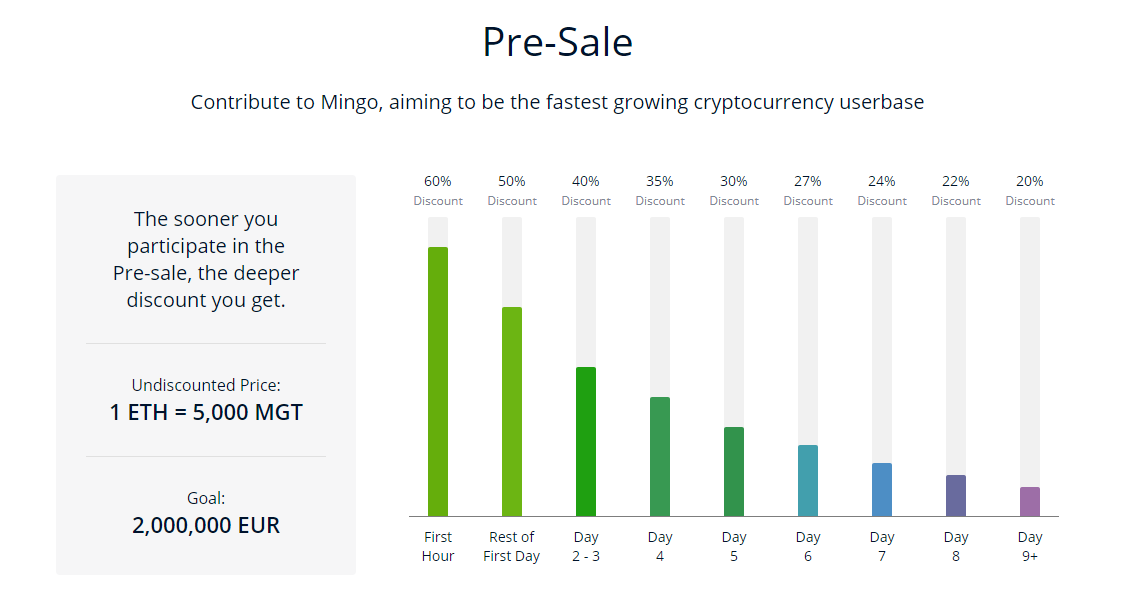 They used "Mingo tokens" exclusively for the pre-sale and when it's done, these tokens are traded 1 : 1 with MingoCoins.

A pre-sale is not an ICO. The funds from the pre-sale will be used to fund for a successful ICO.
It's estimated that 800 million MingoCoins will be issued after the ICO.
Conclusion
Mingo seems to have a lot of potential, especially since they plan to merge all of the popular messaging apps. They already have a live product and you can check it out.
Here are links to their official pages.
Do check it out quick if you want to participate in their pre-sale.
Thanks for reading!
Disclaimer: This article is not to be taken as investment advice. Do your own research and only invest what you can afford to.
---
Related articles:
Cryptocurrency Crash? What Can You Do About It?
EByte – ESports Powered By Blockchain