Episode 15 of Flower of Evil has finally been shown and it ends at another tragic moment.
The whole secret of Baek Hee-sung being the real bad guy has been unraveled at last.
Here's a preview of the finale (episode 16) of Flower of Evil.
Read also: Flower Of Evil Ending Recap (Episode 16)
Ending of episode 15
In episode 15, Hyun-soo finally meets the real accomplice – Hee-sung. Hyun-soo strangled, attacked and chased after Hee-sung like a mad man after being told that his wife was murdered.
Before he landed his final blow near the cliff, Ji-won and the rest of the police force showed up.
She convinced him to drop the knife and go to her. While Hyun-soo finally went to embrace Ji-won, Hee-sung managed to grab one of the officer's gun and shot Hyun-soo from the back.
The episode ended with Hyun-soo lying unconscious on the ground and at the same time, having a dream that he's in paradise with Ji-won.
Episode 16 Preview
You can watch the preview of episode 16 at the end of episode 15, or via YouTube.
In the preview, we see Ji-won crying over Hyun-soo who is badly injured and lying on the ground.
She repeatedly says "breathe, breathe, breathe" as we see an ambulance bringing Hyun-soo for treatment.
We also see Ji-won with Eun-ha alone at home is heard saying "It's been four months already. Can you say something? Anything? It doesn't matter what it is."
She also tells Eun-ha that she just wants Dad (Hyun-soo) to be happy.
Hyun-soo is also seen in court during a trial.
Thoughts
Flower of Evil is finally coming to an end and it's been such a suspense-filled journey. Every episode was directed really well with the twists and turns but sadly, we're only left with one episode.
Although Hyun-soo was badly injured at the end of episode 15, we see him alive and well in episode 16's preview, meaning he survived the ordeal.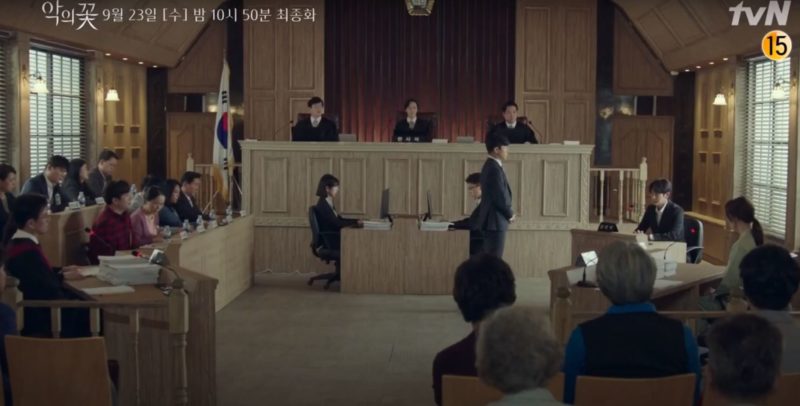 However, Hyun-soo might be tried in court for his suspected murder many years ago. We're not sure if he'll try to take the blame for that or if Hae-soo will confess instead. He may also be testifying against the Baek family in the next episode.
When Ji-won mentioned that she has not seen Hyun-soo in months and remarks "just say anything", it could be because he was hospitalized for a long time, or perhaps he lost his memory after recovery, and chose to live separately.
Some have pointed out that he is not wearing the ring anymore, while others say it's on his left hand. He could have lost his memory since he was bleeding around his head.
Hopefully we'll have a happy ending this time considering Hyun-soo had it rough from the start.
---
Related articles:
'Do You Like Brahms?' Episode 8 Preview
Record Of Youth Episode 6 Preview
'Flower Of Evil' Episode 15 Preview
'Do You Like Brahms?' Episode 7 Preview