Episode 14 of Flower of Evil just released about half a day ago and we're only two episodes left in the season.
The entire episode has been tense from start to finish and we can't wait for more.
Here's a preview for episode 15 of Flower of Evil.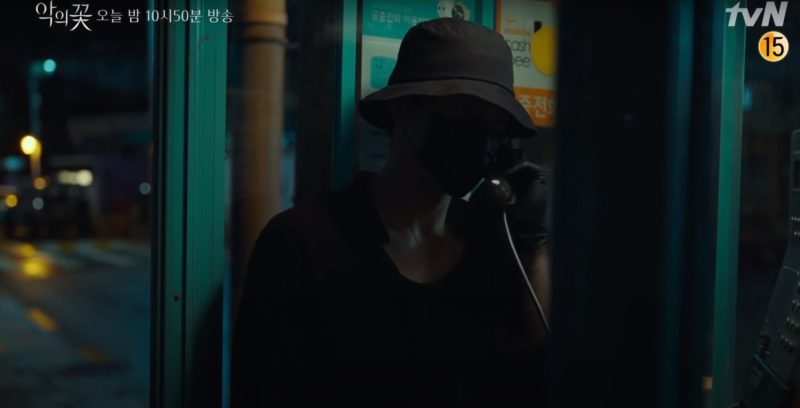 Ending of episode 14
In episode 14, Hae-soo and Eun-ha went back to the latter's house to retrieve Eun-ha's items.
However, the door knob was removed by Hee-sung earlier and he eventually confronted Hae-soo.
Thinking she was Ji-won, Hee-sung ended up stabbing Hae-soo. For now, we're not sure if she died or if she simply went unconscious.
Preview of episode 15
You can watch the preview of episode 15 at the end of episode 14, or by using YouTube.
In the preview, we see that Ji-won finally figured out that Hee-sung is awake, as they may have seen the black box footage. Ji-won has also seen Hee-sung lying down at the house so she would recognize him.
Hee-sung is later seen meeting up with Yeom Sang-cheol at Min-seok's old house, where Hyun-soo might be hiding. He also brought the briefcase with cash.
Moo-jin barges into Baek's house and looks for Hee-sung. In the meantime, Baek Man-woo is seen tearing up some paper (probably evidence).
Hyun-soo is seen talking to Mi-sook who is in the cage, empathizing with her situation, since his life has been a mess as well. It's probably before the meeting with Hee-sung.
While Hee-sung is confronting Mi-sook who is in the cage, Hyun-soo strangles Hee-sung from behind. Hyun-soo pins down Hee-sung on the ground, and the latter says "Hi, nice to meet you. You are curious as to who I am, right?".
At the end of the preview, Mi-sook grabs a phone and asks Ji-won to save Hyun-soo.
---
Related articles:
Record Of Youth Episode 6 Preview
Flower Of Evil Episode 16 (Ending) Preview
'Do You Like Brahms?' Episode 7 Preview
Record Of Youth Episode 5 Preview