Episode 13 of Flower of Evil ended with another cliffhanger and the suspense is building up towards the last few episodes.
We now see how cunning Hee-sung is in setting up a trap for Hyun-soo, and is even worse than his father Man-woo.
Here's a preview of episode 14 for Flower of Evil.
Ending of episode 13
Towards the end of episode 13, the other members of Ji-won's police force finally learns the truth about Hyun-soo and how he's Ji-won's husband.
Ji-won who found evidence that Hyun-soo may have killed the worker Soon-young came to the workshop to arrest her husband.
While putting on handcuffs, Ji-won gets a call from Jae-sub asking where she is, but Hyun-soo threw away the phone.
He then holds Ji-won at knifepoint and asked her to remove the CCTV cables. All this is seemingly done on purpose to get the police to look at it.
As expected, the police arrives but the two are gone, and they saw the footage on the CCTV before it was unplugged.
Episode 14 preview
You can watch the preview of episode 14 via YouTube, or at the end of episode 13.
In the episode 14 preview, we see the police force discussing the situation as they have to rescue their colleague Ji-won.
We also see Hyun-soo and Ji-won walking together, but Hyun-soo wears a hood to conceal himself.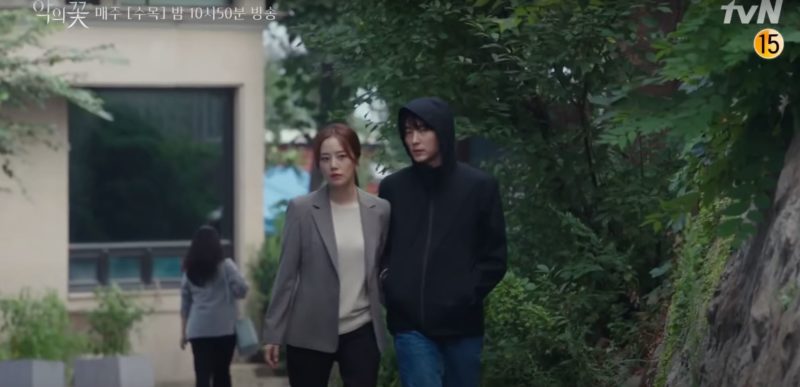 Eun-ha, her grandmother and Reporter Moo-jin all gets a visit from the police about Hyun-soo. Someone in disguise (probably Hyun-soo) is also seen buying stuff from a shop (possibly a weapon).
Meanwhile, Hee-sung looks happy as Hyun-soo is pegged as the murder suspect. Man-woo is also seen opening a briefcase filled with cash, together with his wife Mi-ja and son Hee-sung. Mi-ja seems worried and asks if their plan will succeed.
Hyun-soo and Ji-won are probably staying in a motel and the latter doesn't seem to interfere with her husband at this point. Hyun-soo tells Ji-won "We will see each other soon, don't act like you're sending me to die. Wish me luck."
Either Hyun-soo or Hee-sung (or both) is seen reaching the old house where Do Min-seok used to live. Hee-sung might also be trying to get rid of someone who is an 'uncontrollable variable'.
Someone with black gloves is also seen touching Ji-won's police ID, and at the end of the preview, we see Eun-ha waiting at the door looking worried.
Thoughts
In episode 14, we will see Hyun-soo and Ji-won running away together as the latter seems to trust him. She could have attacked her husband instead but seems to have chosen not to.
We also don't know what the Baek family is planning as they open a briefcase filled with cash. Perhaps it's for Hee-sung as he can't be seen in the house.
Both Hyun-soo and Hee-sung might be going to the old Min-seok house to find Sang-cheol. Hee-sung might even get rid of Sang-cheol as he is an uncontrollable variable.
Perhaps Hee-sung might target Ji-won or Eun-ha as well.
What do you think will happen in episode 14?
---
Related articles:
'Do You Like Brahms?' Episode 7 Preview
Record Of Youth Episode 5 Preview
'Was It Love?' Episode 16 (Ending) Recap