Episode 12 of Flower of Evil has finally been shown after a week of delay and it's been pretty exciting.
It's probably one of the best dramas of this year so far with all the suspense and twists.
Here's a preview of episode 13 of Flower of Evil.
Ending of episode 12
Episode 12 ended with Hee-sung killing their maid after the latter blackmailed Mi-ja and asked for money.
He revealed that he could actually walk and ended up strangling the maid, with his father Man-woo finding out later.
Hyun-soo then calls Man-woo saying he wants to use the summer home, and the latter calls Sang-cheol to get rid off Hyun-soo at the said home.
While Man-woo and Hee-sung were trying to dispose off the body from their house, Hyun-soo showed up with Ji-won at their front door instead. This means Hyun-soo lied to Man-woo about going to the summer home.
The episode ends as the front door opens.
Preview of episode 13
You can watch the preview of episode 13 on YouTube or at the end of episode 12.
In episode 13, we can see that Hyun-soo and Ji-won are having a conversation with Man-woo and his wife Mi-ja at Baek's family house.
Mi-ja asked how much (probably Ji-won) actually knows about the situation, with Ji-won counter-asking how much they're hiding.
A power outage happens and Hee-sung is seen walking into the house. Hee-sung is also seen saying he wants to prepare a 'gift' for Hyun-soo.
Hyun-soo seems to have gotten a threatening call as well, and Hae-soo may be harmed from this.
In the preview, Hyun-soo might also set up a meeting with Sang-cheol.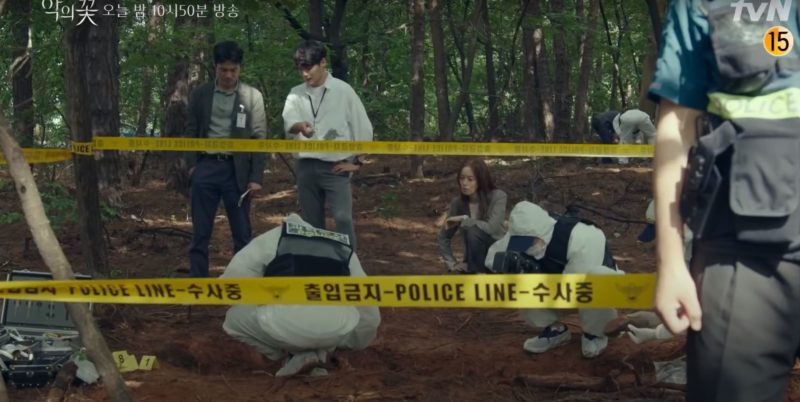 The police force also finds a body dumped in the woods.
Lastly, Hyun-soo is seen saying 'he didn't do it'.
Thoughts
Ji-won and Hyun-soo's visit might end early because of the power outage and Hee-sung will probably step in after as he can't be seen.
Hee-sung might also be planning to push the blame to Hyun-soo, possibly on the maid's death. As Hyun-soo is seen defending himself at the end of the preview, the evidence (or lack of) probably points to Hyun-soo as he gets set up.
Hee-sung might also go after Hae-soo since he wanted to meet her in the past.
---
Related articles:
Flower Of Evil Episode 14 Preview
'Do You Like Brahms' Episode 5 Preview
Flower Of Evil Episode 12 Preview