Flower of Evil episode 10 just released yesterday and I already can't wait for next week's episode.
Unfortunately, there may only be one episode next week according to news circulating around.
Here's the preview for episode 11 of Flower of Evil and who the accomplice may be.
Episode 10's ending
Episode 10 ended with a major revelation on Detective Jae-sub's part where he finally found out about Hyun-soo being Ji-won's husband.
We also get more clues as to who the accomplice may be in the same episode.
Hae-soo finally recalled that the accomplice wore a wristband belonging to the hospital run by Baek Man-woo.
Also, the accomplice has really short nails that look unnatural.
Episode 11 Preview
You can watch the preview at the end of episode 10 or through YouTube.
In the next episode, we'll see a continuation of the conversation between Jae-sub and Ji-won and how Ji-won tries to convince Jae-sub that her husband is innocent. However, Jae-sub asks Ji-won to leave the team.
Do Hae-soo is seen visiting the Baek family and we see the real Hee-sung hiding and observing Hae-soo. Hee-sung also seems to be anxious, biting his nails, as he may recall something after seeing Hae-soo.
Hyun-soo meets up with Yeom Sang-cheol to pass the money, and the thugs later seem to be surrounded by the police in an ambush.
Hyun-soo is also seen attacking Sang-cheol, and Ji-won seems to be behind him when it happened. Ji-won also warns her husband that Jae-sub already knows his identity and asks him to run away.
During a chase scene, Jae-sub is seen catching up to Hyun-soo but Ji-won may have done something to stop her husband from being taken.
The preview also shows Hyun-soo crying for the first time in the drama, even though he supposedly feels no emotions or doesn't know how to.
Who is possibly the accomplice?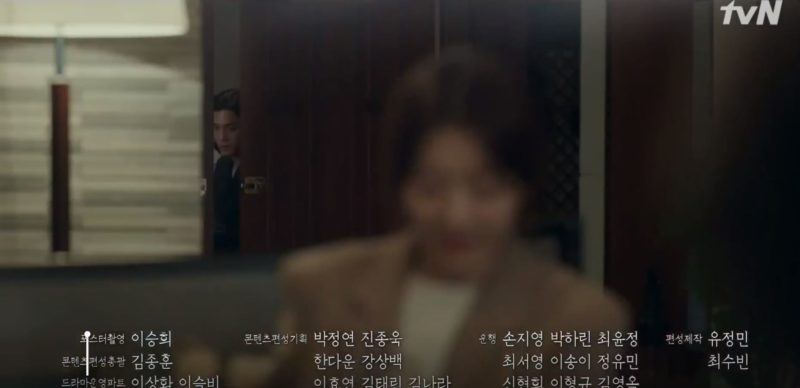 Baek Man-woo has been suspicious from the start as he had an old phone kept in his drawer, possibly linked to Do Min-seok's case.
He also seems to be wary whenever a matter relates to Hyun-soo's past. Also, the wristband on the accomplice belongs to the hospital headed by Man-woo.
However, the preview seems to have shown the real Hee-sung in a different light, i.e. he bites his nails and seemed a little guilty. This matches the nails that Hae-soo may have seen on the accomplice. Furthermore, Hee-sung was supposed to meet a lady (still not sure who) on the day of his accident.
We're still not given details on what led to Hee-sung being in a coma. What if Hee-sung was innocent and found out about his father's wrongdoings? Could the father have staged the accident?
Personally, I feel that the voice on the recording suits Man-woo's style of speaking better, and that he may be the culprit behind this.
If I'm wrong, Man-woo may just be covering up for his son who may have been unstable. In a previous episode, Hee-sung's mother was horrified seeing Eun-ha do mathematics way beyond her age. This may indicate that her son went crazy after studying too much, and became a murderous sociopath.
In any case, I can't wait for episode 11 to be shown next week.
---
Related articles:
'Do You Like Brahms?' Episode 3 Preview
'Was It Love?' Episode 15 Recap & Breakdown
Flower Of Evil Episode 9 Recap And Breakdown