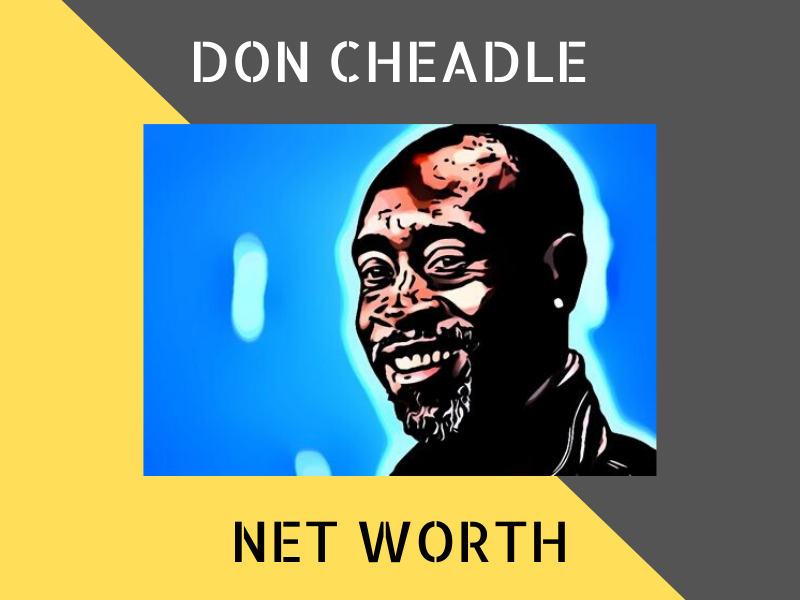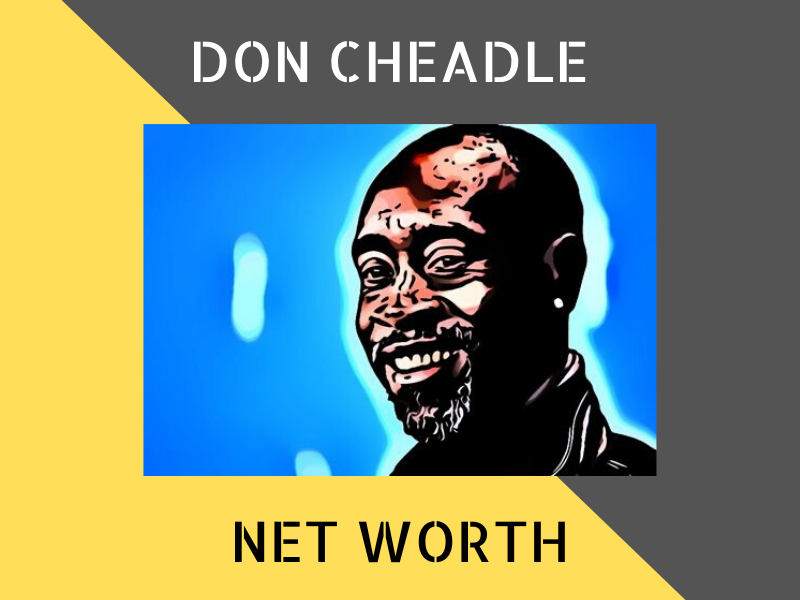 Overview
Don Cheadle is an American actor, producer, director, author and writer. He is best known for his movies including The Ocean's Trilogy, Hotel Rwanda and as War Machine in the Marvel movies.
As of 2020, Don Cheadle has an estimated net worth of $35 million.
---
Don Cheadle's Net Worth
| | |
| --- | --- |
| NET WORTH: | $35 MILLION |
| AGE: | 56 |
| DATE OF BIRTH: | 29 NOVEMBER 1964 |
| NATIONALITY: | AMERICAN |
| PROFESSION: | ACTOR, PRODUCER, DIRECTOR, WRITER |
| SOURCE OF WEALTH: | MOVIES, TELEVISION |
---
Early Life
Don Cheadle was born on the 29th of November 1964 in Kansas City, Missouri. His mother was a teacher while his father was a clinical psychologist.
His family moved a lot when he was young. Don attended the Hartley Elementary School in Lincoln from 1970 to 1974. He then went to the East High School in Denver and graduated in 1982.
He was active in the jazz band, choir and even in the theater department back in high school.
---
Career
Don appeared in the 1985 comedy Moving Violations and became eligible for his SAG card. He later acted in a small role in Hill Street Blues in 1987. Don also acted in Hamburger Hill the same year.
He later managed to secure a role in an episode of Night Court. In 1988, Don Cheadle played the role of Rocket in the movie Colors and the next year, he appeared in a music video for Angela Winbush's It's The Real Thing.
He also appeared in Will Smith's The Fresh Prince of Bel-Air sitcom in 1990. In 1992, Cheadle acted in The Golden Palace and in Picket Fences.
Career recognition
He became more recognized after his role in the movie Devil in a Blue Dress where he won Best Supporting Actor awards from a few award shows. He then acted in the HBO movie Rebound: The Legend of Earl "The Goat" Manigault, and later starred in the movie Volcano.
Don Cheadle also acted alongside Jackie Chan and Chris Tucker in Rush Hour 2 in 2001. Since then, he has acted in many movies including Rosewood, Boogie Nights and Ocean's Eleven (with Brad Pitt, Matt Damon and George Clooney).
In 2004, he acted in Hotel Rwanda which led to an Academy Award nomination in 2005 for Best Actor. Don also produced and starred in the movie Crash (with Sandra Bullock) and the film won Best Picture in the 2006 Academy Award. He was also nominated for several other awards.
Don later acted in the movie Traitor and starred with Adam Sandler in Reign Over Me, but the latter was a flop. He then acted in Hotel for Dogs and The People Speak in later years.
Marvel movies
Don Cheadle joined Marvel in 2010 when he played as War Machine / James Rhodes in Iron Man 2, and replaced Terrence Howard. He reprised his role in sequels to Iron Man, Captain America and three Avengers movies including Endgame. Avengers: Endgame became the top grossing film of all time.
During the series of movies, he acted alongside many stars including Robert Downey Jr, Chris Evans, Scarlett Johansson, Mark Ruffalo, Jeremy Renner, Tom Hiddleston, Samuel L Jackson, Paul Bettany, Cobie Smulders, Chris Hemsworth, Tom Holland, Gwyneth Paltrow, Paul Rudd, Brie Larson, Benedict Cumberbatch, Sebastian Stan, Josh Brolin, Bradley Cooper, Elizabeth Olsen, Chris Pratt, Zoe Saldana, Chadwick Bose, Anthony Mackie, Dave Bautista and Vin Diesel.
Apart from Marvel, Don also starred in a TV series House of Lies for a few years. He won the Golden Globe for Best Actor in a Comedy Series for his role on the TV series.
---
Highlights
Here are some of the highlights of his career.
He has been nominated for many awards including in the SAG Awards, Golden Globe Awards, Primetime Emmy Awards, Academy Award and BAFTA Awards.
Don has won some of these awards including Best Actor – Television Series Musical or Comedy in the Golden Globe and Best Actor – Motion Picture Drama in the Satellite Awards.
His film Crash also won Best Picture in the Academy Awards.
---
Interesting Facts about Don Cheadle
His family history was profiled on the show African American Lives 2.
Don Cheadle is of Cameroonian descent based on a DNA test.
He is a well known activist and has worked with the UN on climate change, among many other things.
---
What contributed to Don Cheadle's wealth
Don Cheadle's wealth can be attributed to his success on both movies and television. He has acted in many movies, and also produced some of them.
His involvement with the Marvel Cinematic Universe has also been quite lucrative.
As of 2020, he is estimated to be worth around $35 million.
Ref: Wikipedia, Celebrity Net Worth
---
Other Celebrities: