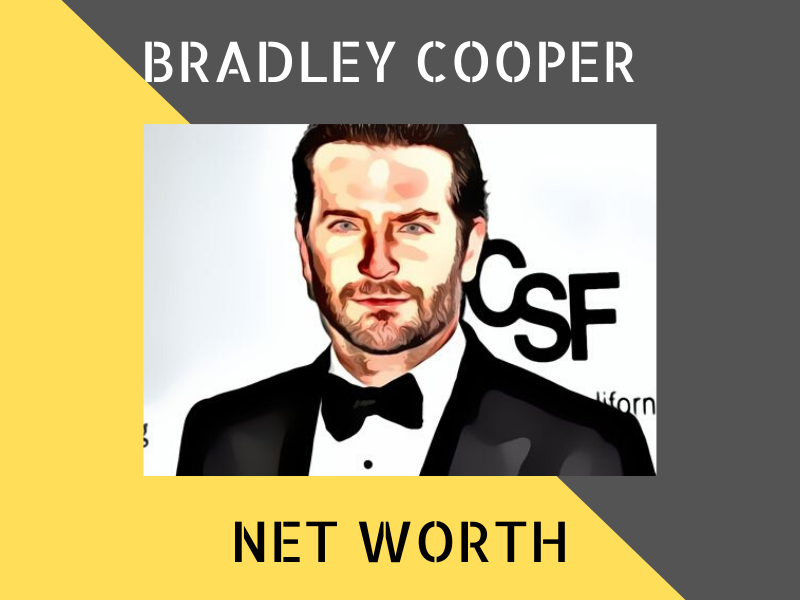 Overview
Bradley Cooper is an American actor and filmmaker, and has won many awards. He is known for many movies, including The Hangover series, A Star Is Born and as Rocket Raccoon in the Marvel series of movies.
As of 2020, Bradley Cooper has an estimated net worth of $100 million.
---
Bradley Cooper's Net Worth
| | |
| --- | --- |
| NET WORTH: | $100 MILLION |
| AGE: | 45 |
| DATE OF BIRTH: | 5 JANUARY 1975 |
| NATIONALITY: | AMERICAN |
| PROFESSION: | ACTOR, FILMMAKER |
| SOURCE OF WEALTH: | MOVIES, TELEVISION |
---
Early Life
Bradley Cooper was born in Philadelphia on the 5th of January 1975 and grew up in Rydal and Jenkintown. His mother was a local NBC affiliate while his father was a Merrill Lynch stockbroker. He is of both Italian and Irish descent.
Cooper was inspired to be an actor from a young age after his father introduced him to movies. He schooled at Germantown Academy and worked at the Philadephia Daily News during the time. He then attended Villanova University, prior to transferring to Georgetown University.
Cooper debuted on television in the show Sex and the City back in 1999, alongside Sarah Jessica Parker. He then became a presenter on the tourism-related show Globe Trekker in 2000 and later had a recurring role in The Street.
Bradley also received a Master of Fine Arts degree in acting from the Actors Studio Drama School in NYC.
---
Career
Bradley Cooper debuted on-screen in the comedy Wet Hot American Summer in 2001. He also reprised his role in the sequel 14 years later.
From 2001 to 2006, he acted in the TV series Alias and was the best friend of Jennifer Garner's character. Cooper also acted in more movies including Changing Lanes (with Ben Affleck), Bending All The Rules, I Want to Marry Ryan Banks (with Jason Priestley) and Wedding Crashers (with Vince Vaughn, Owen Wilson and Rachel McAdams).
In 2006, Cooper also starred in a Broadway production Three Days of Rain with Julia Roberts and Paul Rudd. He later acted in Failure To Launch, The Comebacks, Older than America, Yes Man (with Jim Carrey), The Rocker and The Midnight Meat Train.
Career breakthrough
His breakthrough came in 2009 when he acted in The Hangover with Zach Galifianakis and Ed Helms. It became one of the highest grossing R-rated movies. It also led to nominations and an award with the 13th Hollywood Film Festival.
Bradley Cooper continued to act in big films, including Case 39, All About Steve (with Sandra Bullock), New York, I Love You, Valentine's Day (with Jessica Alba, Julia Roberts and Patrick Dempsey) and The A-Team (with Liam Neeson). He also guest-hosted an episode of Vince McMahon's WWE Raw.
Cooper continued to get more roles in Limitless, The Hangover Part II (with Ken Jeong), The Words, The Place Beyond the Pines, Hit and Run and Silver Linings Playbook (with Jennifer Lawrence and Robert De Niro). The movie Silver Linings Playbook received many nominations, and he himself earned an MTV Movie Award for Best Performance.
In 2013, he reprised his role in The Hangover Part III. It did really well commercially despite the negative reviews. Cooper also acted in more movies including American Hustle (with Christian Bale) and Serena (with Jennifer Lawrence again).
Marvel
Bradley Cooper joined the Marvel series of movies in 2014 when he voice-acted Rocket Raccoon in Guardians of the Galaxy. He reprised his role in Guardians of the Galaxy Vol. 2, Avengers: Infinity War and Avengers: Endgame. The latter became the highest grossing movie of all time.
Cooper acted alongside many co-stars including Robert Downey Jr, Chris Evans, Scarlett Johansson, Mark Ruffalo, Jeremy Renner, Tom Hiddleston, Samuel L Jackson, Paul Bettany, Zoe Saldana, Chris Hemsworth, Tom Holland, Gwyneth Paltrow, Paul Rudd, Brie Larson, Sebastian Stan, Benedict Cumberbatch, Elizabeth Olsen, Cobie Smulders, Don Cheadle, Chris Pratt, Josh Brolin, Chadwick Bose, Anthony Mackie, Dave Bautista and Vin Diesel.
Apart from Marvel, he also acted in Aloha (with Emma Stone), Burnt (with Sienna Miller), Joy, War Dogs and American Sniper (with Max Charles).
Movie director
Bradley Cooper directed his first film with A Star Is Born (starring Lady Gaga) and he also starred as the lead in the film. The movie was a huge commercial success, and he co-wrote the soundtracks in the movie. The soundtrack Shallow became number one in many countries.
Cooper and Lady Gaga received many nominations for that film.
He later acted in The Mule with Clint Eastwood and produced the film Joker, starring Joaquin Phoenix. Joker became one of the highest grossing R-Rated movie.
---
Highlights
Here are some of the highlights of his career.
Cooper has been nominated for at least 293 awards over the years, including in the Academy Awards, Golden Globe, Grammy Awards and BAFTA Film Awards.
He has also won at least 78 awards including Best Film Music in the BAFTA Awards and Best Pop Duo/Group Performance in the Grammy Awards.
Time named him in the 100 most influential people in the world in 2015.
He has starred in movies that have grossed over $11 billion worldwide in total.
---
Interesting Facts about Bradley Cooper
He was once dubbed People's Sexiest Man Alive back in 2011.
His role in A Star Is Born received an Academy Award nomination but he didn't win for that role.
Bradley Cooper apparently speaks French fluently.
---
What contributed to Bradley Cooper's wealth
Bradley Cooper's wealth can be attributed to his success both on television and in films. He has acted in many commercially successful films including Avengers: Endgame, Silver Linings Playbook and The Hangover.
As of 2020, he is estimated to have a net worth of around $100 million.
Ref: Wikipedia, Celebrity Net Worth
---
Other Celebrities: