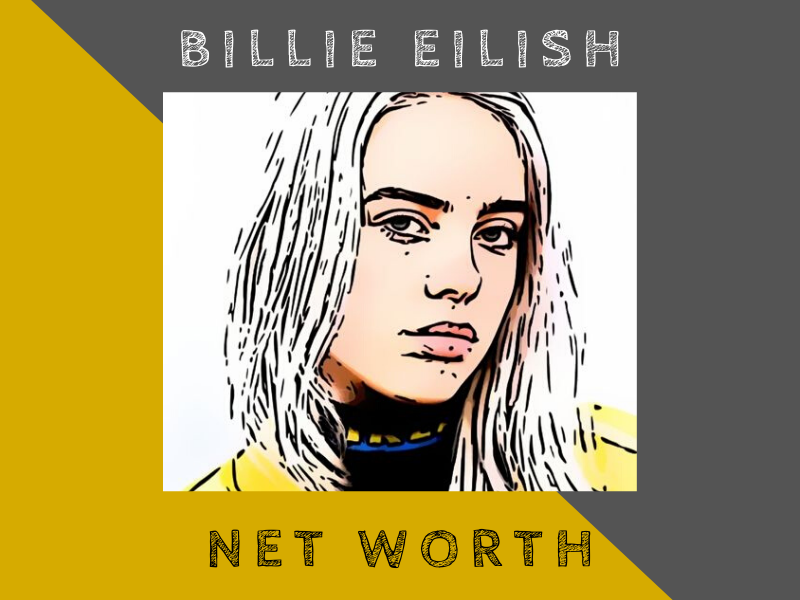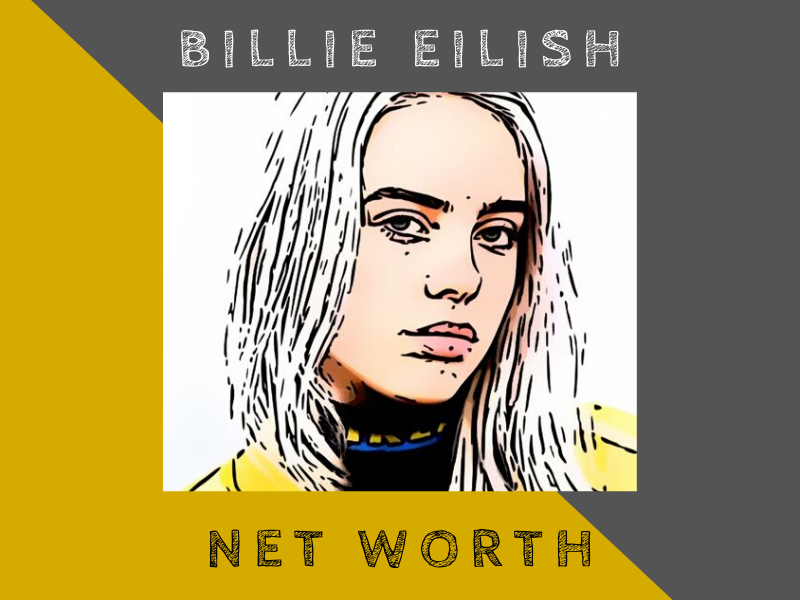 Overview
Billie Eilish is one of the hottest singers at the moment and is estimated to have a net worth of $8 million as of 2020.
She's well known for her successful hits including Bad Guy and Everything I Wanted. She's also the first woman and youngest person to have won four major Grammy awards in 2019.
---
Summary
| | |
| --- | --- |
| NET WORTH: | $8 MILLION |
| AGE: | 18 |
| DATE OF BIRTH: | 18 DECEMBER 2001 |
| NATIONALITY: | AMERICAN |
| PROFESSION: | SINGER, SONGWRITER |
| SOURCE OF WEALTH: | MUSIC |
---
Early Life
Billie Eilish's full name is Billie Eilish Pirate Baird O'Connell and she was born in LA, California on the 18th of December, 2001.
Her mother is an actress and screenwriter, Maggie Baird and her father, Patrick O'Connell, is also an actor. Both of her parents are also musicians.
Billie Eilish is of an Irish and Scottish descent and was raised in LA's Highland Park. Her parents taught her and her brother Finneas basics of songwriting. She was also homeschooled.
Billie apparently wrote her first song back when she was 11 during her mother's class. It's inspired by The Walking Dead and the song is about zombies.
From an early age, she was involved in background dialogue for movies such as Diary of a Wimpy Kid and the X-Men series. She even performed in talent shows and joined the LA Children's Chorus only at the age of 8.
---
Career
Eilish's career started back in 2015, when she recorded the song Ocean Eyes. It was written and produced by her own brother. The song was released on Soundcloud and managed to get promotion from stations such as BBC One and Beats 1.
Apple Music then signed Eilish to the company Platoon, which was arranged by her brother Finneas. She also received a publicist and was later assisted by Chanel to develop her image.
Her music video for Ocean Eyes only came out in 2016. In August of the same year, she joined the label The Darkroom, an imprint of Interscope Records.
Eilish's song Ocean Eyes reached platinum in September 2018 and also peaked at no. 84 on the Billboard Hot 100. Her singles "Idontwannabeyouanymore" and "My Boy" were both certified gold as well.
She was also involved in the soundtrack to the popular and controversial Netflix show 13 Reasons.
Eilish also became popular on Spotify as her team worked with the music company. Her song was promoted on the top playlist "Today's Top Hits". She was also named as the Up Next artist by Apple Music.
In 2018, Eilish had a tour named Where's My Mind Tour. She later collaborated with Khalid for the song Lovely which was also added to the Netflix series 13 Reasons (season 2).
The song was also certified platinum not long after. Her other song You Should See Me in a Crown was also featured in the video game FIFA 19.
In the same year, Eilish was placed in Forbes 30 under 30 for 2018.
The following year, Billie Eilish's EP Don't Smile at Me managed to hit 1 billion streams on Spotify, which makes her the youngest to reach that amount of streams on a project.
She finally released her debut album later in March, titled When We All Fall Asleep, Where Do We Go?. It debuted at no.1 on the Billboard 200 and the UK Albums Chart.
She's also the first to have the most songs simultaneously charting in the Hot 100 songs, with 14 songs on the charts, only excluding the song Goodbye.
Her song Bad Guy had a remix with Justin Bieber and it peaked at no.1 in the US, removing Old Town Road from the top.
At the end of 2019, Eilish was nominated for six Grammy Awards and won four of them.
---
Highlights
Eilish has had big highlights in her career. Below are just a few of them.
Eilish has won multiple awards, including 5 Grammy's, 2 American Music Awards, 3 MTV Video Music Awards and 2 MTV Europe Music Awards.
She is also the recipient of 2 Guinness World Records.
Eilish is the youngest to be nominated in four main categories for the Grammy Awards and won all four general field categories, including the Album of the Year award.
She has many singles which have gone platinum.
---
Interesting Facts on Billie Eilish
Below are some interesting facts on Billie Eilish.
Her instagram handle @wherearetheavocados was inspired by the fact that she was making grilled cheese but couldn't find avocados.
Eilish's album Don't Smile At Me was inspired by the fact she hates the obligation to smile back when people smile at her.
Her first real song is called Fingers Crossed and was inspired by The Walking Dead.
She won four main categories at the Grammy Awards at the age of 18, including Album of the Year.
Billie apparently has Tourette's syndrome as well.
Her musical influences are Lana Del Rey, The Beatles, Justin Bieber and Avril Lavigne.
She has two songs on the soundtrack of 13 Reasons Why, one for each season.
---
What contributed to Billie Eilish's Net Worth
Billie Eilish's net worth is estimated to be $8 million and they're mostly from her music.
She probably earns from her albums, singles, music tours and also brand sponsorships.
---
Other Celebs: