A bladeless fan is a new trend these days. It is basically a fan that comes with no (visible) blades at all, yet it produces air.
Bladeless fans are new in terms of technology and they can be used just like regular electric fans – only, they don't have blades to clean and maintain, which could be the source of dust, dirt and other foreign objects that can pollute the air!
Note: There may be affiliate links in this article.
Read also: 6 Best Dyson Vacuums In 2019
How do bladeless fans work?
A bladeless fan works using the fluid technology that uses air multiplication. It basically amplifies the surrounding air and uses it as the source of fresh air that comes out of the bladeless fan.
The air around the fan is sucked and some smaller motors around it using a small fan can push the air and create an airflow that will eventually get multiplied with the base of the hoop of the bladeless fan.
The most common company behind most of the bladeless fans out there would be Dyson, as they were the pioneer when it comes down to the technology itself.
What to look for in a bladeless fan?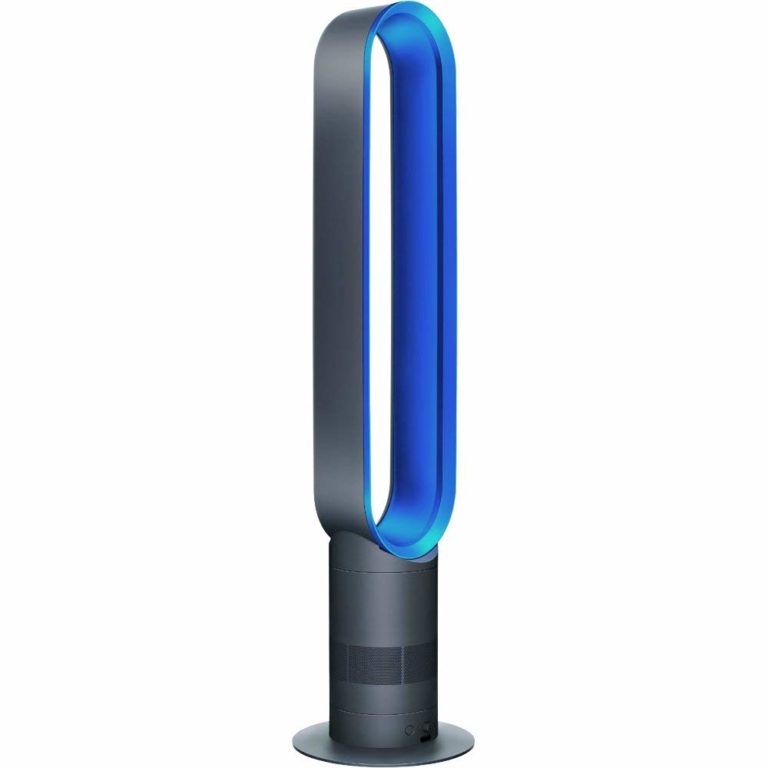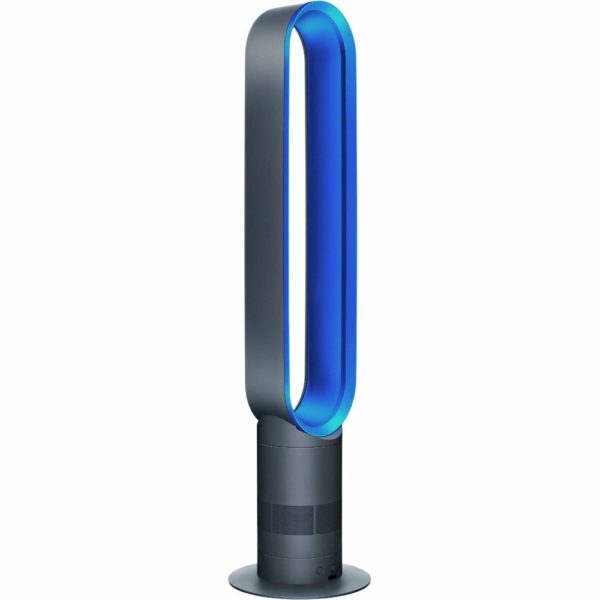 If you want to look for the best bladeless fan, you should know about the following criteria to help you choose the better product for you:
1. Less noise, especially pertaining to the motor design
2. Just the right size, whether you want a portable one or a tower-sized one
3. Power consumption, so that you know it's going to be eco-friendly
4. Ease of use, especially those that are touch-controlled for added convenience
5. Blowing power, to make sure that they actually work in cooling you down
6. Intended use, whether you'd like it as a portable travel one or for indoor office use
Top 10 Best Bladeless Fans
Here are our top picks for the best bladeless fans out there:
1. Dyson Pure Cool Link Desk Air Purifier
If you are looking for a table fan that has no blades, this would be a great choice. It has a quiet design so it will not easily disturb you when you are working on your projects and the like. It is also quite easy to clean so it is simple to maintain when you're on the go.
This Dyson Pure Cool Link can also remove around 99.97% of all pollutants at home (those below 0.3 microns). With a cord length of 1.8 meters, it should be enough for your room.
It's also pretty cool to use with its night-time auto mode and its dim LED display that won't be too distracting.

2. Dyson Cool AM07 Air Multiplier Tower Fan
If you want a tower fan then this is probably the better choice. It also has a timer that can be set from 15 minutes up to 9 hours, which can be great for those who want to cool down overnight while they are sleeping. The magnetized remote makes it easy to access and so you won't lose the remote ever again. It does not have any blades so it is safe for children and pets.
You can also choose between white and black colors for the tower fan design. This one has a basic design and is also great for most rooms that need a tower fan without the inconvenience of blades that are spinning and get dirty all the time.
In addition, you can also use this fan on baby rooms where there needs to be some quiet time to make sure that your baby is not waking up all the time. It has a 2-year warranty for parts and labor.

3. Dyson Cool AM06 10-inch Air Multiplier Desk Fan
Do you want a desk fan? This should do the trick, with its size of 5 x 12 inches. It has a good diameter of 10 inches and it is also quite easy to clean due to the design of having no blades. You can choose between black and white for the outer appearance and it also has a total of 10 precise airflow settings that you can use to best match your preferences.
With this fan, there's also an LED digital display to make it easier for you to tweak the settings of the fan. Also, for convenience, the magnetized remote control that stores on the fan for you to keep it in place when needed.
The settings can be set from 15 minutes to 9 hours when it comes down to the sleep timer, to save up on energy when you are sleeping. Like most Dyson fans, this one is backed by a 2-year warranty for parts and labor.

4. PureFlow QT7- Bladeless Oscillation Fan
This small fan does not have blades and looks like a webcam but is quite portable and can really cool down the entire room with its unique 90 vertical tilt and 90 horizontal oscillation. This one also has 12 individual fan speed settings that you can use to your preferences.
It is also quite economical when it comes down to the consumption of energy due to only consuming 2 watts as compared to a regular fan but has enough circulation speed and coverage. As for the connection, it already includes a cord that spans 8 feet in length. It will direct air in any direction that you want.
There are many benefits for this oscillation and effectively quiet cooling fan. It only has 13 decibels on its lowest settings and it has up to 80% on energy savings. It will also give you even cooling temperature throughout the room.

5. Waft Bladeless Fan

This personal fan has a design that cuts the airflow evenly and continuously so it will help your relaxation. It has a good coverage due to the unique right to left rotation mechanism so that the fan stays in place like a desk fan that can be set on your table or on any surface but will still fan everything else inside your room.
In addition to that, the bionic shell and classical finish, as well as the ornamental LED lights for extra decoration are a good aesthetic design for any room. The sensitive touch control uses only a single touch on the metal base, which makes it unique in terms of design for the electric fan. It is also a USB fan that can be used even when you have your laptop at work or anywhere else.
It has a very low noise level and it also has the capability to amplify the surrounding air from about 15 to 18 times. You can also turn the fan up to 90 degrees which makes it great for a surrounding electric fan for just about any room. It is also very easy to clean due to having no blades.

6. Dyson Air Multiplier AM02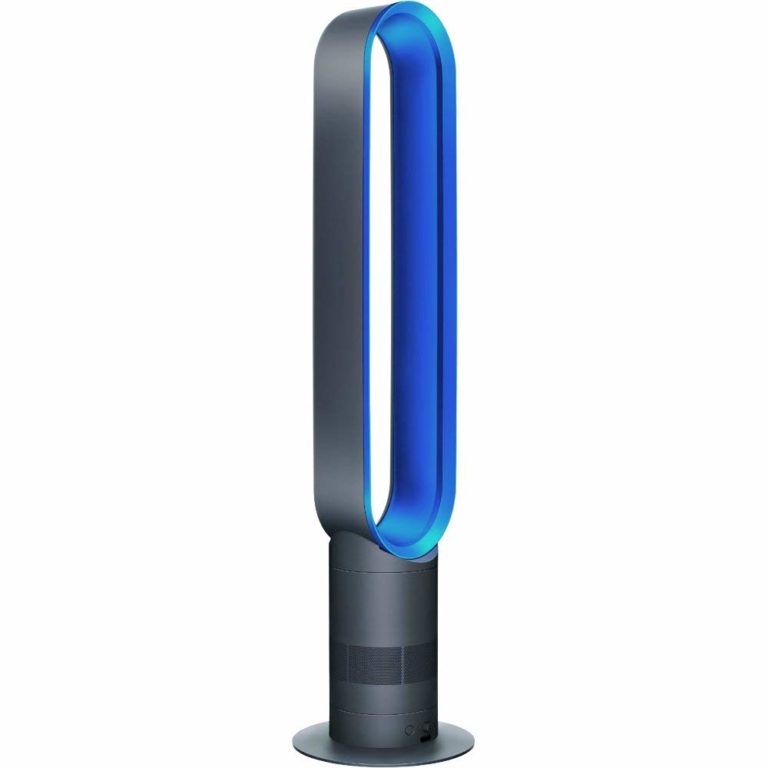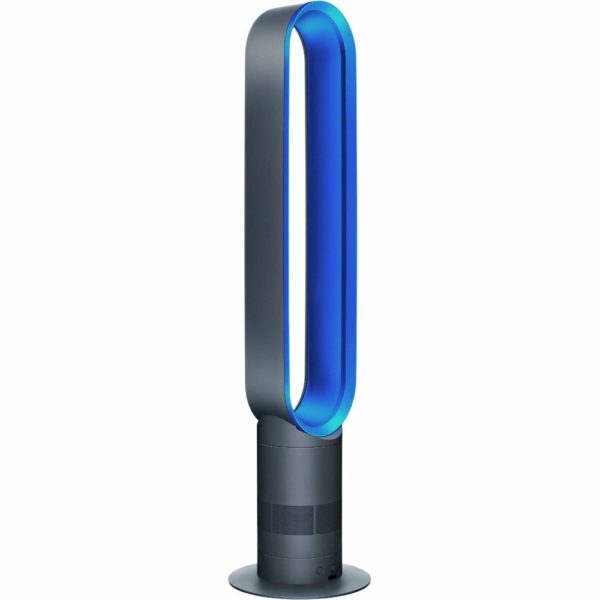 Next on the list of top bladeless fans is the Dyson AM02. It's also another great tower fan and it uses an energy efficient brushless motor. Like other fans in this list, it has no external blades, making it safe to clean.
It also comes with a dimmer-switch control which means you can adjust the amount of airflow generated. This AM02 also oscillates at 90 degrees, making it convenient to adjust where you want the fan to blow air.
You also don't have to worry about the remote control being lost all the time since the remote is curved and magnetized. As a safe and easy to clean electric fan that is bladeless, this one is backed by 2-year parts & labor warranty.

7. VIOlife Breeze Portable Bladeless Fan
Made with a zebra pattern for its fan design for the handle, this portable bladeless fan is a great choice for those who are often traveling and want a portable fan or a personal fan. It is only at 1.5 x 2.75 inches so it is easy to take with you anywhere. You can also power it up with simple AA batteries (4) so you can just buy these batteries when you need to power it up.
This bladeless fan can be a great emergency fan for the summer season due to being lightweight and easy to use. It is also bladeless (duh) so it is safe for the kids and the pets. You can stay cool anytime and anywhere. Having no blades put you at less risk for injury due to accidents.

8. PureOptics LED Desk Lamp with Bladeless Fan
As a combination between a desk lamp and a bladeless fan, this one has multi-level cooling so that it can be used depending on the temperature in your room and the weather outside. It can also save a lot of energy at up to 85% due to the energy efficient design overall. It also features an LED lamp at the top, which you can use alongside the bladeless fan in the middle.
If you are looking for a great office supply or gift to a colleague, this is a good choice. The desk lamp can be dimmed while the neck can be adjusted as well due to the silicone neck that is flexible and easy to position. Its fan and light system can be easily turned on and off with the touch control system at the bottom due to its unique design.

9. VORCOOL Mini Bladeless Fan

If you want a much cheaper bladeless fan then this is a good choice. It is made with ABS material, which is quite durable and has fewer chances of corrosion or damage. Its ABS material is also non-toxic and makes it easy to clean. The portable design makes this bladeless fan easy to carry even while you're traveling to and from your workplace or while on vacation.
It does not have too much noise so it won't disturb your work or your relaxation. It can be practically used in the office, outdoors and at home. With a wind speed of roughly 5 m/s, it has a rated power of 6 watts (working voltage of 5 volts) and it has a 35 dB so it is less noisy than others.

10. Ultra Brite – LED Desk Lamp with Bladeless Fan
Yet another hybrid of a desk lamp and a bladeless fan, this one has a stylish color temperature mode selector, from warm, bright and natural light. You can also choose from 5 levels of brightness to make it unique depending on the lighting conditions in the room and outdoors. There are a total of 56 LEDs in the lamp while the bladeless fan can be set for up to 3 speeds in total.
Because of this design, it will greatly complement minimalistic and modern style rooms. It connects to any USB power source due to the port in the base. There are also two USB charging ports so you can also use it as a charger for your devices and the like. It is also easily adjustable for the gooseneck design on the lamp.

Conclusion
To conclude, bladeless fans can be useful in the office due to the great amount of air without having too much of a task of trying to clean the blades.
Having a bladeless fan is good for offices as well as on vacation when you want to have something that's cooling and is also portable and easy to carry.
We hope you enjoyed this list of the best bladeless fans!
This article was written by a freelancer.
---
Related articles:
20 Best Gifts For Coffee Lovers [2019 Update]
Dyson Pure Cool DP04 Review: Is It Worth Buying?
Best Zero Gravity Chairs In 2018
Best Bass Headphones – Top 9 Picks To Check Out
Best Gaming Mouse Pads – Top Ten Picks