Steemit is a social media cum blogging type of platform that is hosted on the Steem blockchain. Does blockchain sound alien to you?
If it does, then here's what a blockchain loosely is. Think of a public ledger that is available to everyone on the internet. Everyone can see all of the transactions that goes on inside the public ledger. No one can edit or delete a transaction without it being recorded.
That's essentially what blockchain technology is about. It promotes transparency and not even the governments can censor it, unless they bring down the entire blockchain, which means they have to ban theoretically all computers.
Blockchain technology is kept alive by computers, especially witnesses who are using their computers as servers. What are witnesses? It will be explained later in this article.
What you have to know is that all of the data on the Steem blockchain is theoretically permanent and can't be censored. Although you can edit data before the expiry of 7 days from the time the data is posted, you do have to be careful with what you type.
So why do people want to use Steemit if you can't remove data after 7 days?
There may be 2 main reasons, the first being you can earn Steem which has value in the market and secondly, you don't want to be censored.
The first reason is probably the most popular one. Many content creators who struggle on various platforms like YouTube, Twitch, Facebook and WordPress tend to join Steemit due to potential earnings.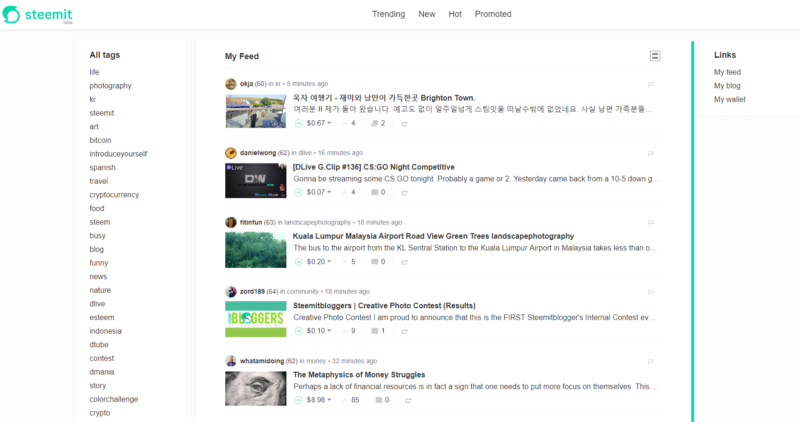 1. So how do you make money on Steemit?
That's the first question you may have in your mind. Steemit doesn't actually pay you money. It only allows more Steem and Steem Dollars to be printed from the blockchain. Steem and Steem Dollars ("SBD") have value in the cryptocurrency market. One Steem is worth about USD 2+ at the time of writing. It has gone as low as cents and as high as USD 8.
The price is super volatile, so don't invest all of your money into Steem. Most members of Steemit don't actually invest money. They write articles or produce videos to earn more Steem. They then cash out the Steem by trading it for Bitcoin or other altcoins, and then convert it into fiat money.
Steem and SBD is printed mainly through payouts of a post or comment.
How do you get payouts on Steemit?
You get payouts when you get voted on by others. Everyone on Steemit can either upvote or downvote a post / comment. Your upvote gives a post value and a downvote deducts value. However, the amount of payout isn't based on how many people voted on your content, but how much Steem Power the voters have. Read on to find out what Steem Power is.
Doesn't this mean Steem can be printed infinitely?
There's such a thing called a reward pool and also built-in inflation. A certain amount of Steem is allocated to the reward pool each day and if the amount of Steem printed exceeds it, inflation occurs. The payout may be reduced by the system to counter this issue.
What is Steem, SBD and Steem Power?
There are three terminologies linked to cryptocurrency on this platform. Steem is the token that empowers the platform. It has value in the market and you can cash out into fiat. SBD was invented alongside Steem to compliment it. SBD is meant to be pegged to 1 US Dollar, so that it has a stable value and can be used as a currency in real world applications (like how Bitcoin is used).
Having said that, the value of SBD is usually higher in the market, which comes to show that you can't really peg a value to it.
Steem Power on the other hand is the same as Steem, but Steem Power is not liquid. You can't transfer Steem Power around and sell it. You need to power it down first. Powering down means you're turning solid Steem Power into liquid Steem which can be sold. Power down takes 12 weeks in total (to prevent investors from doing mass selling at one time).
It has another huge function. Why would power up Steem into Steem Power if it gets stuck in my account? Steem Power is what dictates how much payout a post or comment gets.
The more Steem Power you have, the more your vote is worth. For example, a person with 1,000,000 Steem Power can probably give a vote worth 100 SBD (depending on the market price of Steem). A person with 1,000 Steem Power probably only gives a 0.1 SBD vote. See the huge difference?
Furthermore, the price of Steem in the market affects the worth of your vote. The higher the price of Steem in the cryptocurrency market, the more a person's vote is worth.
2. What kind of content can you create on Steemit?
As mentioned above, Steemit is similar to a mixture of social media and blogging. It's like social media in the sense that you can follow others and have followers. You can read what they've posted but there's no such thing as privacy. Anything you post can be read by anyone, regardless of the "follow" feature.
That is why the Steem blockchain is transparent and you have to be careful of what you've posted.
You can pretty much post anything on Steemit, be it travel, food, philosophy, motivation and any other niche you can think of. Most people would think of whether their followers would like what they post. Some people stick to one niche like travel or motivation. It's really up to you.
There's no "success secret" to getting high payouts. Normally it's whether rich Steemians (aka whales) like your content. If they do, then you're super lucky. There are, however, initiatives that can help you to increase your payout but that's another topic. By the way, Steemians refers to members / users of Steemit.
These days there are more content creation platforms on the Steem blockchain. Think of the Steem blockchain as the place where all data is stored. Steemit is just a front end that displays that data.
Developers who are not part of Steemit Incorporation has created other platforms like DTube, DMania, DLive, DSound and Zappl.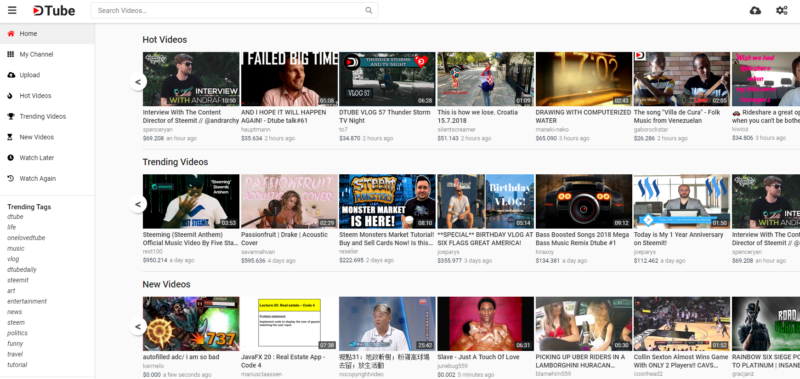 DTube is like YouTube, DMania is like 9GAG but pays, DLive is similar to Twitch, DSound is similar to Soundcloud and Zappl is like Twitter. I would like to call them similar platforms that actually pays well to content creators.
Steemit is like Reddit and Medium. Get what I mean by front end? They're all different websites and platforms but all of them are on the Steem blockchain. This means the data is the same everywhere. Your post on DTube will be reflected on Steemit as well, albeit in a different look. It's the same data presented in a different manner, and you earn the same way (via upvotes).
To succeed on the Steem blockchain, why not try out all of the different platforms? If you're a developer or translator, you can try out Utopian, which rewards you for GitHub contributions.
Don't be afraid to try different types of content creation!
3. How do you get high payouts on Steemit?
This is probably what most users want to know. There really is no special formula on getting high payouts. You now know that Steem Power affects how much a vote is worth.
This means a lot of newbies try to make friends with whales (people with high Steem Power). It's obvious as you can see the number of comments whales get on a post. Insane!
What old users normally say is that you should write quality content to do well. While it's true that quality content does give you a better chance to earn, it doesn't necessarily mean you'll be rewarded.
There are so many newbies and so few whales on the platform. It's hard to get their attention on the platform.
Another way is to use those third party apps like DLive, DTube and DMania. These platforms have delegated Steem Power from Steemit Inc themselves. Yes, Steemit Inc has a massive amount of Steem Power in their account (wealth distribution isn't great on Steemit).
You may sometimes get huge votes from those platforms if you use them and actually stand a better chance to get a high payout.
Another way is to join initiatives like Sndbox, where you get voted on by them in return for a small membership fee. They only accept quality authors though.
The point is, there are plenty of ways to make a payout on the Steem blockchain and you should experiment with them. Who knows? You may discover your talent in making music or even videos.
4. What are the different ways to earn Steem on the platform?
As mentioned many times, you can earn Steem Power and SBD from your post payouts. Steem Power can be powered down into Steem. SBD can also be traded for Steem. These are straightforward ways to earn Steem.
There are plenty of platforms that allow you to earn Steem these days, and Steemhunt below is a good example.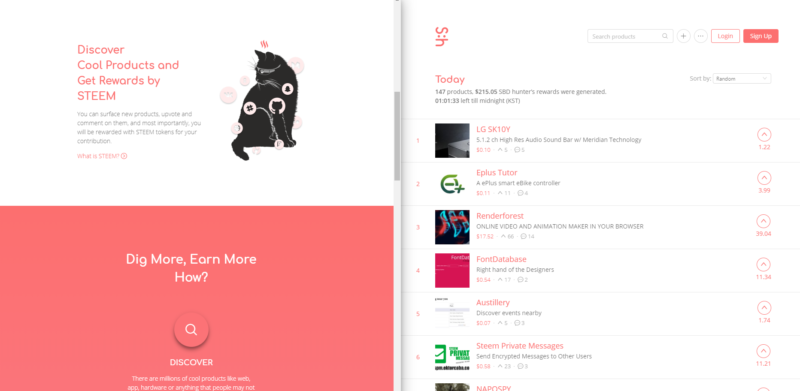 Another way is via curation rewards. You don't only earn Steem Power from posting, but also from voting for other posts. Curation basically means voting on content and the Steem blockchain incentivizes voting for others. Therefore, they provide a system where you can earn some Steem Power from curation and we call it curation rewards. Curation rewards are around 25% of a post payout.
This means the author of the post will get the remaining 75% of the payout.
You can also earn Steem Power as a witness. Witnesses are what you call "members of the Parliament" on Steemit. Each user can vote for 30 witnesses maximum, and the top 20 witnesses can pretty much decide on important decisions. Decisions on hardforks (changing the protocol of the blockchain) are made by witnesses as a whole. A lot of power on how the platform will run is given to witnesses.
Hence, always vote for the best witnesses! Do note that not many Steemians are actually witnesses. To become a witness, you need to run nodes for the Steem blockchain, to keep it alive. Witnesses from all around the world are running nodes to keep the blockchain online. This is why the top 20 witnesses get paid a lot by the blockchain itself. They get Steem for every block mined and can make a huge income.
They also have to spend money on their "rig" to run nodes and they incur expenses each month. It's not easy to be a top 20 witness. Steem is a delegated proof of stake system, which means the more Steem power you have, the more influence you have.
This apply to witnesses as well. If many whales vote you as a witness, your ranking improves tremendously and proportionally.
How are payouts divided into Steem Power and SBD?
Generally payouts are divided into 25% curation rewards and 75% author rewards.
The 75% is then divided equally into SBD and the same amount of SBD worth but in Steem Power. HOWEVER, the Steem Power that you get varies depending on the market price. If Steem is more than USD 1, then you get less Steem Power.
This is because the blockchain assumes that SBD is always pegged to USD 1. So you get the same amount in SBD, but for Steem Power it depends on the price of Steem.
This actually means you earn more, because SBD might be worth $4 but you still get the amount of SBD as though it is worth $1. Confusing?
Example:
Your post payout is $10.
Curation rewards is $2.5 and author rewards is $7.5.
Assume the price of Steem is USD 2 in the market.
For SBD, you will get 7.5 / 2 SBD, i.e. 3.75 SBD.
For Steem Power, you will get 7.5 / 2 / 2, i.e. 1.875 Steem Power. There is a further division of 2 because the price is USD 2 in the market. You'll receive much lower if the price of Steem is much higher.
In summary, for a $10 payout, you will get 3.75 SBD and 1.875 Steem Power if the price of Steem is USD 2 on the market.
You actually profit because you still get 3.75 SBD even if SBD is worth much more in the market.
You'll understand it better if you're on Steemit.
5. Popular terms on Steemit
There are a lot of lingos on Steemit and you may not get it unless you've been in the platform for awhile. Here are some of those terms defined.
Delegated Steem Power – As a Steemian you can delegate your Steem Power to others or receive delegated Steem Power. This can be done by a few ways (but the most popular is SteemConnect). When you delegate power, you're essentially lending your power to be used by someone else as if it's their own. They earn curation rewards and you don't earn anything. The Steem Power still belongs to you at the end of the day as you can undelegate it.
Power up – To convert Steem to Steem Power.
Power down – Convert Steem Power to Steem.
Discord – It's actually a chatting app that is popular with gamers (and now Steemians).
Steemit.chat – Chatting platform exclusively for Steemians.
Minnow – Someone with less than 5,000 Steem Power.
Dolphin – In between whale and minnow, typically 5,000 to 50,000 Steem Power.
Whale – Someone with more than 50,000 Steem Power.
Vests – It is the technical unit of measurement used on the Steem blockchain. Vests is what makes up Steem as a unit. Steem is used commonly because it's easier to calculate Steem than vests. 1 Steem may be equivalent to 2,000+ vests.
There are plenty of other terms. If you have any you're interested to know, do leave a comment below!
In a nutshell
There is a lot to learn about Steemit and the Steem blockchain that you can't actually cover it in one article. There's a lot to learn when you engage with other Steemians either on Steemit or on chatting groups.
Do remember that Steemit is not a get rich quick scheme. One of the key tips in doing well is to make friends with many. Keep networking and joining initiatives to help others and yourself. Networking may actually be more important than writing quality stuff as far as payouts is concerned.
This article can always be updated from time to time to cover more ground. Do leave suggestions on what you want to know more about in the comments below.
Thanks for reading.
---
Related articles:
What Is Gifto – Decentralized Universal Gifting Protocol
What Is Mixin Cryptocurrency – A Messenger To Transfer Cryptocurrency
What Is Mithril – Mining Tokens Through Social Interaction
Please follow and like us: