Pokemon Trading Card Games (TCG) first came into existence in 1996. The first generation of Pokemon only consisted of 151 species and Mewtwo used to be the strongest.
Of course, it now has seven generations in total, and the number of Pokemon has expanded to around 807 species in the Pokedex.
However, this list of best Pokemon cards in the world are mainly focused on the first few generations.
1. Shadow Lugia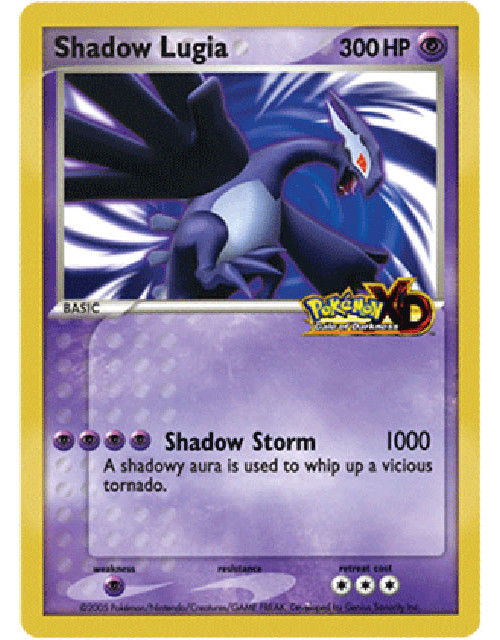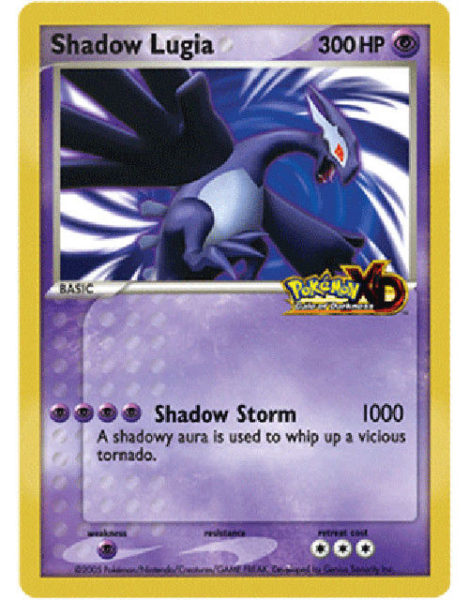 First on the list is none other than Shadow Lugia which is a much improved version of this legendary Pokemon.
Out of all the Pokemon cards available, Shadow Lugia is the only one with an absurd damage points of 1,000.
Its Shadow Storm may require four psychic energy cards to use, but once it has that, it's unstoppable.
This Lugia TCG also has a really high HP of 300, making it the strongest or one of the strongest Pokemon cards.
2. Mega Venusaur EX

Next on this list is the Mega Venusaur EX. In the past, Venusaur and some other third stage Pokemon couldn't mega evolve, and it was introduced much later.
This Mega Venusaur TCG comes with 230 HP and only one attack move. Its Crisis Vine has a damage of 120 and only requires three leaf energy cards and one colorless energy card.
Furthermore, this attack causes the opponent's active Pokemon to be paralyzed and poisoned at the same time. How wicked is that?
3. Rayquaza C Lv. X
Rayquaza C Lv. X is also one of the top Pokemon cards and has a HP of 120. This legendary dragon Pokemon allows you to take an energy card from the discard pile and attach it to itself if it gets attacked but not knocked out. This Dragon Spirit move applies when it's your active Pokemon.
What this means is that Rayquaza can easily stock up on energy cards without you wasting too many turns. It also has a really powerful attack (Final Blowup) which deals 200 damage points.
However, all of the energy cards have to be discarded after the attack, unless you have no cards in your hand.

4. Charizard G Lv. X
Next up is Charizard G Lv. X, which also deals nasty damage. This Pokemon has 120 HP and has a special passive move, i.e. Call for Power.
You can move energy cards from other Pokemon to Charizard before it attacks during your turn. It can be done as often as you like but it doesn't work if Charizard is affected by a special condition.
It requires a whopping 5 energy cards to use its Malevolent Fire that deals 150 damage points. Unfortunately, you'll have to discard all energy cards if you flip a coin and get tails.

5. M Gengar EX
Mega Gengar EX is also a pretty incredible ghost type Pokemon card and has a more unique move. It has 220 HP which is pretty high as well.
Its Phantom Gate move requires 1 psychic energy card and 2 colorless cards. You can choose whichever opponent's Pokemon's attack you want and use it as its own.
How cool is that?

6. Armaldo EX

Armaldo EX has a HP of 160 points and two active attack moves. Its passive move Dual Armor makes Armaldo a leaf and fighting type if it has any React card attached to it.
Its move Spiral Drain deals 40 damage and at the same time removes two damage counters from itself.
Armaldo EX also has a stronger attack of Vortex Chop that deals 70 damage. However, if the opponent Pokemon has any resistance, the damage goes up to 100 points.

7. Mega Blastoise EX
Another great Pokemon card is Mega Blastoise EX. It has a mega evolution rule, i.e. when one of your Pokemon mega evolves, you end your turn.
However, it does have a pretty strong attack (Hydro Bombard). It deals 120 damage and an additional 30 damage to two of your opponent's benched Pokemon (no resistance and weakness applied).
This move requires only three water energy cards.

8. Shining Mew

Next up is Shining Mew (in the sense that it's blue). The card itself is just called Mew.
Mew can use Mimicry to mimic an attack from one of its opponent's Pokemon. It doesn't work if Mew doesn't have the energy cards required for the particular attack.
Its Rainbow Wave is a much cooler move, where you have to attach a water energy card and any one basic energy card if you want to. The attack deals 20 damage points to every opponent Pokemon that is the same type as the basic energy card.
The damage is also dealt to benched Pokemon but resistance and weakness doesn't apply for them.

9. Mega Rayquaza EX
Like other mega Pokemon cards, this M Rayquaza EX also has the rule where the turn ends when another Pokemon mega evolves.
It only has one active move, i.e. Dragon Ascent. Mega Rayquaza requires three fire energy cards, one electric energy card and one colorless.
This attack deals a really high damage of 300 but it comes with the price of discarding any two energy cards after the attack.

10. Mega Tyranitar EX
Mega Tyranitar also comes with the mega evolution rule like some of the cards mentioned above.
It only has one active move called Destroyer King. This move deals a base damage of 110 and an additional 60 damage for each damage counter on the opponent's active Pokemon, making it one of the best Pokemon cards around.
This move requires two darkness energy cards and two colorless ones.

11. Dragonite EX
It would have been weird if Dragonite was not mentioned at all. Dragonite EX has a special ability called Pull Up, where you take 2 basic Pokemon from the discard pile to your hand when you play this Pokemon.
Its main move is Hyper Beam and deals a high damage of 130 points. It only requires four colorless energy cards and you can discard any energy card attached to the opponent's active Pokemon.

12. Mega Sceptile EX
Another EX Pokemon featured on this list is Mega Sceptile EX, with a HP of 220.
This Pokemon also has the mega evolution rule as already mentioned a few times above.
It only has one attack move (Jagged Saber) which deals 100 damage points. You can attach up to 2 leaf energy cards from your hand to your benched Pokemon. If you do so, you can remove all damage from that particular Pokemon.


13. Charizard EX – XY Black Star
Last but not least is Charizard EX (XY Black Star) and it has a HP of 180. This Pokemon has two active moves.
The first move is Stoke and requires only 1 colorless energy card. If you get heads, you can take 3 basic energy cards from the deck and attach them to this Pokemon. How cool is that?
The main attacking move is Fire Blast and deals a damage of 120. After using this move, you have to discard one energy card from this Pokemon. This move only requires 3 colorless energy cards and one fire energy card.
Which is the best Pokemon card in this list?
We have listed thirteen of the best Pokemon cards above but surely not everyone will agree with the choices.
Do leave your comments below on which card you think should have been in that list.
---
Related articles:
Pokemon Let's Go Eevee: Pallet Town Walkthrough
Most Powerful One Piece Characters
Strongest Water Type Pokemon In 2018
Best Tank And Defensive Pokemon
Best Electric Type Pokemon In 2018
Cute Pokemon That You Should See Before You Die