In general, Mixin is a network to facilitate the transfer of all cryptocurrencies with end-to-end encryption. The token is called XIN.
A short summary of what it is on its whitepaper:
A TEE powered BFT-DAG network that connects all existing blockchains with unlimited throughput.
The whitepaper is still labeled as a draft, so it may change later.
Disclaimer: All opinions and views that are expressed here are purely individual opinions. None of the articles are to be construed as giving financial or investment advice of any sort whatsoever. We do not guarantee the accuracy of the information on this website, including cryptocurrency news and articles.
What is Mixin?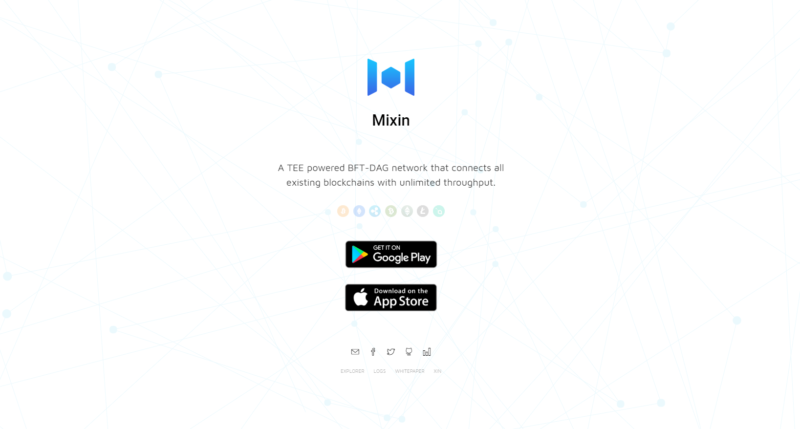 The official site of Mixin is very bare and has a couple of links to its whitepaper, social media accounts, logs and so on.
They're probably not very developed yet, based on the site and the draft whitepaper.
The motivation behind the XIN token is that they want to make it easy for mainstream adoption.
Most people who aren't into cryptocurrency will have a hard time grasping the concept of blockchain and so on. Even I find it hard at times.
Design of Mixin
To get a better grasp of the network, here are some things that they plan to do.
Limited and trusted full nodes with guaranteed data
transparency and consistency.
Zero-knowledge proof and free transactions with high
throughput and low latency.
Inter-blockchain communication protocol to connect all
popular blockchain networks.
Non-deterministic transactions and interact directly
with trusted external sources.
Phone number and PIN based account model for easy
mobile use.
Secure and end-to-end encrypted messaging channel
to reach every account for notifications.
Developer friendly to facilitate all Linux libraries and
programming languages.
The largest mobile blockchain network effect should
prevent forks.
All of the above were extracted from its draft whitepaper.
End to end encryption messaging
They highlighted some of their bigger features, and messaging is one of them.
The protocol is said to be client based, which means it's only a proxy and can't inspect anything from the messages sent, even with Mixin full nodes.
This means only the recipient can see the messages. Furthermore, all of the messages will be deleted once all of the recipients have seen it.
Media files like photos and videos will be encrypted with an AES key before it's uploaded to their cloud storage.
Mobile and pin based identity
The main way to encourage people who are not cryptocurrency-savvy is to use a mobile and pin based identity,
As people get confused with so many private keys from different blockchains, Mixin aims to change it to just a phone verification code and pin.
This probably means instead of remembering so many private keys, you can just transfer your altcoins through one network via verification code and pin.
Maybe this is similar to what Ark is doing.
Distribution of XIN Token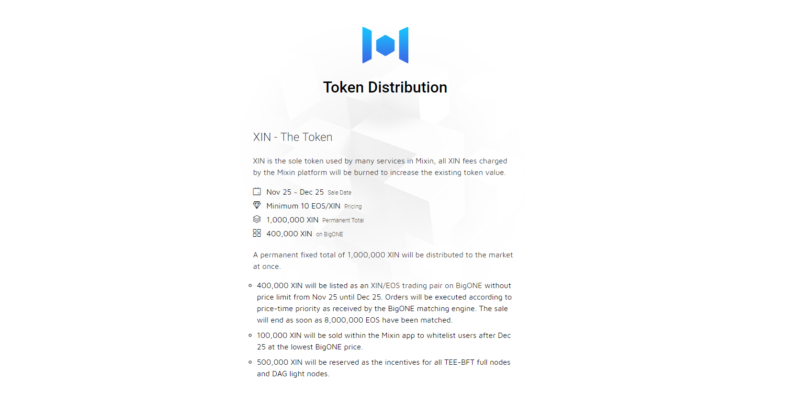 XIN is the token used by all of the services in Mixin, in full node collateral, API calls and creation of DApps.
If you want to join as a full node, you need to pledge at least 10,000 XIN tokens.
Every DApp that is created requires some XIN tokens as cost. The XIN fees charged by the network will then be burned to increase the value of existing XIN tokens.
Apparently only 1 million XIN tokens are issued at one time and 400k has already been distributed earlier.
50k has been distributed to early Mixin messenger adopters and another 50k for the development team.
The remaining 500k XIN tokens will be given to those running full nodes and light nodes.
In a nutshell
There actually isn't much information on Mixin on Google and its homepage. It sounds like a very risky investment to me.
I don't hold any XIN tokens at the moment. It's valued really high, at $808 per token at the time of writing.
Always do your own research before buying into any cryptocurrency. This article is not a financial or investment advice.
---
Related articles:
17 Popular Terms In The Cryptocurrency World – FOMO? HODL?
3 Ways To Earn Cryptocurrency With No Investment (2018)
Best Altcoins 2018 – Our Top 10 Altcoin Picks
What Is Mithril – Mining Tokens Through Social Interaction
What Is Theresa May Coin? – Another Shitcoin?
What Is Decentraland? – A Decentralized Virtual Reality Platform
Please follow and like us: