Cryptocurrency is one of the hottest topics these days and everyone is speculating as to which coin will be the "ultimate" coin in the future. Perhaps many coins will co-exist in the future. For now, I'm putting my money into Ark coins.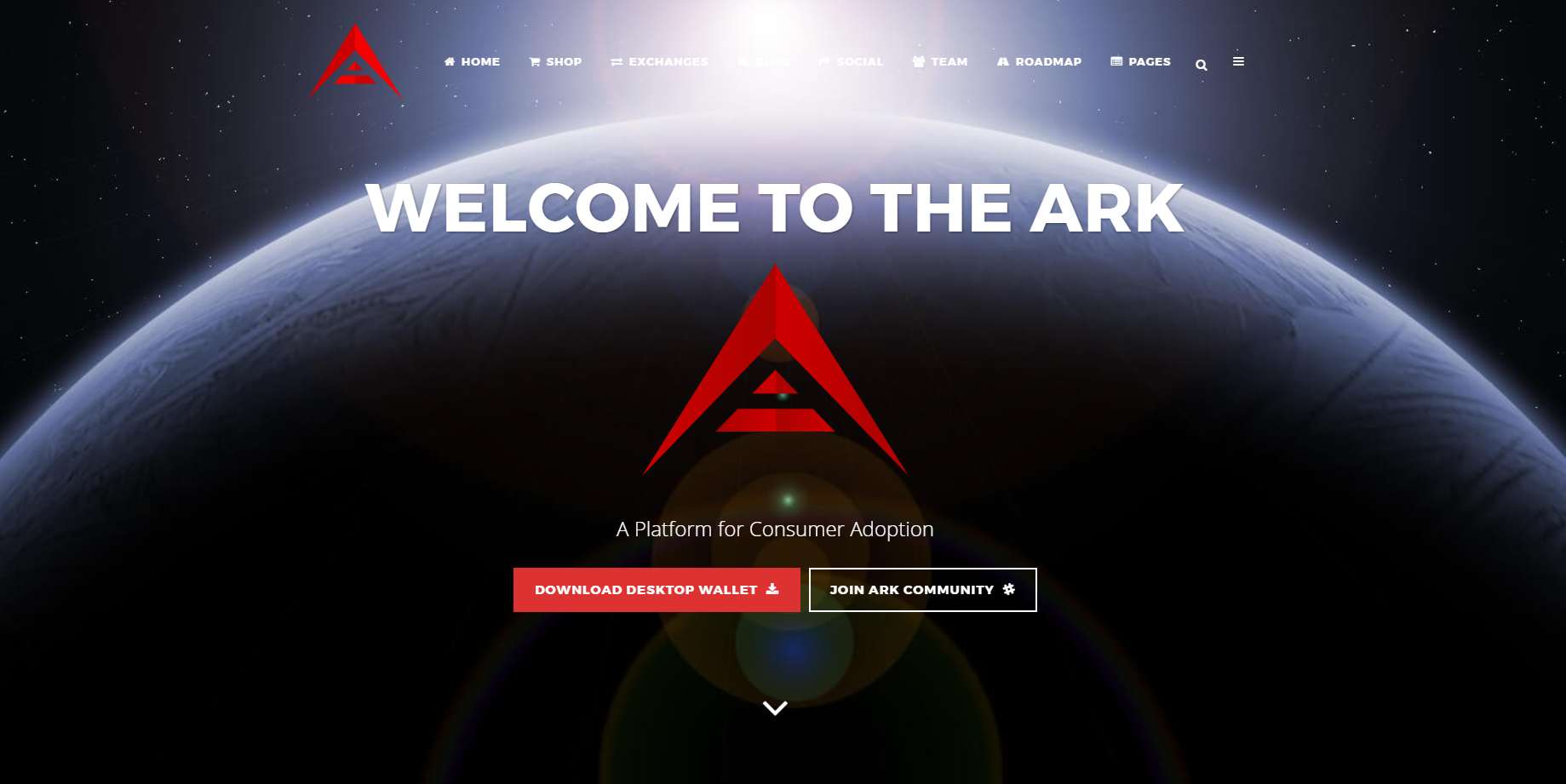 What is Ark?
Ark's tagline is that it's a platform for consumer adoption. To be honest, it's pretty confusing for the laymen.
Here's what Ark is in the official website:
ARK provides users, developers, and startups with innovative blockchain technologies. Accessible via push button clone-able blockchains, and our SmartBridge technology. ARK aims to create an entire ecosystem of linked chains and a virtual spiderweb of endless use-cases that make ARK highly flexible, adaptable, and scalable. ARK is a secure platform designed for mass adoption and will deliver the services that consumers want and developers need.
What I understand about it is that Ark is well-known for its bridging technology. It's called SmartBridge and it basically links different blockchains together. Imagine Ethereum blockchain linking directly to the EOS blockchain.
What are its advantages?
It's super fast. I did a trade on Bittrex and withdrew Ark from my Bittrex account to my Ark wallet. It only took seconds and the tokens were in! I've never had such experience with other tokens so far.
Decentralized. Like most cryptos, Ark is also decentralized and voting weight is divided across all votes instead of assigning 100% weight to each vote.
SmartBridge. Its bridging technology will be the reason Ark becomes successful in the future. It will connect the entire ecosystem of blockchains.
Sustainable. Ark has an ARKShield program that provides an additional layer of protection to Ark.
Who is the team behind Ark?
Ark is led by Francois-Xavier as the head of development. It has a huge team and their team is really active in development. The support is quick as well.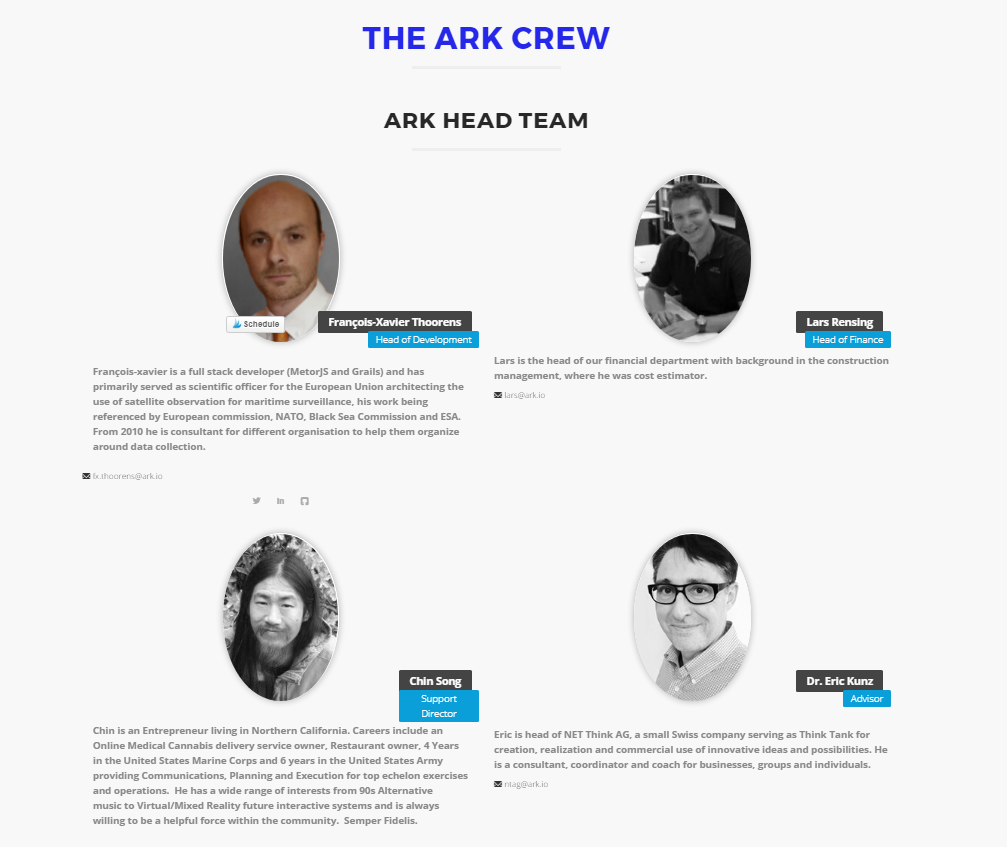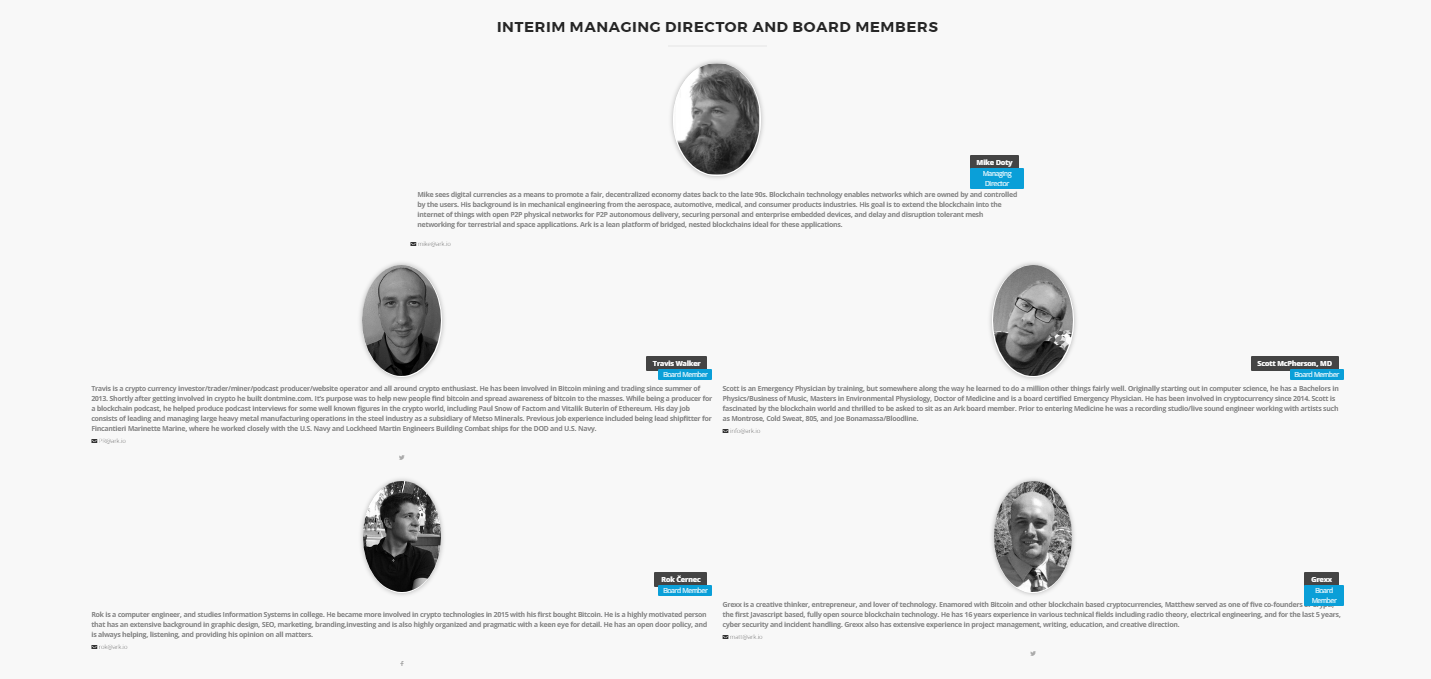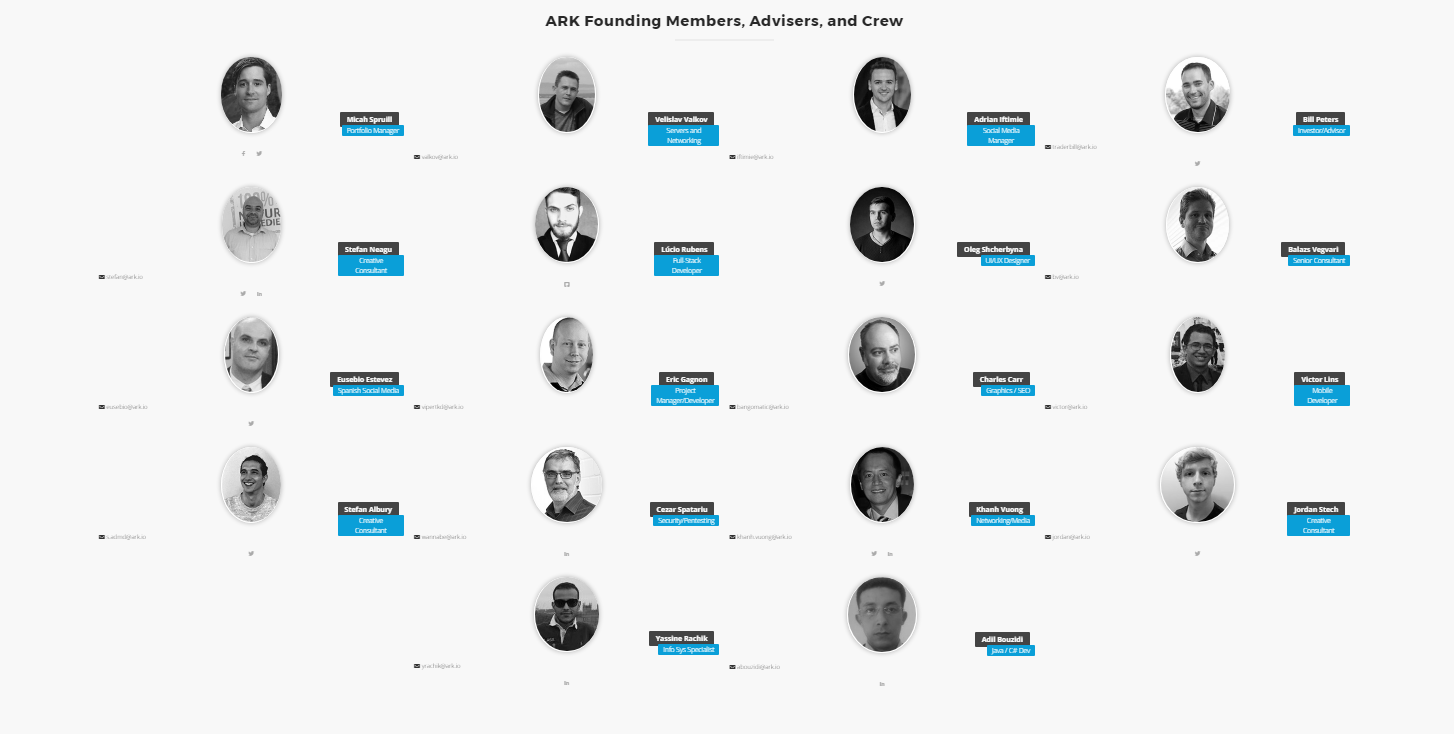 Ark is an ecosystem by itself
What do I mean by that?
If you look at the image below, you'll notice that they have so many awesome "features" within Ark.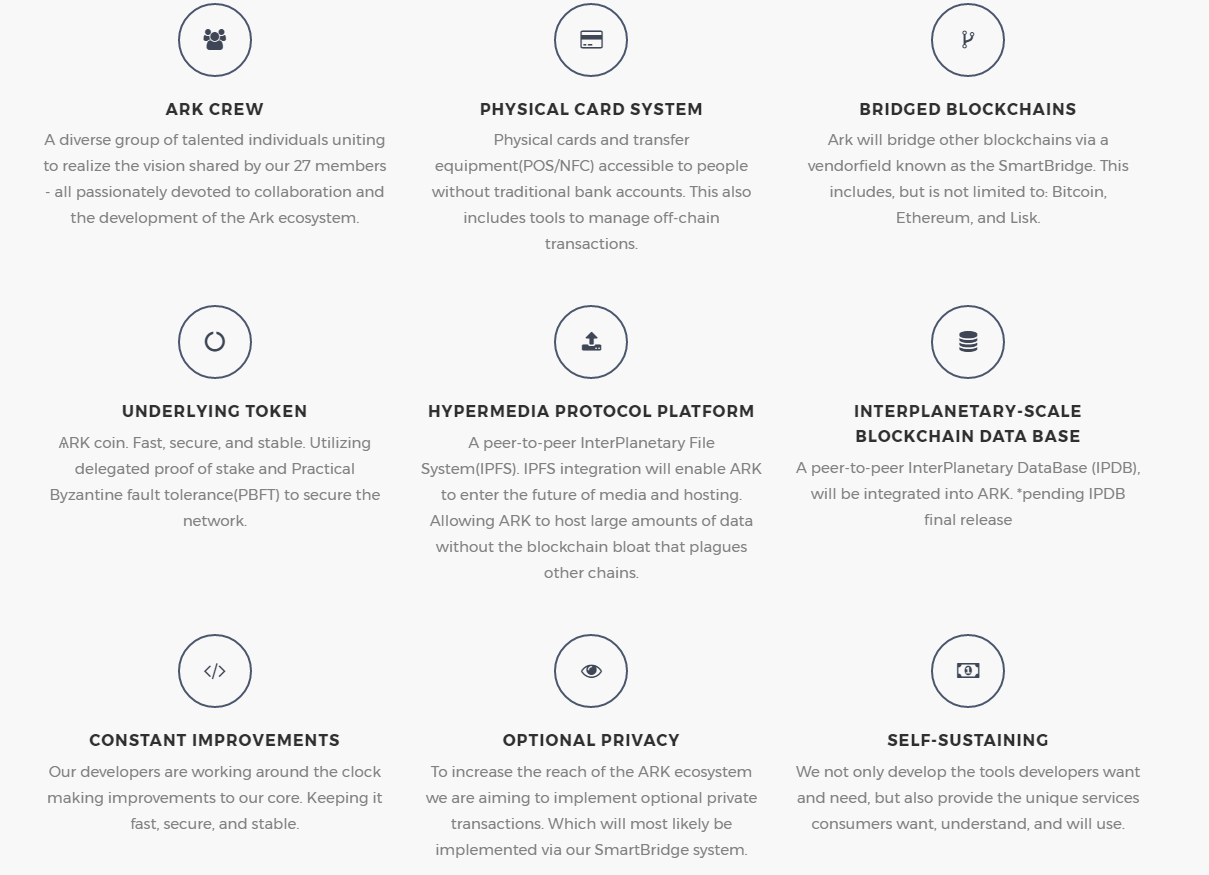 Aside from their bridging technology and their active crew, they will have their own physical card system. If you can use Ark anywhere in shopping malls or in restaurants, it will be awesome. Consumer-friendliness is one of the most important things for a coin to succeed.
Their token is also really quick and I've tested it myself.
They also plan to have optional privacy (move aside Monero) and a platform where you can host your files. This function will probably overlap with coins like Siacoin, Storj and MaidSafe.
I can see a lot of potential in Ark, which is why I've put my money into it. You can look at their Roadmap to see their percentage of completion.
In a nutshell
Although I believe in Ark's potential as a crypto, I won't put all of my eggs into one basket. I've invested my money into several coins including Steem, Siacoin, FunFair, Basic Attention Token, Factom, Iota, OKCash and so on. There are so many to choose from, so I generally choose those with different functions as they may all co-exist in the future.
This article is not to be taken as investment advice. Never invest more than you can afford to!
Thanks for reading guys. Do check out my other crypto-related articles:
7 Bitcoin Referral Programs You May Want To Join
Which Cryptocurrency Should You Invest In Before 2018?
Three Altcoins That May Rise Substantially By 2018
---
Free Cryptocurrency Segment
There are new ICOs and they're offering coins to anyone who signs up. They are affiliate links which means that I get free tokens if you sign up. You can refer others as well.
WCX – Link
CoinStarter – Link
Swiftdemand – Link
Buy your Bitcoins here
Here are a few ways for you to buy Bitcoins. You need Bitcoins if you want to buy other altcoins.
xCoins – Link
Coinbase – Link
Get a proper Bitcoin wallet
Trezor – Link
---
Please follow and like us: